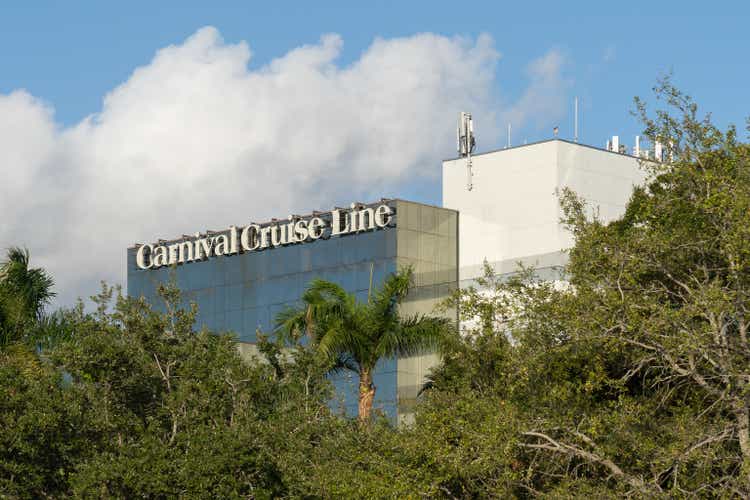 Elevator Pitch
My investment rating for Carnival Corporation's (NYSE:CCL) shares is a Sell. I previously discussed CCL's fiscal 2022 (YE November 30) financial forecasts in my prior January 7, 2022 article for Carnival Corporation.
Looking forward, there are multiple downside risks like a recession or a dilutive capital raise which could push CCL's shares lower. Carnival Corporation's valuations might also compress further, using historical valuations as a point of reference. As such, I have a bearish view for CCL which translates into a Sell rating for the stock.
Why Has Carnival Stock Been Dropping?
Carnival Corporation's stock price has dropped by -59.6% in the first six months of this year as per the chart presented below. CCL's shares have also underperformed the S&P 500, which is down by a relatively milder -20.5% in the first half of 2022.
CCL's 2022 Year-to-date Share Price Chart
At the company's recent Q2 FY 2022 earnings briefing on June 24, 2022, Carnival Corporation noted that "our share price unfortunately reflects the current market conditions." In other words, the cruise line sector as a whole has been facing a number of headwinds, and this has adversely impacted CCL's stock price performance.
Firstly, slower economic growth, or in the worst case a recession, will lead to consumers tightening their purse strings and possibly cutting back on discretionary spending relating to travel and cruises.
According to a March 21, 2022 Goldman Sachs (GS) research report (not publicly available) titled "Lower Cruise Estimates", net yields for the listed cruise companies as a whole decreased by -13% and -12% following the recession in 2001 and the Global Financial Crisis in 2009, respectively.
Secondly, rising fuel costs are a key factor that has hurt CCL's recent quarterly financial performance, and Carnival Corporation could take longer than expected to achieve a recovery in operating profit assuming that fuel prices remain elevated.
Carnival Corporation's fuel cost per metric ton consumed jumped by +86% YoY from $467 in the second quarter of fiscal 2021 to $869 in the recent quarter, as disclosed in the company's Q2 FY 2022 results press release. CCL also acknowledged at its second-quarter investor call that the cost of fuel is "one big wildcard", when asked whether the company is making progress to surpass pre-COVID (FY 2019) EBITDA levels by FY 2023.
Thirdly, the rising rate environment and weak equity markets imply that it is challenging for corporations, and especially highly leveraged cruise line companies, to raise new debt and equity financing at a reasonable pricing.
Earlier on May 25, 2022, Carnival Corporation revealed that it had raised $1 billion from the issuance of senior unsecured notes with a very high 10.5% yield to refinance part of its existing debt. Separately, sell-side analysts from Morgan Stanley (MS) have published a report in late-June 2022 forecasting that CCL's net debt will stay "above $30B for the foreseeable future", and cautioning that a "$12B equity raise" is needed for Carnival Corporation to cut its leverage ratio to below 4 times.
Having explained the reasons for CCL's year-to-date stock price drop in this section of the article, I review the company's key metrics in the subsequent section.
CCL Stock Key Metrics
CCL's share price rose by +12% from $9.65 as of June 23, 2022 to $10.85 as of June 24, after it reported Q2 FY 2022 results. Although Carnival Corporation's stock price eventually pulled back to close at $8.65 at the end of the trading day on June 30, some of CCL's key metrics were better than expected which led to the positive post-results announcement share price reaction.
One of the key metrics is occupancy. Carnival Corporation's occupancy improved from 54% in Q1 FY 2022 to 69% in Q2 FY 2022. CCL mentioned at its recent Q2 earnings call that occupancy came close to 80% in June 2022, and it also guided that "occupancy will build throughout 2022 and return to historical levels in 2023."
Another key metric is bookings. In the company's Q2 FY 2022 media release, CCL noted that its bookings grew by almost +100% QoQ in the most recent quarter, and it registered its highest quarterly bookings since the COVID-19 outbreak.
In summary, Carnival Corporation's better-than-expected occupancy and bookings metrics for Q2 FY 2022 drove a +12% increase in CCL's stock price on the next trading day following the announcement.
Are Cruise Line Stocks A Smart Investment Now?
Cruise line stocks, including Carnival Corporation, aren't a smart investment now, in my opinion.
Valuations Of Cruise Line Stocks
| | | |
| --- | --- | --- |
| Stock | Consensus Forward FY 2023 Normalized P/E Multiple | Consensus Forward FY 2023 EV/EBITDA Multiple |
| Carnival Corporation | 7.3 | 7.6 |
| Norwegian Cruise Line Holdings Ltd. (NCLH) | 6.4 | 8.1 |
| Royal Caribbean Cruises Ltd. (RCL) | 7.1 | 11.0 |
Source: S&P Capital IQ
At first look, the valuations of CCL and its cruise line peers aren't very demanding as per the valuation table presented above. But there are two key points to take note of.
The first key point is that cruise line stocks warrant a huge valuation discount as cyclical, highly-leveraged companies during a time that interest rates are rising, and a recession is looming. As a reference, Carnival Corporation traded at consensus forward next twelve months' EV/EBITDA and normalized P/E multiples that were both in the mid-single-digit range in November 2008 during the Global Financial Crisis as per S&P Capital IQ valuation data.
The second key point is that the current sell-side consensus financial forecasts for cruise line companies, including Carnival Corporation, might be too optimistic. According to S&P Capital IQ, CCL is expected to generate an EBITDA of $5,199 million in fiscal 2023, which is just -4% below the company's pre-pandemic FY 2019 EBITDA of $5,436 million. The expected timeline for the recovery in EBITDA for Carnival Corporation might be pushed backwards if a recession materializes or fuel costs remain high.
In conclusion, Carnival Corporation and cruise line stocks in general aren't smart investments or the best investment candidates. Analysts might cut their financial forecasts for cruise line companies if current headwinds get worse, and this could potentially lead to another round of valuation de-rating for the sector and CCL.
What Is The Long-Term Prediction For Carnival Stock?
Carnival Corporation is forecasted to deliver revenue and EBITDA of $25,558 million and $7,724 million, respectively in fiscal 2026 as per S&P Capital IQ. This implies that CCL's FY 2026 topline and EBITDA are predicted to be +23% and +42% above pre-pandemic levels in FY 2019. I think that these predictions are way too bullish and unrealistic.
Investors' prior expectations are that Carnival Corporation is a long-term reopening and recovery play which will eventually achieve financial results superior to what it did before COVID-19, when travel and leisure activities normalize in a post-pandemic environment.
However, the outlook for CCL has been complicated by factors like rising rates and fuel prices, and the threat of a potential recession as discussed earlier in this article.
In a nutshell, Carnival Corporation should still "recover" from COVID-19 in the long run. But it is likely that CCL will take a much longer period of time (than what the market expects) to achieve this goal.
Is CCL Stock A Buy, Sell, Or Hold?
I rate CCL stock as a Sell. The risk-reward for Carnival Corporation isn't favorable. The company's consensus forward financial projections are too optimistic taking into account current headwinds. There is also room for further valuation de-rating, based on a comparison of CCL's current valuation multiples with its trough valuations during the Global Financial Crisis. In addition, Carnival Corporation might have to either refinance its existing debt on unfavorable terms or issue new shares to pay down debt going forward.