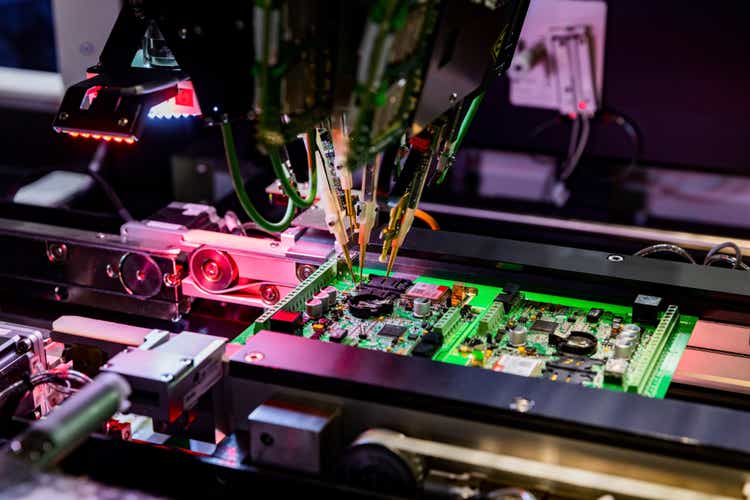 AMD (NASDAQ:AMD) is one of the big post-pandemic winners of the stock market. Going into the pandemic, AMD was in the process of trying to rewrite its story from a cyclical stock to one instead powered by secular growth tailwinds. Judging by the stock price movement, it is clear that the company has been successful. While I expect demand for semiconductors to only increase moving forward, the current valuation appears to be pricing in much of that optimism. I do expect AMD to be higher in 10 years, but it might not generate enough returns to warrant owning it over alternatives in the tech sector.
AMD Stock Price
AMD entered the pandemic priced around $50 per share. The stock then peaked above $160 per share before settling around $107 per share as of recent trading.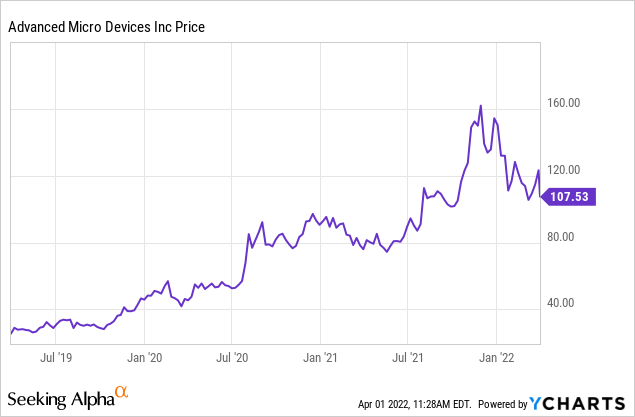 The company has done a spectacular job of realizing operating leverage and has become a legitimate cash flow machine.
AMD Stock Key Metrics
While other companies are facing headwinds due to difficult comparables, AMD continued to deliver strong results with revenues coming in 49% higher at $4.8 billion.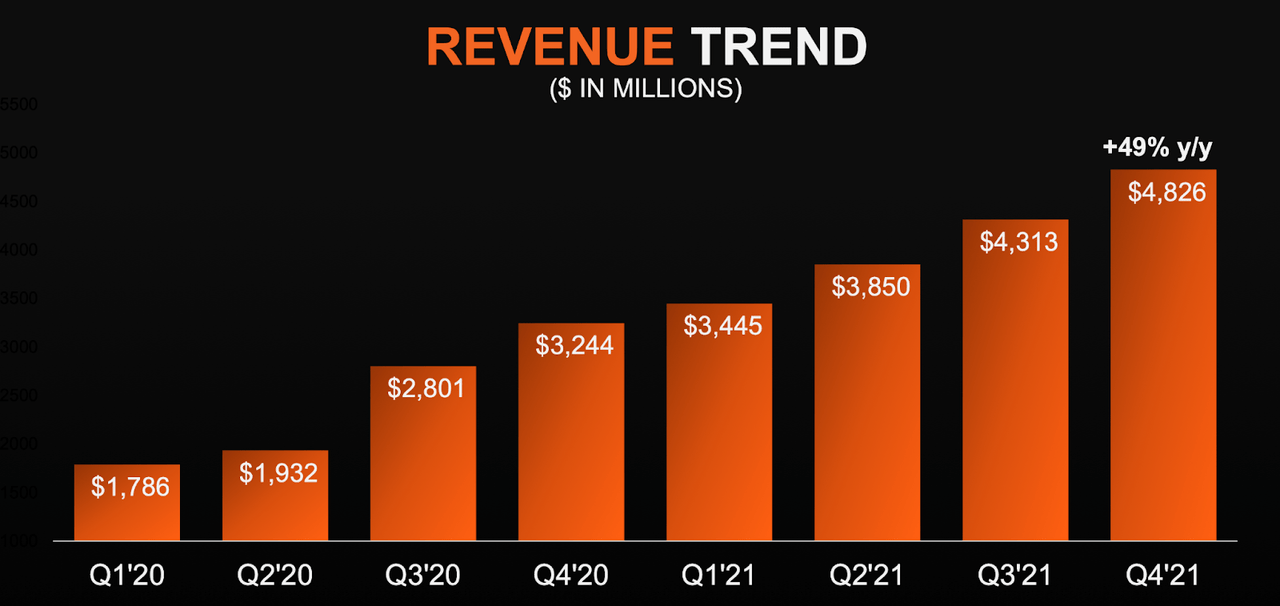 While revenue growth was bolstered by the 32% growth of what is typically the company's "bread and butter" businesses in personal computing and graphics cards, it was instead the 75% growth in its cloud and enterprise business lines that has driven the bulk of recent developments. Revenues from cloud and enterprise totaled $2.2 billion in the latest quarter, making up 46% of total revenues (up from 39% in the fourth quarter of 2020 and 22% in the fourth quarter of 2019).
AMD coupled the strong revenue growth with even stronger profit growth. AMD grew gross margins yet again to 50% – 200 basis points higher sequentially and 560 basis points higher year over year.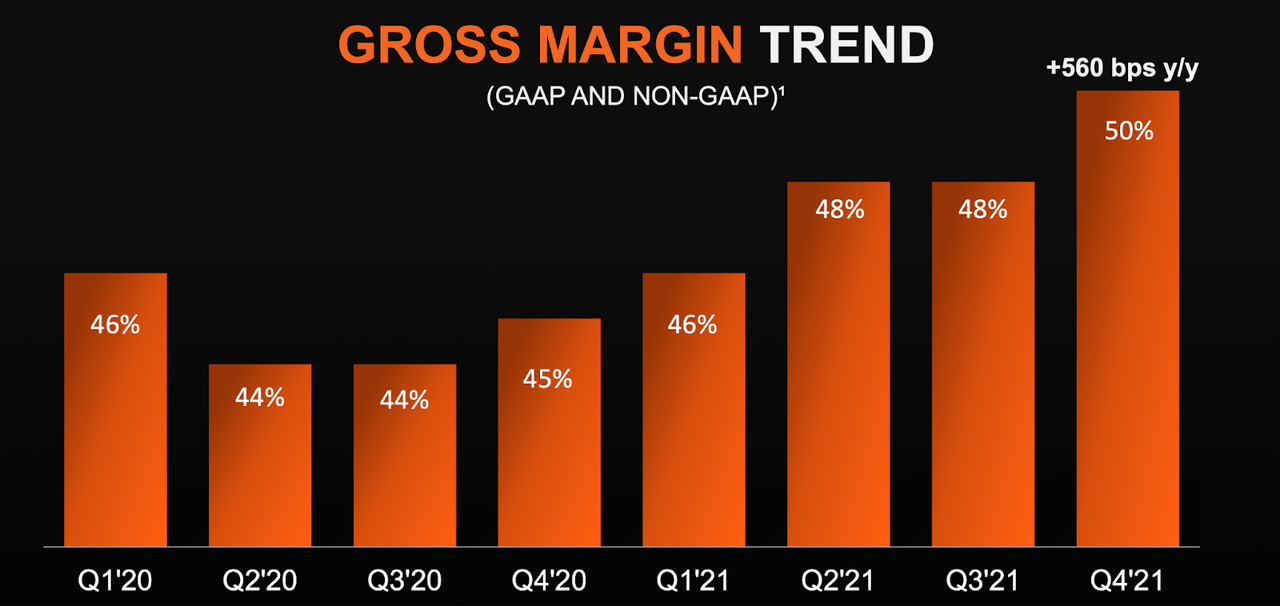 That gross margin expansion helped offset ongoing issues regarding supply chain constraints. AMD also realized some operating leverage, helping it grow earnings per share by 77%.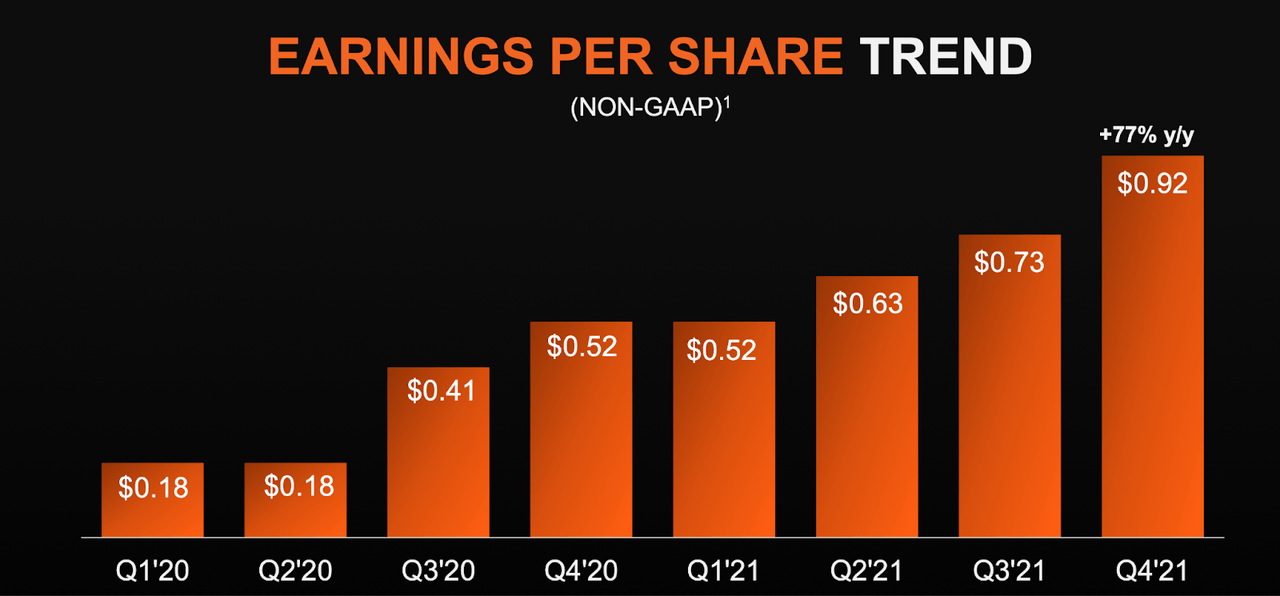 I note that operating margin has expanded from 12.5% in 2019 to 25% in 2021. As recently as 2017, there was talk about AMD carrying financial solvency risk due to its high debt load and lack of earnings. That has all changed as the company is now a cash flow machine, having generated free cash flow of $736 million in the quarter. The company even repurchased $756 million of common stock in the quarter. I just noted that the company had a sizable debt load in 2016. The company has since transformed its balance sheet as it had $3.3 billion of net cash at the end of 2021.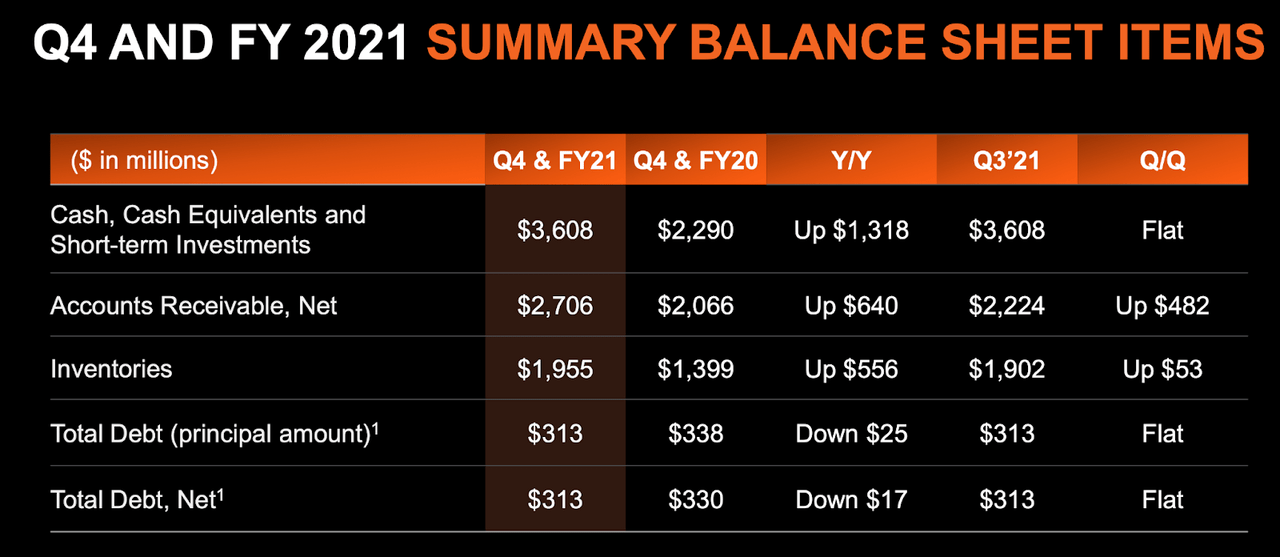 Looking forward, AMD has guided for around 31% revenue growth in 2021 with stable operating margins.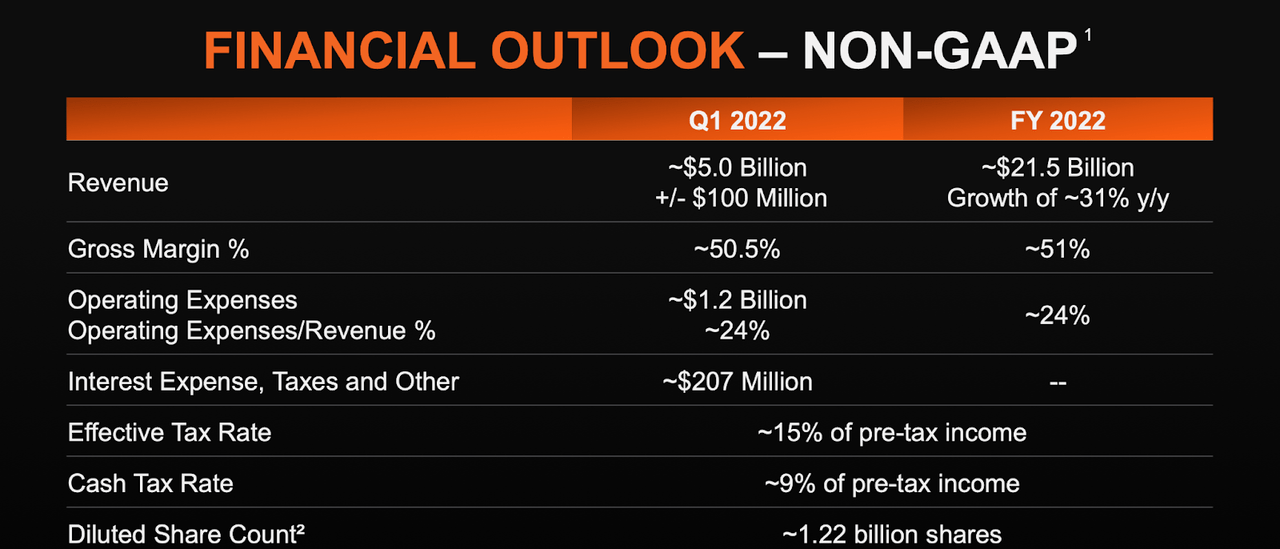 What Is AMD's Stock Price Target?
Wall Street analysts are quite bullish on the stock with an average rating of 3.97 out of 5.

The average price target is $150.34 per share, representing just over 20% potential upside.

What Is The Short-Term Outlook For AMD Stock?
In the near term, AMD aims to work through its recently closed acquisition of Xilinx. AMD expects to realize accelerated growth through the various synergy opportunities.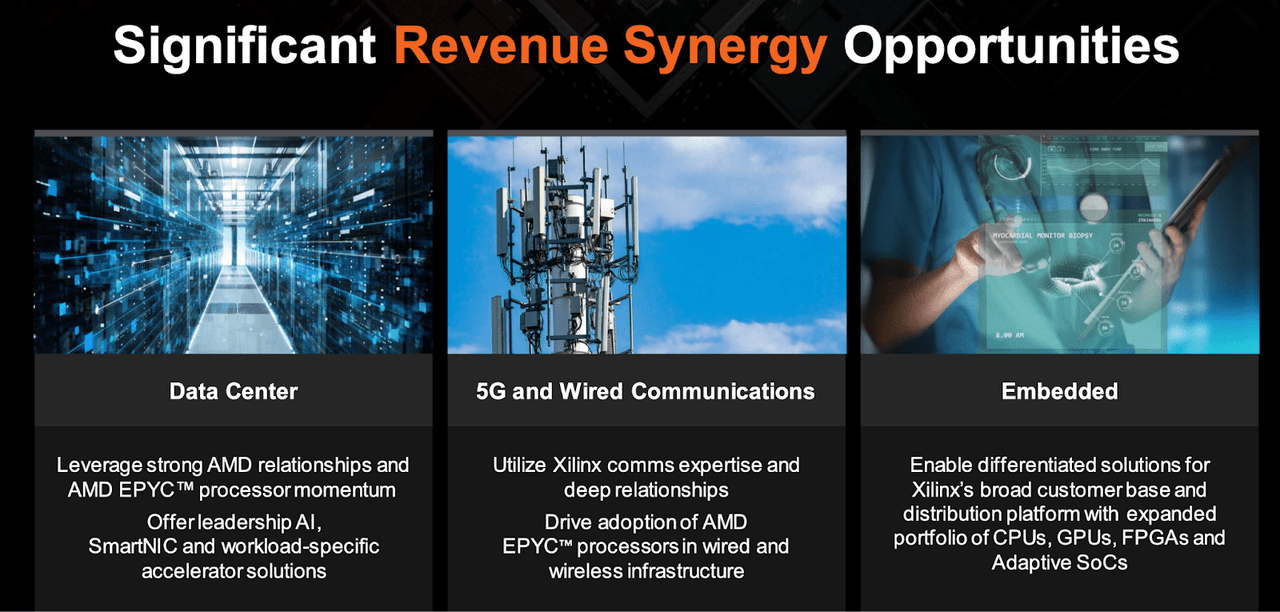 The transaction was an all-stock deal and as of the latest quarter, Xilinx had $3.7 billion of cash versus $1.5 billion of debt and was generating positive cash flow. This means that AMD is able to increase its net cash position to around $5.2 billion. As AMD realizes ongoing synergies, I wouldn't be surprised if the company stepped up its share repurchase program significantly.
Where Will AMD Stock Be In 10 Years?
Over the long term, I expect AMD stock to be higher. It is up for debate as to exactly how much higher, but with the world clearly moving towards digital uses and cloud platforms, demand for semiconductor chips should only continue increasing. AMD believes it is addressing a $135 billion total addressable market.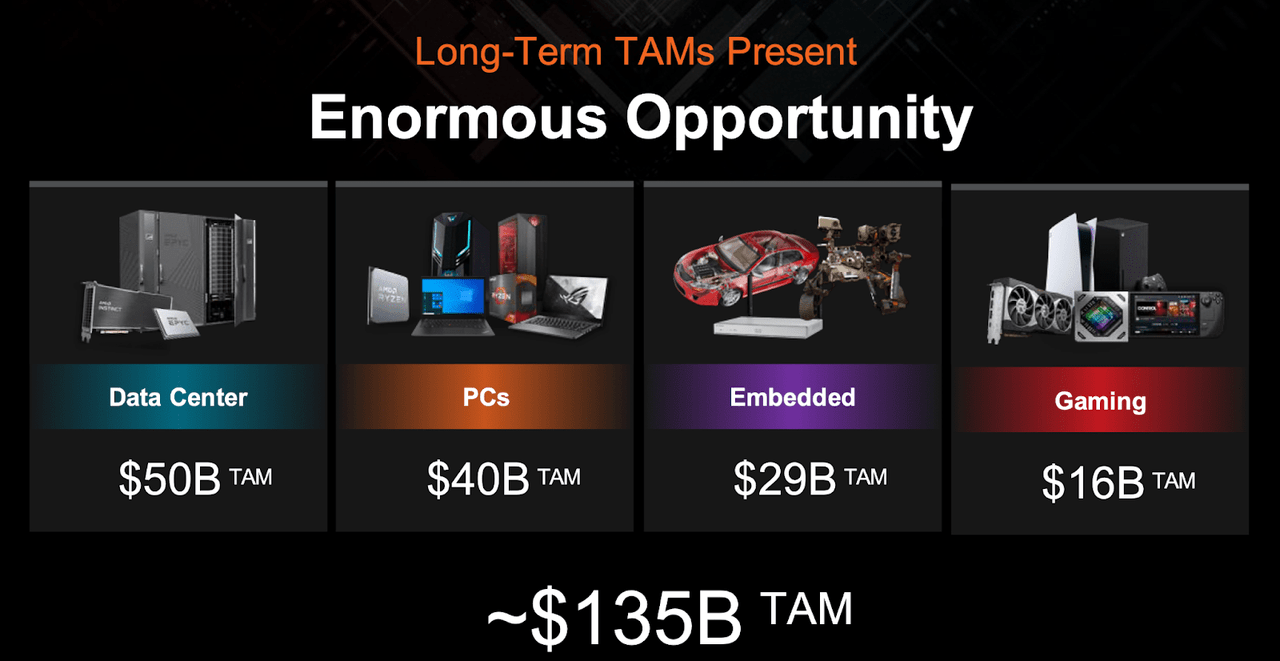 Investing in top tier semiconductor companies like AMD comes with the lower risk growth story of semiconductors. That story has clearly seeped its way into influencing the stock's valuation.
Is AMD Stock A Buy, Sell, or Hold?
Wall Street expects AMD to realize 55% revenue growth – this looks like it takes into account revenues from Xilinx (AMD had excluded Xilinx financials from its guidance).

Revenue growth is expected to decelerate considerably from there down to 14% in 2023. Analysts expect earnings to grow at a faster pace.

AMD is expected to realize 28% net margins by 2026 as compared to 25% operating margins today. That is a fairly reasonable assumption. Assuming a 2x price to earnings growth ratio ('PEG ratio'), AMD might trade at 24x earnings by 2026 (I assumed 10% forward revenue growth and 12% forward earnings growth). That represents a stock price of $166 per share, or 54% upside over the next five years, or 9% annualized. That is an insufficient return outlook for a tech stock, especially considering that valuations across the board have become more reasonable over the past few months. Perhaps we think that AMD will realize stronger growth than consensus estimates. Perhaps we think that AMD can sustain 15% average revenue growth from 2023 through 2026, and it can achieve 30% net margins by 2026. In this case, AMD would achieve $44.6 billion in revenues and $13.4 billion in net income in 2026 ($8.48 EPS). At 30x earnings, AMD would trade at $254 per share in 2026, representing 135% upside over the next five years or 19% annualized. That would be a much more attractive return proposition. At 19%, this is perhaps slightly lower than my projected upside for other stocks in the tech sector, but AMD's strong balance sheet, free cash flow generation, and semiconductor growth story all work together to warrant a higher multiple. That said, I wonder if the underlying assumptions to get to that price target are reasonable, as the revenue growth, margin, and multiple assumptions all might prove too aggressive. I rate shares a buy due to the high likelihood of upside, but note the presence of better opportunities elsewhere in the tech sector.