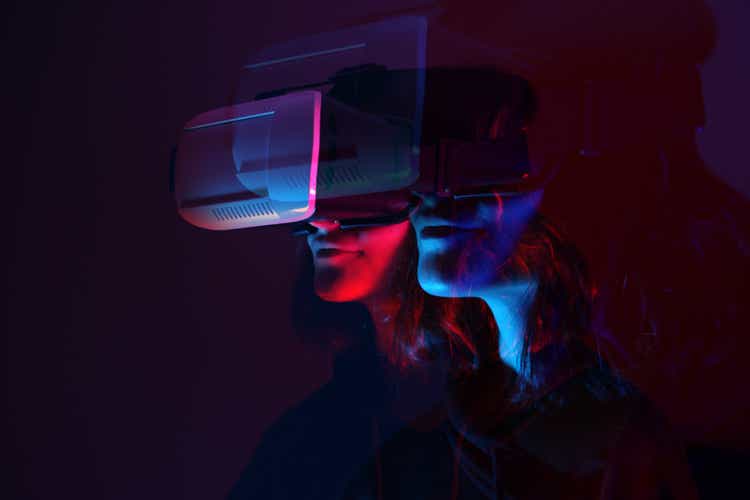 By Yan Taw (YT) Boon
Could the metaverse be a revolution in every aspect of our lives, ridiculous hype that will lead nowhere, or the natural progression of a world we've been living in for decades?
Today's CIO Weekly Perspectives comes from guest contributor Y. T. Boon.
What is the "metaverse"?
For some people we speak to, it's a phenomenon that will completely change every aspect of our lives: the way we play, the way we shop, the way we learn, the way we work. For others, it's all hype: high-tech solutions looking for problems.
The way we see it, neither of these takes gets at the most important truth about the metaverse: We've been living in it for decades.
"V.I.P."
At Neuberger Berman, we think of the metaverse as three interrelated landscapes, which we call "V.I.P."
The "Virtual World" is the content. A virtual world of content has existed for more than 30 years. It's called the internet. The "Infrastructure" is what the content will sit on: That's nothing more than the computer network. The "Physical Gateway" refers to the devices through which we will interact with the content, integrating it into more and more hours of our everyday lives. Enter the touchscreen smartphone, more than a decade ago. The metaverse itself describes how we actively interact through the virtual world of content, rather than experiencing it passively. We've been doing that on social media for 20 years.
The computer network is getting faster, smartphones are turning to virtual reality headsets and social media is becoming unmediated virtual social interaction, but these are decades-old trends in user behavior simply being accelerated by advancing technology.
We believe that's why some of the world's biggest software, hardware, social media, gaming, and entertainment companies, from Facebook (FB) and Nvidia (NVDA) to Apple (AAPL), Sony (SONY), and Epic Games, are rushing to make metaverse-related acquisitions and investments. We think it's an economic opportunity set for rapid growth over the next decade – and the world appears to be already primed for it.
Wearable Tech and High-Speed Networks
Let's start with the Physical Gateway, which provides the user's way into the metaverse, and through which data moves between the user and the metaverse. In our view, this represents about a quarter of the investment opportunity. The big story we see here is the shift from smartphones to wearable augmented and virtual reality (AR/VR) technology.
The opportunities are in making that technology lighter, more comfortable, less disorienting, and more functional. Some manufacturers, such as HTC (OTC:HTCKF), produce headsets, goggles, and other wearables. Others, such as Sunny Optical (OTCPK:SNPTF) (OTCPK:SOTGY), specialize in the micro-lenses and sensor modules for eye- and motion-tracking in these next-generation AR/VR headsets.
The infrastructure, which in our view represents another quarter of the investment opportunity, carries data between the user and the metaverse.
We believe specialists in graphics processing, such as Nvidia, have a key role to play in 3D rendering for the metaverse. First used for gaming and simulation, Nvidia's technologies lend themselves to the virtual world. The company's open platform, Nvidia Omniverse, has significant design tool platforms signed up and has already enlisted partners from the entertainment, engineering, and automotive industries. As users share massive amounts of increasingly sensitive data, we also see a growing necessity for cybersecurity solution providers like Palo Alto Networks.
Virtual Shopping for Virtual Goods
None of this hardware would have a use without the Virtual World itself – and once you start to imagine the potential scale and range of that world, it very quickly gets your head spinning. That's why we think content generation will account for half of the metaverse opportunity.
We can think of the content opportunity as split between, but also spanning, AR (where content is superimposed on the real world) and VR (where content makes up the whole virtual world). Pokemon GO brought AR into the mainstream via smartphones six years ago. Earlier this year, it was used as an application to demo Microsoft's AR HoloLens headset, while the game's developer, Niantic, is reportedly going a step further into AR mobile gaming by developing its own set of AR glasses for more immersive gameplay.
Through VR, consumers are already going virtual shopping for virtual goods. Partnerships between gaming technology companies and apparel manufacturers such as Gucci and Nike (NKE) allow us to dress our online avatars in designer clothing purchased from digital showrooms within virtual worlds. Pop stars' avatars are giving concerts in virtual venues where their fans' avatars interact with one another. Some of today's pop stars were even born as avatars. Other "virtual humans" are being created to act as social media influencers for leading brands.
If that all sounds a little frivolous (to be clear, the money in question is anything but), consider some other uses for the same technology.
AR is also used in "head-up" displays for automobiles, where windscreens have superimposed navigation and safety information. Beyond AR, videoconferencing – itself a seemingly recent phenomenon boosted by the COVID-19 pandemic – is rapidly going 3D and immersive. Real estate agents are offering immersive house tours. Educational institutions are offering virtual lectures. Immersive virtual worlds have obvious benefits for training surgeons and workers, such as nuclear power plant operators or airline pilots, who are heading into high-risk environments.
Creating metaverse content brings together distinct sets of skills and experiences in unexpected and intriguing partnerships.
Investors can seek opportunities among key enabling companies in 3D design and simulation software that are starting to apply their skills to creating virtual humans or "digital twins." But there are also opportunities for consumer and industrial companies to use these new technologies to enhance their training and operations or expand their markets into the virtual world.
We already mentioned the social gaming platforms that are partnering with consumer goods brands for in-play shopping. We think their next partnerships are likely to draw on the video gaming industry's expertise in rendering hyper-realistic graphics, or the storytelling skills and intellectual property of the entertainment giants. Only the prospect of the metaverse can make sense of a hardware and cloud computing firm like Microsoft acquiring a video games specialist like Activision Blizzard.
Video-Gamifying Everything
This unlimited reach and cross-fertilization make the metaverse a challenging investment opportunity to manage.
When some of its leaders are mega-cap veterans of the stock market developing or acquiring new technology, and others are disruptive micro-caps that require more thorough due diligence, we believe a research-led, active management approach is necessary to identify those companies with the right mix of innovation, management quality, and strategic partnerships.
This mix also makes for a vast and fast-developing ecosystem. It is nothing less than "video-gamifying" almost everything we do as an immersive, interactive online activity. And while we believe building the infrastructure and physical ecosystem to make this experience seamless will take many years and billions of dollars of investment, we are already starting to live in the metaverse in our modest, clunky ways. In our view, when something feels this natural, consumers will not wait for perfection, any more than they waited for modern graphics processing microarchitecture before playing Space Invaders.
In short, the metaverse game will likely be epic, and it is already well underway. We think it's an opportune time for investors to get serious about competing.
In Case You Missed It
U.S. Consumer Confidence: +1.5 to 107.2 in March
S&P Case-Shiller Home Price Index: January home prices increased 1.8% month-over-month (SA) and increased 19.1% year-over-year (NSA)
U.S. 4Q 2021 GDP (Final): +6.9% annualized rate
U.S. Personal Income and Outlays: Personal spending increased 2.7%, income increased 0.5%, and the savings rate increased to 6.3% in February
Eurozone Consumer Price Index: +7.5% year-over-year
U.S. Employment Report: Nonfarm payrolls increased 431,000 and the unemployment rate decreased to 3.6% in March
ISM Manufacturing Index: -1.5 to 57.1 in March
What to Watch For
Monday, April 4:

Eurozone Producer Price Index

Tuesday, April 5:

ISM Non-Manufacturing Index
China Purchasing Managers' Index

Wednesday, April 6:
– Andrew White, Investment Strategy Group
This material is provided for informational purposes only and nothing herein constitutes investment, legal, accounting, or tax advice. This material is general in nature and is not directed to any category of investors and should not be regarded as individualized, a recommendation, investment advice or a suggestion to engage in or refrain from any investment-related course of action. Investment decisions and the appropriateness of this material should be made based on an investor's individual objectives and circumstances and in consultation with his or her advisors. Information is obtained from sources deemed reliable, but there is no representation or warranty as to its accuracy, completeness or reliability. All information is current as of the date of this material and is subject to change without notice. Any views or opinions expressed may not reflect those of the firm as a whole. Neuberger Berman products and services may not be available in all jurisdictions or to all client types.
Investing entails risks, including possible loss of principal. Investments in hedge funds and private equity are speculative and involve a higher degree of risk than more traditional investments. Investments in hedge funds and private equity are intended for sophisticated investors only. Indexes are unmanaged and are not available for direct investment. Past performance is no guarantee of future results.
This material is not intended as a formal research report and should not be relied upon as a basis for making an investment decision. The firm, its employees and advisory accounts may hold positions of any companies discussed. Specific securities identified and described do not represent all of the securities purchased, sold or recommended for advisory clients. It should not be assumed that any investments in securities, companies, sectors or markets identified and described were or will be profitable.
This material is being issued on a limited basis through various global subsidiaries and affiliates of Neuberger Berman Group LLC. Please visit www.nb.com/disclosure-global-communications for the specific entities and jurisdictional limitations and restrictions.
The "Neuberger Berman" name and logo are registered service marks of Neuberger Berman Group LLC.
© 2009-2022 Neuberger Berman Group LLC. All rights reserved.
Editor's Note: The summary bullets for this article were chosen by Seeking Alpha editors.