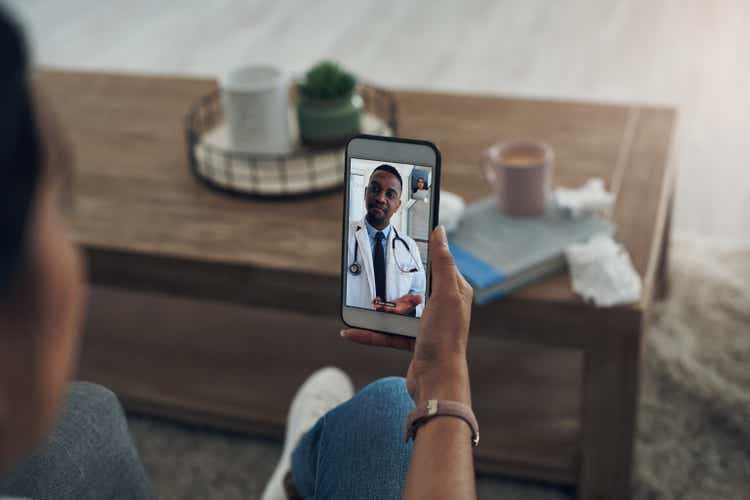 A broken thesis
One of the most important attributes in a person is their ability to learn from prior mistakes. I believe that I was wrong about Teladoc Health, Inc. (NYSE:TDOC) and in this article, I want to share where I went wrong about the company. Teladoc was one of the high fliers through 2020 and early 2021.
I got interested in the company around mid-2020 when I still was very new to the stock market and continued to build an increasingly large position throughout 2021 until around September 2021. At the peak of my allocation, the stock was 16% of my portfolio. I cut the position by 25% in January for risk management. Finally, I closed my position after disastrous Q1 earnings in late April at a 75% loss. I learned a lot and grew as an investor, so I hope these learnings and red flags I ignored will help others to learn as well.
The macro is still looking good
The macro situation hasn't changed, the Telehealth industry is still expected to grow at around a 32% CAGR over the rest of the decade. Teladoc will be part of our future. The question remains, though, in what way and who will benefit (besides the consumer)? These are questions that I can't accurately answer in hindsight, especially considering that similar offerings do not exist yet in Germany. Regardless, I kept holding onto my conviction in Teladoc's leading portfolio of services, even though I never used any single one of them!
Lesson: Try to get first-hand experience if you invest in consumer-facing products.
Teladoc grew revenues, but at what cost?
In my first article about Teladoc I mentioned its three levers of growth:
Utilization – The percentage of paid members that actively use their services
PMPM – revenue per month per member
"Using members" – a metric I personally use = Paid members * Utilization
I included a similar chart to the one below, tracking these custom metrics and showcasing how utilization and PMPM are levers for growth. I ignored one important part, though: Dilution. For this article, I added a share count (in million) and a revenue per share column.
In late 2020 Teladoc closed its behemoth acquisition of smart medical devices company Livongo for $18.5 billion in mostly stock plus some cash. We can see in the share count column that after the deal shares outstanding almost doubled! Teladoc expected high cross-selling synergies and especially to gain a lot of insight from Livongo's patient data. The devices would pick up data like blood sugar levels every few hours from its patients resulting in a lot of data that Teladoc could leverage to improve its telehealth services.
The acquisition didn't end up working out as well as expected, though. Livongo's results kept disappointing and eventually in Q1 22 Teladoc had to write down $6.6 billion as a goodwill impairment charge. The market expected a write-down but nowhere near as much as $6.6 billion and shares plummeted around 40% after Teladoc was already down over 70% from its 2021 high.
It is said that around 70-90% of acquisitions fail and destroy value. The Livongo acquisition undoubtedly fell into that category. From Q3 20 to Q1 22, revenues per share declined by 2% for Teladoc. I strive to invest in companies with good capital allocation, and this acquisition should have been a reason not to invest in the company or at least to keep it at a very small speculative position size. Teladoc currently has a 237% EV to Goodwill ratio. The companies in my portfolio all are within the 0-25% range for this custom metric I now use to roughly get a feeling for the results of past acquisitions.
Lesson: Dilution is a real cost and can't be ignored under any circumstance!
Skin in the game matters, especially for growth companies
Especially with fast-growing, unprofitable and diluting companies, it is important to have management with skin in the game that wants the company to succeed. This is one of my normal rules for growth stock investing, and it is the case in my other growth stocks, yet for Teladoc I did an exception. Insiders own a total of 1.1% of shares, with the CEO owning just 0.35% and the CFO just 0.015% of the company. I believe that a management team with a serious stake in the company will allocate capital in a very different way than a management team that just wants its next paycheck and potentially performance bonuses for revenue growth targets. Low skin in the game with unprofitable companies is a red flag in my books and I sadly gave Teladoc a pass here for too long.
Lesson: Invest alongside Owner-operators with skin in the game.
Management integrity matters
As somebody that wants to own companies with above-average capital allocation, good management is a must-have. It goes hand in hand with my previous point: Skin in the game helps, but the people also need to have integrity. What use is a management team that isn't truthful to its shareholders, the owners of the company they run?
Throughout 2021, I wasn't happy with the way management communicated with shareholders. In my first article, I mentioned how management needs to address the right points and talk about the actually meaningful metrics. This should have been a red flag. In the Q1 earnings call, the management team finally lost my trust, and I started to reflect more carefully on the past. The story portrayed in earnings calls was always that "our big deal pipeline is full and contracts will be active next quarter," yet results haven't shown that. During the 2021 investor day they presented their roadmap and since then have been tip-toeing around with excuses.
In February management talked about the great resilience and high visibility of earnings and margin expansion they see in the business. Then just a few weeks later they suddenly have a 300 bps margin headwind and a lot of new competitors? Alongside a 50% increase in marketing spend. In the same Q1 call, they kept dodging questions, always reiterating their "new competitors with financially irrational decisions and business models" (I found this particularly funny coming from the management team that had invested $18.5 billion into Livongo). All of this combined led me to lose all of my confidence in management to lead the company going forward.
Lesson: Management integrity is vital as well as them holding their promises.
Can Teladoc be turned around?
I sold my shares, but is there still hope for Teladoc? Absolutely! The company still has, what is supposed to be, one of the best software platforms in the telehealth industry, deals with big players like Microsoft and Amazon, and an industry tailwind. What needs to happen for me to consider the company again is a new management team. If we get that and potentially a large activist investor looking to get the company back on its path then there is definitely potential in Teladoc, but under the current circumstances, I do not consider owning the stock again.
Summary of my lessons learned
At the end of the day, I learned a lot of lessons about investing early on in my investing journey. Biases are an investor's worst enemy and we need to strive to stay objective and see things how they really are. I saw plenty of red flags in Teladoc in hindsight and I hope that I will see them earlier in my next investment that goes south because everybody picks bad stocks from time to time. Here again, are my lessons learned:
Try to get first-hand experience if you invest in consumer-facing products.
Dilution is a real cost and can't be ignored under any circumstance!
Invest alongside Owner-operators with skin in the game.
Management integrity is vital as well as them holding their promises.