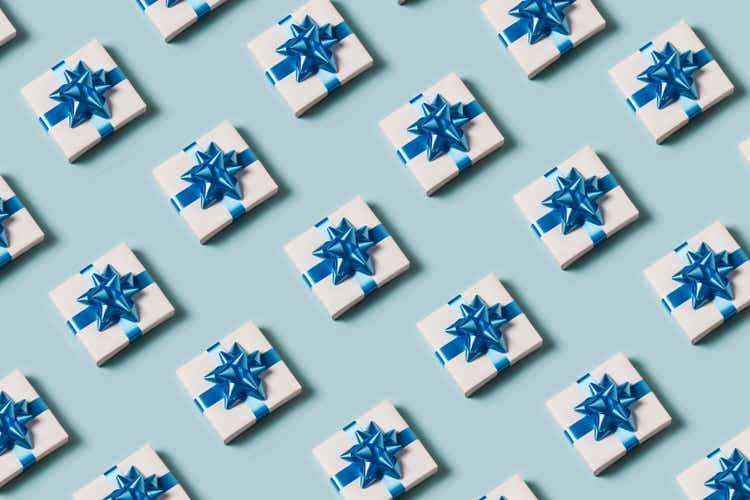 Income investing doesn't have to be a popularity contest, and this holds true for business development companies. While the larger BDCs such as Ares Capital (ARCC) and Owl Rock Capital Corp. (ORCC) attract a lion's share of attention, there are smaller BDCs that also offer an attractive value proposition. This is especially considering that smaller BDCs have more room to run, and it doesn't take as much to move the needle for them.
This brings me to Stellus Capital Investment Corp (NYSE:SCM), which is one such small BDC that now sports a high yield in the low teens (including special dividends). In this article, I highlight what makes SCM a solid income investment, so let's get started.
Why SCM?
Stellus Capital is an externally-managed BDC that focuses on providing debt financing solutions to middle market companies in the U.S., with annual EBITDA in the $5-50M range. SCM went public in 2012 and received its first and second SBIC licenses in 2014 and 2019. Since IPO, SCM has invested over $8 billion across 300+ companies in 20 industries.
SCM has demonstrated strong performance over the past decade, realizing an annualized ROE of 9.86% over this time period, putting it in the top 10 of all publicly traded BDCs. SCM has also demonstrated fairly stable NAV per share over this time frame, outside of a brief dip during 2020. As shown below, SCM's NAV/share of $14.59 now sits above where it was at the end of 2019.
This is a reflection of management's conservative lending practices, which focuses on direct originated loans as opposed to broadly syndicated financings. In most cases, SCM is the sole lender in the tranches in which it invests. This direct relationship with borrowers helps to facilitate a one on one dialogue and the establishment of a long-term business relationship, with opportunities for follow-on financing rounds.
SCM's portfolio is growing rather fast, with a 3-year CAGR of 17%. SCM currently has a portfolio fair value of $838 million that's diversified across 78 investments. It also has relationships with over 170 equity sponsors, which provide a healthy deal flow. As shown below, SCM's top industries are diversified across generally essential segments, including business services, healthcare, aerospace & defense, and media.
Meanwhile, SCM has seen improving business fundamentals, with Core NII per share growing by $0.01 YoY to $0.29 in the first quarter. Moreover, SCM grew its NAV per share by $0.27 YoY to $14.59. Also encouraging, SCM's dividend rate (regular and special combined) has now returned to its pre-pandemic run-rate of $0.34 per quarter (paid monthly).
Management also maintains portfolio safety, with 91% of the debt portfolio dedicated to first lien secured loans, and with most of the remaining (8%) dedicated to second lien secured loans. Moreover, nonaccruals remain low, comprising just 3 loans, representing just 0.7% of the portfolio.
SCM's regular dividend rate of $0.28 per quarter is covered by its NII per share, and I see continued ability for it to fund its special dividend amounting to $0.06 per quarter. This is driven by the $23.7 million, or $1.22 per share, in realized gains that SCM received on portfolio exits in 2021, and the $6.3 million in realized gains it achieved year-to-date.
Looking forward, SCM is well-positioned for a rising rate environment, considering that 96% of its debt investments are floating rate. It also maintains a healthy regulatory debt to equity ratio of 1.07x, sitting well below the 2.0x statutory limit.
Potential risks to the thesis include a slow-down in the economy. However, there could be a silver lining for SCM, as it partners with private equity firms that have substantial dry powder to invest, and depressed tech valuations may bring on more M&A activity at these private equity firms, as noted by management during the Q&A session of the recent conference call:
Q: With regards to the slowing economy and the rising interest rates, are the private equity partners actually doing anything that you might notice that position themselves for the changing environment?

A: Sure. Well, so a few thoughts. One, the good news is that as almost all of our companies are owned by private equity firms, so very smart investment professionals in all cycles. And certainly, we're preparing and thinking through the headwinds ahead. So I think that, that would be normal, and it's why we have the strategy overall.

We've seen a little bit of a slowdown in activity in the first quarter, but there's substantial dry powder in private equity firms. So we do expect there continue to be acquisitions occurring throughout the year. But you would think that, again, with these headwinds that there'll be even more selectivity and perhaps you'll see lower multiples paid for companies but we're still waiting to observe that.

But again, I'd say the most important point about your question, is how it's very positive for our portfolio to have such smart able investors back in the companies.
Lastly, I see the recent drop in SCM's share price as presenting an attractive high yield opportunity. SCM now yields 11.9% when special dividends are included. At the current price of $11.44, SCM also trades at a material discount to its NAV, with a price to book value of 0.79x. As shown below, this sits at the low end of its 3-year range.
Sell side analysts have a consensus Buy rating with an average price target of $14.50, implying a potential one-year 39% total return including dividends.
Investor Takeaway
Stellus Capital Investment has a strong portfolio of investments, a high dividend yield, and trades at a material discount to its book value. While there could be some headwinds in the form of a slowing economy, I believe SCM is well-positioned to weather them due to the quality of its portfolio and the private equity firms it partners with. As such, I believe SCM is an attractive high yield opportunity in the current market environment.