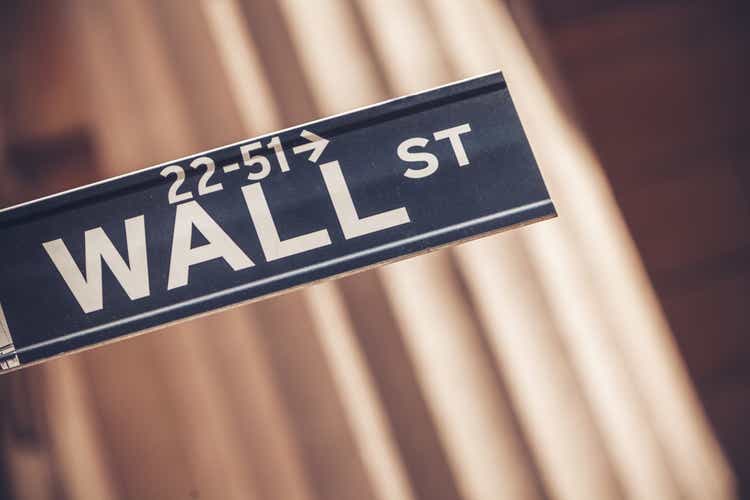 We have to tell you, SoFi Technologies, Inc. (NASDAQ:SOFI) is quickly becoming a battleground stock. Simply go and look at any recent column penned on this stock and you will see the extreme dichotomy that is evident between the ardent bulls and the stubborn bears. Sure, there are arguments that bears can and have made. They have merit. But they are not looking at the larger picture.
SoFi is a fintech, and it is not an "also ran" type company. They have built there business from the ground up. We have been bullish on the stock since it dropped under $8. In our two recent bullish columns, you can also see the extreme divergence that is growing between those that believe in the company and those that think it is woefully overvalued and will falter.
We are in the former camp. We see the company as growing from a social finance platform for simple loans, into a massive tech-focused bank that competes with its more traditional lending institutions. Others, however, are so bearish you would think the sky is falling.
In this column, we address two key catalysts we believed would spark the stock which have become sources of tension between bulls and bears. One is the granting of a bank charter, and the second was the repayment of student loans. In this column, we expand on some of these issues and share recent words from CEO Anthony Noto that you may not have seen. We also offer our thoughts and outlook. Let us discuss.
Student loan pain
I guess we should start with the student loan issue. As we know, student loan payments have been on hold for two years. We have believed that when repayments resumed, it would help SoFi. That is a fact. When repayment begins, it will help.
That said, repayment has been delayed time and again, most recently until May 2022. There is a growing belief that due to immense inflation in food and gas prices, as well as elections in November, the government may extend the pause yet again on student loan repayment. Make no mistake, SoFi will benefit when repayment begins. But, the lack of repayment actually is not as much of a negative as you may think.
At a recent conference, CEO Anthony Noto was asked about repayments. He stated:
The industry, the servicers are ready for starting repayment. And they have been ready since the fall. The last — the extension prior to the one in December that September was supposed to be the end of student loan payments and the moratorium against the student loan payments and present by the administration extended the September date to the January 31 date to ensure that the servicers were prepared.

We talk to the servicers all the time. They're 100% prepared to resume the payments of federal student loans on May 1. So that's not an issue at all. The economy is not an issue at all. It's very clear the administration is focused on potentially extending this for 1 reason and one reason only, midterm elections. It's 100% political. We have record inflation. We have strong economic growth, all the other aid programs tied to the pandemic that were instituted back in March of 2020 have ended. This is the last element that's left and the progressives are putting a tremendous amount of pressure on the present administration to stand by their campaign promises of giving forgiveness on student loans. And because they're not ready to do that or they haven't come to the right structure to do it, they're going to kick the can down the road and consider other ways to keep the progressives alter back.

One way is to extend their federal student loan payment moratorium. There's been a lot of noise out of Washington last month. The President's Chief of Staff said that 2.5 weeks ago that next week, the President would either extend the moratorium or announce restructuring, neither of which has happened. So far is going to be fine either way. We had record revenue in Q3. We had record revenue again in Q4. We did $1 billion of revenue in 2021 with our largest first business running at 50% capacity, and we had full year EBITDA of $30 million. So we're prepared for it either way. The good thing is we have a diversified business. That business has allowed us to hit those record numbers despite this student loan moratorium going on 2 years now. So we're prepared for it either way. We gave guidance to the Street on what would happen per quarter after it was extended.

So hopefully, investors understand the economic impact as well. We're not going to slow down. The other businesses we have are driving great growth and contributing significantly, and we feel really comfortable that we benefit from a diversified business. Some businesses do well in a low rate environment, some do well in a high rate environment, and we can continue to drive really strong top line growth and improved profitability without student loans if that unfolds.
The sky is not falling. We agree that a further delay in repayments is really akin to vote buying. The economic data does not support ongoing pauses. We would argue that the economy will slow down when millions begin repaying loans after two years. We strongly believe consumers got used to not paying and adjusted their spending accordingly. When repayment begins it will be a negative for the economy.
It would seem this is the result the Fed would want, to cool demand. So, a delay in repaying, seems purely like a move for those in power to show they have "done something to help." Our view is this: once the loans begin to be repaid, it will help SoFi. However, SoFi is setting records without it. The sky is not falling, but the extension may occur. Last month we saw the Department of Education tell loan servicers to delay sending notices to borrowers that their payments will resume. That could mean another extension is coming again.
Here is what you may not realize, and is key to recognize: the company is prepared for an extension, or, for repayments to begin as mentioned. That remains to be seen, but is a short-term risk that keeps on weighing revenue down, and was recently discussed in this somewhat bearish column.
The good news is that, once again, growth accelerated across all 3 reporting segments. In lending, Q4 adjusted net revenue grew 30% year-over-year to $208 million versus 21% in Q3 of 2021. The personal loans business grew 168% or $1 billion year-over-year to $1.6 billion in originations for the quarter, driven by home improvement demand and refinancing activities. Many investors may not realize it, but even though there is a moratorium, the student loans business just enjoyed over a 50% year-over-year growth to $1.5 billion, driven also by refinancing before moratorium expiration.
In the short-run, yes, any delay is not a positive. But, the company is operating and growing just fine anyway.
SoFi's bank charter
So what about this whole bank charter? It is just a fact that having the charter means the company is going to simply pay much less to lend to customers. But how so?
This is an important point. Lowering the borrowing costs will then combine with the already low cost to acquire customers. You probably recall that SoFi was doing very well margin-wise with its loans, and lending rates going higher is a big positive at least on earnings per loan. Keep that in mind, too.
Rates going up improves margins. There may be some rate shock that slows demand for bank loans in the short-term, but long-term higher rates will be a benefit. People need to borrow money. Simple as that. So, SoFi has a very low cost of customer acquisition with low-value financial products and high-value loans on the same app, and now the cost of funding is about to go way down because they can keep the money in house.
That is why they have been acquiring companies. Lending is SoFi's biggest source of revenue and profits and, in order to lend money to people, SoFi was borrowing money to lend it out. This was limiting the interest rate spread. Being a true "bank" will drastically reduce the cost of funds, and immediately boost margins.
Anthony Noto commented on this too recently at the same conference:
Yes. The team has done a great job since we got the final approval. We had to basically close down SoFi Money and stand up SoFi invest. We had to transition over all of the accounts from SoFi Money to — sorry, we just stand on SoFi Money and stand up SoFi Checking and Savings. And that includes having to transition people off of SoFi Money to SoFi Checking and Savings. It's a different technology. It's a different reporting process. It's a different marketing from a brand perspective and also value prop perspective. So we worked really hard throughout the fall to be able to get approval in early December. So we would hit 2022 running on all cylinders.

There's a variety of different factors that impact what's going on in Washington, if you've been paying attention, you'll see that the Fed Chairman needed to be renominated. He then had to go through confirmation hearings. In addition to that, there were a number of other board members that were being nominated for new positions and some new Federal Reserve Board members that were nominated one of which withdrew. So there's a lot of moving parts throughout November, December and January. I couldn't be more thankful that we received approval in January, but the fact of the matter is we lost that entire month from being able to market the new product. We then needed to go through a transition, and it really wasn't until end of February, beginning of March that we were able to go generally available for the Checking and Savings account. The team has done a phenomenal job in building that product and bring it to market and I'm really pleased with the progress the team has made as well as a differentiated product that we have with consumers.

And it's a really important top of the funnel driver for us. It gives us the central nervous system. When people do direct deposit, that's what we're trying to drive. And as we said in the last call, we're seeing nice pickup there. Once we have the direct deposit, the economics of that product work rate, it's a viable stand-alone checking savings account product. but it also drives a lot of opportunity for cross-selling and leverage what we call the financial services productivity loop. And we've seen really great progress there throughout the year driving lower customer acquisition costs and really rapid growth in members and products per member in light of a more challenging backdrop for others on the cost side.

So the bank charter is important for that Checking and Savings account, but it also is an important part of our strategy to include funding our loans at lower cost. And the team has been moving the technology of our loan origination from our prior licenses with states into the bank and originating in the bank.
So what does this mean? Having customers of the actual bank that are depositing money becomes a direct source of funds available for lending to consumers at a higher rate. News flash to those who claim the sky is falling: this is traditional bread and butter banking that has worked for centuries. It is a major long-term positive for the company.
The benefits are just starting to be seen. This is because SoFi was unable to offer interest rates to its customers that were higher than the interest rates from partner banks:
…we are not permitted to offer members an interest rate on their SoFi Money account balance that is higher than the interest rate we receive from our partner banks…Our competitors are not subject to the same restriction and we may lose current SoFi Money account holders to those competitors or fail to sign-up new SoFi Money account holders due to our competitors offering a lower interest rate.
Once again, with the charter, SoFi does not have to rely on these partners. This should result in the company seeing an increase its net interest margin, as a result of a lower cost of funds, and allow it to offer more competitive interest rates to attract customers.
Having the bank charter now creates an opportunity for the personal finance side of the business to offer customers even better interest rates which could draw many new customers to SoFi. Prior to the charter, this was a fintech, with not much protection from competition. We believe that the bank charter may help SoFi create a bit of a protective moat, which will help protect its lending and financial services businesses. The company's growth in the last two years has been impressive, as SoFi's customer growth was strong during the pandemic.
The customer count and loan balance growth has been driven by the offering of many new products, especially financial services products such as insurance or investment products. The ability to cross-sell products to new customers will further be expanded. The financial services category has seen the fastest growth in SoFi's business in the last year and also the highest customer adoption. The bank charter is likely to help accelerate growing commercial momentum, and lead to even better customer acquisition and improved customer monetization.
Looking ahead
When we look at bearish arguments, most often we hear about how student loans are not being repaid, and that the company is not profitable even though other "banks" are. These are both true, and yet, SoFi continues to grow. Things sure look good for a sky that is falling.
We admit, the action in the stock stinks. There is uncertainty and the Street hates that. However, the outlook is quite solid.
But as we look to Q1, we are looking for $281-$284 million of revenues, up 30% to 32% year-over-year. For the full-year 2022, we are looking for SoFi to grow the top line by 53% to 60% year-over-year. While the timing of rate hikes will impact this, we also expect adjusted EBITDA of $175-$190 million.
These forecasts are built on the basis of management's outlook, as well as an average of analyst forecasts. We see customer growth continuing, and driven by some new offerings. Growth is being seen heavily in the SoFi Invest product as well as SoFi Money. We expect ongoing growth here with the recent rollout of fee-free cryptocurrency on automatic investments. This will allow customers to get no fee purchases of crypto on direct deposits. This may draw in a lot of customers and could allow cross-selling of other products.
Thinking of the charter, if SoFi Bank manages to contribute to Q1 even stronger than expected, we think the Q1 numbers will be exceeded significantly. To do this, the bank needs to be the one originating loans in order to see the big benefits of the charter. We do know that this will take a few more months to ramp up.
Some risks with SoFi
So, the bearish arguments that surround student loan repayment delays, as well as its ability to compete with larger banks, have some merit, but the former is temporary. Eventually, the moratorium will end. SoFi's biggest risk in our opinion would be slowing growth in top line revenues and customer growth after SoFi saturates the market. It is becoming a more recognized brand, and will need to remain innovative to attract new customers.
If we see some moderation here, it could have a negative impact on the valuation multiples that the Street is assigning to it. Even after the downdraft, shares remain somewhat expensive at 5X sales and 1.7X book. A secondary risk would be actions the company takes to counter the first risk. What we mean is that the company could have to increase spend to attract customers or retain them, and this could in turn hurt profit potential. This remains to be seen, but would be the longer-term risk that concerns us. The biggest challenge for SoFi will be maintaining its strong top line growth while increasing profitability.
Take home
Bottom line? We believe in the company and the stock. The expansion to new markets and business lines will pay off, and, as we know, EBITDA is improving. The student loan moratorium is a short-term risk that is largely baked into the stock at $9. Growing revenues is a strong positive, but we need to see a real push toward profitability in the coming quarters. Given that the market has revalued the stock much lower, we still see the stock as a buy in the single-digits. The sky is certainly not falling.