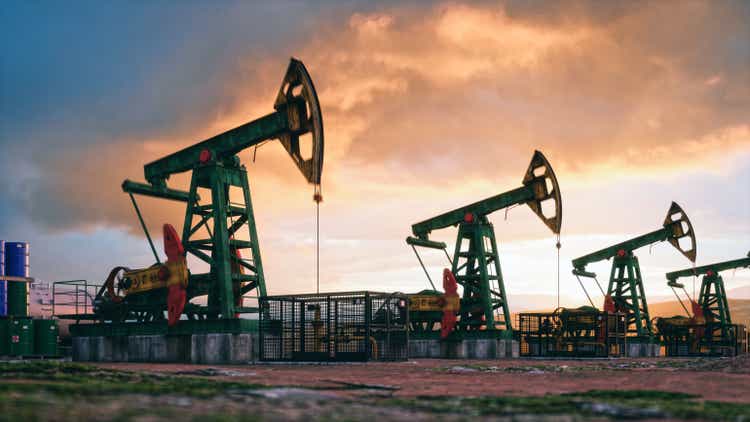 For the most part, the 2022 fiscal year has proven to be incredibly bullish for any company dedicated to the oil and gas space. This has been true across the spectrum of companies, including those dedicated to providing various services to the industry like digital workflow solutions, seismic data interpretation, reservoir-centric technologies and services, well construction, and other related offerings. Unfortunately, not every player has seen the same amount of upside. Some have been laggards in their space. A great example of this is Schlumberger (NYSE:SLB).
Despite posting positive financial results so far this year and even though the company is slated to report relatively strong results for the second quarter this year, shares of the company have underperformed most other players in this space as well as the Energy Select Sector SPDR ETF (XLE). Given how shares are currently priced and assuming that energy prices remain elevated, it is probable that further upside for this business exists. And given how well the company has fared in lower energy price environments, I don't believe that downside should realistically be meaningful from here so long as the bottom in pricing does not fall out. Because of this, I have decided to retain my 'buy' rating on the firm.
Focus on Schlumberger's numbers
Back in April of this year, I published an article detailing why Schlumberger made for an appealing 'buy' opportunity. Since then, performance for the business has not been exactly as great as I would have anticipated. While the S&P 500 is down by 13.8%, shares of this energy services firm are down by 14.2%. That includes the dividends that the company pays out. While this is better than the return of some other players over this time frame, such as Halliburton Company (HAL), it's worse than XLE's 10.9% decline. Over a longer time horizon, however, it's worth noting that performance for the business has really lagged many of its peers. As you can see in the table below, only one of the five companies that are similar to Schlumberger that I identified performed worse than it from the start of the year through today.
| | |
| --- | --- |
| Company | Year-to-Date Return |
| Schlumberger | 16.8% |
| Halliburton Company | 34.3% |
| Baker Hughes Company (BKR) | 19.3% |
| Tenaris S.A. (TS) | 22.0% |
| NOV Inc. (NOV) | 21.6% |
| ChampionX Corporation (CHX) | -4.3% |
When I last wrote about the company, we only had data covering through the final quarter of the company's 2021 fiscal year. We now have data covering the first quarter of the year. And results seen there have been promising. Revenue during that quarter came in at $5.96 billion. That's 14.1% higher than the $5.22 billion the company reported the same time one year earlier. Revenue actually topped analysts' expectations by $37.5 million for that quarter. In addition to that, profitability for the enterprise was quite positive. Earnings per share came in at $0.36, topping analysts' expectations by $0.03. This translated to net profits of $510 million, 70.6% higher than the $299 million generated one year earlier. Other profitability metrics were positive. True, operating cash flow did decline year over year, dropping from $429 million to $131 million, but if we adjust for changes in working capital, it would have risen from $886 million to $1.13 billion. Meanwhile, EBITDA rose from $1.05 billion in last year's first quarter to $1.25 billion this year. In light of strong performance, management even increased the company's dividend by 40%, taking the effective yield at current pricing up to just over 2% annually. That translates to annual cash payouts of $989.4 million as of this writing.
When it comes to the upcoming second-quarter release, analysts continue to expect positive results for the firm. Revenue is expected to be $6.27 billion. If this comes to fruition, it would translate to an 11.3% rise over the $5.63 billion reported the same quarter one year earlier. This should be considered an impressive result considering the company ceased any new investments and technology deployments in Russia at the tail end of the first quarter this year. The company did say that it was fulfilling any existing activity in full compliance with international laws and sanctions. So it is possible there could be some left overexposure to Russia in this second-quarter release. And although, Russia accounted for 5% of the company's revenue in the first quarter of this year. So still generating strong upside while missing out on some of that is a big positive.
For the 2022 fiscal year, management has not provided any real guidance. But based on a review of the company's historical financial results, I believe that EBITDA of between $6.9 billion and $7.2 billion, as well as operating cash flow of between $5.5 billion and $6 billion, is realistic. This would compare to the $4.93 billion in EBITDA reported for the 2021 fiscal year and operating cash flow of $4.29 billion, on an adjusted basis, for that year as well. For investors worried about an eventual weakening in the market, my response would be that this is unlikely to transpire this year.
Given all of the issues regarding Russia, I do not see an oversupply of crude and natural gas until at least next year. And that is likely being generous absent a significant economic downturn. I'm not the only one who thinks this. Last month, Olivier Le Peuch, Schlumberger's CEO, said that global oil exploration and production spending is 'poised to accelerate broadly' in what will ultimately result in increased production. He sees particular strength in the offshore oil sector, with potential growth there of around 50% over the next four years compared to the 2016 through 2019 timeframe. During this time, he also anticipates improved pricing in the oilfield services industry as demand for their services will increase. Even so, the market does seem concerned about the very recent pullback in energy prices as the Biden Administration seeks to bring costs down and as fears mount over a potential recession and rising interest rates.
Even if near-term concerns come to pass, it's unlikely that downside for Schlumberger would be all that material. If my own forecasts for the company's 2022 fiscal year are correct, then it is trading at a forward price to adjusted operating cash flow multiple of 9.1 and at an EV to EBITDA of 9.1. If, instead, we use the company's performance from its 2021 fiscal year, these multiples would be 12.2 and 13, respectively. While performance in 2020 was even worse, it's important to note how painful that year was because of global economic shutdowns caused by the COVID-19 pandemic. In the three years before that, financial performance for the company was quite robust even though energy prices were much lower than they are today. Operating cash flow ranged from a low point of $5.78 billion to a high point of $5.98 billion on an adjusted basis, while EBITDA was between $6.74 billion and $7.11 billion. More likely than not, Schlumberger would still be capable of strong results even in the event of a downturn.
| | | |
| --- | --- | --- |
| Company | Price / Operating Cash Flow | EV / EBITDA |
| Schlumberger | 12.2 | 13.0 |
| Halliburton Company | 16.5 | 12.7 |
| Baker Hughes Company | 14.1 | 12.9 |
| Tenaris S.A. | 672.3 | 6.6 |
| NOV Inc. | 29.6 | 30.2 |
| ChampionX Corporation | 20.6 | 9.6 |
As part of my analysis, I also compared the company to the same five companies that I looked at previously. On a price to operating cash flow basis, these firms ranged from a low of 14.1 to a high of 672.3. Our prospect was the cheapest of the group. Using the EV to EBITDA approach, the range was from 6.6 to 30.2. In this scenario, using our 2021 results, Schlumberger was more expensive than all but one of the firms. But on a forward basis, only one of them was cheaper than it. And on an absolute basis, I would say that shares look quite cheap at this time.
Takeaway
Based on the data provided, I do believe that Schlumberger is a solid operator and that its services will definitely be needed moving forward. I understand the concern that some investors have. However, the company's strong track record, combined with its low share price and considering current market conditions, all leads me to believe that further upside exists for investors at this time. It may require patience, but if management can deliver on or even exceed expectations for the upcoming quarter release, then it's likely that the company will generate strong value for its investors.