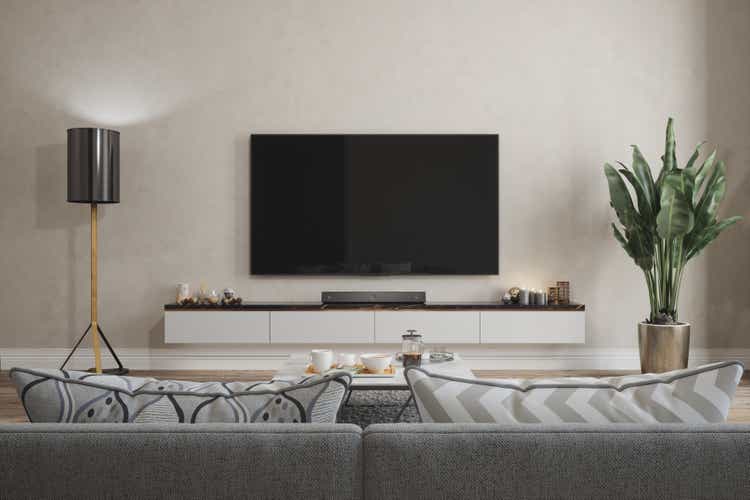 Roku's (NASDAQ:ROKU) stock has declined significantly over the past 12 months, amongst a general pullback in growth stocks and mounting anxiety over competition. Roku is also facing headwinds from supply chain constraints and consumers spending more time outside of the home. While concerns over valuation and device sales are likely to subside over the next 12 months, competition could remain an ongoing issue.
Operating System
Roku's operating system runs with less memory and smaller chips than competitors. This can help to minimize costs and isolate manufacturers from supply chain issues. One of the reasons this is possible is because Roku's OS is purpose built for TV, unlike competitors who have generally repurposed mobile operating systems.
About one third of TVs sold in the US have Roku OS and approximately 50% utilize proprietary homegrown operating systems. Roku believes that this is unsustainable in the long-term and that the industry will converge around 2-3 operating systems.
Samsung Tizen – Tizen is a Linux-based mobile operating system that is primarily used by Samsung (OTC:SSNLF) for platforms like wearable devices and smartTVs. Samsung is the leading TV manufacturer globally, giving its Tizen platform a strong position in the market.
LG WebOS – WebOS is a Linux-based operating system for smart devices that is primarily used by LG for smartTVs. LG is also a leading manufacturer of smartTVs, although distribution of WebOS is small relative to Tizen.
Amazon Fire TV OS – Fire OS is a fork of Android that runs Amazon's (AMZN) Fire TVs and tablets.
Android TV – Android TV is a smartTV operating system developed by Google (GOOG) (GOOGL) that is based on Android. Manufacturers like Hisense and TCL have added Android TV to their product lineup, potentially undermining distribution of Roku's platform.
Estimated connected TV platform market shares globally are:
Samsung Tizen – 12.7%
LG WebOS – 7.3%
Amazon Fire TV OS – 6.4%
Roku TV OS – 6.4%
Android TV – 5.9%
While it may be reasonable to expect the number of competing operating systems to rationalize somewhat, it is not clear that the smartTV market will be dominated by 1 or 2 operating systems in the same way that PCs and mobile phones are. Operating systems for PCs and mobile phones are platforms for a large number of programmers, developing a large number of applications. These markets converged on a small number of operating systems as it wasn't practical for programmers to replicate their work across a range of platforms. TV operating systems do not currently have the same dynamic as there are only a relatively small number of applications being developed.
Roku's business model is dependent on user acquisition for its platforms through either device sales or operating systems deployed on partner TVs. Devices are becoming less important over time as smartTV adoption increases, although Roku believes devices will remain important for the foreseeable future. This makes Roku's operating system and relationship with OEMs extremely important for the future of the business.
smartTVs
There is a risk of TV manufacturers taking greater control of the TV manufacturing process, rather than just licensing operating systems. This is because controlling the TV's operating system provides more attractive monetization options than manufacturing a commodity product. As a competitive response, Roku could launch their own smartTVs to secure distribution of their operating system. This would be a defensive move from a position of weakness rather than a growth opportunity for Roku though. Roku is trying to develop a horizontal platform for streaming services, which will be extremely difficult if they can only distribute operating systems through their own devices and TVs. It would be far preferable if they can remain a neutral platform that is utilized by a range of manufacturers.
Roku has all of the capabilities to develop their own smartTVs, but this is likely something they will try and avoid if they can. While Roku doesn't currently manufacture TVs, they develop the software, design the main board, source components, manage contract manufacturers and provide software updates. They are essentially doing everything apart from putting their brand on the TV.
Roku has refused to comment on rumors of a Roku smartTV, instead highlighting the Roku TV program. In this program Roku provides manufacturers with a full stack solution where they build and license complete reference designs and help manufacturers merchandise them at retail.
Based on market share, Samsung, LG, TCL and Hisense are the most important manufacturers at the moment. Samsung and LG utilize their own operating systems while TCL and Hisense license theirs. The concern for Roku would be if companies like TCL and Hisense decide to develop their own operating systems in pursuit of their own streaming platforms or leverage their market share to extract more value from their deals with Roku.
Approximately half of Roku's accounts are still from devices and hence there is concern that they could lose accounts as smartTVs proliferate. Roku has stated that new customers are slowly shifting towards TVs over time, but they believe that players will remain important for a long time. The proposed reasons for this generally revolve around most manufacturers doing a poor job with their operating systems, forcing customers to continue purchasing players to gain access to better software.
Content
The Roku Channel continues to perform strongly, with streaming hours outperforming both the overall platform and the ad-supported segment. The Roku Channel is now a top five channel on the platform, with growth fueled in part by Roku's content strategy:
Licensed from content partners
Addition of linear channels
Development of Roku originals
Much of Roku's content comes from licensing, but there is also a growing focus on original content. The Roku Channel is likely to be viewed favorably by most content owners as it provides a competing distribution channel which helps to bid up the value of content. Roku's first move into original content came with the acquisition of Quibi, and Roku has stated they are pursuing a diverse and cost-effective content strategy. How much Roku ends up spending and whether this truly adds value to the platform will be crucial to the stock's value long term.
Roku's move into original content is another move that may be fairly defensive in nature. The Roku Channel helps to differentiate Roku's platform and this is strengthened by original content. The risk for Roku is that they must remain a credibly neutral platform or they will alienate streaming services. In some ways this is the mistake that Netflix (NFLX) made. If Netflix could have convinced content owners that they would capture sufficient value from their content long term, it would not have been necessary for Netflix to move into content production and there would have been less competing streaming services.
Advertising
Advertising is driving revenue growth for Roku and their adtech and user base are the primary strengths of the business. Advertising revenue could be under pressure in the short term if there is a recession, but longer term advertising spend will continue to shift from linear TV to streaming. The capabilities offered by advertising on a streaming platform are quite differentiated compared to linear TV advertising. As a result it will take time for advertiser buying behavior to adapt.
Most of the advertising spend on Roku's platform is still top of the funnel brand advertising, but the performance segment continues to grow rapidly. Roku's ad buying platform enables cross-screen targeting, measurement and optimization of campaigns on TV streaming, desktop, and mobile. This is an area where first party data is an advantage in an era of increasing privacy.
Media companies utilize Roku's tools to grow their DTC services and there have been concerns that media advertising spend would decline as the number of new streaming services launched declined, but engagement and retention of users is likely to ensure continued spending as competition amongst streaming services remains fierce.
Roku is also building advertising products for SMBs on their platform and has developed a tool that allows Shopify merchants to build, buy and measure TV streaming advertising campaigns. Interest in the capability has been strong, with Roku's beta partnership goals filled in just one day.
The Roku Channel is an important part of Roku's advertising strategy as it provides a place where Roku can create new advertising experiences that are not feasible when placing ads into third-party channels. For example, "Roku Recommends" is a 15-minute weekly entertainment program that recommends films and TV shows to viewers. "Roku Recommends" has been sponsored by brands such as Walmart (WMT), and the show has been a top 10 video-on-demand television series on The Roku Channel since its debut in June. The Roku Channel has approximately half the ad load of traditional TV and Roku's adtech stack ensures there are frequency caps which prevent users from getting hit with the same ad many times. Roku also ensures that there are no blank spots, where users are left staring at a blank screen.
Acquisition
There have been rumors that Netflix is considering an acquisition of Roku, although neither company has confirmed this. This appears to be at least in part based on the fact that Roku has reportedly closed its stock trading window for all employees, potentially implying that employees have access to market sensitive information.
Some potential advantages of an acquisition for Roku could include:
Access to Netflix's CDN for distribution of content
Potential to offer free trials of Netflix's service with the purchase of a Roku device or smartTV to strengthen customer acquisition
Access to content production expertise to supply the Roku channel
Access to more user data
These are not particularly compelling reasons for Roku to entertain an acquisition offer from Netflix. If a deal is being seriously considered it may speak to competitive pressure and a lack of confidence in the future of the business.
Given Netflix's likely move into advertising, the deal makes more sense for Netflix. It is a question of whether it is better for Netflix to acquire or partner with Roku for their adtech or to try and develop a solution internally. Acquiring Roku would allow Netflix to quickly add a successful advertising supported tier to their service, although it is not clear why this couldn't be done through a partnership rather than an acquisition. An acquisition could also allow Netflix to use The Roku Channel as their ad supported service, reducing the risk of advertising cannibalizing revenue. Roku's platform could also be used to help Netflix acquire customers, although this would ruin Roku's neutrality and risk alienating other streaming services. It seems unlikely that Netflix would be willing to restrict their app to the Roku platform, which brings into question the necessity of an acquisition.
Conclusion
Roku's stock is likely to continue facing downward pressure due to a combination of supply chain issues, a reduction in consumer spending on durable goods and tightening monetary policy. Longer term, Roku's value will depend on their ability to maintain their competitive position as manufacturers and streaming services look to capture more value.