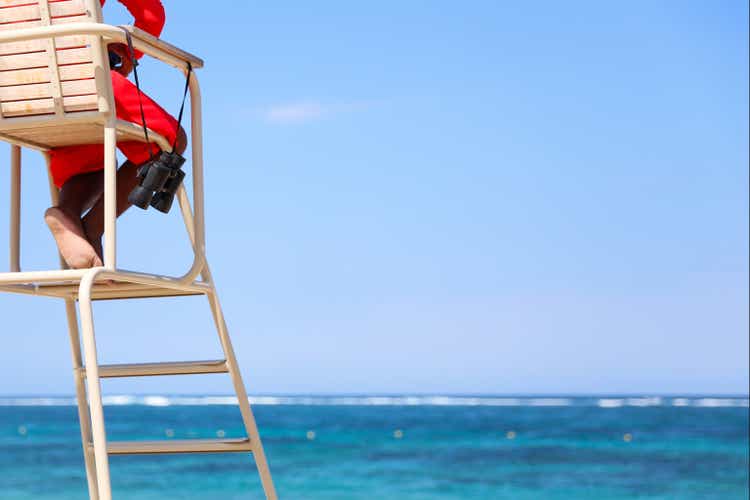 While the markets basically stuck to 2022's volatility-infused script last month-stocks fell, interest rates climbed, and inflation remained elevated-they ad-libbed a few milestones: The S&P 500 crossed into bear-market territory by falling more than 20% below its January high, the Fed hiked rates by 0.75% for the first time since 1994, and the 10-year US Treasury yield climbed to its highest level in more than 18 years.
Heading into Q3, the key questions are whether inflation will moderate and corporate earnings can hold up (Q2 reporting season is just around the corner). But given the S&P 500's decline so far is relatively shallow compared to other bear markets, investors should remain realistic about the potential for more downside-a possibility Morgan Stanley & Co. analysts recently highlighted.1
That said, the S&P 500's descent into a bear market may contain some good news: In seven of the eight bear markets since 1957, by the time the S&P 500 crossed the bear threshold, it was closer (in terms of time) to the downturn's eventual low than it was to its beginning.
In a similar vein, while recession talk has increased in recent weeks, it's helpful to remember that, like bear markets, recessions are identified only in hindsight. The market, on the other hand, is forward looking. In other words, if and when a recession occurs, there's a good chance the stock market will have already found its footing at that point.
U.S. equities
Although the stock market bounced after hitting its lowest levels of the year in mid-June, it turned down again to end the month with its biggest first-half decline since 1970. The Dow Jones Industrial Average was the best-performing major index (-6.6%), while the tech-heavy Nasdaq Composite lost the most ground (-8.7%):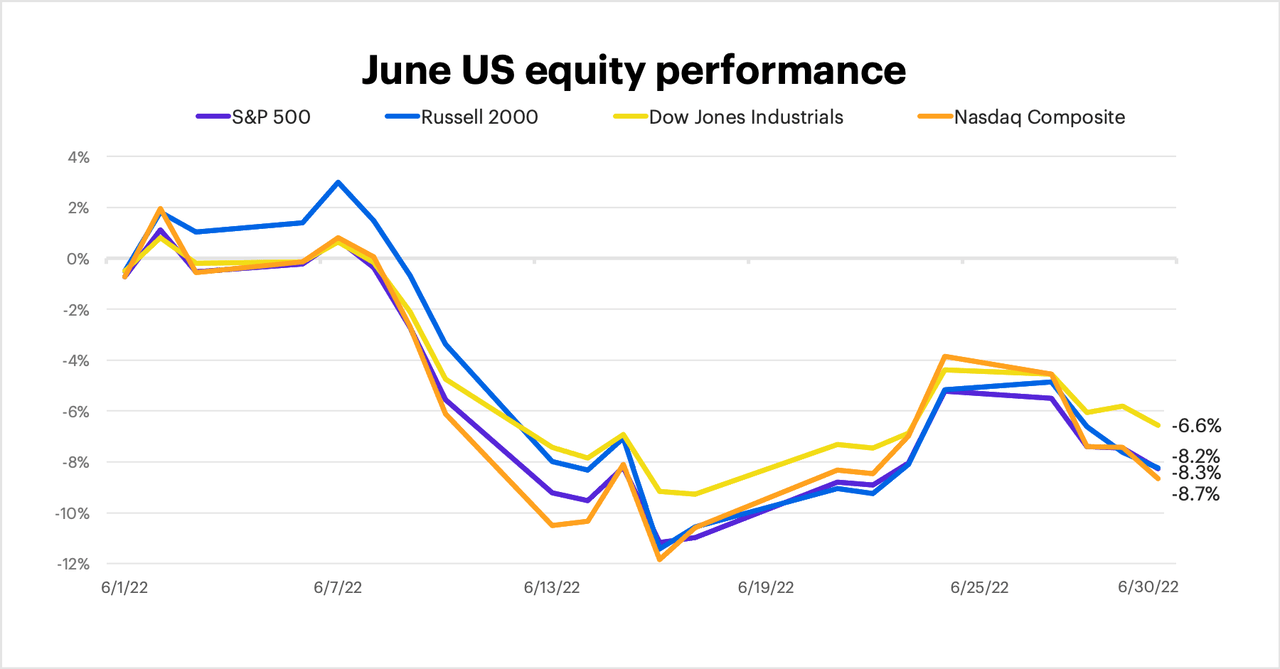 Sectors
Defensive sectors-consumer staples, health care, and utilities-were the strongest sectors, while energy stocks suffered a rare bout of weakness as crude oil prices made their biggest downturn in more than two months: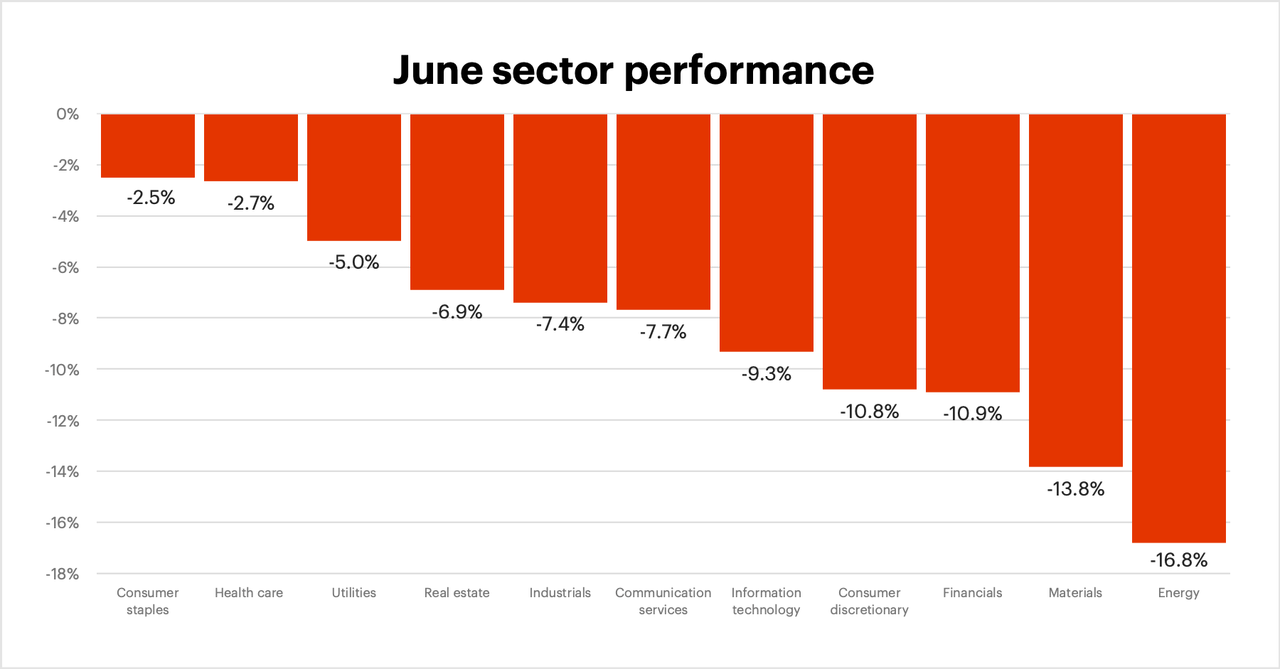 International equities
International stocks also declined in June, with emerging markets losing less ground than developed markets. The MSCI EAFE Index of developed markets fell 9.3%, while the MSCI Emerging Markets Index fell 6.6%: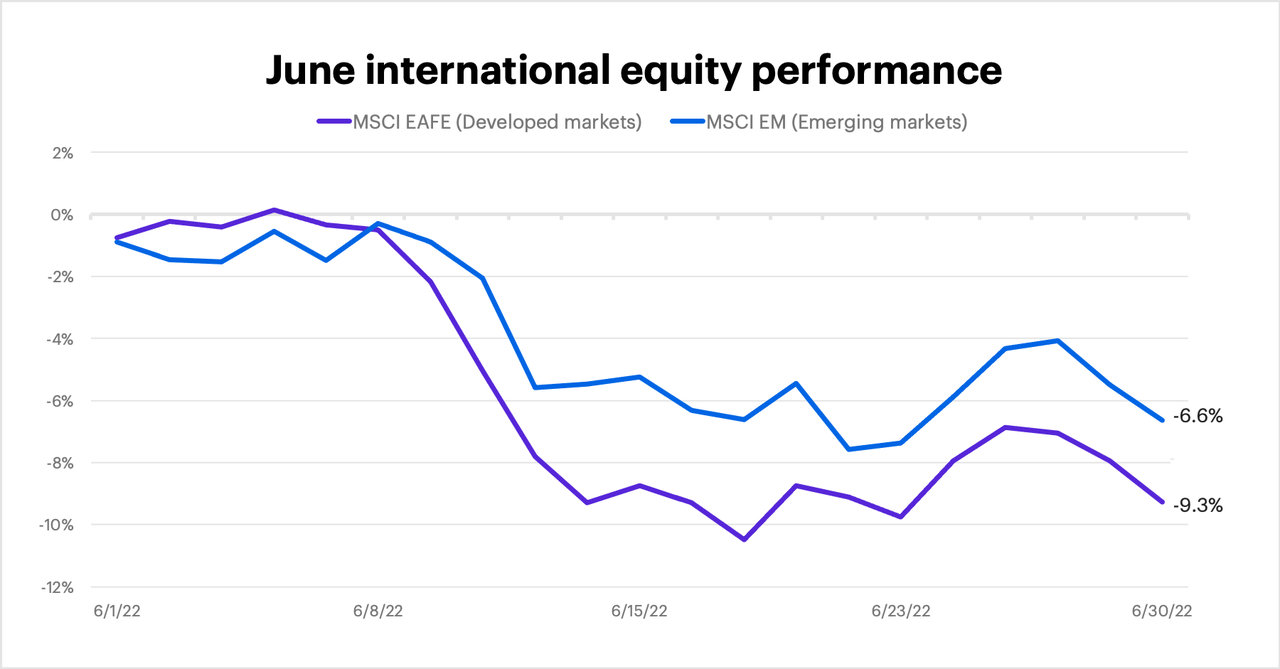 Fixed income
Interest rates increased across the board in June, although they retreated from their peak mid-month levels. After hitting its highest level (3.49%) since 2011, the benchmark 10-year T-note ended June at 2.98%, up from 2.84% at the end of May-and more than twice as high as it was a year ago. But portions of the yield curve flattened a bit, as the 10-year yield ended June slightly below the 5-year yield: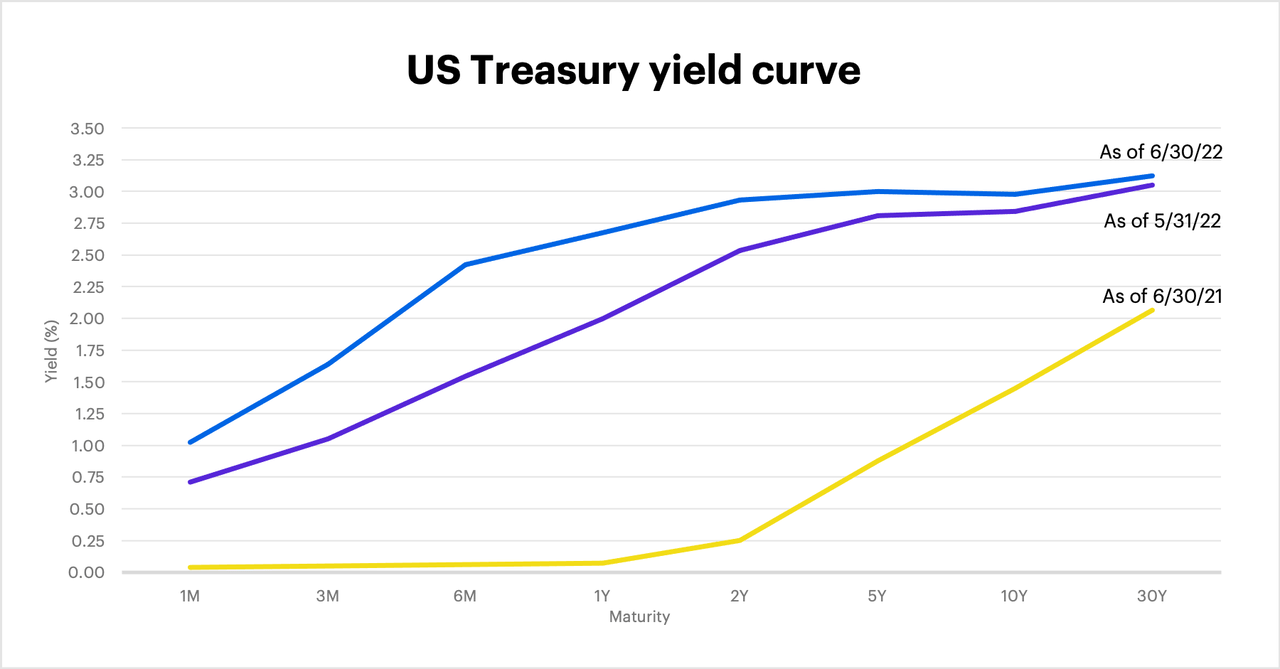 Looking ahead
In conditions like these, it's wise to keep one's gaze focused on the long-term horizon, and stick to the principle of maintaining a diversified portfolio. Here are a few thoughts as we head into the second half:
Stay patient. This downturn may not (as yet) be as deep other bear markets, but it's already lasted longer than any other downturn since 2008-2009. If it persists, the temptation to exit the market may grow. Fight that urge: Whatever downside investors may avoid by getting out the market, they usually surrender much more by missing some or all of the recovery.
Opportunity in unloved markets? With the Russell 2000 index down roughly 30% from its November record high, small caps may have more to contribute to a diversified portfolio than they have in a while. Similarly, with the 10-year yield back near 3%, fixed income may also look more attractive.
Keep an eye on crude. Oil prices are a key inflation driver because fuel prices feed into virtually every corner of the economy, and Russia's invasion of Ukraine is one of the major reasons oil prices remain elevated. As long as the war drags on, there's no easy fix to high oil prices, or related inflation.
Falling stock prices and uncertainty are uncomfortable, but they're a fact of life in the markets. Bottom line, investors who want to enjoy the stock market's long-term historical returns need to be in the market for the long term, not on the sidelines waiting to jump in at the perfect moment.