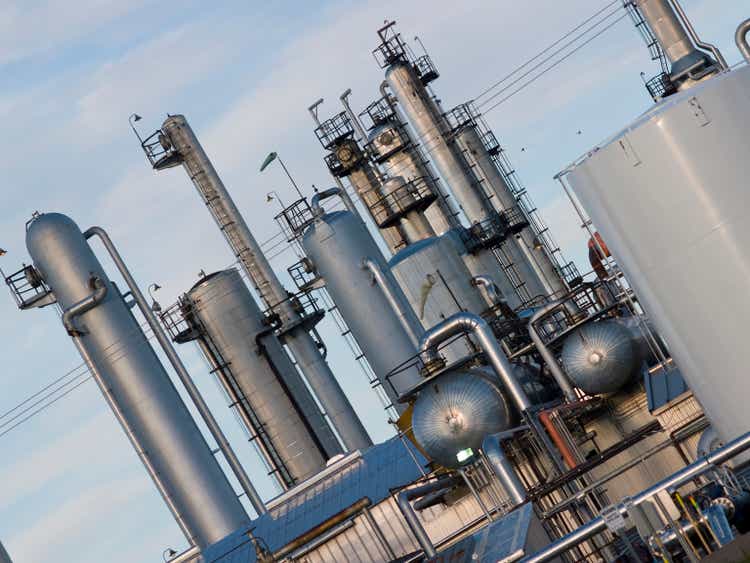 Introduction
My investments in the natural gas sector have performed very well in the past year and my exposure to oil and gas is the only reason why my personal portfolio is still in the green on a YTD basis. I continue to look around for good companies in the space and as it has been about six years since I last discussed Pine Cliff Energy (OTCPK:PIFYF) here in Seeking Alpha, this could be an excellent moment to revisit the company.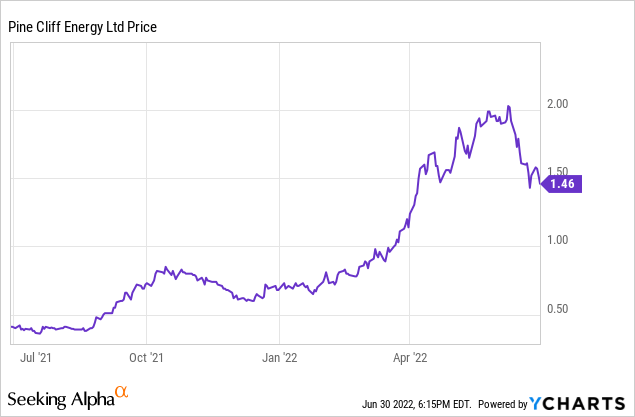 The company's Canadian listing offers superior liquidity. Trading with PNE as its ticker symbol, the average daily volume on the Toronto Stock Exchange is approximately one million shares per day. The current share count is approximately 343M shares resulting in a market capitalization of C$500M. As the company reports its financial results in Canadian Dollar, I will use the CAD as base currency throughout this article.
Strong operating cash flows are strengthening the balance sheet
In the first quarter of this year, Pine Cliff reported an average production rate of just more than 20,000 barrels of oil-equivalent per day. Approximately 88% of the oil-equivalent production consisted of natural gas which was sold at almost C$5/Mcf.

The good production results and the strong natural gas price obviously boosted the company's results and the revenue almost doubled to C$60M, which includes the almost C$8M spent on royalty payments.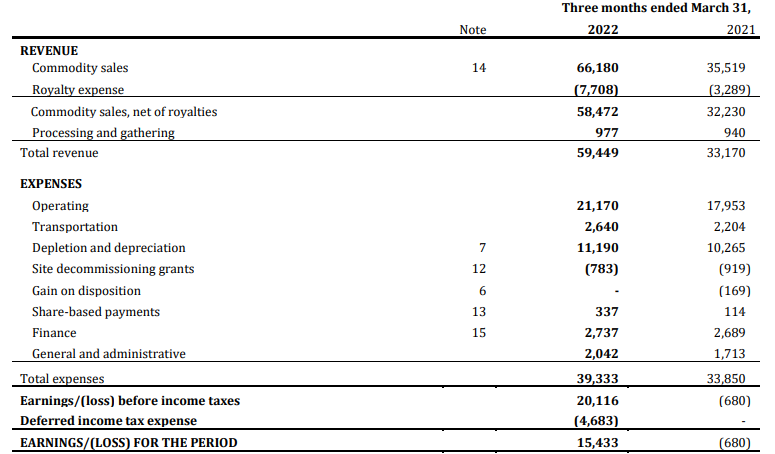 Pine Cliff remains a low-cost producer, and although the total expenses increased to almost C$40M, in excess of a quarter of these expenses were related to the depreciation and depletion expenses. And as you can see above, the operating costs and transportation expenses accounted for about 40% of the revenue leading to strong margins.
As Pine Cliff is a relatively small company, its overhead expenses are very manageable (the G&A expenses are just C$2M per quarter) and the rapidly decreasing gross debt and net debt level means the finance expenses will continue to tend down from the C$2.7M reported in Q1 2022. Of that amount, only C$1.3M were interest expenses with the balance being decommissioning provisions which are added to the finance expenses.
The bottom line shows a net income of C$15.4M for an EPS of C$0.045/share.
Not bad, but as Pine Cliff has a very low decline rate, I'm also interested in seeing how much free cash flow the company is generating.
We see the reported operating cash flow was C$23.9M but this includes a C$6.6M investment in the working capital position but excludes about a quarter of a million in lease payments. So on an adjusted basis, the operating cash flow was approximately C$30.5M. With a total capex of C$5.6M (excluding acquisitions), the free cash flow generated in the first quarter was approximately C$25M.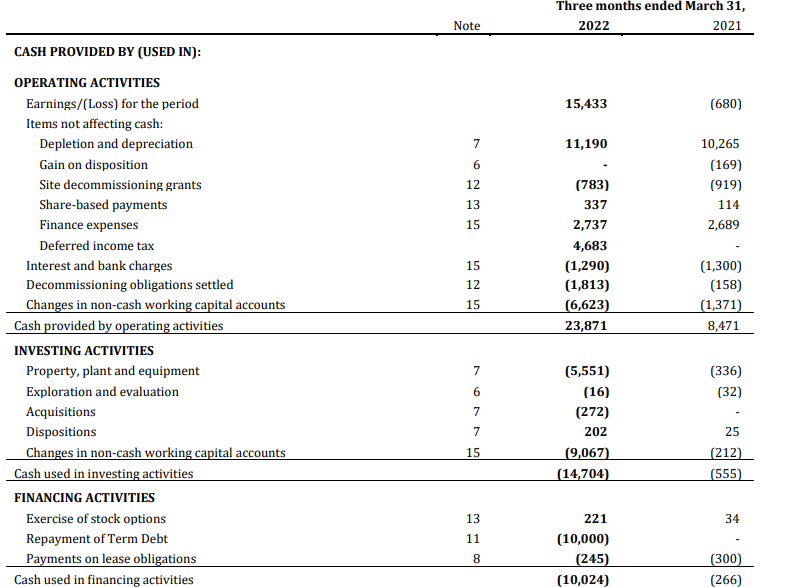 That's C$0.072/share and substantially higher than the reported EPS. The explanation is pretty simple: First of all, the capex is much lower than the depreciation expenses as Pine Cliff's assets have a very low single-digit decline rate, which means less money is required to keep the production at a steady state level. Additionally, the company has a lot of historical losses on its balance sheet which means that there are no cash taxes due, and those taxes were added back to the cash flow statement. The adjusted funds flow as reported by Pine Cliff were C$32.3M as the company also adds back the decommissioning expenses to the equation.
Pine Cliff's corporate presentation offers an excellent sensitivity analysis. Using an AECO natural gas price of C$4, the adjusted funds flow are expected to come in at C$133.5M resulting in a free funds flow of C$105M. This will be more than sufficient to cover the current dividend yield while converting the net debt position into a net cash position by the end of the year.
At C$5 AECO, the free funds flow would increase to C$0.37 per share while the company would end the year with a net cash position of in excess of C$50M.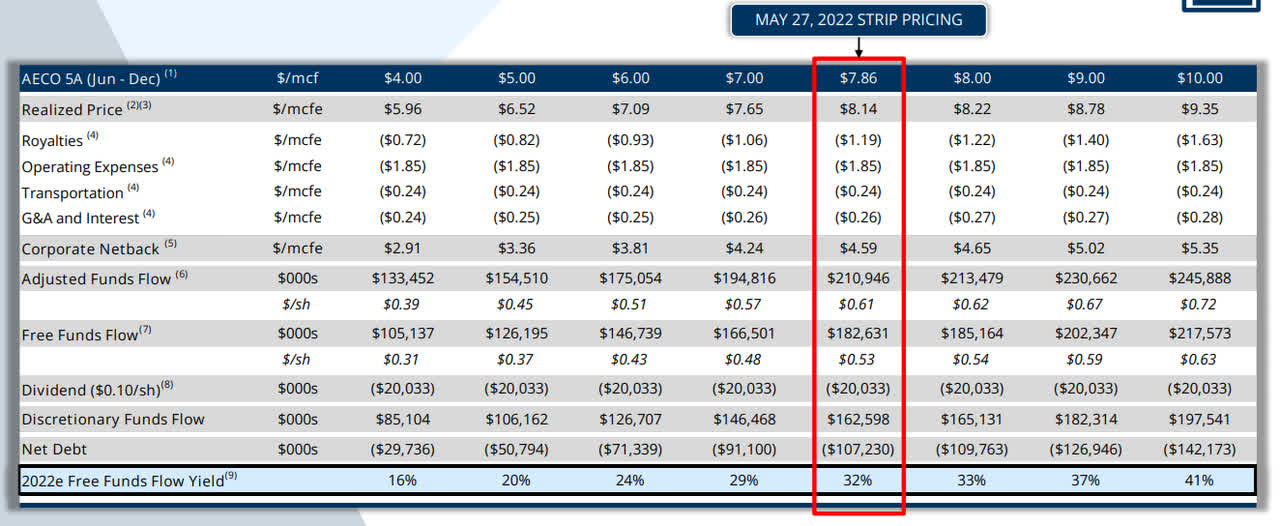 I'm not sure we should use the C$7.86 strip pricing used in the presentation but it's clear that even at C$4 or C$5 AECO the company is in a good shape. And the current dividend of C$0.10/share (paid in 12 monthly tranches) remains covered as long as the natural gas price exceeds C$2.28 per Mcf.

I hope Pine Cliff will be able to increase its reserves
From a financial perspective, Pine Cliff appears to be a "must buy." Even at C$4 AECO the stock is trading at less than five times the FCF and the dividend is currently providing a yield of approximately 7%.
There's however one element that held me back on buying Pine Cliff (although I did have an order in at C$0.65 earlier this year which unfortunately wasn't hit). And that's the total amount of reserves. As of the end of last year, the company had a total of just under 63 million barrels of oil-equivalent in the proved and probable reserve categories, as you can see below.

At the current production rate, this would be sufficient for just around nine years of production which is lower than I'd like to see. Yes, Pine Cliff did increase its reserves during 2021 but the increase was mainly caused by acquisitions and economic factors.
The independent consultant also calculated the PV10 value of the reserves, which came in at C$278M, shown below. That's disappointing given the current market capitalization of approximately C$500M but keep in mind the PV10 calculation was based on an AECO natgas price of C$3.56 for 2022 and C$3.21 for 2023 and if a set price of C$4 would be used for the calculation, we would likely see a much higher number so the PV10 value isn't a deal breaker as it really depends on the reserves and the prices used to run the numbers.

Investment thesis
While Pine Cliff appears to be very cheap based on a free cash flow basis, the single digit reserve life is the sole factor holding me back from initiating a long position. I was very interested below a dollar but at C$1.40 I remain on the sidelines. Not because Pine Cliff is a bad company (and for new investors believing in a natgas price exceeding C$4 for the next decade PNE still is a "buy"), but because I already have exposure to the Canadian natural gas sector through other vehicles and in my case it doesn't make much sense to switch horses.