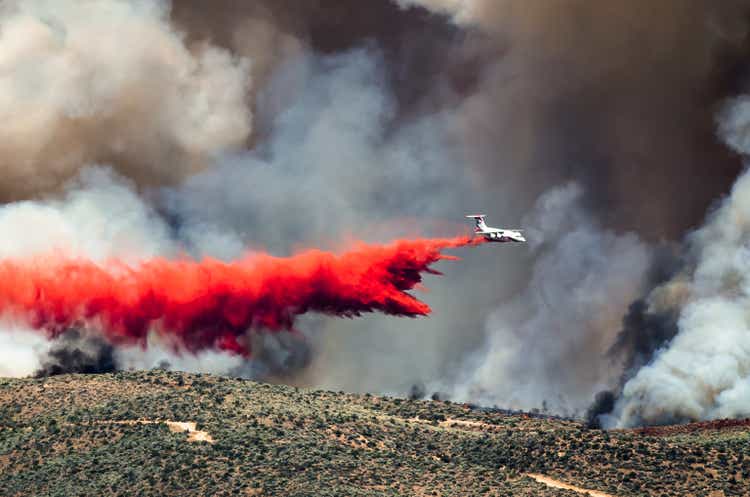 Perimeter Solutions (NYSE:PRM) is an underfollowed SPAC that owns the small but increasingly important niche of providing fire retardants to fight wildfires. It shares many similar qualities with TransDigm (TDG), a wide-moat business that manufacturers airplane parts and has delivered an over 35% IRR since its founding in 1993.
Perimeter was brought public by EverArc in November 2021 at a $2B valuation. EverArc is co-chaired by Nick Howley, founder of TransDigm, and William Thorndike, author of The Outsiders and founding partner of Housatonic, a consistent top-quartile PE performer during the 20-year period since the firm's founding. EverArc looked for businesses with recurring revenue, durable tailwinds, significant FCF generation and high ROIC, operated within industries that present the opportunity for consolidation, and sold products that account for critical but small portions of larger value streams – allowing for pricing power.
Business Overview
Perimeter Solutions is a chemicals company that produces fire retardants, fire suppressants, and oil additives. Its PHOS-CHEK fire retardant product was originally developed and brought to market by Monsanto in the early 1960s. The business was spun out and transferred ownership a few times but was eventually acquired by SK Capital in 2018, establishing Perimeter Solutions.
Fire retardants, forming 62% of Perimeter's business in 2020, are applied ahead of active wildfires on vegetation to slow or stop its spread. Perimeter primarily sells this product to government agencies, with its main customers being the US Forestry Service and CAL FIRE (The State of California). Due to both regulatory and logistics hurdles, there are very high barriers to entry. Perimeter is the only provider on the US Forest Service's qualified product list (but a competitor, Fortress, recently got conditional approval), leading to long and healthy relationships with US agencies that may not want to risk switching. Perimeter also has equipment in over 100 airbases across the world which enables them to deliver their fire safety products most efficiently. In ~20-30% of Perimeter's airbases, the equipment is still owned and serviced by the airbases but that is slowly changing to full service. Though the business can be highly seasonal, volumes have historically grown at a steady 10% CAGR over time and the moat supports low-to-mid single-digit real price increases, with solid cost control such that a portion flows through to the bottom line and drives margin expansion.
One downside of traditional fire retardants is that they wash away during rain so they must be applied ahead of active wildfires. To address this, Perimeter recently launched FORTIFY, a more durable fire retardant that provides season-long protection. The technology came from their LaderaTech acquisition in May 2020 and includes patented water-resistant fire prevention developed by Stanford and MIT with no real competitors. It was commercialized very recently, in late 2021 after getting qualified and marks the first innovation within the fire-retardant industry since the 1960s. Although this segment is not material to revenue today, it presents a large greenfield opportunity. Though this could cannibalize some of their suppression revenues, the risk is not expected to be material.
Firefighting foams formed 10% of Perimeter's 2020 revenue and includes four categories: Class A, Class B, Class A/B, and training foams. Class A foams are used by municipal fire departments and wildland firefighters to fight structural fires, Class B is used by industrial customers in high-risk industries such as oil and gas, mining, or chemicals to fight fires resulting from flammable and combustible liquids, and Class A/B foam is used by municipal fire departments to fight both structural and flammable liquid fires. Perimeter faces intense competition from bigger companies like Amerex, Tyco, and National Foam. It differentiates itself through product innovation, resulting in improved performance, reduced drainage time, and higher stability. Perimeter's foams are also fluorine-free, making them more environmentally friendly, and their efficacy far outpaces comparable products. It also leverages its equipment footprint and retardant market share to bundle foams with retardant sales.
Finally, in terms of oil additives, Perimeter produces phosphorus pentasulfide (P2S5) which is used in the preparation of lubricant additives such as ZDDP, a critical component in the formulation of engine oils to provide anti-wear protection, leading to better and longer engine function. Perimeter has a few key customers including Lubrizol, Afton, and Chevron, and competes against one primary competitor in each of its key markets of Europe and North America. Perimeter differentiates itself through its technical expertise and patented storage and handling equipment for safe use given the reactivity of the product. This business is lower margin, with 23% adjusted EBITDA margins in 2021, but is less seasonal than fire safety. US oil consumption has grown steadily from 18.03M barrels per day in 2009 to 19.78M in 2021 with some down years, most notably 2020 due to the COVID-19 pandemic's impact on transportation.
Fire Safety Overview
Perimeter's fire safety business is supported by durable trends, enabling management to guide for mid-to-high single-digit volume growth. Some of the main drivers include higher acres burned and longer fire seasons, increasing urbanization in wildland areas, and increasing firefighting aircraft capacity.
Using data from CAL FIRE and the National Interagency Fire Center, acres burned have increased consistently in the US, from a five-year trailing average of 3.0M acres burned in 1989, to a five-year trailing average of 8.1M acres burned in 2021. It is important to use fire-year averages because of the significant year-to-year seasonality. The US fire season is also on average 105 days longer than it was in 1970. Indeed, global warming is expected to increase the likelihood of catastrophic wildfires by up to a third by 2050 and up to 52% by 2100 according to a recent study.
This has led to exponential increases in suppression spending, with the five-year trailing average of $3.9B for federal agencies in 2021 and the State of California combined, versus just $412M in 1989.
This almost 10-fold increase is not only due to the increase in acreage burned but increases in firefighting costs, with the five-year trailing average suppression spend per acre reaching $498 in 2021, versus $151 in 1989. Per acre costs were the highest ever in 2021 at a whopping $775, this was driven by trends including bigger wildfires that are faster spreading. Spend doesn't look to be letting up anytime soon, with Biden dedicating $3.3B to wildfire management in his infrastructure bill along with California granting another $1B.
Though the longer-term trend is clear, this business is exposed to seasonality as some years are much worse than others. For example, though an average of 7.8M acres burned per year from 2015 to 2020, the 2020 fire season was the second-worst since 1960 with 10.1M acres burned, while the 2019 season was unusually tame, with just 4.7M acres burned, the lowest since 2004. Indeed, 2018 and 2019 revenues were significantly lower than 2017, which was also an unusually severe season, before bouncing back in 2020 and 2021.
The fire-retardant business has a wide moat, enabling pricing power due to its mission-critical nature, the lack of available substitutes, and its small percentage of overall suppression costs. The fire retardant that Perimeter supplies is just 2-3% of suppression costs but critical to firefighting capabilities, supporting 3-5% price increases yearly.
In terms of barriers to entry, a competing product must first endure the cost to get on the qualified product list (QPL) of the US Forest Service, which is in the millions and 18-24 months of testing with no guarantees. After they get on, they need to have a better value proposition than Perimeter which has over 30-yearlong relationships with government agencies. Throughout this period, Perimeter has built a remarkable track record of delivering on time, including during 2020 and 2021 when there was massive stress on supply chain and logistics networks, yet the company didn't miss a single delivery and loaded every air tanker. It's thus understandable that customers might be hesitant to take the risk on a new provider given Perimeter's reliability and the life-saving nature of the service they provide.
Finally, even if a would-be competitor manages to secure both approval and a contract, they will have a difficult time replicating the logistics network that Perimeter has built, which enables it to resupply over 150 airbases in North America within hours, which is critical when the US Forest Service carries as little as one day's inventory. Perimeter manages all aspects of aircraft base operations, including inventory, storage, mixing, and aircraft loading. Perimeter owns nearly all the equipment and provides and manages the personnel across 50 US and Canadian airbases and 100 globally. However, given the infrastructure is already in place and Perimeter would not let a competitor use it, it is difficult to imagine an airbase spending the time and capital to replace it all for a minor efficacy or cost improvement.
Besides the nascent opportunity in FORTIFY, their preventative product discussed previously, Perimeter also is expanding internationally and mitigating its seasonality risk in the process. In the 12 months leading up to June 30, 2021, 80% of business was from the US, 11% was from Europe, 2% from Canada, 2% from Mexico, and 5% from elsewhere. Outside of the US, Australia is the second biggest market and Perimeter is also the market share leader there. Australia is warming faster than the global average and the 2019 wildfire season there was particularly catastrophic, with 12M acres burned. Perimeter has an edge as international agencies often look to the US Forest Service qualified product list as the gold standard.
Management and Incentives
Perimeter's management team has significant years of experience in roles within the chemical and fire safety industries. Its CEO, Edward Goldberg, was involved with the company through its various owners since 1995. Perimeter's board includes more impressive pedigrees including senior executives at Transdigm.
EverArc, the SPAC that acquired Perimeter, has a generous incentive plan in place, including being entitled to 1.5% of 157M shares outstanding through Dec 31, 2027, and 18% of the share price of the company above $10 in the first year through Dec 31, 2031 (payment price), and above the payment price of the previous year in following years. For example, since the stock was trading at $12.00, the founders would earn ($12.00*157M shares outstanding*0.015) + ($2*157M shares outstanding*0.18) = ~$85M with at least 50% being in shares and the rest in cash. Perimeter's management team has authorized a $100M share repurchase program which will help to offset this dilution.
Risks
One risk to the fire safety business includes government agencies getting uncomfortable with a single supplier. In 2020, 58% of fire safety revenues came from the USDA Forest Service and the State of California. Two customers within Fire Safety and one within Oil Additives represented 44% (18%, 15% and 11%, respectively) of the total accounts receivable balance as of December 31, 2020. Losing any one of the customers would be very significant to the company but unlikely given the high switching costs involved in infrastructure and entrenched relationships.
It should be noted that Fortress, a smaller competitor, has a few airbases and has conditional approval from the US Forest Service. They have qualified people, including some ex-Perimeter employees, and just need to do a few real-life tests to get full approval. However, Fortress would have an uphill battle in terms of building out a logistics network to support the distribution of its product. They also use magnesium chloride, which has been tested and dismissed as a retardant for decades, due to significant issues including stainless steel corrosion, safety issues with handling per the product's own MSDS, and potentially adverse environmental impact.
As long as Perimeter does not raise prices too quickly, there seems to be little incentive to take on the cost of another supplier given it's such a small cost to the agencies. Perimeter's products are deemed environmentally safe today and they have developed processes specifically to comply with ever-changing requirements, but they note the difficulty in complying sometimes, which makes it a risk.
Financials and Valuation
The best businesses are often easier to predict over the long-term than the short-term. Perimeter is no different, and although its financial profile may not provide smooth growth in certain years, its long-term trajectory is supported by sustainable tailwinds and a dominant competitive position. Keeping this in mind, management projects fire safety volume growth of mid-to-high single digits, annual price increases in the mid-single digits, flat revenue growth in oil additives, and 1% to 2% annual adjusted EBITDA margin expansion. In aggregate, the company is projecting revenue growth in the 10% range and adjusted EBITDA growth in the 15% range going forward.
Perimeter's fire safety business accounted for 72% of 2021 revenues, but 83% of adjusted EBITDA, which grew 5% YoY with 45% adjusted EBITDA margins. Its oil additives business saw adjusted EBITDA decline 2% YoY at a 23% margin. In total, Perimeter grew revenue 7% in 2021 and adjusted EBITDA 4% at 39% margins. It should be noted that this is in the context of the historically high 2021 suppression spending. Zooming out, they were able to grow revenue at a 12% CAGR between 2010 and 2020 and adjusted EBITDA at a CAGR of 18%.
To estimate Perimeter's revenue in 2022, it is necessary to first calculate a normalized estimate of suppression spending given the significant seasonality inherent in the fire safety business, especially off the historic 2020 and 2021 fire seasons.
To accomplish this, the trailing 5-year average suppression spending in 2021 was multiplied by the 5-year average suppression spend CAGR since 1989 of 7%, leading to an estimate of ~$4.2B in suppression spend in 2022. Perimeter's share of overall suppression spending averaged 6.35% in 2019/2020, which was multiplied by the $4.2B in estimated suppression spending, leading to ~$266M in revenue in 2022. Assuming 2% annual margin expansion means an adjusted EBITDA margin of 47%, or $125M of adjusted EBITDA.
To provide a suitable range of expectations, bullish and bearish cases were formed assuming a suppression spend CAGR of 10% and 4% respectively and margin expansion of 1% and 4% respectively. A range of expectations were also formed for the oil additives business, with the base case being the flat revenue growth that management projected.
In 2021, Perimeter had $362M in revenues at 39% EBITDA margins; given their EV of $2.36B (net debt of $439M), they trade at ~17x TTM EBITDA or 20x TTM fire safety EBITDA. For comparison, TransDigm trades at 25x TTM EBITDA while growing EBITDA 12% YoY. However, it has a much longer track record, growing EBITDA at a 16% CAGR since 2003. Chemicals companies typically trade at a lower multiple, for example, DuPont (DD) trades at just 11x TTM EBITDA, and Dow Inc. (DOW) trades at 6x TTM EBITDA but they are both much slower growing.
In the bear case, if suppression spending grows at a slower pace after two historic fire seasons, margin expansion slows due to competition from Fortress, and the oil additives business declines due to increasing competition and a larger trend towards renewable energy, Perimeter would trade at 10x TTM EBITDA, while growing EBITDA at a 4.4% CAGR, leading to a -20% 3-year annual return.
In the base case, if suppression spending grows at historic rates, margin expansion continues as projected, and the oil additives business maintains its revenue base, Perimeter would trade at 15x TTM EBITDA, while growing EBITDA at a 10.7% CAGR, leading to a 7% 3-year annual return.
In the bull case, if suppression spending accelerates due to budget increases and stronger wildfire seasons, margin expansion outperforms projections as Perimeter continues to consolidate the industry, and the oil additives business grows marginally, Perimeter would trade at 20x TTM EBITDA, while growing EBITDA at a 17.3% CAGR, leading to a 35% 3-year annual return.
Note that these return calculations do not account for the EverArc incentive fees previously described. Overall, this business seems reasonably valued at today's levels, though risk-reward is skewed to the upside given the optionality from the new FORTIFY product and further tuck-in acquisitions.
Conclusion
Overall, Perimeter has a wide-moat core business in fire safety that is supported by increasing wildfire trends as a result of global warming and increasing urbanization and firefighting spending. They have a nascent opportunity in prevention as a result of the patented technology they acquired, enabling agencies and businesses to protect the highest risk areas season-long. Although competition is pending, Perimeter's established relationships and infrastructure serve as a powerful moat that will be timely, costly, and most importantly redundant to replicate.
Like most businesses, Perimeter will not beat and raise guidance every quarter; this is a business with seasonality. However, Perimeter will likely still be strong 10 years from now and playing a critical part in helping firefighters save lives.