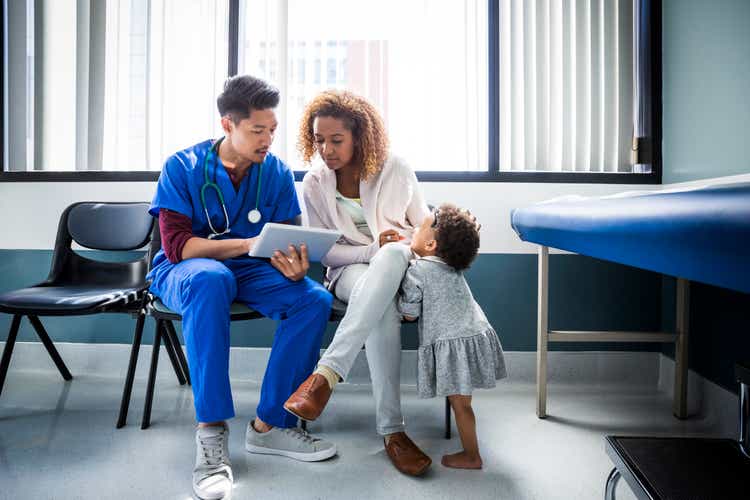 Published on the Value Lab 30/3/22
Pear Therapeutics (NASDAQ:PEAR) had its first earnings call, where they discussed the progress of the company. Of key focus to us was how the prescription and covered lives push was developing, as well as the situation with cash burn to understand further dilution effects beyond those involved in the de-SPAC process. The call showed us that the company is progressing quickly in its current markets, with guidance pointing to improvements along the runway, albeit at still very early stages. The situation with cash burn looks manageable, and we think that our initial model continues to be reasonable. We believe that the patient uptake is evidence of the attractiveness of the Pear products, and now it's up to the physicians to take their individual initiative and learn about this treatment modality thanks to Pear's marketing efforts. Pear remains a strong buy.
A Look at our Model
In order to reference the progress of Pear, we take another look at our model's key prevalence and penetration inputs.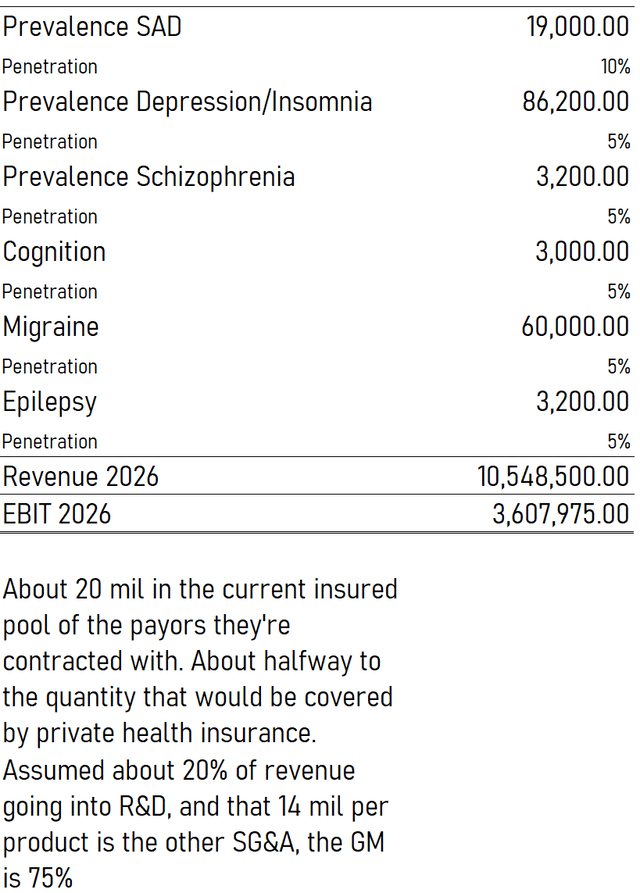 Currently, Pear only has launched products in the first two treatment areas, insomnia and substance abuse disorder. Pear is currently at 14,000 prescriptions for FY 2021, with the company only really having come into gear partially through the year.
First, the number of patients benefiting from our products continues to grow. In 2021, we saw more than 14,000 prescriptions. We are starting to see refills of second and third prescriptions of reSET and reSET-O as providers look to keep patients engaged with treatment on their path to recovery. Approximately 60% of our prescribers prescribe refills to support a patient through their treatment journey.
The products have only so recently been commercialised that the beginning of second and third refills has only started. This is an important element of the Pear economics, because while the price that insurers pay for the product is already in the thousands, the yearly revenue per patient is going to be higher than that, because a large proportion, 60% of patients, are prescribed refills. At 14,000 prescriptions across insomnia and SAD, which has a prevalence in the US of about 100 million people, the journey has only just started for Pear. Of course, we had accounted for this in the model by limiting penetration, reflecting the fact that the SAD product has limiting use parameters, and is an adjuvant therapy. Furthermore, we were also conservative by not taking into account refills in calculating our revenues.

Growth in prescriptions is key, and the fundamental driver for the business, but these prescriptions will only come once the products are insured. When we last wrote on Pear, the covered lives were about 20 million. Now it's 30 million thanks to a growth in providers that are reimbursing for the use of the current Pear lineup.
At year end, we had more than 31 million covered lives across more than 30 TBMs, commercial payers, employers and state organizations providing access by either listing on a formulary as a covered benefit or purchasing products in bulk. These organizations include the likes of Prime Therapeutics, OptumRx, The Health Transformation Alliance, the Hartford, and states such as Massachusetts, Ohio, Indiana, and Kentucky.

Corey McCann, CEO of PEAR
Some very major payors have now become involved, both stateside and with major health plans like UnitedHealth (UNH). The key thing will be for Pear to be able to grow prescriptions however, which requires that physicians are aware that the Pear lineup exists and is reimbursable, as well as being effective. While 14,000 represents the number reached in prescriptions for a somewhat short operating year, the guidance for where prescriptions will be next year represent a major but very plausible improvements.
Now let's look ahead to our 2022 guidance. First 50,000 to 60,000 prescriptions; second 50% to 65% fulfillment rates; third 100 million to 120 million covered lives; and fourth $22 million in revenue. We believe we've shown strong execution so far as a public company, just as we did as a private company. Our track record of execution in 2021 allowed us to meet our revenue guidance for the year while building the capability to excel in 2022 and beyond.

Corey McCann, CEO of PEAR
Fulfilment rates were at 51% in 2021, so the guidance that fulfilment rates and prescriptions improve means two sides of the patient-physician push is going to contribute to greater revenue, the patient side perhaps helped by the dual platform strategy and PearConnect. 100-120 million covered lives starts to really penetrate into the payor universe for the US, where not everyone in the population is even insured (10%). At 50,000-60,000 prescriptions in 2022, we are only at 1% of the combined projected penetrated prevalence runway for the insomnia and SAD disorder PDTs, where Pear is not yet giving any guidance on when those candidates may become approved products.
Valuation and Dilution
Naturally, with a company that is still so immature we are going to be worried about cash burn, while the company said they weren't going to guide on these figures, they went ahead and gave guidance on these figures anyway.
But if you look at our 10-K, which will be filed tonight, you'll see that our expenses grew each quarter last year as we invested in our commercial launches and prepared to go public. Again, we don't provide expense guidance as we do with some of the other metrics that you referred to, but I can assure you we do not expect to see quarterly growth and expenses this year.

Corey McCann, CEO of PEAR
Currently the cash burn was at around $100 million, but this undershoots it somewhat due to a short operating year. In reality, we are looking at something like $120 million in cash burn. The company said that it doesn't expect growth to continue in expenses this year, so we can assume another $120 million in cash burn as another salvo of marketing expenditure brings the new products forward. With $170 million on the balance sheet in cash, it'll be till 2023 to worry about further dilution. By then we hope reflexivity will play in our favour thanks to increases in the stock price, and more operating leverage from the commercialisation effort with the SAD and insomnia products to narrow losses by then and reduce dilution effects. If they'd have to raise another $100 million in an equity raise at a $5 per share price, it would be 14% dilution effect, so not so nice. But this is assuming the price doesn't grow at all in 1.5 years. If we model in these dilution and equity raising effects under this scenario, we end up with the following spread on our forecast 2026 figures based on total obtainable market estimates.

Conclusions
The company thinks it'll do $22 million in revenue next year. Given our penetration figures and prevalence figures, and based on guided prescriptions, that implies $22 million is about 1% of what could be reasonably achievable at maturity. That's a while to wait on the loading bar, but it also means that just with the current market, there is an opportunity to get to over $2 billion in revenue, with other candidates bridging the gap to the $10 billion we think is possible at a more mature stage in 2026, a tentative date. Even assuming some dilution effects in 2023 at a current share price value, the company is still trading at a decimal valuation of the possible EBIT at maturity, given the strong economics that this business displays. Moreover, we have not taken refilling into account at all, and massively lowballed the price expected for future candidates for the sake of conservatism at $500 PEPY, instead of the average $1.3k that PEAR has now across Somryst and the SAD product.
This is a nascent business, so of course it's going to be risky, and things are uncertain, but with the reasonably obtainable markets being large despite conservative estimates, and economics strong for digital health businesses, we should see great value down the line, unless reflexivity effects due to a recession in the stock market makes future raises really costly, and if competitors start launching onto the scene faster than expected despite Pear's first mover advantage.