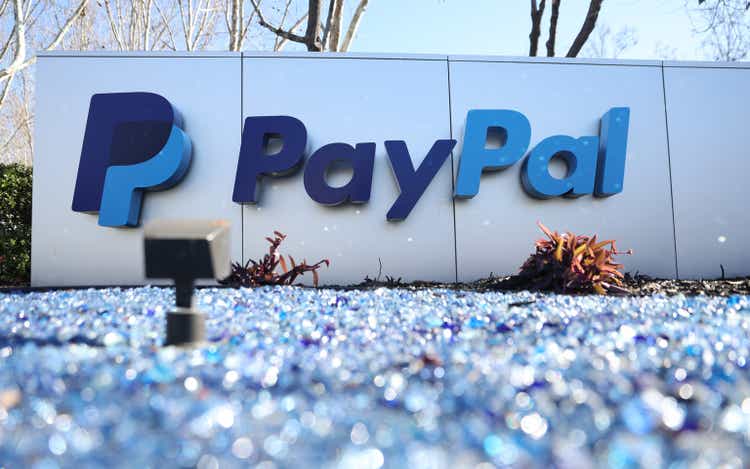 By Brian Nelson, CFA
PayPal Holdings (NASDAQ:PYPL) was a darling of a stock in the post-COVID-19 market rally. We were huge fans of the name at the time. After all, e-commerce sales were booming, and the company is heavily tied to such activity being one of the largest payment processors out there. The company was also expanding into crypto, and everything was on the up and up. That is, until Bloomberg reported in October 2021 that the company was exploring a purchase of Pinterest (PINS).
The market was shocked. Though PayPal has abandoned its takeover attempt of Pinterest, the company's equity has been irreversibly scarred given worries over the company's future strategic direction. However, it became clear that PayPal management may only have been looking at Pinterest, perhaps as a way to offset its deterioration in the core of its business, which became apparent when it reported first-quarter 2022 performance.
PayPal's Latest Quarterly Results
On April 27, PayPal reported first-quarter 2022 earnings that beat consensus top-line estimates and matched consensus bottom-line estimates as it concerns PayPal's non-GAAP adjusted EPS performance. Its GAAP net revenues grew 7% year-over-year as its total payment volumes ('TPV') rose by 13% in the first quarter. Total payment transactions were up 18% year-over-year, but the real story in the quarter had to do with significant operating margin deterioration, which will touch on in a bit.
Foreign currency headwinds also took their toll last quarter as PayPal's revenues and TPV on a foreign currency-neutral basis were up 8% and 15% year-over-year, respectively, slightly stronger than its nominal performance. As an aside, PayPal suspended its business in Russia in March 2022 in response to the Russian invasion of Ukraine in February 2022. The company is also actively assisting in raising funds for humanitarian efforts in Ukraine.
PayPal added 2.4 million net new active accounts ('NNAs') to its operations in the first quarter, bringing that figure up to 429 million (up 9% year-over-year). Additionally, payment transactions per active account advanced 11% year-over-year. PayPal's popular peer-to-peer money transfer app Venmo saw its TPV grow 12% last quarter. We appreciate that underlying demand for PayPal's offerings remains robust, and this remains a bright spot at the firm.
However, due in part to rising customer acquisition costs and increasing competitive pressures, PayPal's profitability levels took a big hit last quarter. Its non-GAAP operating margin dropped ~700 basis points year-over-year to reach roughly 20.7% in the first quarter. PayPal's non-GAAP adjusted diluted EPS came in at $0.88 last quarter, down 28% year-over-year. The company is taking measures to improve its profitability levels and generate operating leverage (i.e., revenue growth leading to margin expansion), but these efforts might take some time and could come up short.
During its latest earnings update, PayPal also reduced its revenue and earnings guidance for 2022 versus the forecasts the firm put out during its fourth quarter of 2021 earnings update. Now, PayPal forecasts that its TPV will grow by approximately 13%-15% annually on a spot basis and roughly 15%-17% annually on a foreign currency neutral basis this year. PayPal's annual net revenue growth on both a spot and foreign currency neutral basis is expected to come in around 11%-13% in 2022. The firm forecasts that it will generate approximately $3.81-$3.93 in non-GAAP adjusted diluted EPS this year, down 16% year-over-year at the midpoint of guidance.
Though we are disappointed with PayPal reducing its guidance, we appreciate that its revenue growth rates are expected to pick up during the second half of this year. Going forward, we are keeping a close eye on PayPal's forecasts. For the second quarter, PayPal is guiding for its net revenues on both a spot and foreign currency neutral basis to grow approximately 9% year-over-year. Though PayPal's stock may bounce back in a big way in the years to come, for now, it's sell-off and share-price carnage, in our view, can be attributed to the market's confusion over the lack of confidence in its long-term strategic direction, higher customer acquisition costs that are hurting margins, and increased competition leading to potentially lower-than-expected long-term revenue growth. Still, shares look cheap.
PayPal's Key Investment Considerations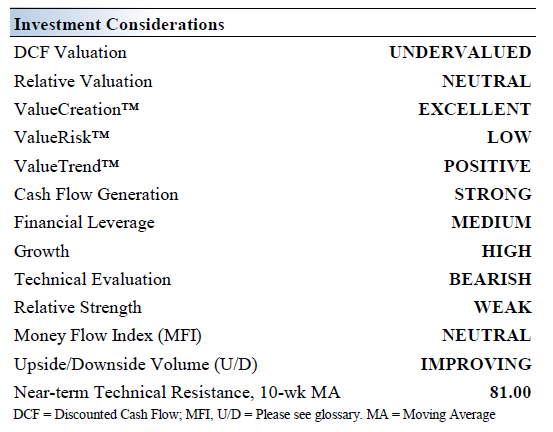 PayPal operates as a technology platform company that enables digital and mobile payments on behalf of consumers and merchants worldwide. Its platform allows customers to pay and get paid, transfer and withdraw funds to their bank accounts, and hold balances in their PayPal accounts in various currencies. PayPal was spun off from eBay in July 2015.
PayPal is constantly innovating and updating its products and platform to remain competitive. Venmo, its peer-to-peer platform, offers additional growth potential, and management is optimistic regarding its ability to further monetize the platform.
PayPal's business is subject to extensive government regulation and oversight, as well as complex, overlapping and frequently changing rules, regulations and legal interpretations. Any factors that increase the costs of cross-border trade or restrict, delay, or make cross-border trade more difficult could harm its business, providing additional geopolitical risk.
PayPal continues to set itself up for long-term success, though the near-term is quite uncertain as it battles through tough times. The company has announced partnerships with Visa (V), Mastercard (MA), and Discover (DFS) that enhance customer service features, particularly in the area of digital payments. PayPal announced a partnership between Venmo and Amazon (AMZN) in November 2021.
What has become clear, at least to us, is that the executive suite at PayPal is a bit concerned about, or at least not as confident in, core long-term fundaments, which may have led it to pursue Pinterest. From what we can gather, competition is growing for PayPal, including the likes of Block (SQ), Stripe (STRIP), and digital initiatives from credit card companies–and all of this is coming at a time when consumer spending may be facing pressure from inflationary headwinds. That said, PayPal remains a tremendous free cash flow generator with a strong balance sheet, providing it with ample financial firepower to get through the tough times.
PayPal is working to improve its operating leverage going forward, indicating the company will follow through with its goals laid out during its fourth quarter of 2021 earnings call as it concerns scaling back customer acquisition spending levels (such as reducing incentive spending). Launching new offerings represents another part of PayPal's turnaround strategy, but these efforts may take some time, and operating-margin pressure during its first quarter was quite disappointing.
PayPal's Cash Flow Valuation Analysis
PayPal has seen better times with respect to profitability, but the company remains a free cash flow cow with a pristine balance sheet. The firm generated $1.1 billion in free cash flow and spent $1.5 billion buying back its stock in the first quarter of 2022. At the end of March 2022, PayPal had a net cash position of $3.7 billion with no short-term debt on the books when taking into account that $4.0 billion of its $7.1 billion 'long-term investments' line-item is made up of cash-like assets (time deposits and available for sale debt securities). The remainder of its long-term investments line-item is represented by strategic assets.
On the basis of our discounted cash flow process, we think PayPal is worth $127 per share with a fair value range of $102-$152. The margin of safety around our fair value estimate is driven by the firm's LOW ValueRisk rating, which is derived from an evaluation of the historical volatility of key valuation drivers and a future assessment of them. We may look to revise our risk rating in a future update given a wider range of fair value outcomes that investors might expect. Our near-term operating forecasts, including revenue and earnings, do not differ much from consensus estimates or management guidance. Our model reflects a compound annual revenue growth rate of 12.5% during the next five years, a pace that is lower than the firm's 3-year historical compound annual growth rate of 18%, but about in-line with management's expectations for 2022.
Our valuation model reflects a 5-year projected average operating margin of 18.7%, which is below the non-GAAP measure it recorded in the first quarter of 2022. We tend to model the company on a non-GAAP basis to better capture its operating economics, but we think it's worth pointing out that it registered an 11% operating margin on a GAAP basis in the first quarter, down 630 basis points year-over-year. That means our point estimate of its fair value could be on the optimistic side; hence, why we call PayPal a "show-me" story at the moment. It has a lot to prove to the market, as investors may be shunning non-GAAP presentation.
Beyond year 5, we assume free cash flow will grow at an annual rate of 4.2% for the next 15 years and 3% in perpetuity. For a company such as PayPal, we think it may outperform our free cash flow projections beyond year 5, but again, we've built in a degree of conservatism in part to consider as an offset to the non-GAAP projections on the operating line. There are a lot of moving parts within our discounted cash-flow infrastructure for PayPal. For the firm, we use an 8.8% weighted average cost of capital to discount future free cash flows, which we think is fair given the heightened risks related to our projections.
We think a quick back-of-the-envelope cash-flow based analysis for PayPal would be helpful for readers, too, given the complexity and many moving parts involved within enterprise valuation. During the first quarter of 2022, PayPal hauled in ~$1.05 billion in free cash flow. Annualizing that measure gets to ~$4.2 billion. If we apply a growing perpetuity to this assumption at our discount rate less a 3%-5% terminal growth rate, we get to a market capitalization value of $72.4-$110.5 billion.
Adding this to the company's net cash position gets to a market capitalization value of ~$76-$114 billion. PayPal's current market capitalization price stands at ~$87.9 billion (in line with this back-of-the-envelope calculation), suggesting to us that the market is assuming no major step-change in the improvement in PayPal's currently-depressed free cash flow generating ability, but that it will only grow at inflationary rates going forward. We think such a view is too bearish, as first-quarter 2022 free cash flow (which we use as our starting point in the back-of-the-envelope calculation) was a whopping 32% lower than the same mark in 2021.
PayPal's Margin Of Safety Analysis
Our discounted cash flow process values each firm on the basis of the present value of all future free cash flows. Although we estimate PayPal's fair value at about $127 per share, every company has a range of probable fair values that's created by the uncertainty of key valuation drivers (like future revenue or earnings, for example). After all, if the future were known with certainty, we wouldn't see much volatility in the markets as stocks would trade precisely at their known fair values.
This is an important way to view the markets as an iterative function of future expectations. As future expectations change, so should the company's value and its stock price. Stock prices are not a function of fixed historical data as in most quantitative analysis, but rather act in such a way to capture future expectations within the enterprise valuation construct. Please read the book Value Trap to learn more about this particular dynamic.
Our ValueRisk rating sets the margin of safety or the fair value range we assign to each stock. In the graph above, we show this probable range of fair values for PayPal. We think the firm is attractive below $102 per share (the green line), but quite expensive above $152 per share (the red line). The prices that fall along the yellow line, which includes our fair value estimate, represent a reasonable valuation for the firm, in our opinion.
Concluding Thoughts
PayPal has become a "show-me" story. Worries over the firm's strategic direction, increasing customer acquisition costs, and heightened competition that may reduce the company's long-term revenue growth rate have punished the stock. However, we think the market is being overly punitive, only giving PayPal credit for the value of a free cash flow stream under existing depressed conditions. Though PayPal has a lot to do to right the ship, we believe the company is at a sweet spot to capture e-commerce proliferation, and it will emerge from depressed conditions better able to handle all facets of the economic cycle. Shares look cheap on the basis of our discounted cash flow model, but we understand why the market has soured on them of late.
This article or report and any links within are for information purposes only and should not be considered a solicitation to buy or sell any security. Valuentum is not responsible for any errors or omissions or for results obtained from the use of this article and accepts no liability for how readers may choose to utilize the content. Assumptions, opinions, and estimates are based on our judgment as of the date of the article and are subject to change without notice.