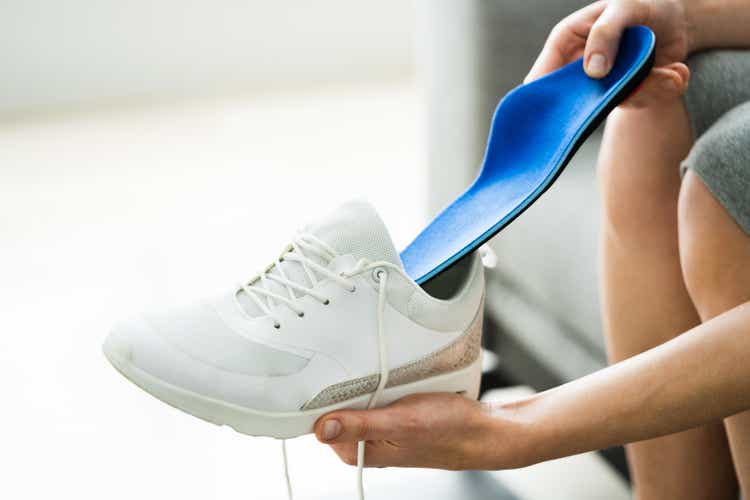 Author's Note: This is the free version of an article published on iREIT on Alpha on June 26th.
Dear subscribers,
I've been asked to take a look at On Holding (NYSE:ONON) for some time – and this weekend, I got time to sit down and do a deep-dive on the business and form a thesis that I could warrant presenting to you. Fair warning, I do not have a stake in the business, nor do I have any current, immediate plans to invest in the company.
However, I won't deny that it's an interesting business, with great products and a good plan. For that reason, this business warrants our attention.
Let's get going and look at On Holding.
What is On Holding?
On Holding, On or simply "On Running", is the holding company that owns the brand On. It's an athletic shoe and sportswear company out of Switzerland, that designs, manufactures, markets, and sells its own sports clothing and running shoes.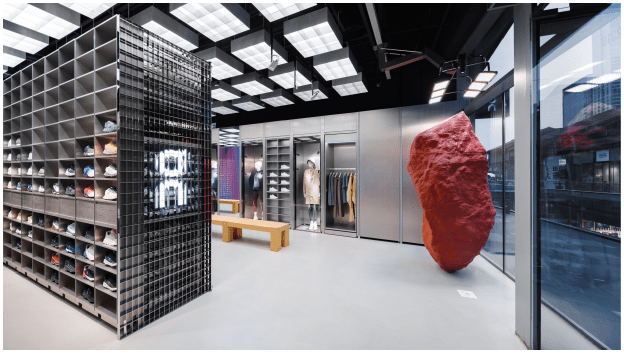 Now, typically when a small business like this tells me that they're going to "conquer the market" or do something extraordinary like challenge the hundred-billion dollar empires that are NIKE (NKE), adidas (OTCQX:ADDYY), and PUMA (OTCPK:PUMSY), I'd say "Good luck – but not with my capital".
This is because, after years of looking at consumer clothing and shoe companies, I know something about their value chains, their productions, their logistical and capital flows, and their operational management. And it is brutal. There are reasons why the majors have outsourced over 90%+ of their manufacturing and are comparatively asset-light businesses that focus more on SG&A.
However, it would be wrong to not account for the amazing successes that On has been able to deliver – and the fact that quality, well-made products will always have a space in any one discriminating consumer's closet/space. I myself am a perfect example of this. I don't shop for budget clothes or shoes – my focus is quality first, price second. I make sure the products I buy are as much manufactured in Europe as I possibly can, and that I buy things that last.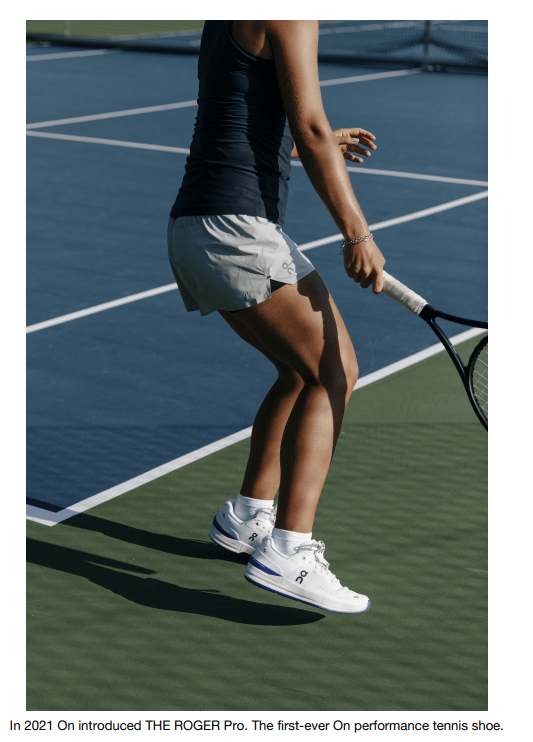 Well, On products do last. Not saying Nike and adidas don't – but this is a simple fact.
On as a business was incorporated twelve years back after the financial crisis in 2010. It was founded by a former Swiss Ironman Champion, Oliver Bernhard, with two partners. Their first product was Cloudracer, a performance footwear product that quickly came beloved by Swiss professional runners and triathletes, including Nicola Spirig who won the gold medal in London in -12.
When athletes wear and market your products, you quickly get a place on the map – and On Holding/On is a very good example of this. The company reached a pre-pandemic Swiss market share of 40%, outperforming Nike and adidas, and has also captured almost 10% of the running shoe market in Germany. On has been able to market and sell its products in over 60 nations across the globe, and the USA is already its by-far single largest market. Research shows that the company owns almost 7% of the running shoe market in the US as of 2020-2021 (Source).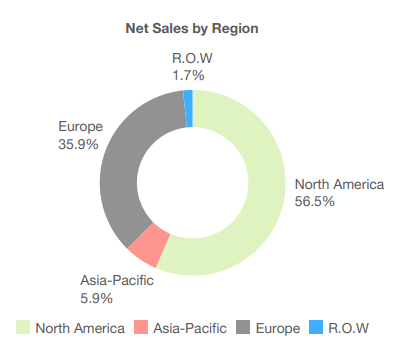 So, that is an impressive feat for a relatively small, if IPO'ed company.
The secret sauce for On Holding, and why it's supposedly better than other shoes and similar products on the market is a proprietary technology called CloudTec. This is a cushioning technology and comes in the form of a series of "clouds" that grant cushioning as the foot lands, before "locking together" in a way that offers the runner a solid foundation prior to pushing off for the next step.
"The benefit of it is basically that playing with the structure of it helps you to tune the cushioning for softer landings. As the clouds are compressed in the forefoot it creates a firm and stable platform to push off"

(Source)
The company, over the years, has gotten all sorts of famous endorsements for its technology in the form of major shareholders such as professional tennis players. The company also has athletes working for them, such as David Kilgore, a US runner/record holder, who both competes and works for the company.
From a fundamental level, On Holding does not have a credit rating. It does not have a dividend. Its sales revenue lies somewhere around the CHF400M-CHF725M mark historically, and in 2020 it generated a net loss of around $30M. In 2021, it generated gross margins of around 59.4%, adjusted EBITDA margins of 13.3%, and strong net sales increases on a year-over-year basis.
On Holding uses a multi-channel distribution system, with a complimentary online DTC business, and working wholesale business. DTC margins are of course significantly higher, but wholesale offers better access to customers (usually). Both businesses are growing, with online growing 76.7% 4Q22 YoY, and wholesale just south of 40%.
The company, as of 4Q22 and prior to the various crises, guided for FY22 sales of around a billion CHF, its first billion, and adjusted EBITDA/FCF of around 130M, with a retained EBITDA margin of 13%+. The company also delivered new partnerships with world-class athletes. From a manufacturing point of view, despite being famously Swiss-based, On Holding does what most companies do – they manufacture mostly in Vietnam for cost reasons.
Just to clarify though, On Holding still operates at a net loss, but that net loss is now barely noticeable, with 4Q21 net results coming in at negative CHF2.6M, up from negative CHF187M YoY.
The company is also very cash-heavy since its IPO in September. It's added 620.5% of cash, or CHF653M which reflects the proceeds net of fees from the company IPO. Initial outlooks for early 2022 were expected to be characterized by significant product expansion in the indoor and outdoor lifestyle segments, both in shoes and accessories.
However:
However, we expect that the following supply chain challenges in the fourth quarter of 2021 caused by COVID-19 will continue to have a short-term and transitory impact on our financial performance for the first half of fiscal year 2022 through: i) increased use of expensive air-freight to rebuild inventory levels after production shortages caused by COVID-19 induced closures of factories in Vietnam; and ii) higher sea and air-freight rates and warehouse labor expenses impacting gross margin and SG&A expenses. As a result, we still expect a headwind to our gross margins of approximately 700-800 basis points in the first half of 2022.

(Source)
The reason I mention this is because I believe it relevant to watch the development from forecasts as we move from 4Q21, to 1Q22 and start including some Ukraine/macro concerns in the sales mix forecasts.
To summarize the fundamentals – On/On Holding is a sportswear/shoe company based and founded in Switzerland. All of the company's products are engineered in-house in Switzerland, and the company owns several proprietary technologies such as CloudTec, Helion Superfoam, and Speedboard. Manufacturing is done elsewhere. It's a growth company with potential in every single international market, provided it manages to continue its growth trajectory.
The company works with 16 suppliers and does not own any manufacturing capabilities. Seven suppliers in Vietnam produce the company's footwear across 12 different sites, while apparel and accessories are sourced from suppliers in China, Vietnam, Portugal, Germany, Lithuania, and Turkey. The company's only real PP&E are its various regional offices, retail location, and headquarters. The company typically leases these long-term.
The company uses a typical multi-channel sales approach that combines DTC sales and wholesale and also operates some of its own stores. Wholesale is the largest sales channel, coming in at over 62%. The company opened its first flagship store in NYC in 2020. There's some seasonality to sales, with typical sales being higher in 3QXX and 4QXX.
The market for shoes and apparel is highly competitive. It includes the brands mentioned above, as well as brands like Under Armour (UAA), Lululemon (LULU), Li Ning (OTCPK:LNNGF), Reebok, and many, many others.
Early 2022 results and risks to the company
The results for early 2022 were very promising, as On delivered results exceeding expectations. Sales were up almost 68% YoY, growing both wholesale and DTC. Consumer demand was strong, and net sales for the quarter were CHF235.7M, which is well in line with seasonality and the 1B sales target.
However, what's not in line is cash flow/profit/EBITDA. Adjusted EBITDA fell to CHF15.7M due to the myriad of supply chain and macro issues that every other company is seeing, but that is hitting On harder due to its limited comparative size. The company's gross margins fell by almost 600 bps due to airfreight shares and logistical expenses.
The company does expect growth in sales to continue, as responses to its products have been amazing. It's raising forecasts for sales to CHF1.04B, breaking that 1B barrier.
However, as I'm fond of saying, sales are not profits. Sales are just that – sales – and if we dig down in these 1Q22 numbers, we see the hurt being put on On to a fairly large degree. EBITDA down 21.1% on an adjusted basis, margins down more than 800 bps on an EBITDA level – things are as much bad as they are good, at least for the time being. This quote speaks volumes.
However, in response to the transitory impacts from production shortages in the second half of 2021 in Vietnam, we expect to continue to use air freight in the second quarter of 2022 to further balance inventory levels against the strong demand. As such, we continue to expect a headwind to our cumulative gross profit margin for the first half of 2022 in the range of 700-800 basis points.

(Source)
On Holding is a comparatively small player in a monster-size business. This comes with certain flexibility advantages, but it also comes with disadvantages, such as being harder hit by certain trends compared to companies who have far larger networks and financial muscles with which to operate in this environment.
On is very cash-heavy and does not need to tap debt or equity for the foreseeable future – but the issues have wreaked havoc with its share price. The company is a strictly NYSE-listed growth stock, and the price decline since IPO is 45.7%, which comes to a CAGR of negative 54.7%. Plenty of investors were lauding the stock for its innovative and loved products – but this just goes to show you.
Good products don't always make for a good investment at "any" valuation.
Just because you love a product, doesn't mean the company behind it is a good investment. It goes without saying that On Holding is now undervalued compared to its IPO – we'll go into those numbers in detail in a little while. It's also clear that market analysts are continuing to love On, with the company being one of UBS's (UBS) highest-conviction picks out there. None of these things are worthless, and in a different environment with better forecast visibility, this would be a massive advantage.
However, the fact is that we do not know how long this downturn will last – and consequently, we do not know how low On can drop, or what a potential supply chain, even partial (considering the company's relatively limited supplier exposure) could do to the company's sales.
There are some fundamental risks to the company that you should not be quick to ignore – but the highest of these risks come, in my view, not from the fundamentals and sales (which are actually pretty great), but from what you pay for them.
On Holding Valuation
The crux of the matter is the valuation. On Holding IPO'ed in what will likely be known as a frothy, free-cash, zero-interest rate environment. The IPO share price was set at a massive $24/share, which for a 2022E $0.25E EPS implied an IPO P/E of 96X. adidas trades at around 25-25 -as does Nike. The amount of growth that would have to be realized for this to make sense on a pure-earnings basis is massive.
The stock price then shot up to $55 at its peak – around 200X P/E – before falling to a post-IPO low of $16.38 in May and has currently recovered to $18.99/share.
At a current mixed forecast ranging from a 2022E EPS of $0.2-$0.3, that comes to a 2022E EPS of 94X – 63X. Still a massive premium to any comp here.
You might think that's good news – since the growth rate must then obviously be massive. You'd be correct- current FactSet analysts estimate a growth of 40-45% in 2023 and another 53% in 2024, with the 138% YoY EPS growth in 2022 as a start. This is obviously a good growth rate – but even if we consider the 2024E, that puts today's P/E at 35X for the results considered in 2.5 years. And if you consider a 35-36X P/E for the company at that point, your total RoR for that investment would be a whopping 0.29%.
The principal bull argument for On Holding is the company's EPS growth rate- with some analysts forecasting a CAGR of 70% on a 5-year basis that could justify a 30-40X P/E ratio even in this environment. This is because such growth would make the company the fastest-growing athletic wear, and well worth of such a premium.
However, I believe that On bulls fail to take into consideration a few crucial factors.
First off, we're moving into a different environment in terms of macro, interest rates, and spending. Discretionary consumer spending patterns are likely to shift, and while the products the company sells might not be as affected as say, automotive cyclical or appliances, the company still produces high-priced products that some may elect to forego.
Secondly, while I'm proud of On for being a Swiss quality brand that is obviously loved by consumers, and while I firmly believe the company to be worth a 10-20X P/E ratio in any environment, it's important to remember that over the past decade we've seen the company's come up that everyone says is going to be the "next thing" in apparel, in footwear. They trade at ridiculous multiples, but in the end, they never live up to their profit forecasts. That 200X P/E ratio is pretty accurate when it comes to most of these companies' highs. Case in point, Under Armour, which has much more of a stock price history, but now trades at a very humane P/E multiple of 11.92X, following a tremendous crash.
If ONON were to crash to 12X P/E, that would imply a share price of $6.36. And that's not for 2022E, but for the 2024E with $0.53E EPS.
For 2022, it would be $3/share.
That is quite a bit of a downside for a company like this.
Street targets from S&P Global remain frothy, despite dropping from an average of $46/share less than 6 months ago. What has happened in 6 months, that's so negative for the company in terms of sales? Nothing, sales are actually up. Yet analysts have lowered their price targets to $30/share. Only one out of ten analysts actually has a sub-$19 PT, but despite this only 5 analysts are at a "BUY" here. The conviction with which these analysts view On leaves something to be desired.
I belong more to the bearish camp than the bullish one. I will not evaluate On Holding on the level of Nike or adidas. A company needs to prove more before I'm willing to assign it a 25-35X P/E multiple, which in my world is reserved for world-class businesses like LVMH (OTCPK:LVMUY) and adidas.
Based on the current forecasts, peer multiples, macro, and supply chain issues, I'm willing to assign On Holding a 20X P/E multiple for the outlier 2025E P/E assuming a 70% 5-year CAGR from 2021. That comes to a share price target of $13/share – and I feel that I'm being very generous here, given that arguing conservatively, we could easily assign the company a target of $5/share.
And that's before even too heavily considering the fact that the company does not have any sort of dividend, or a planned one.
The bullish-oriented upside to On is based strictly on capital appreciation.
While investors seemed ready to take on the sort of risk that is presented here a year ago or so, it's my view that people don't seem as willing to consider such risks as favorably anymore.
Anyway – even allowing for a premium, I'll put my limit at $13/share.
That's my PT.
Thesis
There are plenty of ways to view a brand like this. As a consumer, I view the brand with a very favorable perspective – because I use, and love the products. I was wearing a pair of On shoes for my run this morning. It's a great product.
On the other hand, it's a small player in a global field trying to make a name for itself in an environment that's as logistically and financially challenged (and like to be) as we've seen it for decades. This would generally speak against newcomers, and in favor of "old dogs" who've been around the block a few times and know how things work.
As with everything, I believe that at a certain price, On Holding AG becomes an appealing "BUY".
But the fact that the company has been trading at frothy-type multiples since its IPO, and arguably still is, puts a dampener on my exuberance or desire to buy the company at this time.
For the time being, here are my targets – and I'll stay conservative for the time being.