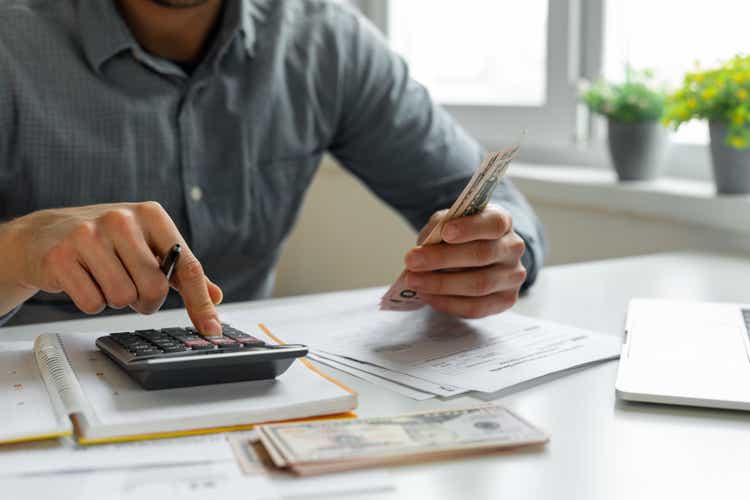 Oaktree Specialty Lending Corporation (NASDAQ:OCSL) is currently selling a safe, recession-proof dividend.
The business development company ("BDC") has a truly impressive dividend growth record, and the stock has begun to trade at a discount to book value as a result of recession fears.
The financial results of Oaktree Specialty Lending indicate that the business development company's stock should trade at a premium to book value.
OCSL Is A True Gem In The BDC Market
Oaktree Specialty Lending deserves a lot more attention, primarily because of its impressive dividend growth, which I will discuss in more detail later.
Oaktree Specialty Lending is spread across 146 portfolio companies, with a fair value of $2.6 billion as of March 31, 2022. The portfolio was to be 86% invested in secured debt (first and second liens), with unsecured debt accounting for 2% of investments, equity accounting for 4%, and joint ventures accounting for 7% of investment assets.
Oaktree Specialty Lending places a high priority on investing in industries with little or no earnings volatility, which could jeopardize the BDC's portfolio income and dividend payments to shareholders.
With 15.9%, the software industry is Oaktree Specialty Lending's most exposed industry.
A quick scan of the BDC's overall industry exposure reveals that the top ten industries are all companies in low-volatility industries such as healthcare, pharmaceuticals, chemicals, and IT services.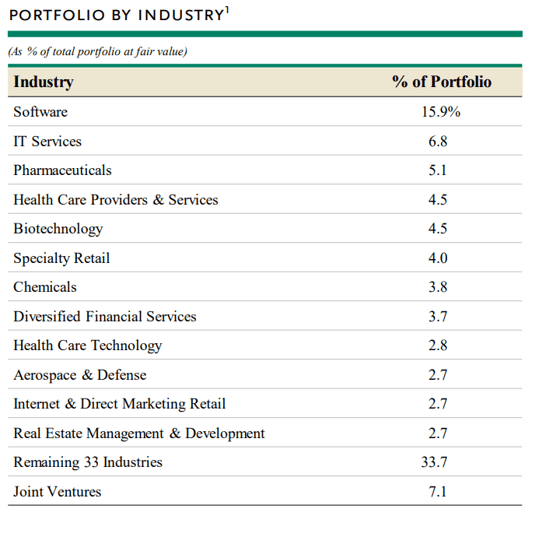 New Investments Have A First Lien Focus
Oaktree Specialty Lending's new originations and investment commitments are not slowing. The BDC committed $228 million in new investments in the first quarter, with the vast majority of new investments in first and second lien secured debt.
Approximately 72% of Oaktree Specialty Lending's new investments in 1Q-22 were in first liens and 7% in second liens. The first lien focus is beneficial to the BDC because the sector must potentially absorb a recession in 2022, which raises the BDC's and the sector's credit risks.
Interest Rate Exposure
The management of Oaktree Specialty Lending saw the writing on the wall and invested heavily in floating rate assets. This implies the possibility of income growth as the central bank raises benchmark interest rates. Floating rates apply to 89% of Oaktree Specialty Lending's loan base, positioning the BDC for net investment income tailwinds if the central bank becomes more aggressive with its interest rate policy.
Portfolio Income Covers Pay-Out
Total dividends of $0.59 per share over the last year compared to adjusted net investment income of $0.70 per share. As a result, Oaktree Specialty Lending had a pay-out ratio of only 84%.
Because of the low pay-out ratio, I anticipate that the BDC's management will continue to increase the quarterly dividend pay-out. Because Oaktree Specialty Lending is also exposed to interest rates, an increase in benchmark interest rates could help the BDC's dividend growth.
Strong Dividend Growth
Oaktree Specialty Lending has delivered truly impressive results in one particular metric: dividend growth.
The business development company recently declared a quarterly cash distribution of $0.165 per share, representing a 27% increase in dividend growth YoY. It was Oaktree Specialty Lending's eighth consecutive quarterly dividend increase. The BDC increased its dividend by 74% in two years, from $0.095 per share to $0.165 per share.
I am not aware of any other business development company that has been able to increase its pay-out at such an impressive rate for nearly the entire pandemic period.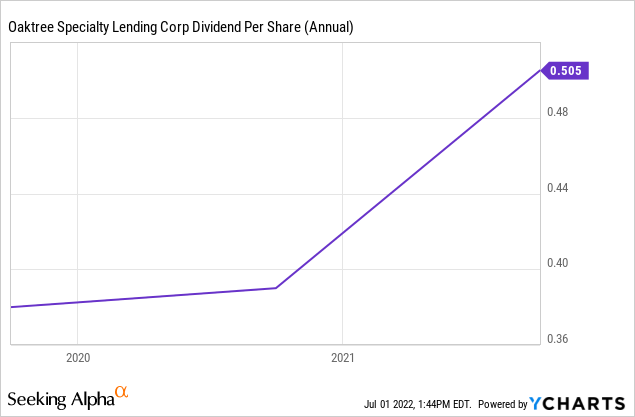 11% Discount To Book Value For A Top-Rated BDC
Top-rated business development firms with an exemplary track record of consistency and dividend growth should not be trading at a discount to book value. When they do, dividend investors should act quickly and buy as many shares as they can.
The total assets of Oaktree Specialty Lending are valued at 0.89x book value, implying an 9% discount to book value. As I mentioned in previous articles on business development companies, many BDCs, including the top tier ones, began trading at discounts to book value in June. The time to double down on quality BDCs is now.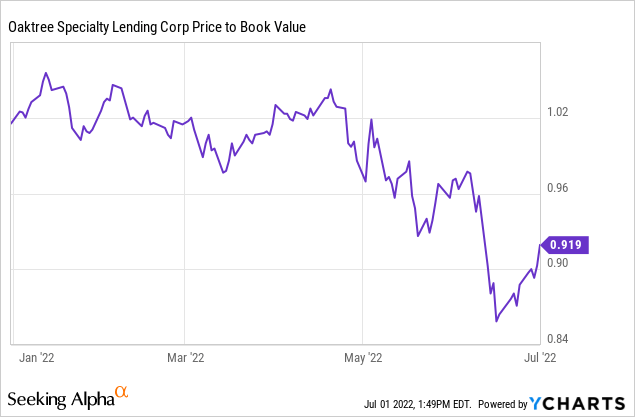 Why Oaktree Specialty Lending Could See A Lower Stock Price
Oaktree Specialty Lending's portfolio and credit quality could theoretically deteriorate, resulting in a significant decline in the business development company's book value.
So far, Oaktree Specialty Lending's credit quality has held up (the BDC has no non-accrual investments), and the company has earned a well-deserved reputation as a skilled credit manager over time. Having said that, a recession can be a headwind for Oaktree Specialty Lending's origination business.
My Conclusion
In terms of risk management, credit quality, and dividend growth, Oaktree Specialty Lending is one of the best business development companies I've ever seen. Do you know of any other BDC that increased its payout by 74% during the pandemic? I don't.
Oaktree Specialty Lending has a truly stellar track record of dividend growth for the BDC's investors. Given the BDC's history of dividend growth and portfolio strength, I don't believe OCSL should be trading at a 9% discount to book value.