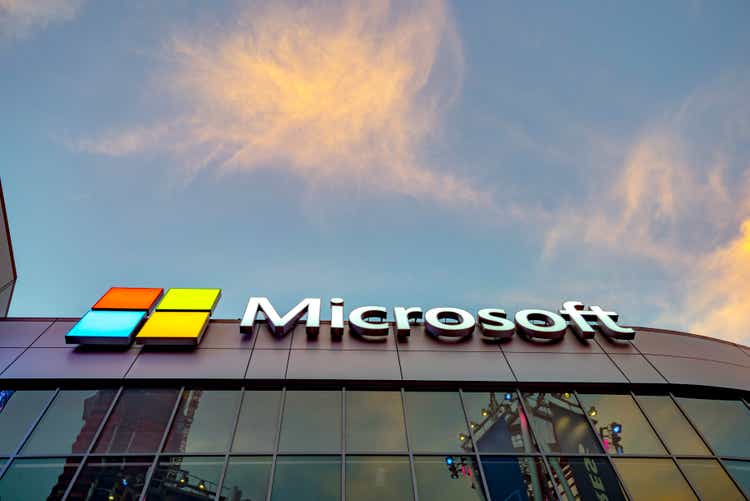 While several technology companies declined pretty steep in the last few months (including high-flyers of the pandemic like Zoom (ZM) but also technology giants like Meta Platforms (FB) or Tencent (OTCPK:TCEHY)), Microsoft Corporation (NASDAQ:MSFT) is still performing solid. But we also can't deny that Microsoft also declined in the last few months and almost entered the bear market territory.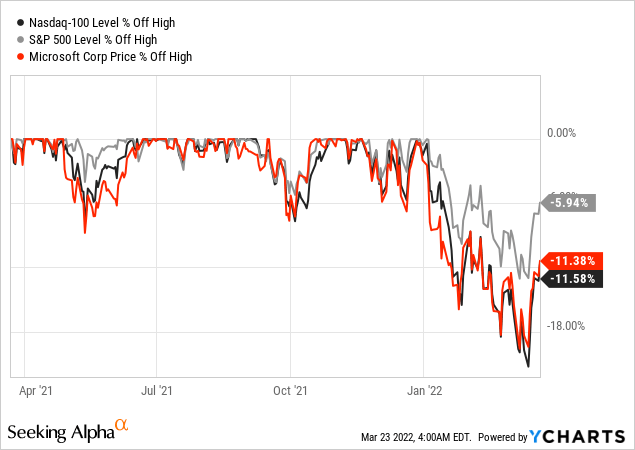 In my last article, which was published in May 2021, I was already cautious if Microsoft is a good investment and rated the stock as a hold. In the meantime, Microsoft increased 26% in value and clearly outperformed the S&P 500 (SPY), which increased about 9% in the same timeframe. But past performance is not indicative of future returns and the fact that Microsoft would have been a good investment in the last 10 months does neither tell us if Microsoft is a good investment right now nor if the stock is undervalued. In the following article, we take a closer look at the company and the stock again.
Quarterly Results
When looking at the last few years, Microsoft could improve its business and since fiscal 2018, the company can report double-digit revenue growth every single year (with the growth rates fluctuating between 13.7% and 17.5%). And when looking at the last four years, operating income could increase even between 20% and 30%. The pandemic was clearly a tailwind for Microsoft with even higher growth rates than in the quarters before the pandemic.
And so far, we see no sign of growth slowing down. When looking at the last quarterly results (Q2/22), we still see strong growth rates for Microsoft. Total revenue increased from $43,076 million in the same quarter last year to $51,728 million this quarter – an increase of 20.1% YoY. When looking at the two different sources of revenue, it was mostly "Service and other" that drove growth this quarter (31.1% year-over-year increase). Operating income could also increase from $17,897 million in the same quarter last year to $22,247 million this quarter – resulting in 24.3% YoY increase. And finally, diluted earnings per share increased 22.2% YoY from $2.03 to $2.48.
And all three segments contributed to revenue growth. While the "More Personal Computing" segment increased revenue only 15%, "Intelligent Cloud" increased revenue 26% year-over-year. When looking at the "Productivity and Business Processes" segment Microsoft 365 Consumer subscribers increased from 47.5 million in Q2/21 to 56.4 million in Q2/22 – 19% year-over-year increase. And revenue from LinkedIn increased 37% year-over-year. "Intelligent Cloud" could grow its revenue 26% compared to the same quarter last year and total cloud revenue increased even 32% year-over-year to $22.1 billion.
Continued Growth
And we can expect that Microsoft will continue to grow with a healthy pace. At this point, it seems not unlikely, that growth will continue for the different segments. Especially revenue from cloud is expected to be an important driver of growth in the years to come. When looking at the growth rates analysts are expecting in the years to come, we see rather high numbers. Over the next 10 years, analysts expect earnings per share to grow with a CAGR of 16.62%.
And when considering, that Microsoft could grow earnings per share with a CAGR of 55.77% in the last three years and a CAGR of 30.83% in the last five years, it could be justified to be so optimistic. But when looking at longer timeframes, growth rates in the mid-to-high teens over the long run might be a bit too optimistic.
Microsoft is clearly taking a lot of right steps and is growing with a strong pace in the last few years. But the company also profited from the pandemic, which was a strong tailwind for the business, and I would not see the results of the last few years as a representative for a long-term growth potential. In my opinion, growth in the low-to-mid teens could be realistic for Microsoft and is also in line with the growth rates in the last two decades.
In my last article about Microsoft, I described not only the network effects of LinkedIn (or linked to other articles in which I described the network effect) but also described the switching costs that arise from Microsoft's operating system and the applications like Word or Excel. And the cloud services are also creating switching costs for customers. With these different moats Microsoft has around its business, we can expect solid growth rates in the years to come.
Another way to grow for Microsoft is by acquisitions and Microsoft actually has a long acquisition history and is acquiring businesses much more frequently than I was aware of (I just remember the acquisition of LinkedIn). In 2022 Microsoft already made 3 acquisitions and in 2021 the company acquired even 13 businesses. And while these are mostly small acquisitions, everybody is focused on one major acquisition right now – Activision Blizzard (ATVI).
Acquisition of Activision Blizzard
On January 18, 2022, Microsoft announced the acquisition of Activision Blizzard for $95 per share in an all-cash transaction valued at $68.7 billion. The deal is expected to close in Microsoft's fiscal 2023. Activision Blizzard with 10,000 employees is serving nearly 400 MAUs playing games like "Warcraft", "Diablo", "Call of Duty" or "World of Warcraft". As a result of the acquisition, Microsoft will become the third-largest gaming company in the world by revenue – behind Tencent and Sony (SONY).
Spending almost $70 billion on an acquisition seems like a huge deal, but we always must keep in mind that Microsoft is a business with a market capitalization of $2.33 trillion and Activision Blizzard will therefore contribute only a small part to Microsoft. While Microsoft generated $184.9 billion in revenue in the last four quarters, Activision Blizzard generated $8.8 billion in revenue. And compared to a net income of $71.2 billion for Microsoft in the last four quarters, Activision Blizzard generated only a net income of $2.7 billion in the last four quarters.
We can also ask the question if Microsoft overpaid for the acquisition. In fiscal 2021, Activision Blizzard generated $3.72 in earnings per share. Considering a share price of $95 Microsoft is offering, we get a P/E ratio of 25.5. In fiscal 2021, Activision Blizzard generated $2,334 million in free cash flow and Microsoft would therefore pay about 32 times free cash flow. And considering what premiums are often paid when businesses are acquired, I would argue that Microsoft is paying a reasonable price.
Activision Blizzard is trading for $80 right now and the reason for the share price being $15 below the price Microsoft is willing to pay seems to be uncertain among investors if the deal will be approved. Additionally, the FTC will review the deal, which is considered to be a bad sign – and the second request in March 2022, when the FTC requested more information has not made it better. I honestly don't know if the deal will go through, but from Microsoft's point of view, it is not a major risk if the deal is not approved.
Balance Sheet
When looking at the balance sheet, Microsoft has the financial stability to acquire Activision Blizzard without much trouble. On December 31, 2021, Microsoft has $20,604 million in cash and cash equivalents and $104,765 million in short-term investments. These are clearly enough liquid assets to acquire Activision Blizzard.
But Microsoft's balance sheet is not only great due to the high amounts of cash and cash equivalents. It also has $48,260 million in long-term debt on the balance sheet, which might sound a lot at first, but when comparing the amount to the stockholder's equity of $160,010 million we get a D/E ratio of 0.30. Microsoft also generated $78,628 million in operating income in the last four quarters, and it would take only about 7.5 months to repay all the outstanding cash. And even after the potential acquisition of ATVI, Microsoft still has enough liquid assets on its balance sheet to repay all the outstanding debt right now.
When searching for problems with Microsoft's balance sheet, we could mention $50,921 million in goodwill. Once again, the amount in absolute numbers might sound scary, but comparing it to $340,389 million in total assets is resulting in 15% of total assets, which seems acceptable. Without much doubt, Microsoft has a great balance sheet, and the Activision Blizzard deal won't change that.
Intrinsic Value Calculation
In my last article, I rated Microsoft as a "Hold" – mostly due to the rather high valuation. Right now, Microsoft is trading almost for the same P/E ratio as when my last article was published (a P/E ratio around 33). While the P/E ratio is similar, the price-free-cash-flow ratio increased a bit during that timeframe and Microsoft is trading for 39 times free cash flow right now. Of course, the market does not care about my last article and as a better reference point, we should look at the last ten years. And when looking at the P/FCF ratio, we can see that Microsoft is not only trading above the ten-year average of 21.60, but also got constantly higher from a low of 7.7 almost ten years ago to 43 a few weeks ago.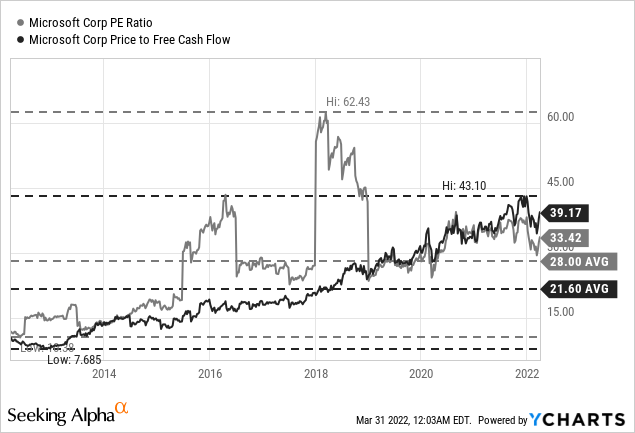 And when looking at the simple valuation metrics, Microsoft seems to be expensive, and the valuation multiples are getting higher and higher. But we also must point out, that Microsoft could improve the underlying business over the last few years justifying a higher valuation multiple.
Aside from the simple valuation metrics, we can also use a discount cash flow calculation to determine an intrinsic value for Microsoft. As a basis, we can use the free cash flow of the last four quarters ($60,693 million). But now we must answer the rather difficult question of what growth rates to expect for the years to come. Analysts are quite optimistic and expect earnings per share to grow with a CAGR of 16.45% over the next ten years. But I would be a little more cautious and assume growth rates around 12% for the next decade, followed by 6% till perpetuity. When calculating with these assumptions (and 7,555 million outstanding shares as well as a 10% discount rate) we get an intrinsic value of $306.91 for Microsoft and the stock seems fairly valued right now.
Conclusion
Microsoft is a great business with one of the best moats a company can have. The different business segments are profiting from switching costs, network effects and of course, the brand name is also adding to the competitive advantage of Microsoft. Additionally, Microsoft has a strong balance sheet and will most likely continue to grow with a healthy pace. And in my opinion, Microsoft could be fairly valued right now, but it is probably not a bargain at this point.