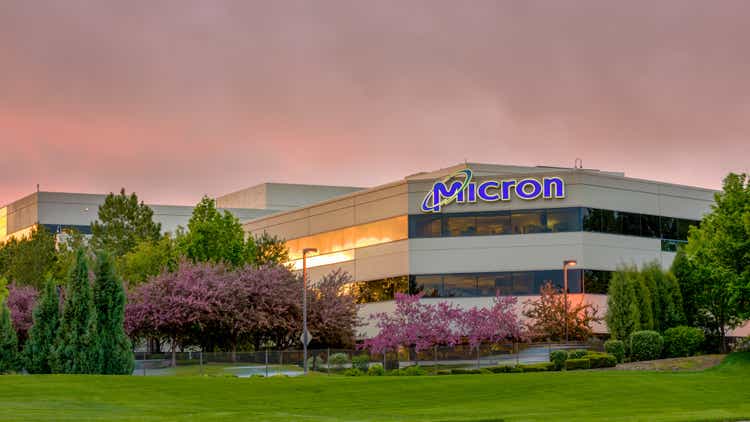 Micron (NASDAQ:MU) submitted its earnings card for the last quarter on Thursday, which was not bad, but the firm's outlook for the coming quarter disappointed enormously. Although Micron beat earnings predictions for Q3'22, the memory chipmaker's guidance implies a growing risk of a severe downturn in the chip industry which can be expected to weigh on Micron's valuation going forward. A downturn in the chip market would likely also imply significantly lower gross margins for Micron.
Micron's Q3'22 earnings card was overshadowed by a weak outlook
Micron managed to beat EPS predictions for the last quarter, but investors were way more focused on the company's outlook which can only be described as dismal. Micron reported revenues of $8.64B in Q3'22, slightly missing predictions, but the memory chipmaker easily beat adjusted EPS estimates.
Micron saw revenue growth of 11% quarter over quarter and 16% year over year in Q3'22. Although both DRAM and NAND revenues showed growth quarter over quarter – DRAM revenues were up 10% quarter over quarter and NAND revenues 17% – Micron's total revenue growth has started to decelerate. In the previous quarter, Micron's revenue growth was 25%.
As usual, Micron's DRAM business generated the majority of revenues (73%), with DRAM segment revenues growing 15% year over year… which was about half the year-over-year growth in Q2'22. Micron's DRAM business has been driven by growth in unit shipments as well as pricing, which fundamentally supported Micron's segment performance in FY 2021.

Sequential decline in DRAM average selling prices is a warning sign
I mentioned the importance of average selling prices for chipmakers and the role they play in potentially forecasting an earnings recession in the chip industry. Strength in DRAM pricing has driven Micron's record results in FY 2021 and a decline in pricing power potentially indicates weakening product demand as well as weaker gross margins going forward.
Micron disclosed yesterday that average selling prices in the DRAM and the NAND business declined in the last quarter. DRAM pricing already weakened in Q2'22 and in Q1'22, meaning Micron's Q3'22 was the third consecutive quarter of DRAM pricing weakness.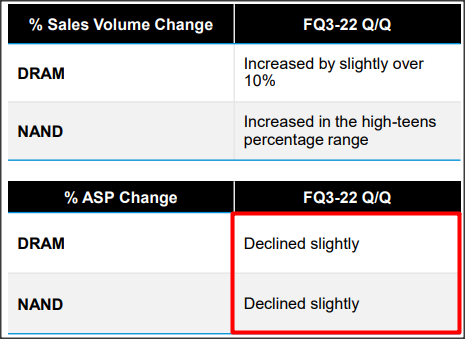 According to TrendForce, a research service covering DRAM makers, almost all DRAM companies, with the exception of Micron, faced revenue headwinds in the first quarter. Total DRAM revenues decreased 4% quarter over quarter in Q1'22 and Micron's outlook implies significant revenue headwinds going forward as well.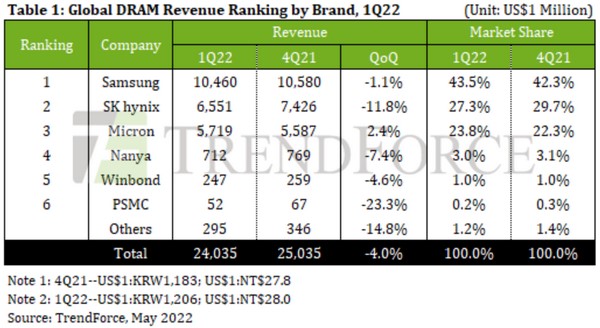 Free cash flow
Micron's free cash flow margins improved slightly quarter over quarter, but the firm's FCF is set for a contraction, which simply follows from the projected $1.0B expected topline decline in the next quarter. Micron expects to generate $7.2B +/- $400M in revenues in Q4'22, meaning the memory chipmaker is looking at a $1.0B decrease in revenues quarter over quarter, at least.

While FCF margins are still looking good at about 15%, investors should be prepared for a dollar decline here as well. If Micron can maintain 15% FCF margins next quarter – which is at least questionable considering that product pricing is weakening across the board – Micron could be looking at $1.05-$1.10B in FCF in Q4'22.
| | | | | |
| --- | --- | --- | --- | --- |
| In mil $ | FQ3-22 | FQ2-22 | FQ1-22 | FQ4-21 |
| Revenues | $8,642 | $7,786 | $7,687 | $8,274 |
| Operating Cash Flow | $3,838 | $3,628 | $3,938 | $3,884 |
| Free Cash Flow | $1,310 | $1,028 | $671 | $1,877 |
| Free Cash Flow Margin | 15.2% | 13.2% | 8.7% | 22.7% |
(Source: Author)
Margins have likely peaked this cycle
Because of the three-quarter spanning decline in DRAM prices, I believe Micron's gross margins have now peaked and are set for a further downward correction. Micron's gross margins have been cyclically inflated due to last year's DRAM shortage resulting in unprecedented pricing power for DRAM producers. For those reasons, I believe that Micron's gross margins likely peaked in Q2'22 at 48%. The firm's gross margin in Q3'22 declined 1 PP to 47% and the outlook for Q4'22 calls for a gross margin of 42.5% ± 1.5%, implying an up to 6 PP decline in GM quarter over quarter. The speed and the size of the expected gross margin decline are concerning and potentially indicate a sharp down cycle in the chip industry.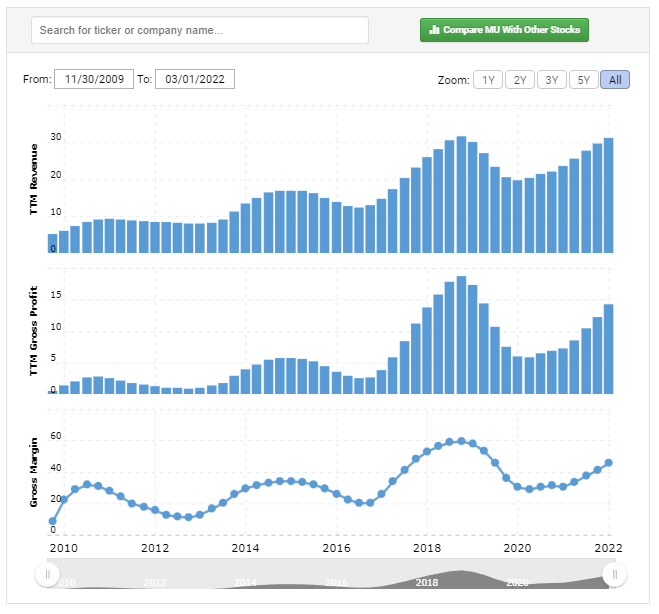 Earnings risks are growing
Because of the expected down cycle in the chip industry, Micron is at risk of a further downward revaluation. I still like Micron and the firm's long-term potential in the industry as the third-largest DRAM producer, but Micron's guidance strongly suggests that the current expansion cycle in the industry is coming to an end. I expect that analysts will continue to refresh their EPS estimates downwards, which is already happening. Currently, shares of Micron trade at a 5.1 X P-E ratio. However, falling EPS estimates for next year will make Micron's earnings prospects more expensive.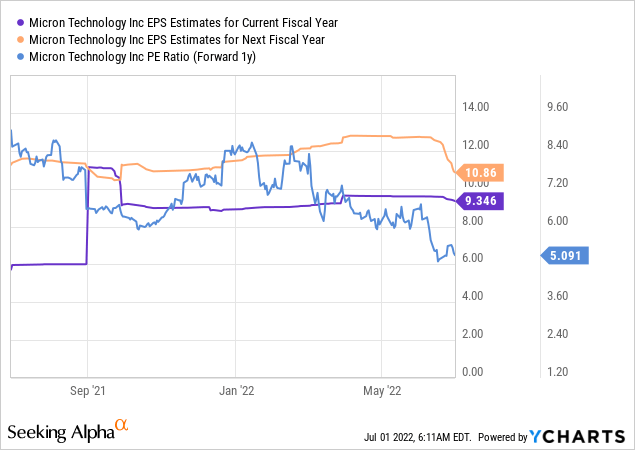 Risks with Micron
Revenue and gross margin risks for Micron just went up significantly. Micron's guidance implies a serious quarter-over-quarter decline in revenues, and this will most certainly also have a material effect on the company's gross margins and free cash flow. Micron's average selling prices in the DRAM and NAND segment showed once again weakness in the last quarter, indicating that the industry is moving into another down-leg. Declining average selling prices are the canary in the coal mine in the chip industry and Micron's gross margins have likely already peaked which could add more pressure on Micron's valuation factor.
Final thoughts
Micron's guidance for Q4'22 was nothing short of a disaster. The memory chipmaker expects quite a material quarter-over-quarter decline in revenues and gross margins. Since revenue growth has already started to decelerate, on a year-over-year basis, and the topline decline coincides with weakness in average selling prices in both NAND and DRAM segments, I expect valuation pressure to build on Micron's shares. While I believe in Micron's long term due to its aggressive investments in its DRAM product pipeline, the firm's gross margins have likely already peaked!