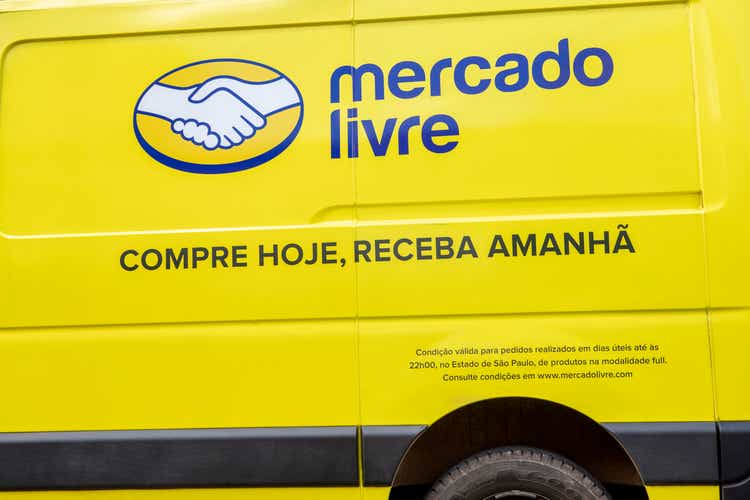 MercadoLibre, Inc. (NASDAQ:MELI) is the often referred to as the "Amazon of Latin America." A best-in-breed growth stock, which is dominating an emerging market and has a huge growth runway ahead across its twin engines of Ecommerce and Fintech. Total payment volume increased by a blistering 81% year over year, while Net Revenue jumped by a rapid 67%. So, why is the stock down 67% since September 2021? In one word, "Fear," in two words, "Interest Rates," and in three words, "Supply Chain Constraints." Despite the Macroeconomic issues which are like a dark cloud hanging over the stock market, I believe these issues are temporary and, by zooming out, we can gain perspective.
The story hasn't changed for MercadoLibre. In a prior post I outlined extensively MELI's market position and market opportunity. Here is a brief summary of five secular opportunities:
1. E-Commerce penetration is still low in South America.
E-commerce penetration in Latin America is forecasted to double from 8% today to 16% in 2025. The USA had 20% ecommerce penetration in 2020, and thus the growth runway is huge for Latin America.
2. Increasing Smartphone Penetration
In Latin America, cell phone penetration is forecasted to reach over 73% in 2025, up from 68% in 2019. This is expected to further increase e-commerce sales and Fintech adoption in South America.
3. Market Leader
According to Web Retailer, MercadoLibre is the "clear leader" in Latin America with 667 million website visits per month, compared to just 169 million by Amazon (AMZN) in the region.
4. Country Leader
MercadoLibre is the market leader in three main markets;
Brazil – 27% market share
Argentina -68% market share
Mexico 13.6%.
The region's largest e-commerce market is Brazil, which makes up approximately one third (32.5%) of all e-commerce volume in Latin America.
5. Fin-tech Opportunity
According to a McKinsey study, cash is the most common form of payment in Latin America. Paper money made up a ~87% of payments in Argentina for 2020, compared to just 28% in the USA. The trend towards cashless payments is expected to continue globally, but the Latin American region has a greater growth runway.
The market opportunity is strong for MercadoLibre and after the substantial pullback, the stock is now undervalued intrinsically. Let's dive into the Business Model, Financials, and Valuation to find out more.
Twin Growth Engines
Given the aforementioned backdrop, MercadoLibre should be the perfect stock as it's two core business segments, which I call the "twin engines" of growth are both Ecommerce and Fin-tech.
1. Ecommerce Engine
Mercado's ecommerce marketplace had over 330 million live listings and approximately 40 million buyers in the first quarter of 2022, which was an improvement over last year. Gross Merchandise volume was $7.7 billion, up 31.6% year over year. Strong growth of 73% is seen in Argentina, which is the third largest region by GDP in Latin America, after Brazil and Mexico.
Mercado's marketplace offers a diverse product mix which helps to ensure stable volume even during times when consumers cut back on luxury spending. The company noted "positive trends" in shopping conversion rates and greater "stickiness" with both buyers and sellers. Similar to Amazon in the U.S., MercadoLibre has been investing heavily into building out it's logistics and fulfilment network. They have network penetration of 91%, up from 89% in the prior quarter, and 54% of shipments were offered as same day or next day delivery in the first quarter of 2022. They have over 5,800 active stores enabled in Latin America, which enable efficient pickup and drop off. I believe this vast network is a key competitive advantage for the company and acts as a moat against competitors, who would have to risk a lot investing into CapEx to compete.
Advertising is another key area of investment by the company and they have employed "algorithm technology" to target ad's based on user searches. Management states there are "several opportunities" to create more layers of advertising real estate. As a comparable, Amazon has tailored advertising recommendations to each user based on buying habits. They are now in a "tripoly" with Google Ads (GOOG, GOOGL) and Facebook (META) in the advertising market, with substantial room to grow. I see no reason why MercadoLibre couldn't do the same for the Latin American Market. The company noted in the first quarter ad revenues nearly doubled, although a breakdown of figures was not given.
2. Fintech Engine
Fintech is poised to be the growth engine for MercadoLibre's business due to the aforementioned trends. I believe this can be the growth engine for MELI, as the Cloud Service is for Amazon.
MercadoLibre's Fintech segment includes a variety of services from a Digital Payment Network to P2P (Peer to Peer) payments, Buy Now Pay Later (BNPL), pre paid debit cards and a Money Market Investment fund. The company even introduced a crypto wallet for Brazilian customers.
Unique Fin-tech users were up 31% year over year, with 23 million investment accounts active with their asset management product.
Total Payment Volume surpassed $25 billion dollars, up a rapid 81.2% compared to the same time last year. With "Acquiring" Total Payment Volume, which includes payments from OnPlatform (used with the marketplace) and merchant services increasing by 52% to $17.4 billion.
Digital Accounts is the fastest growing segment, with Total payment volume of $8 billion, up 180% year over year. This segment includes Wallet Payments, P2P transfers and cards such as prepaid, credit and debit.
Mercado's Credit portfolio ("Mercado Credito") is also a key part of the growth story. It's consolidated credit portfolio reached $2.4 Billion, up 319% compared to the first quarter of 2022. This portfolio includes loans to merchants (online and in store), consumers and credit card portfolio. The company has given active loans to 10 million merchants and consumers as of the first quarter.
A slight concern for investors has been the increase in non performing loans, which increased from 21.3% in Q120 to 27.6% in Q122. Management offered some color around the increase in the first quarter earnings call. They stated this increase was due to "product mix" and are confident around the data they use for underwriting. However, this could be a metric to keep an eye on for investors.
Growing Financials
At a high level, net revenue was $2.2 billion, up a rapid 63% compared to the equivalent quarter last year. However, it should be noted that revenue growth rates are declining quarter over quarter, which can be partially offset by the larger revenue base and are still great overall.
Gross profit was $1 Billion at a margin of 47.7% higher than the 42.9% in the first quarter of 2021. This was driven by increased cost efficiency in the shipping network and operational leverage on payment collection fee's. The Operating Margin was fairly stable at 6.2% and generated $139 million in operating income.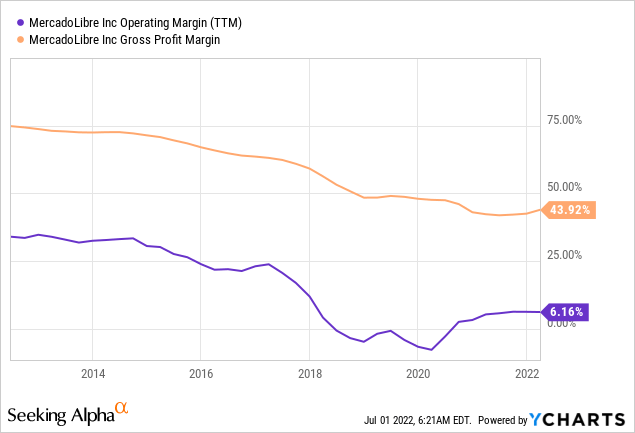 MELI has a stable Balance sheet with $2 Billion in cash and long term debt of $2.6 Billion, "just" $741 million of this is short term debt and thus manageable.
Valuation
In order to value MercadoLibre, I have plugged the latest financial data into my advanced valuation model which uses the discounted cash flow method of valuation. I have forecasted 40% revenue growth for next year and 40% for the next 2 to 5 years, which is lower than historic growth rates mentioned prior.
In addition, I have forecasted the operating margin to increase slightly to 10%, as the company's Fintech segment starts to make up a larger portion of revenue.
Given these factors, I get a fair value of $901/share. The stock is currently trading at $636/share and thus is ~30% undervalued. This assumes they can maintain at least a 40% annual growth rate for the next 5 years. If the company can continue to grow at above a 50% growth rate for the next 2 to 5 years, then the stock would be deeply undervalued.
Comparing MercadoLibre to competitors is quite challenging given the unique makeup of the company as an Ecommerce/Fintech combo. The company has a Price to Sales Ratio (forward) = 3.1, which is significantly cheaper than historic levels. Amazon (AMZN) by comparison trades at a lower Price to Sales ratio = 2, and eBay (EBAY) trades at a PS ratio = 2.4. These are substantially different from MELI given the market opportunity the company has.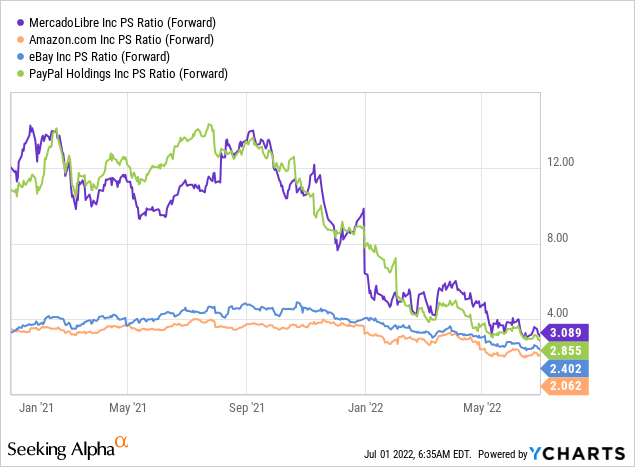 Risks
Credit portfolio and Inflation
If you think inflation is bad in the U.S. and Europe, Latin America is on a different level. Argentina is currently firefighting a 60% inflation rate with an "IPhone reportedly costing months of rent," according to Bloomberg. Argentina's central bank has recently raised interest rates as they try to battle this. Higher interest rates mean the cost of servicing debt is higher and thus more non-performing loans would be expected. As mentioned prior, this is already a trend MercadoLibre is experiencing, and thus this metric should be watched like a hawk. A silver lining of the inflation for Mercado could be its cryptocurrency offering which is very enticing (and necessary) for those in the region.
Final Thoughts
MercadoLibre is a tremendous growth company which has a strong market position in the Latin American market. The company's "twin growth engines" across Fin-tech and commerce have plenty of runway ahead. In addition, it's vast logistical network offers a competitive advantage over new competition. The stock price has nosedived due to (in my opinion) the high inflation, rising interest rate environment, which squeezes consumers and lower margin company's such as MercadoLibre. In addition, competition from platform's such as Shoppee could also have Wall Street spooked. However, the company is still growing strong and is now undervalued intrinsically.