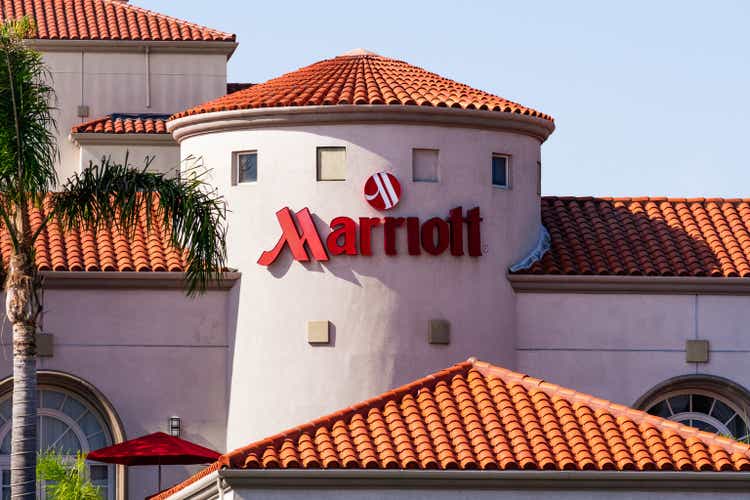 Marriott Vacations
Marriott Vacations Worldwide Corporation (NYSE:VAC) is a timeshare company that was spun out of Marriott International Inc. (MAR). Marriott Vacations positions itself on the high-end of the timeshare spectrum and, as a result, it was hit harder than some of the mid-tier names during the Covid-19 pandemic that has seen some of the largest lodgings players in the industry being pushed to the brink. When I wrote this article, Marriott Vacations was navigating itself out of some major headwinds and it was unclear whether its exceptional leadership team could navigate them back to a pre-pandemic level. There are signs that Marriott Vacations has turned the corner and is now putting the pandemic fully behind it.
The Product
Marriott Vacations operates in three main business segments: vacation ownership; ownership Exchange; and third-party management.
They derive approximately 90% of their revenue from vacation ownership-related activities.
Interestingly, 28% of this revenue comes from new buyers. New owner numbers are particularly important in the timeshare industry because timeshare companies typically rely heavily on existing owner purchases for revenue.
The number seems a bit low when you compare it to other players in the industry, with numbers as high as 40% at other firms. But again, Marriott Vacations is on the high end of the scale. Their target customer has a median household income of $130,000 and a self-disclosed net worth of $1.5 million. For this reason, Marriott Vacations will likely have a smaller addressable market than some of the budget options.
As with most of the major players, Marriott Vacations also has an exchange network. Exchange networks allow timeshare owners to trade their interests with other owners in exchange for a fee. The name of Marriott Vacations' network is Interval International. Interval is one of the largest in the world and the team at Marriott has been forming notable partnerships that look set to strengthen their network.
Two of the highlights for Interval are the integration with Welk and the addition of the Disney (DIS) Vacation Club. Disney Vacation Club alone has nearly 270,000 members and some truly high-value properties which will no doubt attract trades that will of course lift the exchange revenue. For decades, the strongest network was Travel + Leisure's (TNL) RCI, but it now looks like Interval may be taking the lead.
Having a strong exchange network is a major selling point for new buyers. So, while it is unlikely that Marriott will start earning the majority of revenue from exchange fees, we should see an uptick in new buyers with the new additions. It is important to know that new buyers typically bring lower VPG but are still highly profitable because of the relatively low tour cost, the commission structure, and the fact that new owners tend to come back and purchase more points down the line.
Marriott also has one of the strongest Loyalty Rewards schemes in the industry. Loyalty reward schemes are crucial for large chains such as Marriott, since they hope these programs court repeat business which translates into repeat selling opportunities in the timeshare industry.
Updated Outlook For VAC
The post-pandemic recovery has definitely been strengthening for Marriott Vacations. The company is coming off the highest quarterly EPS since it spun out from Marriott more than 10 years ago. They have also resumed their dividend and share buyback in Q4, returning more than $100 million, with $74 million dollars of that being dedicated to stock repurchases. This is despite the Omicron variant unsettling travel, further strengthening the thesis about the travel recovery is robust and broad-based. High-value locations such as Hawaii are seeing pre-pandemic numbers, with occupancies as high as 95%. This is crucial because timeshare companies derive the bulk of their revenue from clients staying in-house.
The travel recovery is already lifting Marriott's fortunes. The company recently generated $406 million in Q4 2021, the best quarterly performance since the pandemic began. The leadership team is also planning to Rebrand its Welk Resorts offerings into a Hyatt product, giving its agents yet another selling tool. This will also extend out to rentals. The plan is to eventually allow rental units to be listed on the Hyatt website. All this is to improve Marriott's extensive network and catalog.
Notable Risks
Inflation has been dominating headlines lately. Everything from car prices to food has seen price increases at alarming levels. This, if left unchecked, could significantly harm the overall consumer purchasing power. With timeshares being generally viewed as durable luxury goods, it is likely that any significant fall-off in consumer activity will have an outsized impact on the timeshare industry.
Rate Hikes are another key risk for timeshare companies. Marriott Vacations has been doing a great job at capitalizing on low-interest rates by opting for fixed-rate debt. Roughly 90% of Marriott Vacations is funding debt is fixed. This means that as the Federal Reserve raises interest rates, Marriott won't have to worry about increasing payments on the majority of its obligations.
On the other hand, customers typically use debt to purchase timeshares. Interest rate hikes would likely increase the monthly payments on new packages, which would be a slight deterrent, but rates are still at historic lows. Marriott Vacations has managed to do business just fine in higher rate environments in the past. I would expect this to be a talking point, but I don't see it stopping the Marriott leadership team from meeting its growth objectives.
The Takeaway
Marriott Vacations is a straightforward recovery story. The stock has not done much lately, but this is largely attributable to the conflicts in Ukraine and talk of rate hikes. The underlying business is doing well, and the management team is bullish about growth prospects for the calendar year 2022. They have an excellent record of returning cash to shareholders, and these prices may turn out to be ideal levels for an expansion of the share repurchase program over the coming year. I see medium-term headwinds on the horizon, but with the excellent leadership I am very bullish on the company. Over the long-term Marriott Vacations is a buy at this level.