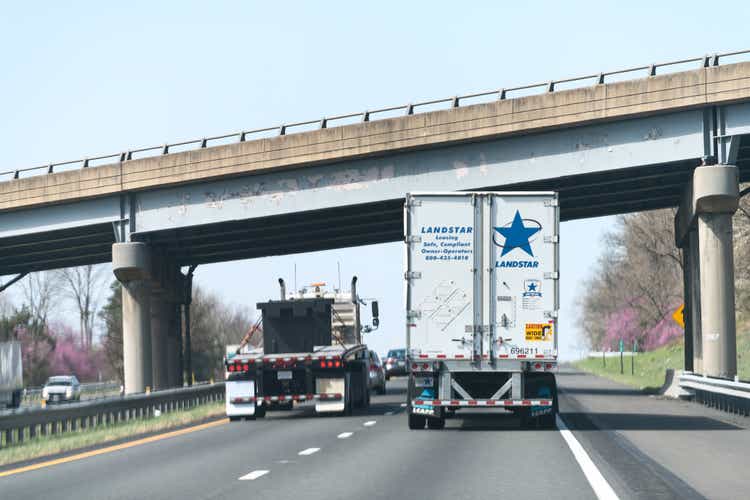 Lately, I have been finding some rather interesting prospects in the transportation and logistics market. However, not every prospect that I have looked at looks to be a stellar one. One company that looks mediocre compared to other players in the space happens to be Landstar System (NASDAQ:LSTR). Even though the most recent financial results for the company are encouraging, there is uncertainty over whether this trend will continue throughout the 2022 fiscal year. If it does, shares of the business might be worth buying. But in any scenario where the company fails to deliver or beat on my estimates, I would make the case that while the company is far from a bad prospect, there are better ones on the market to be considered. Because of this, I have decided to rate the business a 'hold' at this time.
Hitching a ride with Landstar System
The management team at Landstar System describes the company as a technology-enabled asset-light provider of integrated transportation management solutions. The company's services are delivered through a network of over 1,200 independent Commission sales agents and over 101,000 third-party capacity providers. To best understand the business, however, we should break it up into its individual operating segments. First and foremost, we have its Transportation Logistics segment. Through this, the company provides a wide array of integrated transportation management solutions. The first example would be the truck services the company provides. In short, the company offers customers the ability to transport commodities and even less-than-truckload and other truck transportation services. Using a lot of its own equipment, like dry and specialty vans, unsighted and platform trailers, and temperature-controlled vans, the company hires independent contractors and truck brokerage carriers to deliver goods for its customers. These particular activities contributed 91% of the company's revenue during its 2021 fiscal year.
There are other services provided under this segment. For instance, the company provides rail intermodal services thanks to contracts that it has with Class 1 domestic and Canadian railroads, short line railroads, and asset-based intermodal equipment providers. These particular activities, however, contributed just 2% to the company's revenue in 2021. And finally, the segment also includes air and ocean services, all centered around the transportation of freight for its clients. This particular segment accounted for 5% of the company's revenue in 2021. The other segment the company has is referred to as Insurance. As you might have guessed, this segment provides risk and claims management services to some of these subsidiaries of the enterprise. It also reinsurers certain risks of its independent contractors, and it offers property and casualty insurance to its own subsidiaries as well. This is a fairly small segment of the company, however, accounting for just one percent of the firm's revenue last year.
Over the past few years, financial performance by Landstar System has been quite volatile. Revenue spiked from $3.65 billion in 2017 to $4.62 billion in 2018. After that, it plunged to $4.09 billion in 2019 before inching up to $4.14 billion in 2020. In 2021, the company saw an explosion in revenue, with sales skyrocketing to $6.54 billion. According to management, this increase in sales was driven by two key factors. First and foremost, the company saw the number of loads carried rise from 2.05 million to 2.52 million, with the majority of that increase coming from van equipment under its truck transportation activities. It is worth noting that the increase in loads that the company was able to carry for its trucks was driven, in large part, by a rise in the number of trailers the company has at its disposal. At the end of 2021, it had 18,307 trailers in its network. This compares to the 17,061 in 2020 and is up from the 15,534 at the end of 2017. In addition to this, revenue per load also increased. For the entirety of its truck transportation operations, this number rose from $1,938 to $2,455. The company also saw rail intermodal revenue climb from $2,470 per load to $3,058 per load, while ocean and air cargo revenue skyrocketed from $4,144 per load to $7,893 per load.
As revenue has risen, profitability has followed suit. Despite seeing net income drop from 2018 through 2020, the metric ultimately rose from $177.1 million in 2017 to $381.5 million last year. Other profitability metrics have been a bit volatile but have generally followed the same trajectory. Operating cash flow rose from $139 million in 2017 to $307.8 million in 2019. In 2020, this metric declined to $210.7 million before rebounding some to $276.7 million last year. Meanwhile, EBITDA was on a downtrend from 2018 through 2020. However, it ultimately spiked from $326.9 million in 2020 to $553.4 million in 2021.
Growth for the company has continued to remain robust in the current fiscal year. Revenue in the first quarter came in at an impressive $1.97 billion. That's 53% higher than the $1.29 billion reported just one year earlier. One contributor to this increase was a rise in the number of loads transported. Across all services, the number increased by 19.6% year over year. However, even larger seems to have been the revenue per load. For total truck transportation, the company saw an improvement of 22.5%. For the rail intermodal category, the increase was by 24.7%. And for ocean and air cargo carriers the company experienced a surge of 155.1%. Clearly, supply chain issues are proving to be a boon for the enterprise.
Thanks to this rise in revenue, the company also saw a massive improvement in profitability. Net income of $124.8 million was significantly higher than the $77.2 million reported one year earlier. Operating cash flow increased from $69.9 million to $95 million. And EBITDA grew from $115.3 million to $176.4 million. Management did not provide any guidance for the current fiscal year. But if we analyze results seen so far for the year, we should anticipate net income of $616.7 million. Operating cash flow should come in at $376.1 million, while EBITDA would total $846.7 million.
If we use the data from our 2022 estimates, then the company is trading at a forward price to earnings multiple of 8.9. The price to operating cash flow multiple would be 14.6, while the EV to EBITDA multiple would come in at 6.5. Although it is possible that these numbers might hold, I do think that this is likely a short-term improvement that the company is experiencing. If financial results were to revert back to 2021 levels, these multiples would be 14.4, 19.8, and 9.9, respectively. And if we use the 2019 results, covering before the pandemic, these figures would be 24.1, 17.8, and 16, respectively. To put the pricing of the company into perspective, I decided to compare it to five similar firms. On a price-to-earnings basis, these companies ranged from a low of 6 to a high of 16.4. In this case, Landstar System was cheaper than all but one of the companies. Using the price to operating cash flow approach, the range was from 3 to 11.6. And using the EV to EBITDA approach, the range was from 4.1 to 9.1. In both of these cases, our prospect was the most expensive of the group.
| | | | |
| --- | --- | --- | --- |
| Company | Price / Earnings | Price / Operating Cash Flow | EV / EBITDA |
| Landstar System | 14.4 | 19.8 | 9.9 |
| XPO Logistics (XPO) | 8.0 | 7.5 | 4.9 |
| Saia Inc. (SAIA) | 16.4 | 11.6 | 9.1 |
| Schneider National (SNDR) | 9.9 | 7.1 | 4.7 |
| TFI International (TFII) | 10.0 | 8.9 | 6.3 |
| Daseke (DSKE) | 6.0 | 3.0 | 4.1 |
Takeaway
Based on the data provided, I will say that Landstar System seems to be doing quite well for itself at the moment. However, it does look as though there are other companies in this space that are trading cheaper. Because of this, I have decided to rate this particular prospect as a 'hold' at this time, but if financial performance projected for 2022 does turn out to be a new normal for the company, then there could be some upside there. But until we have more data, I do not think investors should bank on that.