Background and History
Lam Research (NASDAQ:LRCX) is a wafer fabrication semiconductor equipment company founded in 1980 by scientists in Silicon Valley. Semiconductor equipment names should be set to benefit from high overall semiconductor demand. The US is currently in a semiconductor shortage and companies like Lam Research are the solution to the US's. Wafer Fabrication equipment is specifically used to make semiconductors that will be used in microprocessors in consumer electronics, from computers to radios. The utility of Lam Research's products will continue to increase as demand continues to increase. From increased overall semiconductor spending by the Chinese Communist Party to higher semiconductor company R & D spending, there are a variety of different customers that need to purchase Lam Research products.
Product Demand is still High
There is strong product demand due to the strong demand for consumer electronics. Throughout the pandemic, people have become increasingly reliant on the internet, and demand for consumer electronics has gone up. Everything from the Nintendo Switch to the MacBook Pro, the industry was in high demand and semiconductor companies needed new equipment to deliver on the rapidly increasing technology of these products. Overall, Lam Research has top-of-the-line products and there is a long runway due to the strengths of the product portfolio.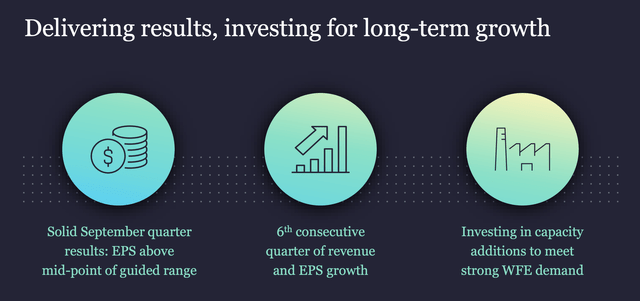 There are short-term macro factors that can lead to long-term earnings momentum for Lam Research. The way that the company decides to monetize the recent surge in sector funding will determine their fate for the foreseeable future. I like the companies' chances and believe Lam Research is a strong semiconductor equipment company with a high-quality product portfolio that can succeed.
The diversity of revenue streams is a strong sign of insulation from industry-specific risks. This means that there are a variety of streams even if one area of the supply chain is affected. This diversity gives the company a unique risk advantage compared to its competitors. Overall, the exposure to China may become problematic as tensions heat up in the future. As China makes up a considerable portion of the portfolio, the company should look to further penetrate the US market and the European market.
The updated guidance looks to give investors a strong current outlook. The low 30% operating margin is an industry high as the semiconductor equipment industry can have high costs due to constant innovation. Lam Research has streamlined much of their portfolio in order to be easily adaptable to future industry changes.
Operational Strength will be Material in Earnings
Retail investors and analysts alike should be aware of the operational performance of the company. The high operating margins along with strong earnings results are a sign of healthy and expanding operations. This should be accounted for and Lam Research's multiple should expand because of it. I believe as investors see the value in the shares, money will flow into the stock. Overall, the secular growth story can occur due to strong industry spending.
The company's gross margin is quite high and in line with many of its peers. In future earnings reports, I will pay close attention to gross margin growth, as there may be room for improvement if the company continues to invest more heavily in R & D. I believe there are fundamental factors at play that are driving earnings growth. Lam Research will continue to be a strong pick for future cycles.
Cash flow has been growing due to high gross operating margins. This has helped fortify the balance sheet and create a strong basis for future moves the company makes. This opens up avenues for Lam Research's management to decide to buy back shares or make an acquisition. There are a variety of focus areas that could return value to shareholders. This would continue to strengthen the case for growth, as Lam Research shares.
Low Risk because of Macro Momentum
I like shares at these levels because there is relatively little risk of shares weakening. Stocks have currently faced a sell off due to potential rate hikes. However, investors don't know how many rate hikes there will be. 2,3,4 analysts and institutions can only make projections. These factors should be relatively unimportant to the semiconductor cycle's equipment demand. As long as there is continued technological innovation, there will be value in Lam Research products. Overall, there are strong secular growth tailwinds that will give shares the needed momentum to make new highs.
Valuation needs Future Re-rating
At current levels, the valuation needs a re-rating. Lam Research has been performing on many levels: gross margin, cash on hand, and earnings momentum. I believe it is only fair that I choose peers with similar valuations to Lam Research. KLA Corp. (NASDAQ:KLAC) is a major semiconductor equipment company with major products that are required to run a variety of major semiconductor operations. The last competitor I chose is Applied Materials (NASDAQ:AMAT). The company is a semiconductor equipment supplier for major multi-national customers. I have to disclose that I am neutral regarding applied materials. Here is my article about the company.
Overall, Lam Research has underperformed other major semiconductor equipment companies over the past 12 months. This has been due to low investor enthusiasm behind the stock. As a more secular cycle among semiconductors emerges, Lam Research could become a much more well-known stock. Their product portfolio powers many major semiconductor companies around the world. At today's prices, Lam Research offers a great opportunity for growth and value investors alike.
Currently, Lam Research offers a much more discounted EV/Sales ratio than its peers. I do believe this is fair as Lam Research has strong gross operating margins and an overall strong growth story. When analysts realize this, Lam Research should be re-rated as a fundamental growth story with room to run.
Conclusion and Rating
Lam Research presents an optimal risk-reward ratio for investors. Value investors can take heed of the fact that the company has a 1% dividend yield, and growth investors can like the continued ROE and earnings momentum. I rate Lam Research Bullish on expectations of a continued bull run in semiconductor stocks. I look forward to analyzing Lam Research in future quarters.