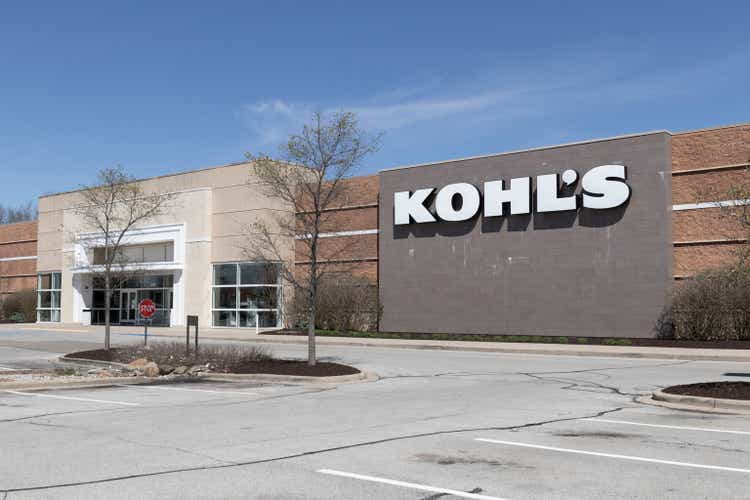 Price Action Thesis
We present a detailed price action analysis of Kohl's Corporation (NYSE:KSS) stock after management announced the completion of its strategic review. Moreover, it confirmed that Franchise Group will not be moving on with its proposal to acquire Kohl's as the "current financing and retail environment made Franchise Group's most recent proposal not fully executable or complete."
Notwithstanding, the company "remains open to all opportunities," giving shareholders hope that it could still revive a deal.
However, we urge investors to be patient in assessing a potential entry point to capitalize on another possible deal in the cards. KSS broke its May bear trap (significant rejection of selling momentum) with the current sell-off, forcing a rapid liquidation of positions.
As such, we rate KSS as a Hold for now.
KSS Is Good For Trading, But Don't Hold The Bag
KSS delivered a 10Y total return CAGR of 1.19%, significantly underperforming the market. Its long-term chart shows that KSS has "moved nowhere" over the past ten years, trading within a consolidation zone.
Notwithstanding, such price structures allow opportunities to go long/short on the bear/bull traps, respectively. Therefore, investors/traders can still potentially play the range and trade the consolidation.
Notably, KSS's 2020 bear trap has been resolved by forming a significant bull trap (significant rejection of buying momentum) in May 2021. The market astutely distributed KSS over the next year before recently forcing a steep sell-off recently.
Even within its distribution phase, investors/traders could have used the series of bull traps to go short. Then, cover when a bear trap has formed, to turn long. A series of bull traps usually mark a distribution phase to force selling pressure after drawing in dip buyers, as seen in KSS's weekly chart above.
As a result, it should have proffered investors vital clues on the market's intention to force a subsequent steeper sell-off, which occurred in May 2022.
Notwithstanding, a bear trap formed in late May but has been invalidated by this week's liquidation move.
Therefore, the price action signals are uncertain now. It could form a re-entry signal over the next few weeks (to revalidate its bear trap) after taking out the long traders expecting a deal. Or it could fall further to its intermediate support before consolidating.
Accordingly, we urge investors to continue monitoring its price action for vital clues.
Management Cuts Guidance On Further Weakness
Management also cautioned investors that it had reduced its outlook for FQ2'23. It now expects revenue to decline in the high-single digits, from its previous guidance of a low-single digits decline.
As a result, the consensus estimates that previously modeled for a 1.9% dip in FQ2's revenue will need to be significantly revised, impacting its cadence for the rest of FY23.
But, given the gloomier consumer spending outlook for the leading retail players, investors should not be stunned by the downgrades. Furthermore, we believe the price action indicates shaking out the weak hands before staging a consolidation.
Is KSS A Buy, Sell, Or Hold?
We rate KSS as a Hold for now. Given the liquidation in KSS positions, investors should be patient to wait for clues on adding exposure to benefit from another potential deal moving forward.
Our price action analysis suggests that KSS's price structures remain tentative until we observe a consolidation zone, followed by a potential bear trap.