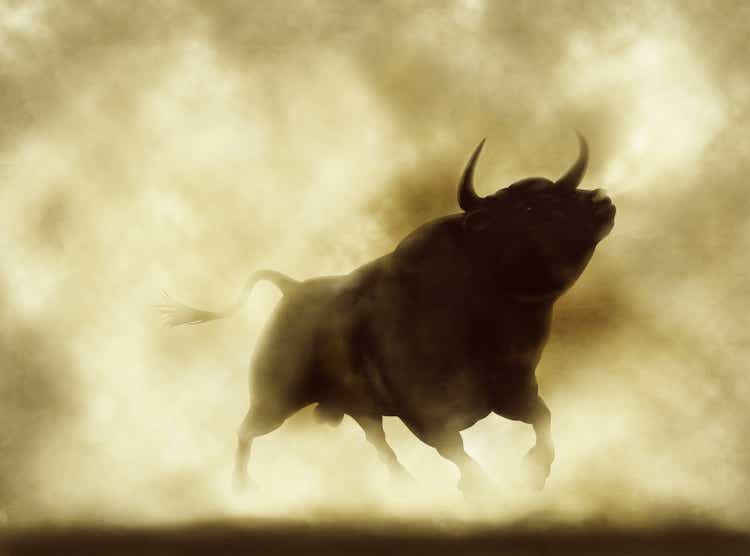 Introduction
I've been looking for undervalued microcap stocks and among the companies on my shortlist is Jerash Holdings (NASDAQ:JRSH). It's an apparel company with facilities in Jordan that is benefitting from a free trade agreement between this country with the USA and I think it looks cheap at the moment. Jerash closed its FY22 with revenues of $143.4 million and a net income of $7.9 million. On top of that, it recently launched a $3 million share buyback program. Not bad at all for a company valued at $59.3 million. Let's review.
Overview of the business and financials
Jerash was founded in 2016 and it is involved in the manufacturing of t-shirts, polo shirts, pants, shorts, and jackets for major U.S. brands such as The North Face, Calvin Klein, and American Eagle. The company has subsidiaries in the USA, Jordan, and China and most of its revenues come from the USA.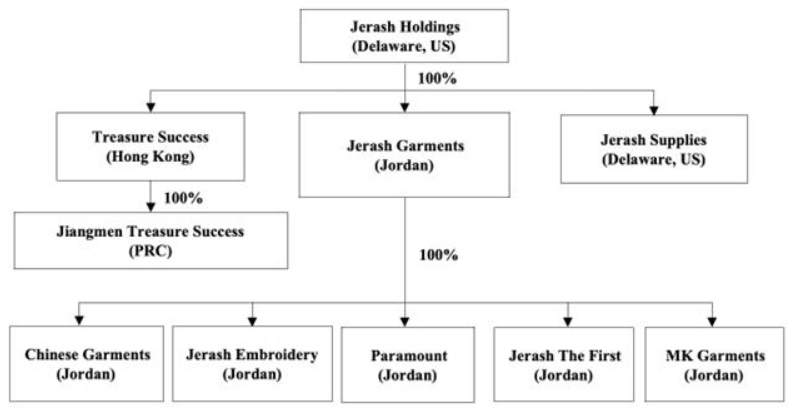 You see, the USA and Jordan have had a free trade agreement since 2002, which means that Jerash can sell its products in the USA free from customs duties and import quotas. This way, the company has a significant advantage compared to U.S. producers thanks to lower wages and on top of that, most of its factories are located in a development zone. A total of 5 factories and 4 warehouses are located in Al Tajamouat Industrial City, which means that they are subject to an 18% or 20% corporate income tax plus a 1% social contribution. The sixth factory is located in Al-Hasa County and manufactures garment products per customer orders. It accounts for just 400 of the company's 5,700 employees.
As of March 2022, Jerash had an annual production capacity of around 14 million pieces and around 35% of pieces shipped in its FY ended March 31, 2022 were jackets. As COVID-19 gripped the world, the company also started to produce personal protective equipment in 2020.
Turning our attention to the financial performance of the business, Jerash closed 2022 with 58.9% increase in sales while its net income almost doubled.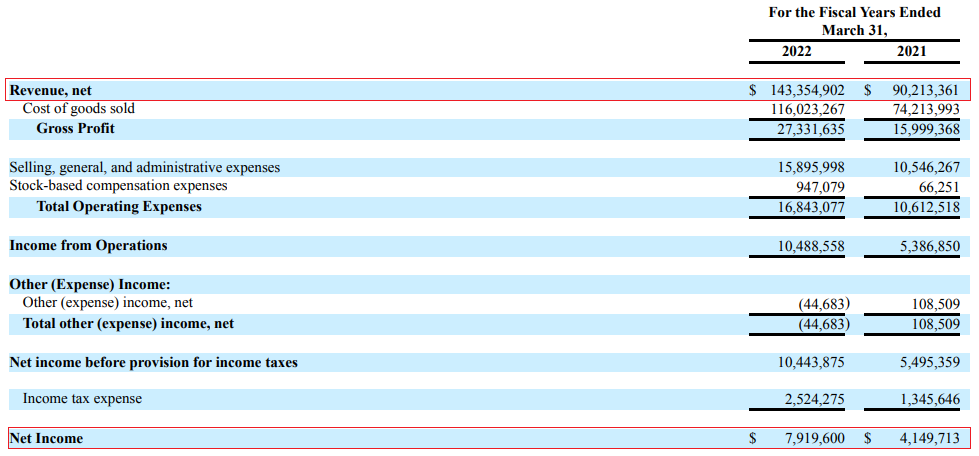 The main reason for the strong results was the lifting of COVID-19 restrictions in the USA and the company mentioned in its FY22 financial report that all its factories were fully booked until December 2022 (page 21 here). However, I find it concerning that the majority of revenues come from just a few U.S. companies. You see, just over two-thirds of Jerash's FY 2022 sales were from VF Corporation and most of its products are sold under The North Face brand. Another 24.1% of sales came from New Balance, whose brands include Calvin Klein, and Tommy Hilfiger among others.

This means that a loss of U.S. market share for these two clients would have a significant negative impact on the financial performance of Jerash. Also, the business of the company is seasonal and a sizable portion of revenues is received during the first half of its fiscal year as most of the orders from VF Corporation come from winter season fashions. Turning our attention to expenses, there is a large counterparty risk here too as about 20% of garments and raw materials in FY22 came from just 2 major suppliers.
On a positive note, I think the balance sheet looks strong. As of March 2022, Jerash had $25.2 million in cash and there were no debts. The company has an enterprise value of $32.9 million as of the time of writing and is trading at an EV/EBITDA multiple of just 2.6x.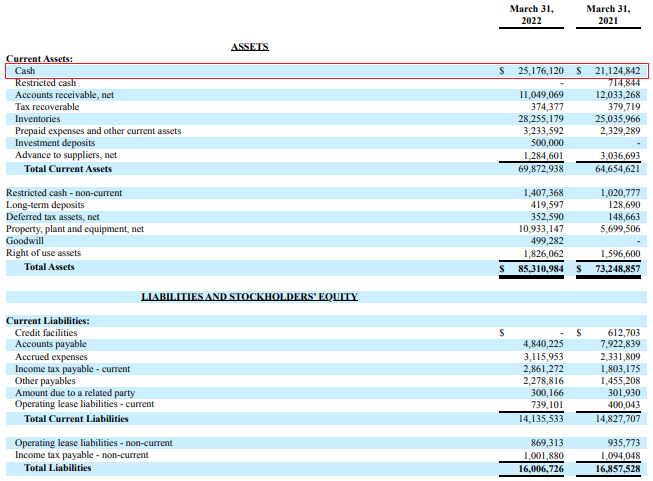 So, what does Jerash plan to do with its large cash pile? Well, the company has a quarterly dividend of $0.05 per share, which translates into a dividend yield of 4.25%. And on June 13, Jerash announced a $3 million share repurchase program.
Overall, I view Jerash as a rapidly growing and profitable apparel manufacturer that has a good moat thanks to Jordan's free trade deal with the USA. The balance sheet is strong, and the recently announced $3 million share buyback is likely to boost the share price. I think that Jerash should be trading at above 5x EV/EVITDA, which is equal to around $7.15 per share.
So, what are the risks for the bull case and why is Jerash so cheap? First, I there is the reliance on a limited number of customers and suppliers. Second, Jordan is a risky place for doing business and the country is ranked 57th in the global peace index, right below Zambia. With high global food prices resulting in rising social unrest across the Middle East, I think we could see another Arab Spring in the near future. Third, I think that some investors might be avoiding Jerash stock due to seemingly unnecessary capital increase in 2021. The company has vast cash reserves and no significant plans for capital expenses, yet in September it decided to offer 1 million new shares at $7.00 per share. In my view, potential investors are wary that there could be more stock dilution in the future.
Investor takeaway
The positioning of Jerash in Jordan gives it a strong advantage over U.S. apparel manufacturers as well as competitors from Asia that want to export their products to North America. However, the majority of the company's revenues come from just a few clients and Jordan isn't known as a stable jurisdiction. Also, I think that the September 2021 capital increase was unnecessary and spooked investors.
Overall, I rate Jerash as a speculative buy as I think the company is cheap but there are serious risks here. In my view,, Jerash should be trading at above 5x EV/EVITDA.