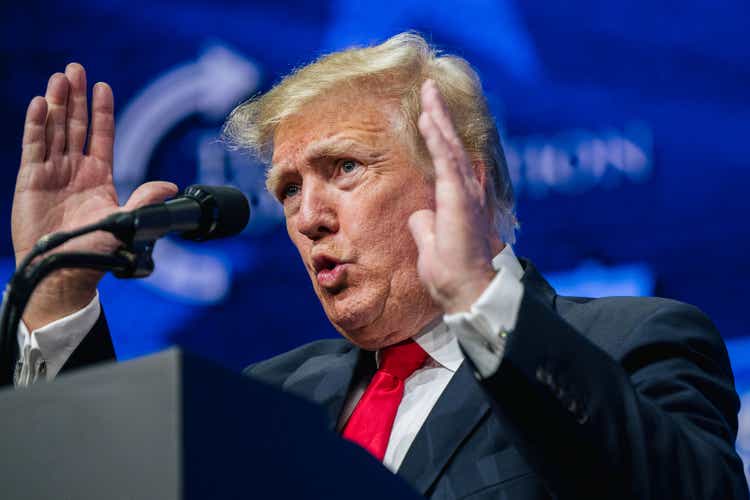 Are traders right to be worried that the merger between Digital World Acquisition Corp. (NASDAQ:DWAC) (NASDAQ:DWACW) and Trump's media company is in trouble? With DWAC dropping 35% this past month, either traders are worried about the merger or worried about the actual operations of Trump's media company-or some combination of both. This article is an update on my prior articles. I again will try to avoid political issues and try to keep to just the business side of DWAC.
DWAC Failed to File 10-K
Digital World Acquisition Corp. failed to file their 10-K by March 31 as required by the SEC. They did file a Form 12b-25 on March 31 stating that they are
unable to file its Form 10-K for the year ended December 31, 2021 within the prescribed time period without unreasonable effort or expense because the Registrant's independent registered public accounting firm is in the process of completing the audit of the financial statements for the period ended December 31, 2021 and will need additional time to complete its audit. The Registrant anticipates that it will file its Form 10-K within the fifteen-day grace period provided by Rule 12b-25…"
A few items to consider here. First, a 10-K is audited. Their prior filing of a 10-Q was not an audited document. DWAC does not have any operations yet and should, in theory, be a very easy audit. Second, they also failed to timely file their 10-Q last November and had to file a Form 12b-25 stating it "requires additional time to gather necessary information for the preparation of such Quarterly Report". Third, these late filing issues may indicate that the real problem might be the individuals, including outside advisors, associated with running DWAC and not the actual financial numbers, in my opinion.
Besides the typical financial statements, which are audited, the 10-K most likely will contain "subsequent events" that occurred after December 31, 2021. I am hoping for some information and possibly some detailed metrics about Trump Media & Technology Group-TMTC, especially about their launch of Truth Social. They actually, however, do not have to include subsequent detailed information about Trump's media company because it is not part of DWAC, the 10-K filing company.
I am not expecting any specifics about the timing of filing their Form S-4 in their 10-K. This may disappoint many DWAC investors. I am only expecting some general worded statement about being in the process of completing it and they will file when completed.
When Is Form S-4 Going to Be Filed?
When I wrote my last article on DWAC I was not too concerned that the parties had not filed Form S-4 with the SEC yet because of the holidays and the impact of Omicron, but it has now been over five months since the parties announced their plans to merge. What is taking so long? In my opinion, they do not need specific metrics from Truth Social-it would be nice-but it would not be required. An amended S-4 could be filed later that would give those metrics after they file the original S-4.
Is there a problem with the various outside professionals involved in the deal? EF Hutton is DWAC's investment advisor, which was formerly known as Kingswood Capital Markets before it acquired the rights to use the EF Hutton name in 2021. The firm is NOT the former well-known brokerage house that was around for decades. I am personally uncomfortable about the quality of the firm. Their personnel lack the credentials often associated with top Wall St. firms. For example, EF Hutton's president holding just a bachelor's degree in business from Pace University does instill confidence in me that they have the ability complete such an extremely high-profile deal that will be scrutinized by the media world-wide. If they don't "cross a t correctly" CNN and MSNBC will be all over the issue. Somebody already made a major error in their S-1 that contained inconsistent wording about prior discussions (substantive discussions compared to no discussions), which I covered in detail in my last DWAC article. As a DWAC shareholder, I would prefer that they replace EF Hutton with a top-tier investment firm, even if it involves much higher fees, to get the deal done.
Patrick Orlando SPAC Deals
Patrick Orlando is behind this SPAC deal to merge DWAC with Trump's media company. Two other Orlando SPAC deals have had major problems. The SPAC Yunhong International (ZGYH) failed to find a merger partner and liquidated. SPAC Benessere Capital Acquisition (BENE) had to get shareholder approval to extend the deadline from January 7, 2022 to July 7, 2022 to consummate a merger or be forced to liquidate. Benessere is trying to merge with eCombustible Energy.
While these deals are completely unrelated, they do get trader's attention, especially since Benessere also just filed a Form 12b-25 because they could not file a timely 10-K. I am just presenting these items for readers to consider and let them draw their own conclusions.
SEC March 30 New Proposed SPAC Regulations
The SEC, on March 30, filed new proposed regulations for SPACs (The proposals are contained in the 372 page document). I covered the issue of changing the safe harbor protection for forward looking statements in my prior DWAC article, but as expected, the SEC wants even more restrictions on SPAC deals. While it will be a number of months before these changes become effective, if they are actually adopted by the SEC, those individuals associated with DWAC/Trump deal need to get their act together immediately or they could become impacted by these changes. These changes would also require significantly more time and money to write their S-4.
These are some of the other key proposals that could impact DWAC:
*Additional/enhanced disclosures of DWAC share dilution, clearer basis of any projections, and "fairness of the transaction to SPAC (DWAC) investors". It is unclear if they will require an outside investment firm to render an actual "fairness opinion".
*The merger transaction would actually be considered a sale of TMTG securities to DWAC shareholders under the Securities Act.
*The merger would have to be completed within two years of DWAC's IPO. This is not an issue yet, but it would mean that the deal would have to be completed by September 2023. It does not seem that DWAC shareholders would even be able to extend the time period.
Truth Social-Less Than "Great"
Most of this article has focused on the merger deal; the operational issues associated with TMTG, of course, need to be considered when investing in DWAC. Investors were excited about the delayed launch of Truth Social. It has, however, been less than "great". I was disappointed that Rumble, who is doing their own SPAC deal with CF VI (CFVI), was not able to resolve the problems yet. I assume that huge decline in app downloads is because of these operational issues and not because of actual poor demand to participate in Trump's media company.
I think that former President Trump might be waiting for the problems to be resolved before he starts posting regularly because he most likely does not want to post now when people are still on the million plus wait list. Of course, there could be future hacking problems because while there are a very large number of Trump supporters, there are probably a lot more people in the world who would like to have a very negative impact on him and his new media company. DWAC investors also have to remember that most media companies are extremely eager to report any and all issues with his media company. Without trying to sound too political, this is war for most of the other media and Big Tech companies.
Conclusion
To be very candid, I am disappointed with both the merger process so far and the operational side of TMTG's Truth Social. The S-4 should have already been filed, in my opinion. To rectify these problems DWAC may need to replace some of their advisors.
I am still keeping my hold recommendation for DWAC until I see the various items in their S-4, especially detailed financial projections. I am, however, becoming rather impatient with the filing of Form S-4 and think that we DWAC shareholders might be better served by new professional advisors.