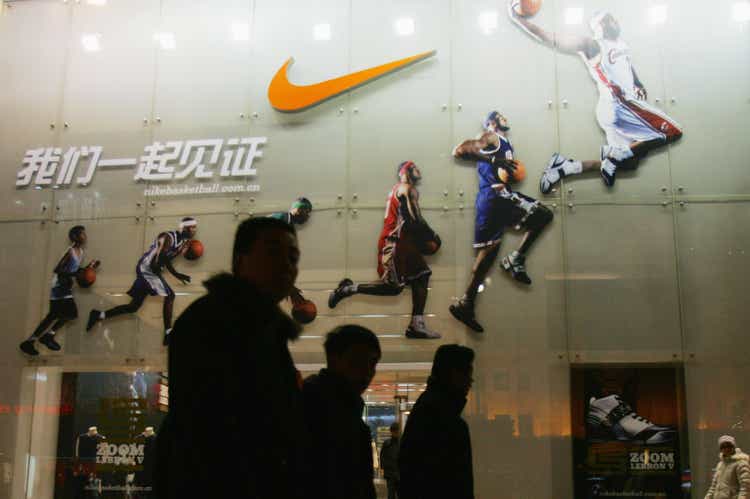 Nike Inc. (NYSE:NKE) dominates the athletic footwear market, leading in every major category. With over 1,000 stores, as well as 6,000 stores operated by franchisees, the company sells more than 800 million shoes annually in over 190 countries.
With the exception of 2020, when sales were hamstrung by the pandemic, Nike increased revenue every year, beginning with 2010. During that time frame, the firm's annual revenue has more than doubled, while EPS increased by well over three times.
The firm has battled factory closures and supply chain woes, yet Nike still managed to beat 2019 results by a wide margin in 2021.
Much of the company's recent success can be attributed to an increased focus on direct-to-consumer (DTC) sales. DTC helped boost Q3 results, propping up the stock. Even so, the shares are down roughly 19% year-to-date.
A Look At Nike's Recent Earnings
Following Q2 results, Nike shares began a three month slide.
In mid March, Nike hit its 52-week low, but shares have rebounded by nearly 15% since then. The move up was boosted when Nike provided Q3 2022 earnings on the 21st of this month, beating analysts' estimates on the top and bottom line.
EPS of $0.87 beat consensus by 16 cents, and revenue of $10.87 billion was well ahead of the $10.59 billion expected. Net revenue stood at $1.4 billion versus $1.45 billion a year earlier.
Sales increased 5% year-over-year to $10.87 billion, and gross margins inched up to 46.6% from 45.6% in the comparable quarter.
The Nike Direct segment reported sales growth of 17% year-over-year. The results included a 22% gain in the digital business and a 14% increase in Nike-owned physical store sales. Digital sales in its North American business were particularly robust, jumping 33%.
Nike reported a 13% increase in selling and administrative expenses.
Sales in China fell by 8% versus the comparable quarter in 2020; however, that is an improvement over Q2 when sales fell 24% year over year.
The Yin And Yang Of Nike China
About a year ago, a controversy erupted related to Nike's release of a statement regarding forced labor of Uyghurs in Xinjiang province. State controlled media and government officials leapt to the defense of the country.
For enterprises that touch the bottom line of our country, the response is very clear: don't buy!

China Central Television
This was followed by Chinese actors Wang Yibo and Tan Songyun, who together have 61 million followers on Weibo, terminating their contracts with Nike.
Additionally, Dewu, China's largest sneaker resale site, removed all Nike products from its platform.
A boycott of Nike products ensued, and according to a Wall Street Journal article, a study indicated one in three Chinese consumers are less likely to purchase Nike products due to the hubbub.
The boycott, combined with supply disruptions from Vietnam and restrictions related to a resurgence of COVID, had decidedly negative effects on results.
During the earnings call for Q3 2021, management announced that in Greater China, the company had "achieved its second consecutive $2 billion quarter and grew 42% on a currency-neutral basis."
In the following quarter, growth slowed to 9% in Greater China, and in Q1 of 2022, growth was an anemic 1% in that country. This was followed by a decline of 24% in Q2 2022, and an 8% decline last quarter.
Chastised, CEO John Donahoe made amends of sort during the Q4 2021 earnings call:
And today, we are the largest sport brand there, and we are a brand of China and for China.
While a degree of damage was wrought, there is evidence this represents nothing more than a rather large speed bump on Nike's journey to dominance in China.
Nike was recently rated the #1 cool and #1 favorite brand in China. The company is also ranked as the number one sport brand on Tmall, a Chinese-language website for business-to-consumer online retail, and the third most visited website globally.
Success in China is imperative for Nike, considering the company experienced seven consecutive years of double-digit growth in the nation as of the end of Q4 2021 and derives about a fifth of its business on the mainland.
With 7,000 mono-brand stores in China, Nike also ranks as Greater China's largest sport brand.
The Direct To Consumer Initiative
In 2017, Nike launched the Consumer Direct Offense. Management began to focus on Direct-to-Consumer sales while at the same time cutting ties with a number of brick-and-mortar retailers. In 2017, Nike had 30,000 retail partners: by 2019, that number was reduced to forty.
One can argue that the real pivot point came in 2019 when Nike pulled its products from Amazon (AMZN). It would have been reasonable to question that move; however, fast forward to the most recent quarter, and Direct sales now account for over 42% of total revenues.
In fact, Nike Digital sales were up 19% in the last quarter alone. Furthermore, the company earns an additional ten points of gross margin on digital channels sales versus wholesale, thereby buttressing its bottom line.
Nike's SNKRS serves to showcase the company's success in DTC. In Q1, demand in the SNKRS app increased over 130%. With a global reach, the app is currently available in 50 countries, testifying to the brand strength of Nike.
Recent Developments
Late last year, Nike announced the acquisition of RTFKT, a virtual sneaker company. This represents Nike's foray into the metaverse. The deal gives Nike a vehicle into the non-fungible tokens (NFT) market.
Prior to the deal, Nike had filed trademark applications related to virtual branded sneakers and apparel.
I'll readily admit that the potential future value of this acquisition escapes me. I have to question whether this is a trend that will eventually rank alongside fashions that each generation embraces in their youth only to cringe at decades later.
However, while I and others are scratching our collective heads in an effort to understand the ramifications of this move, it should be noted that a collaboration between FeWoCious and RTFKT hauled in $3 million, with the two selling out virtual sneaker editions valued at $3,000, $5,000, and $10,000.
Shortly before the RTFKT deal, Nike partnered with Roblox (RBLX) to build Nikeland. Nikeland will serve as a virtual world where, among other things, folks can clothe their avatars with Nike-branded gear.
Roughly two weeks ago, it was revealed that 6.74 million people from 224 countries have visited Nikeland since its virtual doors opened five months ago.
…during NBA All-Star Week, LeBron visited NIKELAND on Roblox to inspire its community towards physical movement in play. On the NIKELAND court, LeBron coached and engaged with players, and participants were rewarded for physical gameplay with the ability to unlock virtual products.

John Donahoe, CEO
NKE Stock Key Metrics
The company's debt rating is A1 stable by Moody's.
Nike's current yield is 0.91%. The payout ratio is 30.61%, and the 5-year dividend growth rate is 11.27%. Management's goal is to maintain a dividend payout range of 25% to 35%.
The company has a four-year, $15 billion stock buyback program in effect, having repurchased shares valued at $1.2 billion last quarter.
Nike trades for $133.52 per share. The average 12-month price target of the 30 analysts rating the stock is $171.67. The price target of the eight analysts that rated the stock following the latest quarterly report is $167.88.
Nike has a forward P/E a hair below 36x. This is slightly above its five year average P/E ratio of 35.35. The company's forward PEG is 2.27x, in line with its historic PEG of 2.30x.
Is NKE Stock A Buy, Sell, or Hold?
Like most retailers, Nike grappled with store closures, government imposed restrictions and supply chain issues following the advent of COVID-19. However, many pundits believe the pandemic increased consumer engagement with the company's DTC businesses.
In 2015, Nike generated $1.5 billion in e-commerce sales. In the latest quarter, Nike Direct sales were $4.6 billion, and are growing at a double-digit pace.
Furthermore, direct sales provide wider margins, driving company profits.
The difficulties the company has faced in Greater China are probably transitory, and Nike will likely experience growth in that nation for the foreseeable future.
As noted in this article, Nike is the dominant force in its industry. The company is also highly profitable, with gross margins over the last decade that have registered in the mid-40s.
Unfortunately, while the multiple positives associated with an investment in Nike mean the stock is a relatively safe long term investment, these truths are generally known by savvy investors.
Therefore, even though Nike is trading near its 52-week low, the shares forward P/Es and PEGs are in line with historic averages, indicating the stock is rather richly priced.
Consequently, I rate NKE as a HOLD.