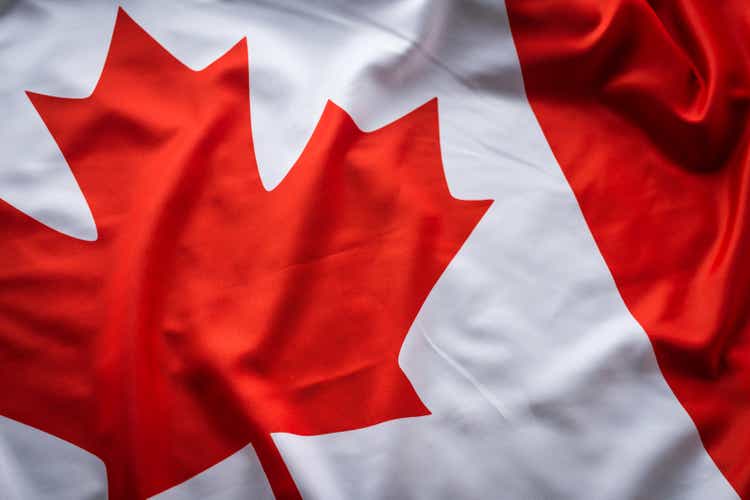 Merger arbitrage
I don't like taking bets that require a high level of certainty and precision. There are plenty of bets where you have to be more certain than a 95% or higher market implied probability in order to have a positive expected value. Essentially all of investment grade corporate bonds are such propositions. The problem is that we live in a wild world, better characterized by log normal than normal distributions. Many problems compound themselves. And there's always a unitary blowup risk that any given company is a fraud and any given investment is a zero. So in order to do anything, you should get paid quite a lot so that your winners can pay for your losers and then some. If something offers trivial upside, just take a pass and keep your money in federally insured savings accounts, short term T-bills or the equivalent. In this case, Shaw was not that interesting until antitrust worries blew out the arb spread.
Who?
Shaw Communications Inc. (NYSE:SJR) is a wireline and wireless telecommunications company.
What?
Rogers (RCI) is buying Shaw for C$40.50 per share in cash. Shaw holders approved the deal as did the CRTC. They still need ISED and Competition Canada clearances. It doesn't need HSR, EU, or other foreign (as in foreign to Canada) approvals. It's not conditioned on financing. The target is working with Toronto-Dominion (TD) and the buyer is working with Bank of America (BAC) and Barclays (BCS).
| | | | | |
| --- | --- | --- | --- | --- |
| Target | Ticker | Parity | Spread | IRR |
| Shaw | (SJR) | C$40.50 | C$2.85 | 92% |
When?
The precise timing remains opaque, but the deal will probably close by this time next month. Specifically, the companies are going into mediation with the antitrust regulators on Monday, July 4, and Tuesday, July 5. If that fails to result in an agreement, then the evidentiary hearings will start on Monday, Nov. 7. Here's the balance of the tribunal process: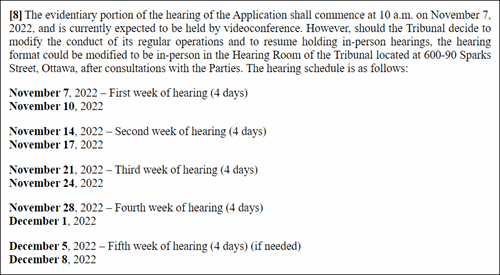 Where?
Shaw is headquartered in Calgary, Alberta. I love Canada generally (happy Canada Day!) and particularly love western Canada. The Canadian Rockies are some of my favorite mountains for skiing and hiking.
Why?
The spread blew out due to opposition from the Canadian antitrust authorities. However, the strong reaction was an overreaction. There was a problem, but a solvable one. The buyer wanted to divest assets that both the companies and the regulators agreed would be divested to as weaken a buyer as much as possible. They tried to divest their Freedom divestiture to parties with little successful telecom experience. Regulators wanted the package to go to Quebecor, which would be a more formidable competitor. Rogers doesn't want a more formidable competitor and particularly dislikes Quebecor. The two have a bad history of litigiousness and mutual distrust. They were able to set that aside with an agreement to divest Freedom Mobile to Quebecor, acquiescing to the government's preferred divestiture buyer and preserving four wireless competitors.
Caveat
Canadian regulators demand four national cellphone networks. This deal would take it to three unless there's a fix. Without a competitive fourth option reestablished through a divestiture, the deal could get stopped on antitrust grounds. Regulators may want the divestiture package to include Shaw Mobile as well as Freedom Mobile.
Conclusion
Rogers will probably divest Freedom Mobile to Quebecor, secure antitrust approval, and close their acquisition of Shaw. According to Shaw,
Rogers and Shaw continue to engage constructively with the Competition Bureau in an effort to reach a negotiated settlement, which offers the most expeditious path forward to closing the Rogers-Shaw Transaction and delivering its benefits to Canadians.

While the divestiture agreement with Quebecor provides a basis for advancing settlement negotiations with the Commissioner, Rogers and Shaw are also taking the necessary steps to oppose the Commissioner's application to prevent the Rogers-Shaw Transaction.
Shaw CEO Brad Shaw said that,
Shaw remains deeply committed to the combination with Rogers and our announced agreement for the sale of Freedom Mobile to Quebecor marks a critical point in our bold and transformative journey to join together with Rogers. We feel strongly that the sale of Freedom to Quebecor will be seen as a positive outcome by the regulators as Quebecor expands their successful wireless operations through this acquisition. We continue to support the ongoing process and remain optimistic that there is a clear path to obtaining the remaining regulatory approvals in an expeditious manner.
This one is a bet that a bunch of Canadians can play nice and reach a sensible compromise. Seems like that should check out.
TL; DR
Buy SJR.