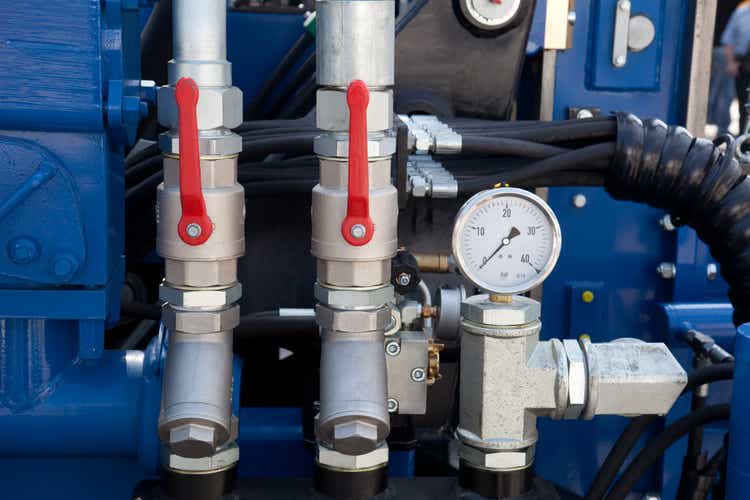 Although many investors may view the modern era as defined by digital over physical processes, the fact of the matter is that much of the world as we know it today relies on said physical processes. For instance, whether it be in the power generation market or water management or the chemical industry or any other sizable industry, there exist many moving physical parts, including the flow of gases and/or liquids. One company dedicated to meeting the flow control demands of this modern era is Flowserve Corporation (NYSE:FLS). Over the past few years, because of the COVID-19 pandemic, Flowserve experienced some pain. The good news for investors is that recent guidance provided by management indicates that the worst is behind it. Long term, this could mean a return to value for investors. Though I would argue that, more likely than not, shares of the enterprise are closer to fair value than anything else.
It's all about the flow
Today, Flowserve describes itself as a major manufacturer and aftermarket service provider of comprehensive flow control systems. Its business model centers around the development and sale of a portfolio of products that includes pumps, valves, seals, automation and aftermarket services aimed at supporting global infrastructure companies, and more. Customers include companies in the oil and gas space, the chemical industry, the power generation market, and water management firms. In addition to selling the aforementioned products, the company also provides aftermarket equipment services such as installation, advanced diagnostics, repair, and retrofitting activities through a manufacturing platform and global network of Quick Response Centers.
In terms of customer concentration, if we look at the company's booking data, which includes backlog of $3.8 billion, we would find that 35% of its business in this backlog is dedicated to companies in the oil and gas space. General industries, such as mining and ore processing, pulp and paper companies, food and beverage companies, and others, make up 26% of sales. Chemical players, including companies that focus on pharmaceutical products, comprise 24% of its business. Another 12% is attributable to the power generation market, while just three percent can be chalked up to water management firms.
Operationally, the company does have two different segments that it runs. The first of these is the Flowserve Pumps Division, which focuses on the development and sale of pumps and pump systems, mechanical seals, auxiliary systems, and other related products and services. This segment made up roughly $1.37 billion of the company's backlog at the end of its 2021 fiscal year. And it was responsible for 69.7% of the company's revenue and 67% of its profits last year. The second segment the company has is its Flow Control Division. Through this, the company sells flow control solutions such as its valves and automation systems, isolation and control valves, actuation, controls, and related equipment. In 2021, this segment made up 31.3% of the firm's revenue and 33% of its profits.
In the years leading up to the pandemic, revenue growth at the company had been consistent. Between 2017 and 2019, sales grew from $3.67 billion to $3.94 billion. Then, in 2020, revenue dropped, hitting $3.73 billion. For many companies in many industries, 2020 marked the worst year in a while. But that was not true here. In 2021, sales suffered further, dropping to $3.54 billion. Management did not say precisely what this continued weakness was caused by. They only mentioned that the sales decline was broad-based, with revenue falling off in most major markets with the exception of the Asia Pacific region and Latin America. Fortunately for investors, the worst appears behind it. This is because, for its 2022 fiscal year, the company is forecasting revenue growth of between 7% and 9%.
When it comes to profitability, the picture for the company has been rather volatile. Net income has been all over the map in recent years, ranging from a low point of $2.65 million in 2017 to a high point of $238.8 million in 2019. In 2020, profits dropped to $130.4 million only to drop further to $125.9 million last year. Operating cash flow has been volatile as well, but not by as much. The low point was in 2018 when the company generated cash flow of $190.8 million. In 2019, the company hit a high point of $324.1 million. In the four years ending in 2020, cash flow moved in a very narrow range of about $14 million in three of the four years. In 2021, meanwhile, cash flow totaled $250.1 million. We also should pay attention to EBITDA. After rising from $341.1 million in 2017 to $516.4 million two years later, it dropped to $378.3 million in 2020 before ticking up modestly to $398.3 million last year.
Given the volatility the company has experienced, valuing it is rather tricky. Management did provide earnings guidance for the 2022 fiscal year, calling for earnings per share of between $1.65 and $1.85. At the midpoint, this would imply net profits of $228.2 million. Given the company's track record on earnings, it is unclear how useful this guidance would be when estimating other cash flow items. But if we assume a similar year-over-year growth rate for other profitability metrics as we should see with earnings, then operating cash flow for the year should be about $453.3 million, while EBITDA should be $721.9 million. Given how far outside of the historical range both operating cash flow and EBITDA will be based on this estimate, I will price the company using both the 2022 estimates and the 2021 actual results. I would prefer to be more conservative and err on the side of caution.
Taking this data, I find that the company is trading at a price-to-earnings multiple, using its 2021 results, of 36.7. If we use the 2022 estimates, this number would drop to 20.2. The price 2 adjusted operating cash flow multiple should be 18.5, declining to 10.2 if we rely on the 2022 figures. Meanwhile, the EV to EBITDA multiple of the company should be 13.2. This drops to 7.3 if we rely on the 2022 estimates. In order to price the company, I then decided to compare it to five similar firms. On a price-to-earnings basis, these companies ranged from a low of 6.7 to a high of 47.5. Using the price to operating cash flow approach, the range was from 10.1 to 60.6. In both of these cases, using our 2021 figures, three of the five companies were cheaper than our prospect. Meanwhile, using the EV to EBITDA approach, the range was from 4.4 to 19.6. On this front, two of the five companies were cheaper than Flowserve.
| | | | |
| --- | --- | --- | --- |
| Company | Price / Earnings | Price / Operating Cash Flow | EV / EBITDA |
| Flowserve | 36.7 | 18.5 | 13.2 |
| Mueller Industries (MLI) | 6.7 | 10.1 | 4.4 |
| Parker-Hannifin (PH) | 20.4 | 16.6 | 14.1 |
| Standex International (SXI) | 27.1 | 14.5 | 12.3 |
| Columbus McKinnon (CMCO) | 42.5 | 22.7 | 18.6 |
| Welbilt (WBT) | 47.5 | 60.6 | 19.6 |
Takeaway
Based on the data provided, it seems to me as though Flowserve is an interesting company that is just beginning to show a recovery from the pandemic. This could lead to attractive upside on its own. However, investors should be wary about using current guidance to forecast how the company is priced. Yes, it is true that the company began an improvement project to reduce annual costs by $125 million on a run-rate basis. But that program began in the second quarter of the company's 2018 fiscal year. So it is unclear to what extent this will translate into stronger cash flows in 2022. In the best case, shares of the company do look to be slightly on the cheap side. But that is using my rather liberal assumptions. Being more conservative, shares look to be more or less fairly priced. So while the company probably does offer a favorable risk to reward payoff here, I feel as though the higher probability of the conservative scenario being accurate has greater weight at this time.