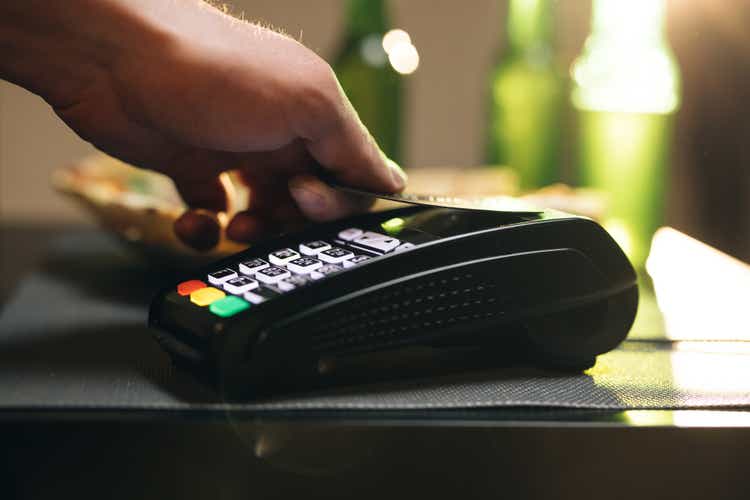 Introduction
Fiserv (NASDAQ:FISV) was the first company about which I published an article at Seeking Alpha. That was a year ago and now with full year results out I think it is time to revisit my original thesis. Anyone not familiar with FISV might want to look at my original article as well as my follow up articles here and here. I will assume some general familiarity with FISV and its business units for the rest of this article.
I will discuss Q4 results as well as 2023 outlook. For this I will refer to FISV's Q4-report, their presentation as well as their conference call.
Then I will circle back to my investment thesis from a year ago. How it has played out so far, what changes I will have to make and where this leaves us.
Q4 results
FISV reported strong Q4 results. They showed double digit organic revenue growth. Expanding operating margins together with sizable share buybacks over the year led to adjusted earnings growth strongly outpacing revenue growth at 22%. Debt to EBITDA declined to just 2.8x, well below their targeted 3.0x.
But for me the two standout data points were cash conversion and Clover growth. While FISV disappointed during the first three quarters when it came to cash conversion and having to reduce their targets during the course of the year in Q4, they finally delivered with a 115% free cash flow conversion ratio. Still 4% lower than last year's 119%, but much better than what they showed in the quarters before. Overall, FCF conversion for the full year dropped to 84% from 94% in 2021 and well above 100% in the years before.
Clover also returned to growth in the 20s with revenue increasing by 23% in Q4 after it dropped to 19% in Q3. I see this as very comforting as continued high growth at Clover and Carat are at the core of my buy thesis. Carat growth of only 15% being the one sour point in results as that was the low point for the year. Payments and Fintech also reported good organic revenue growth at 10% and 8% which is better than what I expect as a long term run rate.
Overall, I would regard Q4 as a strong quarter.
FY 2022 results
How about the whole FY 2022? It was mixed. I think it would be best to compare it to FISV's own guidance they provided at the start of the year:
FCF conversion was poor at only 84% but even more worrying was the lack of anticipation by senior management. It seems they did not properly account for the need to invest for growth (which I did in my modeling). As late as December 2020 they upped their FCF target for 2022 to $4.4bn during their investor day.
In the end they got $3.5bn which was even lower than 2021's figure. This is a major miss! Partly this can be explained by FX moves, a worsening macro environment and maybe higher inflationary pressures on the cost side. But overall it seems like management thought growth comes for free which it hardly ever does. Consequently, capex went up by over $300m and working capital by $200m for the year leading to lower FCF. –> clear miss
Organic revenue growth for 2022 was 11% (actual was lower due to FX rates) and margins expanded by 120 basis points. Adj. EPS came in at $6.49. Therefore much better revenue growth offset the failure to expand margins as much as they wanted. Growth for Clover was all over the place with quarterly growth rates being 39%, 24%, 19% and finally 23% for Q1-4 but Clover certainly slowed somewhat from its prior growth rates. Overall they mentioned 25% growth for Clover revenue for 2022. Payments and Fintech on the other hand provided slightly better growth rates than I would have anticipated.
Overall, I would judge FY 2022 to be roughly in line to slightly disappointing compared to initial expectations. Even though they met their adj. EPS targets FCF was poor and growth in the main future value drivers Clover and Carat were slightly lower than anticipated. But then we had a tough operating environment and adverse FX developments. Compared to many other companies out there FISV has proven to be a fairly reliable performer. Therefore "in line to slightly disappointing" is not as bad as it sounds given the environment.
2023 outlook
FISV's 2023 outlook is based on the expectation of a mild recession in 2023 and further adverse FX. Not surprisingly, targets are therefore rather subdued. Actual reported revenue growth is guided to be at 4.5-6.5%. Organically it looks a bit better at 7-9%.
In terms of FCF they have decided to drop the conversion ratio and go for a FCF dollar number target. I guess this is because FCF conversion will still be poor and well below 90% given their forecasts. This is a detour from their prior confidence in achieving 100% conversion rates. I see this as a positive in that their forecast is now more credible. On the other hand it reflects poorly on their grasp of business basics that they only now decided to accept the fact that growth often comes with additional investments.
Overall, I think revenue guidance looks rather conservative. I am not sure where the 2% currency impact is coming from as the dollar has weakened recently and the vast majority of their revenue (84% as per conference call) still comes from domestic sources. It therefore seems to assume another significant strengthening going forward. Given that I also expect the Fed to further target consumer spending I am fine with those forecasts. During the conference call, they also gave more insight in how growth should split up between the different divisions:
I would say that our Merchant business will probably be at the top end, maybe above the top end of our 9% to 12% medium-term guidance. In our Fintech space, we did 5% in 2022. I'd expect that to continue to be in our range of 4% to 6% that we provided for medium-term guidance. And in the payment space, which was 9% in 2022, actually above our guidance range. I think we'll be at the top half of our medium-term range of the 5% to 8% as we exit 2023.
I am happy with that split as it indicates continued growth at merchants (although less than 2022). And this includes merchant business being more impacted by the assumed mild recession than the other areas. Overall they therefore seem on track to get to their $10bn target in merchant by 2025.
Operating margin expansions might be offset to some extent by higher interest costs as they have roughly $4bn of variable debt as per Q3 of last year. Therefore I view 2023 as a transitional year. They should be mostly finished with their integration by now and 2023 should be a year where they set themselves up for further growth in 2024 with several growth initiatives they mentioned (eg. Desjardin in Canada) and coming out of the recession. Unfortunately, there was only limited information on how their international growth initiatives work out, especially the roll-out in India that was targeted for this year. But they did mention during their conference call that growth internationally was nearly double the growth domestically. However, translated in USD, this is likely lower.
In summary, I think their guidance is realistic to conservative. In terms of relative growth the story of merchant driving FISV is further validated. As usual, the critical thing to watch is cash. FCF is forecasted to only grow by 8% in 2023. Eventually they will have to show higher growth rates there.
How my investment thesis has played out so far and what changes are needed
My article on FISV was my first publication at Seeking Alpha. I am therefore very interested how my investment thesis worked out so far. In terms of performance I cannot complain: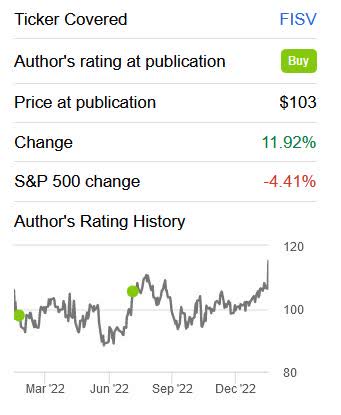 So far my recommendation provided a positive return of nearly 12% while the broader markets were even down a few percentage points. That said, my recommendation was not really for a one year holding period but rather a 3-5 year investment horizon. Therefore, while I appreciate the interim positive performance I think the jury is still out there. And of course a large part of that 12% gain was just today's move after results. But so far so good.
Positive performance is one thing but the more important question for me is whether my thesis played out as expected or whether maybe totally different forces drove the outperformance. Here I am also pleased to report that it pretty much played out as expected even in a challenging environment. High growth at Clover and Carat drove revenue growth in Merchants. This in turn pushed FISV to double digit revenue growth and helped it show a positive performance. Their investor day on the merchant business certainly helped to highlight this. Even the negative aspects were right on track as I correctly forecasted increased cash usage by the growth plans:
To fund this growth I have increased capex spend to 10% of revenue from the historic 6-7% to which it slowly declines after the high growth period.
Capex together with increased working capital was roughly in line with that estimate and correctly forecasted a cash conversion ratio well below 100%
Well, I am not writing all this just to pat myself on the back. Because there are several things that need correcting after a year. Nobody is perfect and the world changes around us. And so we have to adapt. While the investment case overall stays very much as it was I need to adjust a few things in my DCF model which actually lead me to lower my fair value of FISV:

The value of $146 is down from the $153 of my initiation piece even though one year has passed, and it should – everything else being equal – be 10% higher. What did I adjust and why?
Firstly, I adjusted Clover and Carat growth rates downward: I admit, I was a bit too optimistic when it comes to near term growth rates of Clover and Carat especially looking at the 2023 guidance. Part of that is that FX rates limited the growth as a large part of Clover and Carat growth comes also from their international roll-out.
I also had to increase my interest costs in the model. While I already modeled some normalization I did not have the Fed moving as aggressively as it did.
As we can see here they have about $3.5bn in debt maturing over the next two years and roughly $4bn in variable debt. Given the aggressive action by the Fed I did have to adjust my future interest payments sizably to catch these effects which obviously depressed valuations.
I also had to adjust for the strength of the USD. While organic growth rates that get adjusted for FX movements look nice in the end my valuation is a USD value and as such a stronger USD means lower contribution by international operations which grow roughly double the rate of the domestic ones. This also impacts valuation negatively.
So far expenses for acquisitions were less than my modeled 50% of FCF for the high growth period but a year is not long enough to change this assumption. If they use less and stay within the historical 35% that would provide additional upside. For the time being I stick to my more conservative assumption.
As one can see a lot of my adjustments were macro driven. From higher rates over FX moves to the Fed actions possibly causing a recession in 2023. That I still get to nearly 30% upside speaks for the resilience of the company. Therefore I still rate FISV a buy.
Summary
FISV delivered a strong fourth quarter that confirmed my overall investment thesis. 2023 outlook is somewhat subdued and likely conservative with a mild recession already baked in. FCF generation will be challenged by continued investments to support growth.
That said, overall they are very much on track. I expect further upside even though I had to lower my fair value a bit given recent developments – most of them macro driven (FX, rates, Fed going for a recession). While 2023 might prove rocky and they guide to only a high single digit organic revenue growth rate I believe the medium term growth story is intact and continue to rate FISV as buy.