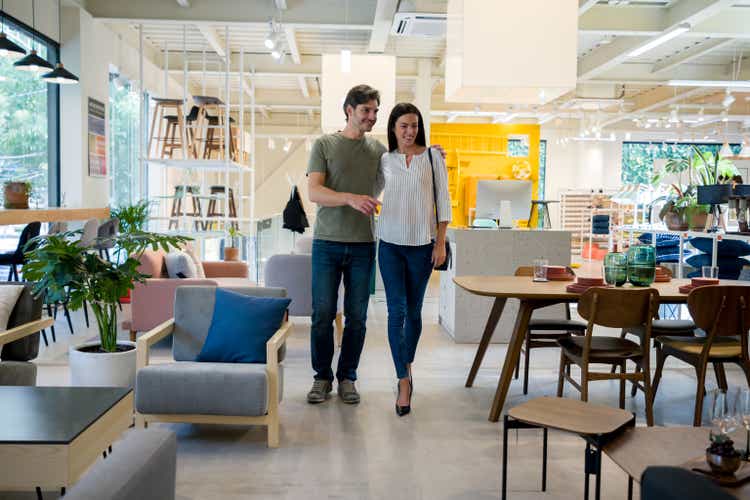 There are clear signs that the high-end consumer is pulling back their spending reins. Earlier this week, Restoration Hardware (RH), a luxury home furnishings company, issued a severe FY22 earnings cut. Weaker macro conditions contributed to a big-time softening in demand, according to the company. Surging mortgage rates, which topped out above 6% at times during June, and slowing high-end housing turnover make for a tough business environment.
It has been a quick-180 from the red-hot housing market seen in 2021 and earlier this year. Talk of the "bullwhip" effect, whereby firms order too much inventory during tight times, which leads to an oversupply during ensuing soft demand periods, leaves many investors worried. Also on the earnings front, chip-maker Micron (MU) also had a dismal profit outlook for the balance of the year in its earnings release on Thursday night.
Restoration Hardware's 70% Plunge From Last Summer's Peak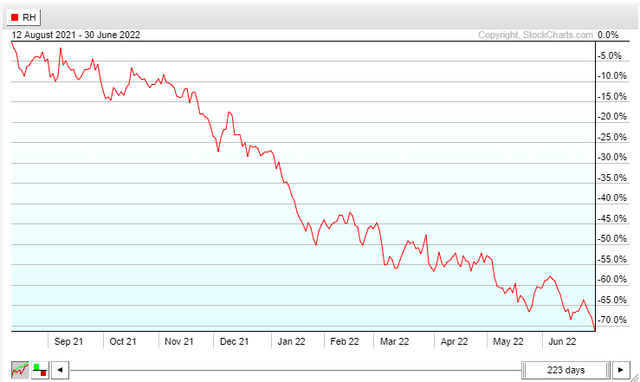 Another home furnishings and accessories retailer could face similar headwinds as RH. Ethan Allen Interiors, Inc. (NYSE:ETD) is engaged in manufacturing home furnishings and accessories. The firm offers a full complement of home decorating and design solutions through its home furnishing retail networks. It operates through two segments: Wholesale and Retail, according to The Wall Street Journal.
The Connecticut-based $517 million market cap Consumer Discretionary stock is down nearly 40% from its high a bit over a year ago. While not in as severe of a drawdown as RH, ETD's technical chart suggests there could be further room to the downside, but we'll review that later.
ETD trades at an exceptionally low valuation – just 5.7x its trailing twelve-month earnings, according to the WSJ. With EPS north of $3.50 over the last year, and beating analysts' estimates in each of the last four quarterly reports, clearly there is some positive momentum, but I don't believe this small retailer can weather the macro storms that are currently taking place. The market seems to think the same, given the very low valuation. Something notable is the stock's 15% short float – so be careful shorting this stock, as it could see strong covering rallies on any hints of positive news. Last year, ETD changed its ticker from ETH so as not to confuse folks trading the Ethereum cryptocurrency!
A History Of EPS Beats With A High Yield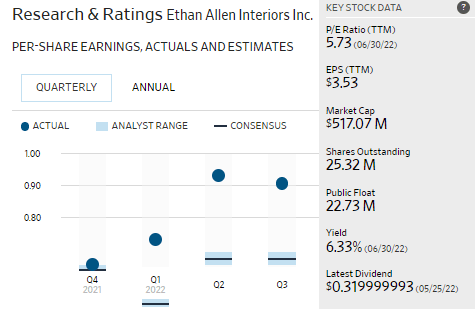 More on valuation, there is no doubt that it looks cheap. The stock's trailing and forward P/E multiples are incredibly low versus its historical average, according to Koyfin. Moreover, ETD's EV/EBITDA is at an all-time low. The company's current ratio, a measure of current assets compared to current liabilities, has actually ticked up, so there could be a value case here.
ETD Valuation & Fundamentals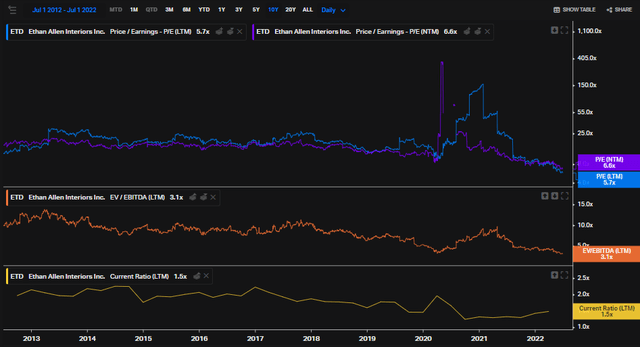 ETD's P/E: Cheaper Vs. the Industry Average

Looking ahead, according to data provided by Wall Street Horizon, ETD's next earnings report is unconfirmed to take place on Monday, August 8, AMC.
The Technical Take
I think shares could fall further in the near term. I see support in the $16-$18 range. So long as it holds that level, it could be worth a flier/value play. A drop below $16, however, could lead to technical downside to the early 2020 lows under $9. If the stock reclaims $22, a long play could also be warranted with a stop under that same level.
ETD: Support In The $16-$18 Range, Resistance At The 2021-22 Range Lows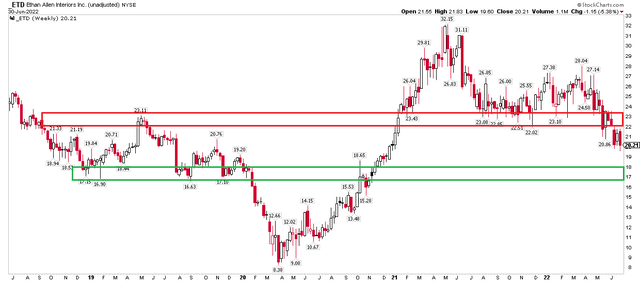 The Bottom Line
Ethan Allen faces many of the same macro headwinds as Restoration Hardware highlighted earlier this week. I think more downside risks are to come for ETD, but there is some support on the chart a bit lower from here. So long as the stock holds around $16, it could be worth a long play from a valuation perspective. Keep your eye on its August 8 earnings report for the next volatility catalyst.