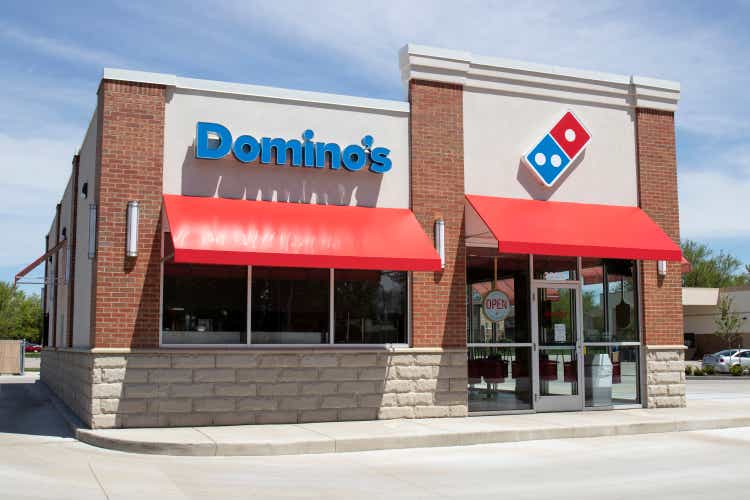 Thesis
While the global restaurant industry has been hit hard during the Covid-19 pandemic, the delivery and carryout focused Domino's Pizza (NYSE:DPZ) has managed to maintain a steady growth trajectory. In this analysis, I look into the company's business model, market position, growth performance and valuation in an attempt to gauge its attractiveness for potential investors.
Stock Performance
Over the past decade Domino's has seen very strong stock price growth, outperforming both the broader market and the consumer staples sector, driven by fast growth in the business. Over the trailing 10-year period, DPZ's stock price has increased 670%. After a record year in 2021, Domino's saw a large decline in 2022, limiting its 5-year overall gains to 72%.
For the trailing 12-months period DPZ has marked a -19% loss compared to the consumer staples sector loss of just -0.79%. Despite operating in the food industry, Domino's strong growth and higher valuation multiples have caused the company to be less defensive and exhibit more aggressive price swings. Currently, DPZ trades at $359.62 ($13.1B market cap), with a 52-week high of $449. The stock pays a 1.22% dividend yield.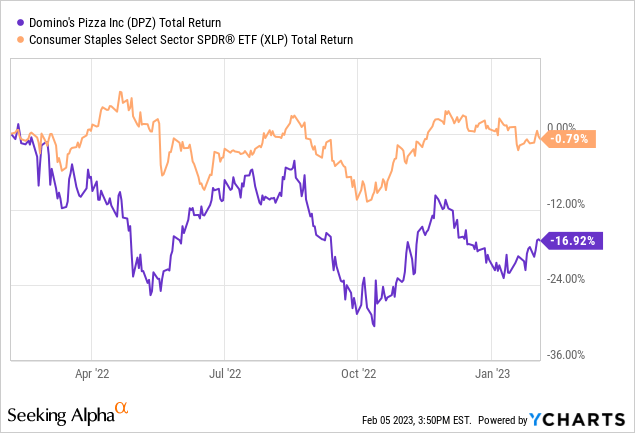 The Business Model
Founded in 1960, Domino's is the largest pizza delivery company in the world, with over 18,000 locations globally, operated primarily through a franchise model (98% of Domino's stores are owned independently). The stores services customers through both delivery and carryout. Franchisees are responsible for the day-to-day operations of their stores, including the production of pizzas and the delivery of orders to customers. In exchange for the right to use the Domino's name and access to the company's resources, franchisees pay royalties and fees to the company.
The company's identifiable revenue streams include the following:
Royalties: Ongoing fees that franchisees pay to Domino's based on a percentage of their sales for the use of its brand. These fees help to cover the cost of advertising and other support services provided by the company.
Franchise fees: The company charges new franchisees a one-time fee for the right to use the Domino's name and operate under the company's business model.
Supplying franchise stores: Domino's operates a central supply chain that produces and delivers food, equipment and other products to franchisees. The company generates revenue by selling these products to franchisees at a markup.
Company-owned stores: Domino's generates revenue from food sales through a small number of stores in the United Stated owned by the company.
Internationally, Domino's generally grants geographical rights to the company's brand to master franchisees. Subsequently, these master franchisees are charged with developing their geographical area, and may profit by sub-franchising and/or by running their owned stores.
The franchise model creates a stable cash flow stream for the company, while new store openings fuel growth. It also eliminates the need to engage in research in the local markets and diversifies some of the operating risk away from the business. Domino's is constantly incorporating new technology solutions to improve customer service. Currently, over 75% of U.S. sales are attributed to digital platforms.
Strong Market Position
Domino's is arguably one of the biggest brand names in the Quick Service Restaurant pizza industry globally and the Quick Service Restaurant industry general. The company's customer reach is very extensive, with presence in over 90 countries. Domino's maintains a 20% market share in the global Quick Service Restaurant ('QSR') pizza business and a 22% share in the U.S market. The global QSR pizza industry is expected to grow at mid-single digit rates for the foreseeable future, offering Domino's room to grow sales and profits.
Despite its established market position the company faces intense competition both in the U.S. and abroad. The quick service restaurant industry is very fragmented, while price competition between established brands is very intense. As consumer preferences evolve over time certain chains might struggle to keep revenues growing. Both in the U.S. and abroad, Domino's competes with names like Papa John's, Pizza Hut as well as local brands and restaurants.
A Respectable Growth Story
Domino's ability to generate revenue is dependent on its store capacity. Over the past decade the company has seen consistent, annual increases in the number of stores operated under the franchise. Domino's global store count has increased from 9,351 in 2011 to 18,848 in 2021 (6.6% CAGR). U.S. and international same-store-sales are also increasing at 4.0% and 5.3% average annual rates since 2011. For the next 2-3 years management aims for 6-8% in store unit growth.
Revenue for Domino's has grown from $2.79B in 2017 to $4.36B in 2021 (11.8% CAGR). Both Gross and Net Income have followed on a similar growth trajectory. The company's Net Income has reached $0.51B in 2021. For 2022, consensus estimates look for $4.8B, representing yet another year of solid growth. A mild increase is also expected in earnings. Through 2025 management expects 6-10% in annualized revenue growth. The company also maintains strong profitability, with gross and net margins of 26% and 10% respectively.
Aided by share repurchases, EPS growth has significantly outpaced revenue growth. Since 2010, EPS have grown at an annualized 23.4% rate, from $1.35 to $13.60. For 2022, analysts expect EPS to decrease a bit, to $12.10 and rebound again for 2023. Domino's has decreased its shares outstanding from 56.4M in 2012 to 35.4M in 2022, highlighting management's commitment towards achieving premium shareholder returns for investors.
A Growing Dividend Yield
Currently, Domino's pays a rather small dividend yield of 1.24%, compared to the market and sector averages of 1.60% and 2.20%. However, the company has recorded 10 consecutive years of dividend increases. For the trailing 5-year period Domino's dividend has increased by an impressive 19.0%, surpassing the sector average annualized growth of 10.2% for the same time period. Domino's also maintains a low payout ratio below 40%. Combined with the company's revenue and EPS growth DPZ's dividend should be considered safe.
Valuation
At a first glance, Domino's appears to be somewhat expensively valued. A 28.9x TTM P/E is significantly higher than the market and sector average. A number this high is rarely associated with companies in the more defensive food industry. That said, Domino's has displayed strong earnings growth, unlike many of its peers. In historical terms, the current P/E ratio is actually at the low end of its 5-year value range. The company also has a 25.9x P/Cash Flow ratio which is also somewhat pricey. Domino's P/S ratio appears to be more reasonable, at 2.9x TTM, down from 4.8x in late 2021.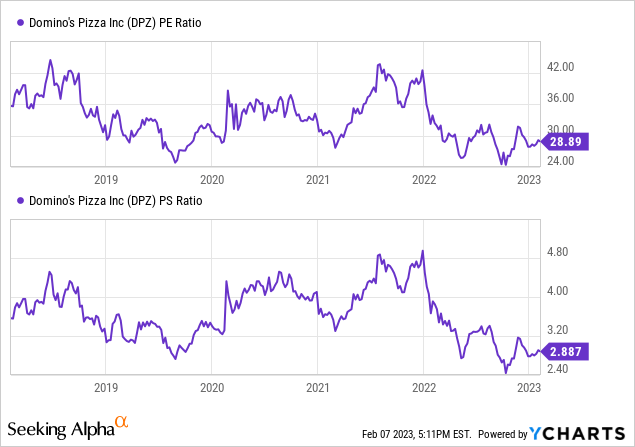 Final Thoughts
Throughout this analysis, Domino's business and financial attributes indicate a well-run company that presents investors with a solid choice that has some defensive characteristics since it is operating in the Consumer Staples sector and the Food Industry, yet offers good growth prospects. The only major concern that still looms over the stock appears to be its somewhat pricey valuation.