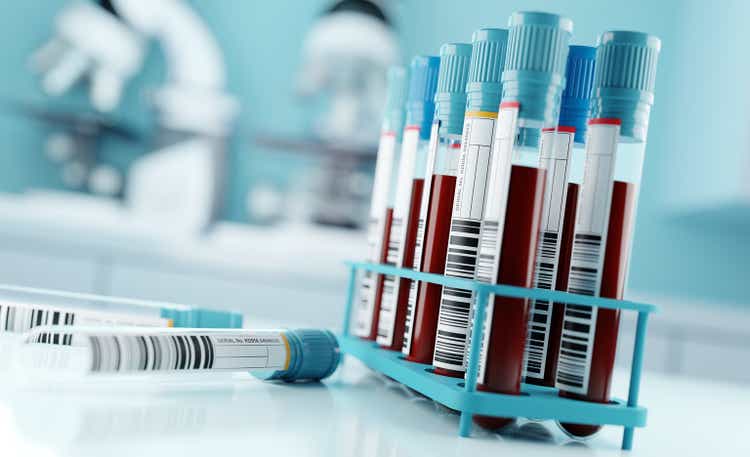 Because of its very nature, the life sciences space is vastly different from most other markets. This can even be seen when it comes to how life sciences products are handled from a supply chain perspective. This can include temperature-controlled storage and transportation, special packaging and labeling, and more. It can also involve certain regulatory processes and can benefit from or require special kits such as with the transportation of blood and tissue collection, drug administration, and more. One company that meets these needs is Cryoport (NASDAQ:CYRX). Purely from a sales perspective, the company has been showing some additional growth as of late. But profits and cash flows remain a major issue. If shares of the company were trading on the cheap, I would make the case that some upside potential would exist for investors. But even after the company's stock plunged hard over the past few months, I feel as though further downside might be warranted. Because of this, I've decided to keep the 'sell' rating I had on the stock.
The picture isn't getting any better
Back in late July of 2022, I wrote an article that took a rather bearish stance on Cryoport. At that time, I expressed satisfaction and how rapid the company's growth had been over the prior few years. However, bottom line figures for the company were somewhat mixed. Even though growth was continuing throughout 2022, I felt as though shares of the company looked rather pricey. And as a value investor, that's something that weighs heavily on my own investment decisions. In a rare move, I ended up assigning this company a 'sell' rating even in spite of the rapid growth it had been experiencing. This kind of rating reflected my belief that shares should materially underperform the broader market for the foreseeable future. And so far, that call has proven to be spot on. While the S&P 500 is up 0.6% since then, shares of Cryoport have seen downside of 31.3%.
Given this massive drop, it might be reasonable for investors to think that my stance on the company has changed. But that has not, unfortunately, happened. Consider the most recent data provided by management. This would cover the third quarter of the firm's 2022 fiscal year, the most recent quarter for which new data is available that was not available when I last wrote about the business. During that time, sales came in at $60.5 million. That translated to an increase of 6.7% over the $56.7 million reported one year earlier. The greatest growth for the company during this time came from its services. Revenue there jumped 7.8% from $30.9 million to $33.3 million. This increase was driven by strong customer demand for its supply chain solutions. Product revenue, meanwhile, grew a more modest 5.3% thanks to the company's portfolio of cryogenic stainless-steel freezers, aluminum dewars, and related ancillary equipment that's used in the transport and storage of life sciences commodities. It is worth noting that actual growth for the company would have been even greater. However, the company was impacted negatively to the tune of 4.4% from foreign currency fluctuations.
On the bottom line, the picture was not quite as bullish. Yes, the company's net loss narrowed from $8.5 million in the third quarter of 2021 to $7.3 million the same time of the 2022 fiscal year. However, operating cash flow plunged from $8.9 million to $1 million. It is true that if you adjust for changes in working capital, the metric would have improved from $3.2 million to $6.1 million. But this was offset to some degree by the fact that EBITDA fell from $6 million to $4.7 million over the same window of time. This kind of mixed bag when it comes to performance was similar to what the company experienced for the first nine months of 2022 in relation to the same time of 2021 as a whole. Sales of $176.9 million beat out the $166.2 million reported the same time of 2021. On the other hand, the firm's net loss actually widened, climbing from $21.6 million to $33.9 million. Operating cash flow also worsened, plunging from $5.5 million to negative $5.5 million. It's important to keep in mind that, on an adjusted basis, the metric actually jumped from $12.2 million to $20.9 million. But over that same window of time, EBITDA trimmed from $19.1 million to $13 million.
Management did not provide any real guidance when it came to profits. They only said that revenue should come in at between $232 million and $238 million. If we annualize results experienced for the first nine months of the year, we would anticipate adjusted operating cash flow of $25.9 million and EBITDA of approximately $13.1 million. Neither of these numbers account for the $2 million each quarter that's currently being paid in-kind on the firm's preferred stock. Even ignoring that, using the data from 2022, the firm is trading at a very high price to adjusted operating cash flow multiple of 49. That's down from the 84.1 reading that we get using data from 2021. Meanwhile, the EV to EBITDA multiple for the company should come in at 102.9. That's significantly higher than the 69.9 multiple that we get using data from the year before. As expensive as Cryoport is, it's not necessarily the most expensive firm on the market. On a price to operating cash flow basis, four of the five companies that I compared it to that had positive results posted multiples of between 31.9 and 61.9. Three of these four were cheaper than our target, with the fourth being more expensive. Using the EV to EBITDA approach, however, the range for the five firms with positive results was between 19.5 and 101.5. In this case, Cryoport was the most expensive of the group.
| | | |
| --- | --- | --- |
| Company | Price / Operating Cash Flow | EV / EBITDA |
| Cryoport | 49.0 | 102.9 |
| Nevro (NVRO) | 61.9 | 101.5 |
| Stevanato Group (STVN) | 47.1 | 19.5 |
| AtriCure (ATRC) | N/A | 25.5 |
| Mesa Laboratories (MLAB) | 31.9 | 38.6 |
| LeMaitre Vascular (LMAT) | 42.3 | 26.6 |
Takeaway
Although it's nice to see that revenue for Cryoport continues to climb, and it's nice to note that sales growth would have been greater had it not been for foreign currency fluctuations, the overall picture for the company is far from great. It's fortunate enough to have cash in excess of debt of $121.8 million. It's also fortunate that all of the $407.7 million of debt that it has is convertible. But the fact of the matter is that the company does not look to be in all that great a position. Even if the firm were healthier, it's trading at levels that frankly don't make sense. Until the stock falls further, or sees its bottom line results improve markedly, I feel that a 'sell' rating is still appropriate.