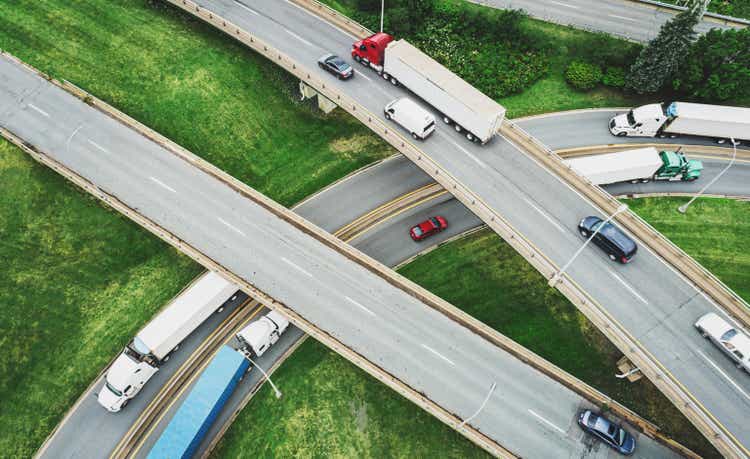 So far, 2022 has been a rather difficult year for most investors in most companies. The market has plunged because of fears regarding a recession and because of rising interest rates. Having said that, there have been some diamonds in the rough, companies that have gone on to generate attractive returns even during this period of pain. One such example is a rather small logistics company called Covenant Logistics Group (NASDAQ:CVLG). Due to strong performance on both its top and bottom lines, as well as its low trading price, the business has experienced a nice uptick in price recently. Even though the easy money has likely been made, data so far suggests that the company likely offers investors additional upside potential moving forward. Because of this, I've decided to retain my 'buy' rating on the stock.
Did you back up the truck?
In January of this year, I wrote an article about the investment worthiness of Covenant Logistics Group. My overall conclusion on the company was that shares were trading on the cheap but that upside potential would be impaired by the company's historical volatility. Even so, the general trend for cash flows was positive and I viewed the company's stock as being quite cheap on an absolute basis. At the end of the day, this prompted me to rate the business a 'buy', indicating my belief that it would generate returns that would outperform the market over an extended timeframe. So far, the company has drastically outperformed even my own expectations. While the S&P 500 is down by 18.7%, shares of Covenant Logistics Group have risen by 7.1%.
This increase in price can be chalked up to strong fundamental performance achieved by management. Consider results for the final quarter of the company's 2021 fiscal year. When I last wrote about the firm, we only had data covering through the third quarter of that year. In the final quarter, revenue for the company came in at $294.2 million. That represents an increase of 30.6% compared to the $225.2 million generated the same time one year earlier. Of course, the upside the company experienced in the final quarter was not the only time in which revenue came in strong. All of 2021 ended up being a great year for the business, with sales of $1.05 billion coming in 24.7% higher than the $838.6 million achieved in the 2020 fiscal year. The company benefited from strength all across the board. For instance, Expedited revenue rose by 5.3% year over year. Dedicated revenue came in far stronger, having risen by 72% from the final quarter of 2020 to the final quarter of last year. Managed Freight fared even better, skyrocketing by 80.9%. Meanwhile, Warehousing revenue for the business grew by 21.2%.
Results in the bottom line have also been positive. Net income of $17.7 million beat out the $25.7 million loss achieved one year earlier. This brought total net income for the company's 2021 fiscal year to $60.7 million. That compares to the $42.7 million loss achieved in 2020. Other profitability metrics have also followed suit. Operating cash flow did worsen, falling from $38 million to $5 million. But if we adjust for changes in working capital, it would have risen from $23.8 million to $35.9 million. This comes even as EBITDA plunged from $89.7 million to $32.9 million.
So far, management has done well to continue this performance into the 2022 fiscal year. Revenue in the latest quarter came in at $291.6 million. This is 32% higher than the $220.9 million generated just one year earlier. Net income doubled, climbing from $11.1 million in the first quarter of 2021 did $22.2 million the same time this year. Operating cash flow fared even better, rising from $9.6 million to $39.4 million. If, however, we were to adjust for changes in working capital, Then the increase would have been more modest, with the metric climbing from $25.5 million to $31.7 million. And finally, we have EBITDA. Due to the rise in revenue and management's ability to push costs onto its customers, the company saw this metric rise from $26.3 million in the first quarter of 2021 to $39 million at the same time this year.
Unfortunately, we do not know what the future holds and it seems to me to be too early to value the company with the kind of volatility that It has exhibited in recent years. The safe way is to value the company using the 2021 results. On a price-to-earnings basis, the company is trading at a multiple of 6.6. The price to adjusted operating cash flow multiple is even lower at 3.2. Meanwhile, the EV to EBITDA multiple of the company is 3.6. To put this all in perspective, I decided to compare the price to operating cash flow multiple and the EV to EBITDA multiple for the business to five similar firms. On a price to operating cash flow basis, these companies ranged from a low of 1.8 to a high of 12.4. Two of the five companies are cheaper than it. Using the EV to EBITDA approach, the range was from 3.5 to 9.1. In this scenario, only one of the five companies was cheaper than our prospect. I also compared the company's current valuation to how shares were priced in my last article. As you can see, the business is trading much higher than it was then. But even so, its stock is still cheap.
| | | |
| --- | --- | --- |
| Company | Price / Operating Cash Flow | EV / EBITDA |
| Covenant Logistics Group | 3.2 | 3.6 |
| Daseke (DSKE) | 3.1 | 4.0 |
| P.A.M. Transportation Services (PTSI) | 5.7 | 4.4 |
| ArcBest Corporation (ARCB) | 6.7 | 4.0 |
| Saia Inc. (SAIA) | 12.4 | 9.1 |
| Ryder System (R) | 1.8 | 3.5 |
Takeaway
Right now, Covenant Logistics Group seems to be doing quite well for itself. Shares of the business have risen nicely but they are still trading at fairly cheap levels when you factor in the company's underlying performance. Moving forward, it's difficult to know what the future holds because of economic uncertainty. But if you want a quality operator on the cheap, then this might be a great prospect to consider still. Yes, it is true that the easy money has been made. But I have a hard time believing that there isn't some further upside for investors from here.