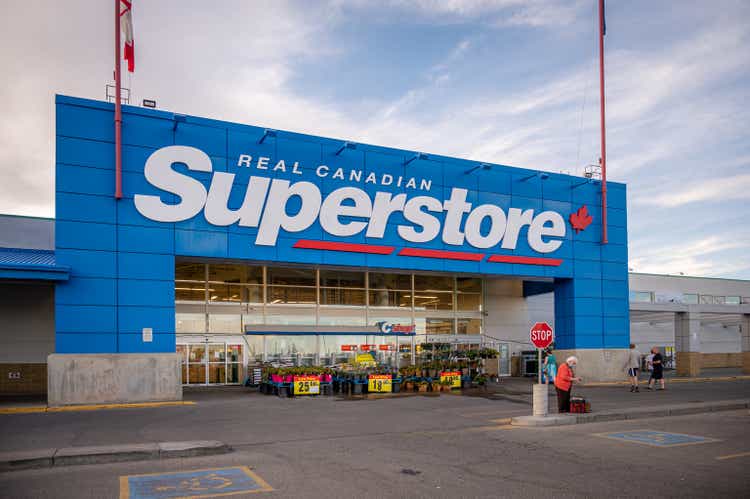 Introduction
Choice Properties (TSX:CHP.UN:CA) (OTC:PPRQF) remains one of my favorite REITs in Canada. The Weston family calls the shots at both Choice Properties and Loblaw (L:CA), where Choice was spun out of. This means the ties between both entities are very strong and as the Loblaw group of companies is the largest tenant of Choice's empire, I think having these strong ties makes the future somewhat more predictable.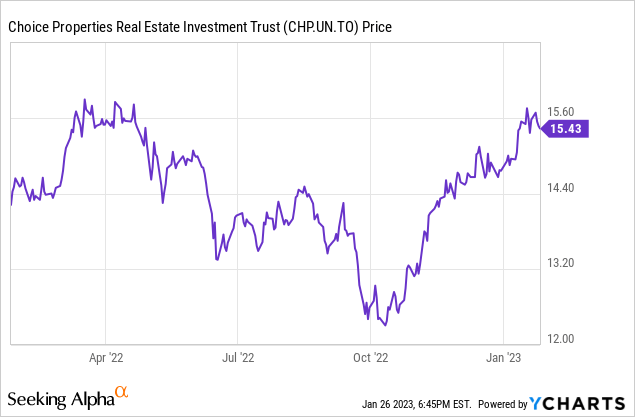 Consistency is important
Choice Properties' tenant list looks like a quality list. About 70% of its net operating income is generated by grocery stores and pharmacy operators while an additional 5% is contributed by what the REIT describes as value retailers. Among the value retailers are for instance Walmart (WMT) and Costco Wholesale (COST) so it's not just dollar stores in the 'value' segment.
This, in combination with a decent duration of the lease expiries and strong exposure to related companies are the three main elements why I like Choice Properties.
The cash NOI in the third quarter was approximately C$234.5M and while that is indeed slightly lower than in the third quarter of 2021, keep in mind that there was a lower result related to transactional income.
What really matters is the FFO and the AFFO generated by the REIT. And as you can see below, Choice Properties saw a small increase (of just under 0.5%) in its FFO result, which increased to C$173.1M for an FFO/share of C$0.239. The total FFO per share in the first nine months of the year came in at C$0.724 and we can reasonably expect Choice's full year FFO per share to come in close to C$1.
While a status quo result is not particularly shocking or attractive, keep in mind Choice sold some assets and it ended Q3 2022 with just 701 properties versus the 718 assets in its empire as of the end of Q3 2021. And on the recent conference call, the Choice management made it very clear it would like to divest the remaining office assets so we can likely expect to see a few more asset sales allowing the REIT to recycle the cash to further advance its pipeline. Additionally, there was a small increase in the quarterly interest expenses. Just a small increase as the vast majority of Choice's debt (in excess of 95%) has a fixed interest rate. This means that we will only see a noticeable increase in the interest expenses once the debt comes up for renewal.
I am hopeful the increasing rents will be sufficient to offset a large part of the impact of the higher interest rates, but Choice has been vague on the details of what it describes as 'contractual rent steps' and I hope its full-year results will provide more clarity in how the rent hikes will be calculated. In 2023, for instance, Choice will have to refinance C$575M in debentures and C$78M in mortgages. The C$575M debentures to be refinanced in 2023 have a 3.2% and a 4.9% coupon right now for a weighted average of 3.86% so even if that would increase to 5.75% (+189 basis points), the impact should be 'just' C$11M which represents just over 1% of the annualized NOI. So while I'm not sure we will see a meaningful NOI and FFO/AFFO increase this year, I think the expected rent hikes should be sufficient to cover the impact of the higher interest rate. The C$750M debentures expiring in 2024 have a weighted average interest rate of close to 4% so unlike European REITs which were able to refinance debt below 2% in the past few years, the 'interest rate shock' to be experienced by Choice Properties shouldn't be too bad.
Choice Properties currently pays a monthly distribution of C$0.061667. This represents C$0.74 per year which means that at the current share price, the dividend yield is less than 5%. In the comment section of previous articles, several readers indicated they weren't too keen on investing in a REIT with a stable dividend. Personally, I am fine with a stable dividend on the condition the retained cash is used to create more value behind the scenes. The payout ratio based on the AFFO per share in the first nine months of the year was approximately 88%. That was relatively high given a C$30M+ capital investment in the third quarter compared to a total investment of less than C$19M in the entire first nine months of last year. On a more normalized basis, the payout ratio versus the AFFO should be below 85%. We can expect the AFFO per share to come in around C$0.90 in 2023 and perhaps 1-2 cents per unit higher in 2024 (depending on the refinancing strategy and rent hikes).
First of all, an increasing cash position will allow Choice to tackle the refinancing of existing debt in a slightly different way as it would have to borrow less cash and it could thus reduce the impact of higher interest rates. That's just the theory because right now, Choice is still investing in its development pipeline and being able to retain cash actually helps to keep the LTV ratio at an acceptable level. In the retail segment, Choice is working towards the completion of a C$55M investment program which should result in excess of C$4M in additional NOI.
Choice is also working on the development of its industrial portfolio which requires an additional C$102M (for a total investment of C$182M) which should result in a stabilized yield of around 7%. There is also a residential portfolio being developed but the majority of the NOI uplift will come from the retail and industrial investments. And by retaining about C$140M per year (the difference between the AFFO and the current distribution rate), Choice Properties should be able to autonomously finance the C$145M in committed costs to completion in the next two years. The estimated cost to completion across all three segments is C$229M and based on the anticipated stabilized yield, this should result in an uplift in the net operating income of C$24M on a proportional basis.
Investment thesis
Choice Properties is boring, and that's fine with me. I know the C$0.74 annualized distribution is well-covered and I know the REIT is using the retained cash to advance its project portfolio which will add north of C$20M in additional net operating income going forward.
Editor's Note: This article discusses one or more securities that do not trade on a major U.S. exchange. Please be aware of the risks associated with these stocks.