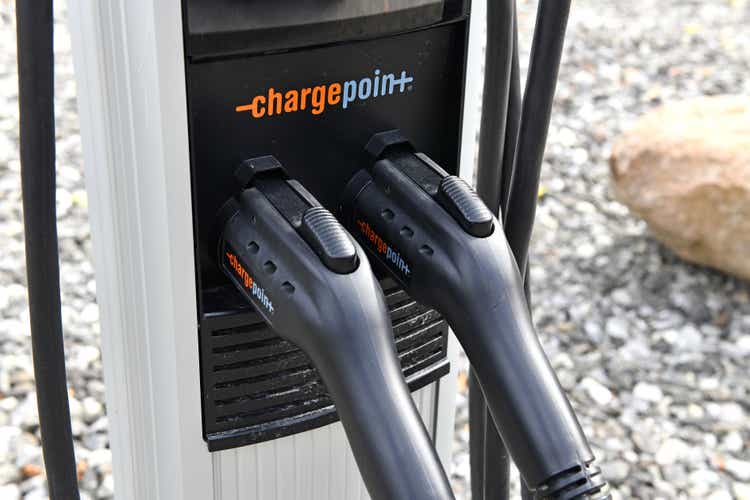 Price Action Thesis
We follow up with our detailed price action analysis of ChargePoint (NYSE:CHPT) stock, as we noted several noteworthy developments over the past month.
We updated in a post-earnings update that CHPT was likely at a near-term bottom, supported by a bear trap (significant rejection of selling momentum).
Its bear trap support has largely undergirded its price action, as CHPT has outperformed the market since we published our last article. Although it initially surged towards our near-term PT of $17, a bull trap (a significant rejection of buying momentum) formed in June as it rejected further advances.
Our Buy thesis on CHPT has always been speculative, given its weak fundamentals. Despite its oft-proclaimed asset-light operating model, the company is unlikely to post free cash flow (FCF) profitability through FY24.
Coupled with its dominant bearish bias, we believe it's apt to accord higher precedence to its June bull trap.
As such, we revise our rating on CHPT from Speculative Buy to Hold and rescind our PT of $17. We urge investors to await a re-test of its near-term support first. Investors who added can consider cutting exposure while waiting for the re-test.
CHPT – Outperformed, But Denied Further By June's Bull Trap
Despite May's noteworthy bear trap that helped stanch a further decline, another lower-high bull trap formed in June that rejected its attempt to reach our previous PT of $17.
June's bull trap is significant because it aligns with CHPT's dominant bearish momentum. Therefore, investors are urged to pay closer attention to lower-high bull traps, which indicates the market's intention to potentially force a steeper selloff.
Last week's sell-off raised our conviction that the market seems keen to pressure CHPT down further. A recent bearish report on EVgo (EVGO) citing "broken chargers and low network utilization" and "questionable partners" didn't help and likely contributed to further weakness. Notwithstanding, the bull trap in CHPT had already formed before the report's release.
As a result, we have decided to rescind our PT and revise our assessment of CHPT's price structures, given June's bull trap. Therefore, we will await a possible re-test of its near-term support ($8.5) before reassessing our rating.
CHPT – Why Focusing On Price Action Is More Important
We believe fundamental valuation will be challenging for unprofitable companies like ChargePoint. For instance, ChargePoint is not projected to post adjusted EBIT profitability through FY24, despite rapid revenue growth estimates.
Therefore, investors need to have a very high conviction over the company's execution, despite its asset-light business model. Notwithstanding, ChargePoint is confident that it can build on its EV charging leadership, as CEO Pasquale Romano articulated (edited):
We're happy to sell picks and shovels in the industry. Betting on any of the auto OEMs is risky as you don't know who's going to win. In the end, and there are too many of them who are going to consolidate. There aren't that many people in our space. So we're kind of like an index fund. We're the broadest and easiest way to play the EV charging, and we're exposed to fleet and commercial. So it doesn't matter which 1 of those 2 happen, we're exposed to both of those, and we're exposed both in North America and in Europe because we've made the investments and have the OpEx to show. (Fox Advisors' Transportation Technology Conference)
Furthermore, ChargePoint's FCF margins are also expected to be deeply in the red. Accordingly, we believe it complicates a serious effort to derive an accurate fundamental valuation of CHPT without a series of speculative assumptions.
As a result, we urge investors to adopt price action analysis as their core analytical framework in stocks like CHPT, leveraging on long/short opportunities, and be nimble. Therefore, holding the bag on CHPT doesn't seem like a good idea given its bearish bias.
Is CHPT A Buy, Sell, Or Hold?
We revise our rating on CHPT from Speculative Buy to Hold. As a result, we also rescind our PT of $17.
We urge investors to pay close attention to a possible re-test of its near-term support. We will reassess our rating if we observe significant developments in its price structures moving forward.