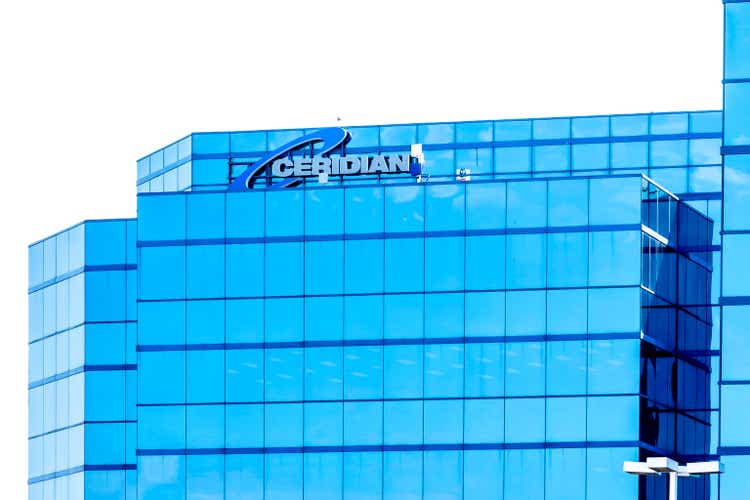 The markets still can't seem to decide on a direction: year-end rally or recession slump. In spite of continued volatility, I continue to encourage investors to prepare for a rebound by investing into undervalued, beaten-down growth software stocks.
On paper, Ceridian (NYSE:CDAY) looks like an appealing play. This HCM software stock has lost 55% of its value year to date: but that correction is largely a reflection of the fact that the stock was massively overvalued to begin with. Though the combination of Ceridian's slightly improved fundamental results and valuation slide have made the stock slightly less unappealing, it's still far from my ideal rebound play.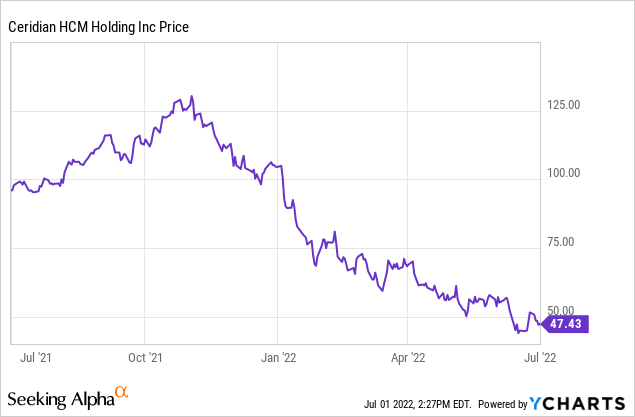 In early May, Ceridian released relatively strong Q1 results, which we'll discuss in more detail in the next section. The company is benefiting/continues to expect benefit from two primary factors: one, a recovery in employment levels which helps its products that are seat-based; and two, rising interest rates which helps Ceridian's interest income on float balances it holds on behalf of its clients. Since that earnings release, however, Ceridian has still fallen ~15% in sympathy with other software names.
I remain neutral on Ceridian, and I don't think this is a "buy the dip situation." Some of my existing concerns on Ceridian remain very relevant:
Weak profile vis-a-vis cloud competitors. HCM is a very crowded space, dominated by the likes of Workday and Oracle (ORCL), and Dayforce is barely a distant laggard.
Margin lags cloud peers. While Ceridian's cloud revenue carries a low-70s gross margin like peers, the weighting of Ceridian's revenue toward float and other lower-margin services puts Ceridian's overall GAAP gross margin at just 54% in its most recent quarter, below most SaaS peers and justifying a significant discount in its valuation multiple.
Confusing leadership structure, with Ceridian just having elevated its COO to co-CEO status, while still reporting to the original CEO (seems like a catalyst for boosted compensation to me). Recent examples like Salesforce (CRM) indicate a dual-CEO structure doesn't often last or work out well.
To me, Ceridian's valuation remains prohibitively expensive to merit an investment. At current share prices near $47, Ceridian trades at a market cap of $7.23 billion. After we net off the $354.8 million of cash and $1.22 billion of debt on the company's most recent balance sheet, the company's resulting enterprise value is $8.10 billion.
Meanwhile, for the current fiscal year, the company has guided to $1.208-$1.230 billion of revenue, or 18-20% y/y growth; and $190-$205 million of Adjusted EBITDA, or a 16-17% adjusted EBITDA margin.
Against the midpoint of this outlook, Ceridian trades at:
6.6x EV/FY22 revenue
41.1x EV/FY22 Adjusted EBITDA
In other words, for a company of what I consider to be questionable fundamental quality, Ceridian is quite overvalued. I'd wait for Ceridian to trade at a mid-teens Adjusted EBITDA multiple (either through continued share price compression or adjusted EBITDA expansion) until I can seriously consider a bullish position in this name.
The bottom line here: Ceridian continues to lack a "wow" factor, either in its results or in its price. There are far better software stocks to invest in to position yourself for a rebound (top picks at the moment include Sumo Logic (SUMO), Asana (ASAN), Coupa (COUP), and Palantir (PLTR)).
Q1 download
Let's now go through Ceridian's latest Q1 results in greater detail. The Q1 earnings summary is shown below:
Ceridian's revenue in Q1 grew 25% y/y to $293.3 million, beating Wall Street's expectations of $289.4 million (+23% y/y) by a two-point margin. This growth rate comes well ahead of the company's full-year growth expectations of 18-20% y/y, though it did decelerate two points versus 27% y/y growth in Q4.
Several macro factors are responsible for helping Ceridian's results in the quarter. First, relative to early 2021, more of Ceridian's clients are staffed at fuller levels (especially given late-2021 hiring sprees to accommodate a post-COVID economic resurgence), which helps a company whose products are primarily priced on a per-seat basis. Second, greater float balances (up 18% y/y) helped to offset a slight 11bps decline in float yields. Moving into Q2, however, with rising interest rates, Ceridian is expecting float revenue growth to accelerate to 25% y/y, versus just 9% y/y growth in Q1.
From a company execution perspective, the company is succeeding at selling fuller packages. Average ARR per customer is up 10% y/y, while 35% of the company's new customers are also purchasing a full Ceridian suite.
Some further color from co-CEO Leagh Turner's commentary during the Q&A portion of the Q1 earnings call:
Q1 was an excellent bookings quarter. Really solid results and really robust customer demand. Solid growth in the North American mid-market. An excellent quarter in AMIA, and a really good out of the gate performance in APJ. As David said, more than 35% of our sales in the first quarter were full suite. And we're seeing continued innovation on the platform and therefore, ability to go back into the base and continue to sell.

And we're seeing that our retention rates and net promoter scores remain very, very high, which makes for a very warm base to be able to sell back into. The pipeline for the full-year rolling to quarter and rolling four quarter is very strong, and our win rates have gone up pretty demonstrably year-over-year. As a result of the number of things, one of which is our consistently building SI ecosystem and the referred pipeline that we're seeing from that ecosystem, which is well known by the size and therefore drives greater win-rate. So a really solid bookings quarter overall."
Adjusted EBITDA also made minor strides in the quarter, growing 29% y/y to $57.4 million and expanding to a 19.6% margin, 60bps better than the year-ago quarter. We note, however, that at a >40x forward Adjusted EBITDA multiple, it will take quite a bit more profitability expansion until Ceridian can be appropriately valued from a bottom-line basis.
Key takeaways
To me, Ceridian remains a mid-tier software company that pales in comparison to higher-profile cloud stocks. Right now, when the majority of the tech sector is trading at a significant discount, I'd prefer to invest in other names. Stay on the sidelines here.