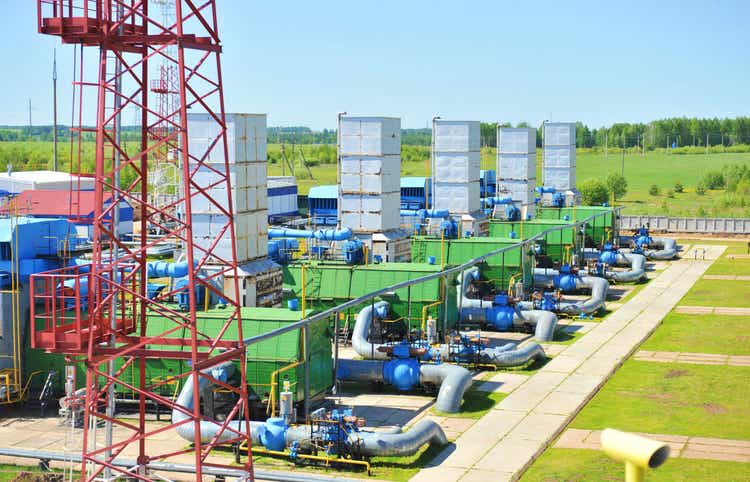 EnLink Midstream (NYSE:ENLC) shares have experienced a brutal selloff. Concerns about falling inflation and a potential recession caused the stock to fall nearly 32% in only two weeks.
We don't see any fundamental justification for this selloff. ENLC stock is now being offered to investors with the same cash flow outlook but at a bargain price that makes them attractive as a long-term investment.
At ENLC's current price, the market appears unaware of the strides the company has made in the past few years. First-quarter operating results showed impressive gains in throughput in the regions that matter for ENLC's cash flow growth, namely, its Permian and Louisiana segments.
These segments have grown throughput from the previous quarter, the year-ago quarter, and from the first quarters of 2020 and 2019. We expect ENLC's operational improvement to continue as E&Ps increase drilling activity in the Permian and Haynesville. Investors can also benefit from upside in ENLC's other segments if natural gas and NGL prices remain elevated.
ENLC's Cash Flow Turnaround
ENLC's operational improvement has driven financial improvement. Since 2017, its returns on capital and equity have gone from downright poor, as shown below…
…to average for the midstream industry over the past few quarters:
Improving returns have gone hand-in-hand with increasing free cash flow. Over the past four quarters, ENLC generated $485 million of free cash flow and a $289 million cash flow surplus. Combined with the $73 million of cash with which it entered the period and $5 million of asset sales, it paid down $185 million of debt, repurchased $57 million of common shares, and redeemed $101 million of its Series B preferred units while also making a smart $55 million bolt-on acquisition in the second quarter of 2021.
On the company's current $4.1 billion market cap, its $485 million of free cash flow equates to an 11.8% yield. If, instead, we use full-year 2021 figures, the $578 million of free cash flow it generated that year represents a 14.1% yield on its current market cap.
ENLC's 2021 and 2022 performance is a far cry from its past, when it sustained a massive cash-flow deficit that it funded by issuing debt and equity. Consider that from 2017 to 2019, ENLC generated a $2.0 billion cumulative cash flow deficit that it funded by issuing $1.5 billion of new debt, $400 million of preferred units, and $140 million of common stock.
The end result of this spending for shareholders by late 2019 was a plunging stock price and a dramatically reduced common dividend.
Nevertheless, the company did manage to grow free cash flow on a per-share basis over this timeframe, as shown by the black line in the chart below.
We expect ENLC's free cash flow to continue growing over the next few years as its Permian and Louisiana segments' throughput volumes increase. Importantly, we expect free cash flow to be channeled back to shareholders through dividend increases and share repurchases.
After all capital expenditures, ENLC covers its current $0.45 annual dividend by 2.2-times, ensuring that the current 5.3% yield on its stock is safe. If the company paid out all its free cash flow to shareholders over the past four quarters, its dividend would have been $1.00, more than double the current dividend, and the stock would yield 11.8%.
ENLC's high dividend coverage ratio makes it more likely that the dividend will be increased. The company's leverage ratio, which stood at 3.8-times at the end of the first quarter, is already below management's stated target of 3.9-times. Since we expect management to prioritize a cash flow surplus after preferred and common dividends, we don't expect dividends to be raised to pre-2020 levels. But we expect it to increase significantly from the current level over the coming quarters and years.
Valuation
We value ENLC shares in the range of $9.00 to $11.50. Our price target is the middle of the range, or $10.25. Our price target implies 20.6% upside from the current price of $8.50.
In our valuations, we assume the company allocates $250 million to debt paydown and approximately $50 million of share repurchases annually in 2022, 2023, and 2024. Debt stays flat thereafter, while repurchases fall to zero. From 2022 through 2026, Adj. EBITDA and free cash flow increase by 3.5% annually, while dividends increase by 5.0%.
Our EV/EBITDA valuation implies an 8.3% total return in 2022 that increases to 81.9% by year-end 2026.
Our valuation using free cash flow multiples implies a 12.3% return in 2022 when dividends are factored in. The implied return increases to 58.4% by year-end 2026.
Our discounted cash flow valuation, which assumes that 2022 free cash flow remains flat for ten years, indicates the shares are worth $11.54, for 36% upside from the current price.
Conclusion
We believe there is upside to our valuation if management allocates capital well. If ENLC's returns improve, the company's stock could obtain a higher multiple than the 8-times average that we used in our valuations. Higher dividends could also attract buyers. For instance, if the company were to dividend out 75% of our estimated 2022 free cash flow, the shares would trade at $11.46 to yield 7.5%, which would put the shares at the high end of our valuation range. It would represent 34.8% upside from the current price. We believe the stock could reach this level if repurchases continue when the stock is cheap and/or dividends are increased. Either way, we see far more upside and little fundamental downside for the stock. We currently own ENLC shares in our HFI Research MLPs Portfolio and rate them a Buy.