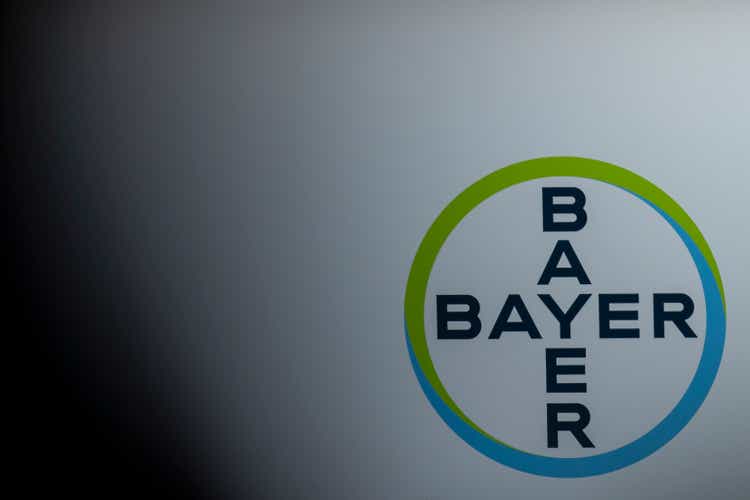 There are not many stocks that are up this year. But Bayer (OTCPK:BAYRY) stock is one of the few. While the market has lost some 20% YTD, Bayer stock has gained 20%. I argue the company will continue to outperform, as the stock is still ridiculously cheap vs peers and the importance of the Monsanto story finally appears to lose appeal. Personally, I value the company with a residual earnings valuation framework and calculate an implied target price of $22.03/share (approximately 45% upside).
About Bayer
Bayer AG is one of the world's largest "life-science" conglomerates. The company develops, manufactures and distributes healthcare and agriculture products such as aspirin, antibiotics, anti-infectives, cardiovascular drugs, central nervous system drugs, over-the-counter medications, diagnostics, and also crop protection solutions. Notable top-selling products are Xarelto, Canesten and Roundup. Bayer operates three key segments: Crop Science, Pharmaceuticals and Consumer Health. The Crop Science segment accounts for approximately 48% of Bayer's revenues and offers plant protection products and digital solutions. The Pharmaceutical division develops description drugs and accounts for about 42% of sales. Lastly, Consumer Health develops non-prescription (over-the-counter) drugs in the dermatology, nutrition, allergy, cough and cold, etc., and is roughly 12% of sales. From a geographical perspective, Bayer generates approximately 35% of sales in North America, around 30% in EMEA, about 20% in APAC and roughly 15% in Latin America.
The Opportunity
For a global company with such a strong global presence and portfolio of valuable intellectual property, Bayer stock is trading ridiculously cheap. With a $58.6 billion market cap, the stock company trades at x1.5 price-to-book, x8.35 price-to-earnings and x7.5 EV-EBITDA. Most notably, this is a considerable discount to EU large pharma industry peers, including Novartis (NVS), Sanofi (SNY), GSK (GSK), Roche (OTCQX:RHHBY) and AstraZeneca (AZN). Judged by a historical 2-year average industry valuation, Bayer trades at a price-to-earnings discount of 51% and a price-to-book discount of -68%!
But why is Bayer trading so cheap? In 2018 Bayer took over agrichemicals group Monsanto for over $63 billion. Shortly after, the company suffered from a wave of lawsuits that accused Monsanto's bestseller weedkiller Roundup to be cancerogenic. In that context, Bayer needed to set aside billions for potential legal liabilities – so far $16 billion. The legal liability is highly complex: approximately 107,000 of claims have been settled to date, while more than 30,000 claims are still outstanding. In the latest episode of the highly controversial Roundup liabilities, the US Supreme Court declined Bayer's petition for writ certiorari. Despite the negative US Supreme Court decision, the Monsanto narrative is finally improving. Investors realize that in the end the Monsanto litigation is manageable – even though costly – and Bayer as a company will survive. That said, after the announcement Bayer stock only lost 4% on the news.
Financially, Bayer is doing very well – apart from the ongoing lawsuits. In 2021 the company generated revenues of $53.93 billion and net income of $6.95 billion (12.9% margin). Cash from operation was in line with net-income at $7 billion. The company closed Q1 2022 with $9.08 billion of cash and cash equivalents and $47.12 billion of total debt.
Bayer's financial outlook is encouraging. Analyst consensus expects that Bayer will grow slightly stronger than GDP growth at 4% CAGR reaching revenues of $54.4 billion in 2025. EPS for 2022, 2023 and 2024 are expected at $2.03, $2.01 and $2.28. (Source: Bloomberg Terminal 01. July 2022)
Residual Earnings Valuation
While Bayer's multiples relative to peers point to a strong undervaluation, let us now look at Bayer's valuation in more detail. I have constructed a Residual Earnings framework based on the analyst consensus forecast for EPS 'till 2025, a WACC of 9% and a TV growth rate equal to nominal GDP growth. Although the effective cost of capital for Bayer is considerably below 9% (about 7% according to the Bloomberg terminal as of 01. July 2022), I think an adjustment upwards to 9% is reasonable, given the uncertainty due to the Monsanto litigation.
In addition, the long-term growth assumption equal to zero might definitely be an underestimation, in my opinion, but I prefer to be conservative. If investors might want to consider a different scenario, I have also enclosed a sensitivity analysis based on varying WACC and TV growth combination. For reference, red cells imply an overvaluation, while green cells imply an undervaluation as compared to Bayer's current valuation.
Based on the above assumptions, my valuation estimates a fair share price of $22.03/share, implying a 46.6% upside potential based on accounting fundamentals.
Risks
Although I think Bayer is significantly de-risked at the current valuation of about $50 billion market capitalization, the major headwind for the company is and will likely remain the Monsanto litigation. While the lawsuits should be manageable, and Bayer has set aside adequate funds for potential liabilities, the costs are still open-ended and uncertainty persists. However, one could argue that Monsanto is the opportunity, not the risk, as without the litigation investors would never be able to buy Bayer at such a cheap valuation. At this point I see the risk/reward skewed to the upside.
Conclusion
If investors look beyond the Monsanto litigations, they will find a globally leading life-sciences company with strong IP and an attractive market potential. At x1.5 price-to-book, x8.35 price-to-earnings and x7.5 EV-EBITDA, I see the stock as a bargain opportunity. In fact, a residual earnings valuation indicates more than 45% upside – based on a $22.03/share target price. Buy.