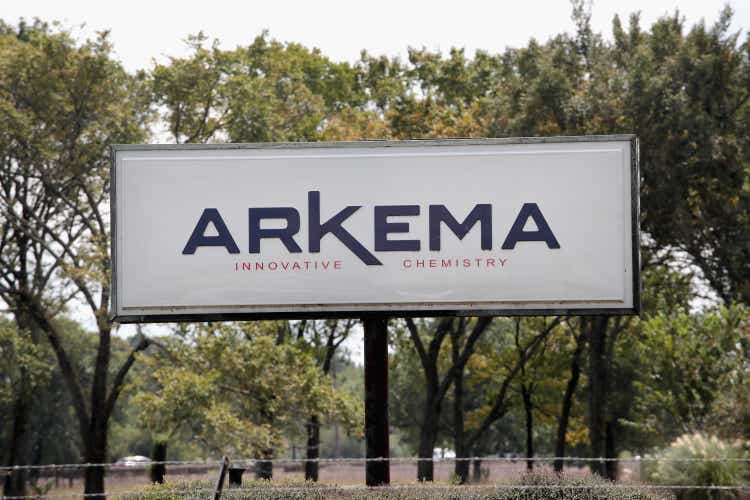 Within our EU chemical universe coverage, after having commented on BASF, Covestro, and Evonik, we are back to analyzing Arkema (OTCPK:ARKAF) (OTCPK:ARKAY). Here at the Lab, in early January 2023, we provided a buy rating target on the French specialty chemical player. This was based on 1) earnings defensiveness thanks to a solid balance sheet, 2) almost 65% of Arkema's total sales (not dependent on Europe), 3) compared to Covestro, the company was able to pass through costs, 4) the company's production output (not dedicated to soda ash production such as BASF and Solvay), and 5) a better EU environment on the energy cost (gas costs are significantly down compared to last year). As a reminder, last year, we decided to lower Arkema to equal weight and it was a good call. Here at the Lab, we know how cyclical companies work, and now our team believe that it is the right time to re-enter.
Why are we still positive?
Starting with the CEO's words, the current year "has begun in an economic context of weak demand, which requires Arkema to be strict in managing costs and working capital, while preparing for an improvement of the environment during the course of the second quarter". Well, we are not surprised to see this statement after having participated in BASF and Covestro analyst call. However, Arkema aims to achieve a 2023 EBITDA of €1.6 billion with a cash conversion rate of 40%. As a memo, in 2022, EBITDA to cash conversion reached 44.2%;
If we are estimating a maintenance CAPEX of 5% (in line with the company's historical average), the company has sufficient free cash flow generation to pay its dividend payment. If we are looking at our EU chemical coverage, Covestro decided to suspend its dividend payment, while BASF and Evonik decided to confirm the previous year-end payment. BASF will not have sufficient cash flow generation for CAPEX investment and dividend distribution and likely will increase its debt obligation (in a context of higher interest rates);
Related to Arkema's DPS evolution, in line with its policy, the company decided to increase its DPS to €3.40 per share from €3.0 paid in 2021. According to our calculation, this year, Arkema's cash out will be about €250 million. This demonstrated the company's financial ability and its strength despite a complex macroeconomic environment;
Compared to its closest peers, the French chemical player is even more safer, in detail, the company reported €2.36 billion in net debt including a hybrid bond of €700 million compared to consensus estimates of €2.5 billion. This represents a 1.1x net debt ratio on the last-twelve-months EBITDA and was supported by a record-high FCF generation that reached €933 million in 2022 versus the €756 million recorded in 2021. Management emphasized the company's strict working capital measurements;
More than one year ago, Arkema finalized Ashland's Performance Adhesives business, a US leader in high-performance adhesives with top-line sales of approximately $360 million and an EBITDA margin above 25%. Arkema paid 8.7x its implied 2026 EBITDA; however, this will represent a key takeaway for Bostik's expected synergies (evaluated in 12.5% of its turnover). And also, this will support Bostik's long-term growth ambition, allowing a core EBITDA margin above 17%.
Conclusion and Valuation
Having participated in the analyst Q&A call, 2023 volume will drag Arkema's accounts and this is mainly due to clients' higher inventories. Q4 output was already impacted by destocking activities following the construction market growth since the summer of 2020. The other segments (in particular Coating solutions and Intermediates) also reported lower volumes due to destocking, and there is no sign of improvement from the Q4 release and currently. The company's guidance is set for an EBITDA between €1.5 and 1.6 billion for the current year. Looking at the company's division, the Adhesives segment profits positively surprised in Q4 thanks to Ashland's latest acquisition (and its limited exposure to construction). Despite that, Mare Evidence Lab's EBITDA numbers are broadly unchanged over the 2024-2025 estimated period; however, on the next twelve months basis, we are now forecasting a lower EBITDA. The company is currently trading at an extremely low EV/EBITDA ratio (almost at 4.0x) compared to a 10-year historical average of 6.4x. If we are also looking at the five-year historical average EV/EBITDA of diversified peers such as Evonik and Solvay, Arkema is a clear buy. Considering a lower EBITDA at the company's midpoint guidance (€1.55 billion) and also its estimated deleverage, we still derive a valuation of €105 per share ($111 in ADR) (compared to our previous estimate of €110 per share). Risks to our target price include 1) M&A value destruction (in the Q&A call, the company reiterated its interest in Adhesives bolt-on acquisition) and lower for longer PVDF and acrylics prices.
Editor's Note: This article discusses one or more securities that do not trade on a major U.S. exchange. Please be aware of the risks associated with these stocks.