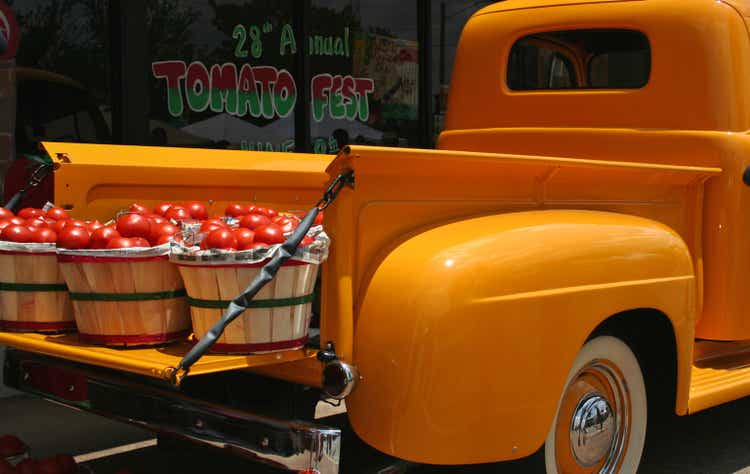 The implementation of new agricultural techniques in the middle of the 20th century would see global food production rise materially. The now widespread use of pesticides, fertilizers, and selectively bred varieties of high-yield crops would come to be called the Third Agricultural Revolution. This more efficient, and more industrialized farming technique would contribute to a wholesale reduction in global poverty whilst averting hunger for millions.
Now farming looks set to undergo its fourth revolution as advances in robotics and artificial intelligence look set to boost controlled environment agriculture to extreme levels of efficiency. AppHarvest (NASDAQ:APPH) is positioning itself at the vanguard of this with the development of some of the largest controlled environment agriculture facilities in the United States. The acquisition of Root AI and its Virgo harvesting robot in 2021 embedded enhanced techniques to the improvements to farming already presented by AppHarvest's controlled environment greenhouses. Fundamentally, the aggregation of these technologies will enable precision farming at scale. They present an intelligent way to evaluate crop health, accurately predict produce volume, and optimise the overall operations of AppHarvest's current Morehead, Kentucky facility.
This new iteration of farming will see food predictions based on data instead of daily rainfall, the design instead of natural disasters, and plant production instead of poor product. That said and for all the praises AppHarvest has received from bulls, its shares have struggled. At $3.59 they currently trade lower than its $8.85 52-week peak. Of course, the broader market for growth stocks in somewhat fringe and speculative sectors has collapsed as an inverting yield curve and hawkish FED led investors to dump riskier assets.
Revenue Comes In At The Lower End Of Guidance
AppHarvest recently reported earnings for its fiscal 2022 second quarter which saw revenue come in at $4.36 million, a growth of 39% over the year-ago quarter but a miss of $1.74 million on consensus estimates. This growth was driven by six million pounds of tomatoes sold during the quarter which had a net sales price of 72 cents per pound versus a net sales price of 36 cents per pound on 8.6 million pounds of tomatoes sold for $3.1 million in revenue during the comparative year-ago period.
Management stated that this growth was due to a stronger pricing market for tomato growers and a more favourable mix of premium tomatoes. Enhanced training and productivity improvements also helped boost revenue on the back of previous operational challenges the company faced with cultivating USDA grade No. 1 tomatoes.
AppHarvest recorded a net loss of $28.7 million during the quarter, down from $32 million in the year-ago quarter but still high relative to revenue. Essentially, AppHarvest losses $6.60 for every $1 in revenue brought in from tomato sales. However, cash burn from operations stood at $10.1 million, down significantly from $27.3 million in the year-ago quarter and just over a third of net loss.
Capital expenditure is of course ramping up as the company remains on track to open three new controlled environment agriculture facilities by year-end. This grew to reach $48.6 million, up sequentially from $39 million in the preceding quarter. AppHarvest expects its new facilities to all be operational within a few months with recruitment already started. Hence, the end of fiscal 2022 should see a quadrupling of farms and a diversification of its produce portfolio to include salad greens and berries. The 15-acre Berea salad greens facility is about 91% complete, the 60-acre Richmond tomato facility is 86% complete, and the 30-acre Somerset berry facility is 84% complete.
AppHarvest expects to be closer to the lower end of its guidance of between $20 million to $25 million in sales for fiscal 2022. This will likely mean the company underperforms consensus estimates for revenue of $26.6 million. Further, with adjusted EBITDA loss forecasted to be in the range of $80 million to $85 million, the company's cash position gets placed into focus. The deterioration of the capital markets has made raising capital through new equity offerings costly, an unfortunate outcome that has increased going concern risk for several other growth companies. With cash and equivalents of $51 million as of the end of the quarter and a further $50 million secured from a USDA-backed loan post-period end, the company's liquidity position is not entirely terrible.
Building A New Agricultural Revolution
The elephant in the room for AppHarvest is high net losses and a gross profit margin that is still negative. The company's previous operational struggles seemed to have peeled away but have been replaced with the reality of financing a cash-burning business entering into a commodity space where pricing power is driven by global supply and demand.
Whilst the changes the company is making to farming might seem inconsequential on the back of its financials, AI and robotics combined with controlled environment agriculture truly hold the promise of ushering in a new age of greatly enhanced farming yields. The importance of this cannot be understated in a world set to see an increased frequency of extreme weather events. AppHarvest should be watched, but I'd hold off on calling it a buy.