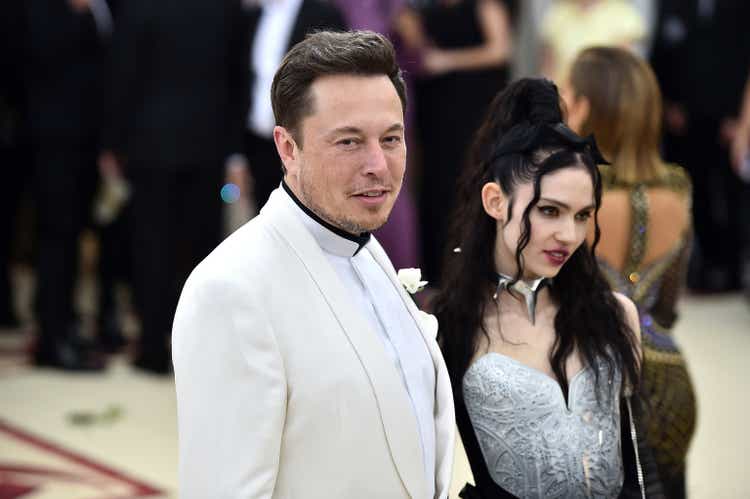 Twitter
You already know that two months ago, Twitter (NYSE:TWTR) agreed to Elon Musk's $44B, or $54.20/share buyout offer.
You already know that ever since this agreement, Musk is trying to get himself a better deal by describing Twitter bots as "very suspicious" and demanding "bot transparency" without which (he threatens) the deal can't move forward.
This tactic is aimed for Musk to either walk away from the Twitter deal or to get a lower price.
You already know that Twitter keeps saying that not only is the (original) deal on track, but the company remains committed to the agreed price.
What you may not know is that Musk can claim whatever he wants, but the (legal) reality is he can't walk away from the Twitter deal that easily as it might sound (listening to what he says).
Why so?
1) Legal aspect: Musk's lawyers claim that "This is a clear material breach of Twitter's obligations, actively resisting and thwarting his information rights" but the agreement doesn't require Twitter to provide detailed information on spam and fake accounts.
Musk didn't want or ask to do any extensive due diligence when the deal was announced. At the time, he was anxious to seal the deal as quickly as possible. Only later on, he raised the bots issue, although the topic was raised/discussed before the deal was signed (without Musk seeing it as an obstacle back then).
2) Technical aspect: Parag Agrawal, Twitter's CEO, made it clear that he "doesn't believe that this specific (bot) estimation can be performed externally, given the critical need to use both public and private information (which we can't share)."
Putting it differently, Musk is trying to use an issue that even if Twitter wishes to address (and it likely doesn't) it may not be able to.
3) Financial aspect: Musk can walk away from the deal only if he can't complete the financing (most of it he already secured) or get the required regulatory approvals. Even if he (eventually) links the bots issue to inability to secure financing, he would be liable to pay a $1B termination fee.
Pocket money, you may say, for someone whose total wealth is estimated to be well over $200B. True that, but let's not forget that Musk's total wealth has suffered a huge blow this year with Tesla (NASDAQ:TSLA) stock price nearly halving at some point.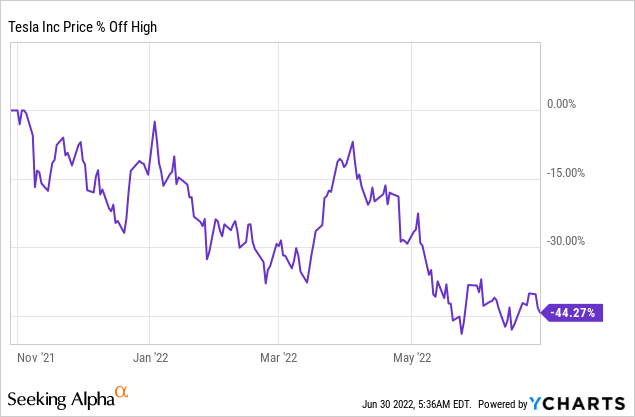 Moreover, a person's wealth – no matter how big it is – isn't necessarily liquid, and while we don't fear for Musk experiencing any difficulty paying $1B, we don't think he would be thrilled to throw away $1B "pocket money" under the current circumstances.
But perhaps more than anything, we simply don't think that Musk isn't interested anymore.
Musk isn't only a very wealthy person, but he's also a very powerful, vocal, political, and competitive person. He doesn't only love sharing his views and thoughts, but he's also actively promoting his ideology and vision. Owning a leading social media platform such as Twitter can certainly assist Musk in promoting his ideas and achieving his goals/aspirations (whatever they are) faster.
One of Musk's arch enemies is Amazon's (AMZN) Jeff Bezos, who is the owner of the Washington Post for nearly nine years.
Another arch enemy is Microsoft's (MSFT) Bill Gates who is getting a lot of "screen time" as part of his COVID-19 and Climate Change campaigns.
And let's not forget Meta Platforms' (META) Mark Zuckerberg who controls Facebook, Instagram, and WhatsApp.
We think that not only does Musk wish to be heard even more than he already is, but he also (perhaps mostly) wishes to have a meaningful media/communication "toy," just as some of his "World's Richest" buddies do.
Those who think that Musk has buyer's remorse are correct, but not about the deal rather about the price. He's trying whatever he can to get a reduction in price, and he may well succeed, especially if Twitter realizes that enforcing the (original) deal might put the company in a long, expensive, legal battle.
Frankly, we don't think either side (Musk or Twitter) is interested in a legal battle, and so it's only a matter of when (they agree on a final deal) not if (a buyout goes through).
Tesla
Instead of us convincing you why TSLA isn't a good investment right now, allow me to introduce to you someone who can do a much better job: Elon Musk.
In an interview with Tesla Owners Silicon Valley club that took place a month ago (on May 31) in Austin, Texas, he said the following:
"Berlin and Austin factories are gigantic money furnaces right now."
"It's really like a giant roaring sound, which is the sound of money on fire. Bigger than a dumpster, a dumpster's too small."
(The new car factories in Texas and Berlin are) "losing billions of dollars right now. There's a ton of expense and hardly any output."
So let me ask you: Why would you like to invest in a company that's bleeding money, with "a ton of expense and hardly any output!?"
Some of you are likely to say that China, where one-fourth of Tesla's revenue comes from, is a good reason to remain/become bullish. Following many months of restrictions, due to its zero COVID policy, China is (finally) reopening again, and in an attempt to revive its (struggling) economic growth, the country also is cutting the quarantine period for international travelers to 10 days.
Thing is, according to an internal memo seen by Reuters, Tesla is going to suspend most of its Shanghai plant's production during the first half of July in order to upgrade the site, aiming to produce 22k (up from 17K) cars/week (consisting of 8K Model 3s and 14K Model Ys) then after.
Tesla expects/hopes to compensate for the upgrade, as well as for the COVID-related delays, through a strong/er run rate (than Q2) for the rest of year.
Wall Street isn't (fully) buying into it and a slate of analysts have been lowering their expectations recently:
It's important to note that the lower expectations are touching each and every aspect of the company's operations:
Production
Deliveries
Margins
Revenue
EPS
Over the past seven weeks, revenue and EPS estimates for FY 2022 have been going down, something which is very unusual when it comes to Wall Street expectations out of Tesla.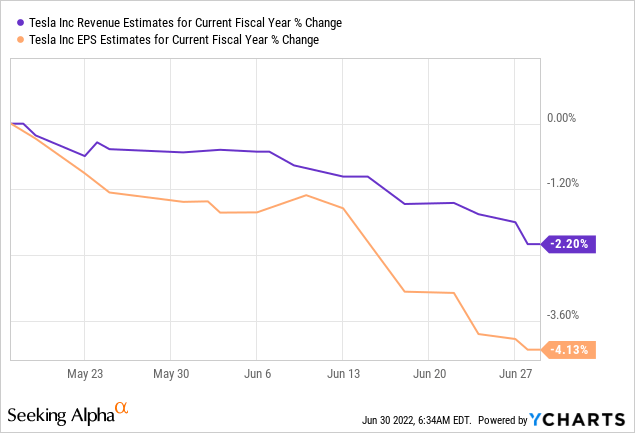 But the most acute problems are supply-chain disruptions (still) and the slowing economy.
Recall that in 2021, nearly all automakers suffered a massive blow in except for Tesla. According to the Wall Street Journal, "Tesla has emerged as one of the auto industry's biggest winners in a year plagued by semiconductor shortages and snarled global supply chains. It owes that success in some measure to its Silicon Valley roots."
Nonetheless, in 2022, things look different. Very different.
In spite of underlying demand for cars and trucks remains strong, it was Musk who said in early June that he has a "super bad feeling" about the economy, adding that Tesla needs to cut ~10% of its workforce.
To a certain extent, the auto industry is stuck in a vicious circle. The COVID-19 pandemic forced factory closures, contributing to semiconductor chip shortage that, in turn, further disrupted vehicle production.
Russia invading Ukraine has put more pressure on already stretched supply chains, resulting in greater shortages and (slowly but surely) slowing sales.
According to Wards Intelligence, May sales of new cars in the US were only 12.68M (annualized rate), well below the pre-COVID 17M level.
Supply chain disruptions, shortages, and lower production are affecting the supply side.
Slower economic growth, higher inflation, and recession fears are affecting the demand side.
When both sides of the "car" are being pressured at the same time, it's hard (and probably unwise) to be bullish on the auto industry, let alone on Tesla – a car-maker that doesn't manufacture cheap cars.
Very Interesting/Telling Divergence
Looking at SA Quant Rating for TWTR and TSLA, we can see that the overall score is practically identical, suggesting that both stocks are a "Hold."
Both stocks are getting an "F" on 'Valuation' (We will get to this later on), and "B" on 'Momentum'.
While Tesla is seen as a better pick when it comes to 'Profitability' (A+ for TSLA vs only C- for TWTR), Twitter is seen as having a slight edge when it comes to 'Growth' (A+ for TWTR vs A for TSLA) and 'Revisions' (A for TWTR vs B+ for TSLA).
We respect the Quant Rating, but one thing you must keep in mind about it is that it's only looking backward, not forward. Quant Ratings are based on the past, with no weight for future expectations or forecasts.
Since the Quant Ratings are anyhow identical for both stocks, let's move on and see other comparisons generated by Seeking Alpha ("SA").
Here, we find a very interesting divergence between analysts that write for SA to those who work on Wall Street.
On one hand, based on SA Author Rating, TWTR is a (much) better* pick than TSLA.
*A difference of 0.53 in the ratings is quite significant.
On the other hand, based on Wall Street Rating, TSLA is a (much) better* pick than TWTR.
*A difference of 0.65 in the ratings is quite significant.
This is quite a remarkable divergence.
We don't have the tools to examine this ourselves, but we believe that there aren't too many pairs of stocks with a market-cap greater than $30B, that the combined (SA Author + Wall Street) difference in ratings is 118+, as is the case here.
Which rating do you find more reliable? I don't know about you, but I must say that over the years I've come to appreciate SA Author ratings more than I trust Wall Street ratings for a very simple reason: No bias.
While the Wall Street analysts who cover stocks are subject to all sorts of (conflict of) interests, some more hidden than others – SA authors are "free birds" sort to speak, without any obligation/need to please anyone – be it their employer or the company they cover – aside from their readers.
This is particularly true about companies like Tesla that are important clients, generating a lot of fees to Wall Street. Without turning this article into a discussion about the inherited conflict of conflicts, let's just say that it's sometimes hard, even impossible, to issue a bearish analysis on a company for the sake of maintaining good relationships with that company and keep participating in the equity and debt issuance that it conducts every now and then.
Price Target
When it comes to Price Target, we can only rely on Wall Street because SA doesn't (yet?) collect such data from its authors.
In spite of Wall Street clearly preferring TSLA over TWTR, when it comes to Price Targets – there's a very small difference with the upside potential analysts see.
TWTR is seen as having ~29% upside potential.
TSLA is seen as having ~32% upside potential.
We have to keep in mind that when it comes to Tesla, analysts are lowering their expectations, subsequently price targets, as we speak.
As we already shown above, Wall Street is only starting to adjust its estimates for Tesla – and it's safe to assume that more downgrades are due.
If so, it won't be long before the upside potential of TWTR and TSLA is likely to be similar, even though Wall Street still loves the latter way more than the former.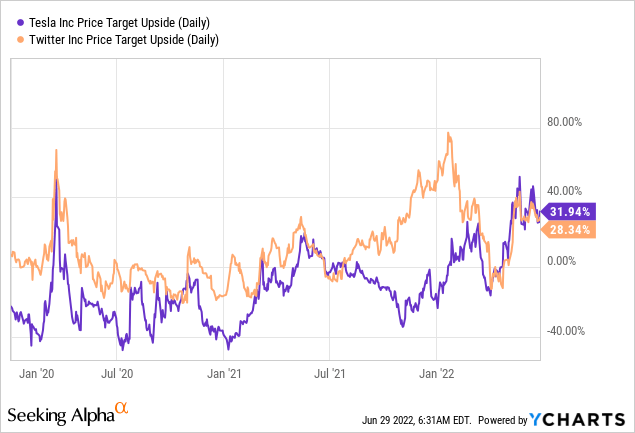 Another interesting difference is that while both stocks are trading over 20% below their respective price targets, TWTR is trading significantly above the (market price/price target) trough.
Only a few months ago, the stock was trading nearly 50% below where Wall Street analysts thought it deserved to be. Now, the gap is "only" ~21%.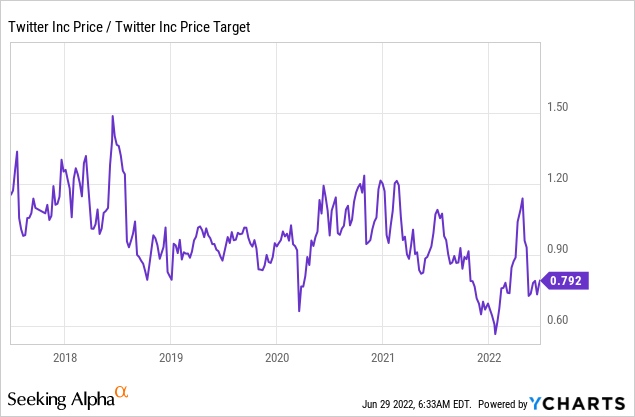 TSLA, on the other hand, is trading very close to the bottom, as long as we ignore the March 2020 episode of course.
Trading ~25% below the average price target is a rare thing for TSLA. As a matter of fact, TSLA tends to trade above the average price target most of the time.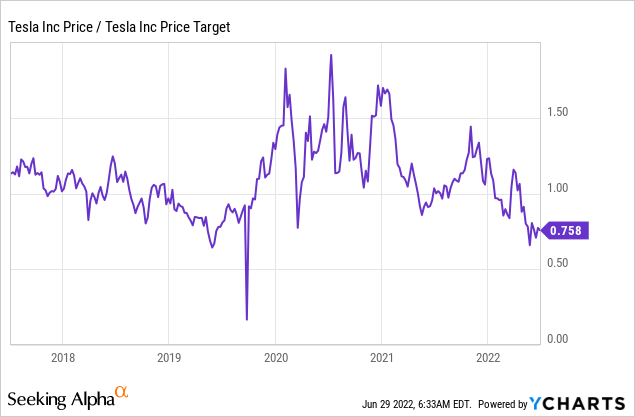 At least from that aspect, TSLA bulls should be encouraged.
Risks & Growth
We already touched upon the main risks that each company faces, but here's a comprehensive summary that clearly shows why TSLA is a riskier play than TWTR these days.
| | | |
| --- | --- | --- |
| | TSLA | TWTR |
| No TWTR Buyout | Positive | Limited risk (see hereinafter) |
| China | Risk and opportunity alike | N/A |
| Supply-Chains | Major risk | N/A |
| High Inflation | Major risk | N/A |
| Recession Fears | Major effect | Little effect |
| Retail / Demand | Major risk | N/A |
| Chip Shortage | Major effect | N/A |
| Midterms | Risk of less EV-friendly house | Potential for more advertising |
| Elon Musk-Time | Risk, if needs to focus on TWTR | Could be a bonus |
| TWTR Takeover | Might require stock sales | N/A |
| Oil Prices | High prices – good for EV | N/A |
| Profitability | Adjusting down | Improving |
| Profit Margins | Squeezing | Stable |
| Production | Lower than expected | N/A |
| Deliveries | Lower than expected | N/A |
| Competition | Increasing | Static |
| Users | Increasing | Increasing |
Q1/2022 was Twitter's best quarter in nearly two years, and we expect growth to remain strong with the tailwind of Midterms.
2021 was Tesla's best year since 2018 in terms of % growth, but we don't expect 2022 growth to be anywhere near doubling this year.
Six months ago, there were expectations that Tesla might be in position to deliver as many as 1.7M vehicles in 2022, perhaps even making another double on a very bright day.
However, those expectations have been cut back significantly to only ~1.4M with Mizuho Securities seeing as low as 1.25M deliveries.
If so, 2022 might become the year with lowest % growth Tesla has ever witnessed!
Valuation
P/E Ratio:
Both TWTR and TSLA are profitable companies, but TWTR has a longer track record of being a profitable company than TSLA.
Although TWTR's multiple hover in the mid 20s-low 30x, it's still about half that of TSLA.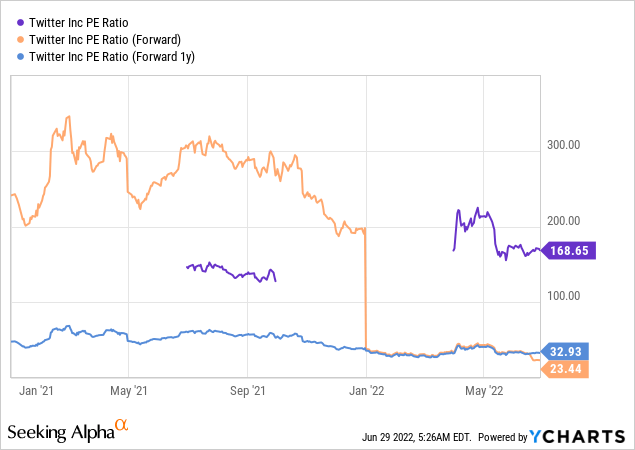 Even if in 2024 current expectations regarding the two companies' multiples (TSLA ~45x and TWTR ~33x) become true, TWTR would remain the cheaper pick from that aspect.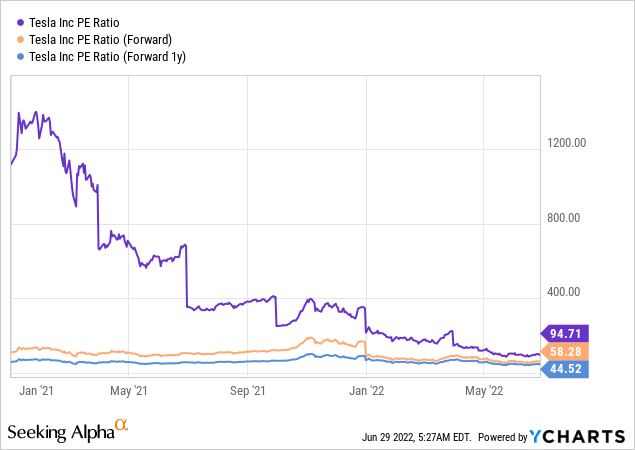 P/S Ratio:
It's a very similar situation here too, with TWTR P/S multiple about half that of TSLA.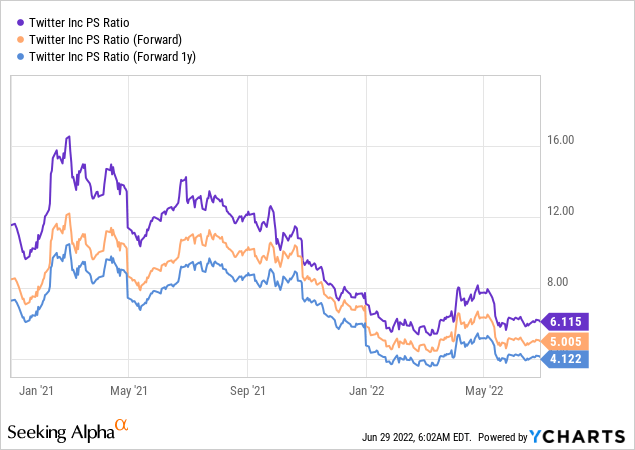 Even if in 2024 current expectations regarding the two companies' multiples (TSLA ~6.3x and TWTR ~4.1x) become true, TWTR would remain the cheaper pick from that aspect.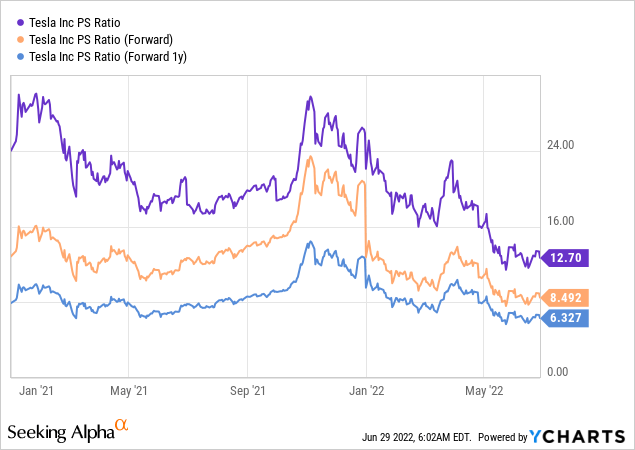 EV to EBITDA:
Once again, there's a long way for Tesla to go before it reaches Twitter's valuation based on EV/EBITDA.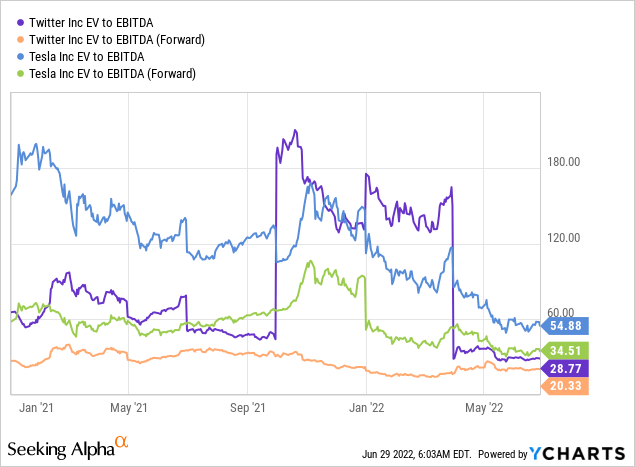 Even before we dive into the price targets we set for the two companies, we can see that not only Twitter's prospects are currently brighter than Tesla, but TWTR is cheaper than TSLA, even before we account for the greater risks and challenges that Tesla is facing these days.
Downside Risk/Upside Potential
When it comes to TWTR, there's little logic in setting a price target when there's an agreement to buy the company for $54.20/share.
Obviously, the upside is not greater than this, but even without the buyout offer, we believe that TWTR is worth ~$47 at the very minimum.
We set the company's five-year EPS trajectory/target at ~$1.5-$1.60 and applying a 30x multiple gets us to a price target of $45-$48.
We lean toward the higher end of the range (thus the $47) based on the previous peaks that the stock made in 2018 and 2019.
Don't be mistaken: $47 isn't a "price target" per-se, rather us claiming that with or without Musk, TWTR deserves to trade closer to $50 than to $40 solely based on its own merits, potential, and growth.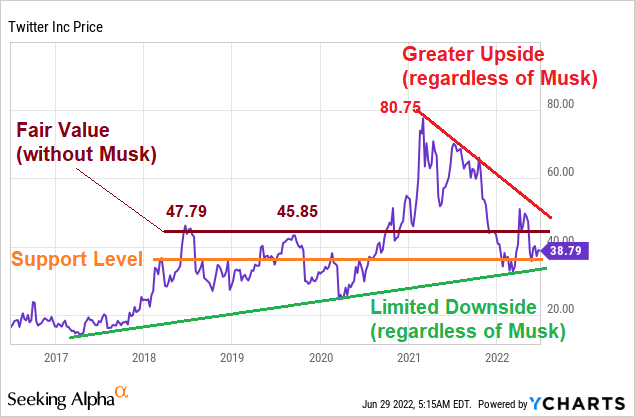 In addition, we believe that TWTR has limited downside risk from here, with the stock likely getting support in the mid 30s (orange line), surely in the low 30s, where the long-term rising (green) line waits and remains intact.
An upside potential of ~30% versus a downside of ~10% sounds like a good deal for us.
As for TSLA, we're obviously less positive.
Not only is the company share price on a clear down-trending trajectory, but the near future isn't looking promising, and there's way more bad news than good news coming Tesla shareholders' way.
On the other hand, the stock has already halved, and we have a non-official rule for large-, surely mega-, caps: "Halving calls for buying."
Are we going to apply this rule on Tesla? No, we don't. But we also don't think that another halving from here is in the cards, unless a deep and long recession is upon us.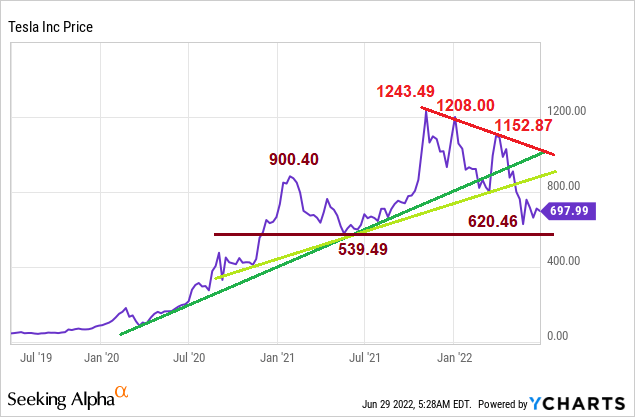 Any meaningful move up (which we don't expect) is likely to meet resistance at the round $800 (the temporary bottom the stock found earlier this year) and then $900 (early 2021 peak) levels. This implies an upside of ~15%-30%.
The downside, however, may see TSLA falling all the way to (at least) last year's low of $539.49, implying a 23% downside.
An upside potential that isn't higher than the downside risk is making TSLA an unattractive investment at this point in time.
Verdict
If you measure TWTR and TSLA based on things we already know – you'll end up thinking they are quite similar in terms of Ratings, Factor Grades, and/or Quant Ranking.
Based on these metrics, neither TWTR is looking too sexy…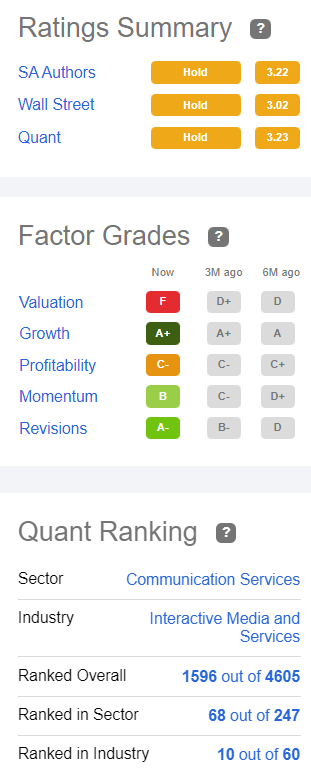 …nor TSLA.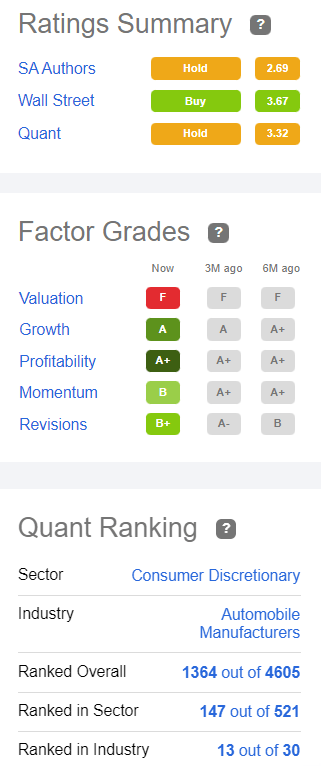 Therefore, we must try to look into the future, make assumptions, and try to come up with the best projections based on our forecasts.
This is exactly what investing is about.
The past is important, but the future is way more relevant.
When we look at Tesla over the next 6-12 months, we mostly see challenges and threats.
When we look at Twitter over the next 6-12 months, we mostly see opportunities and potential.
Even if to a certain extent he is also a liability, Musk is undoubtedly an asset for any company he gets involved with. Similarly, any company that he becomes less involved with is likely going to suffer.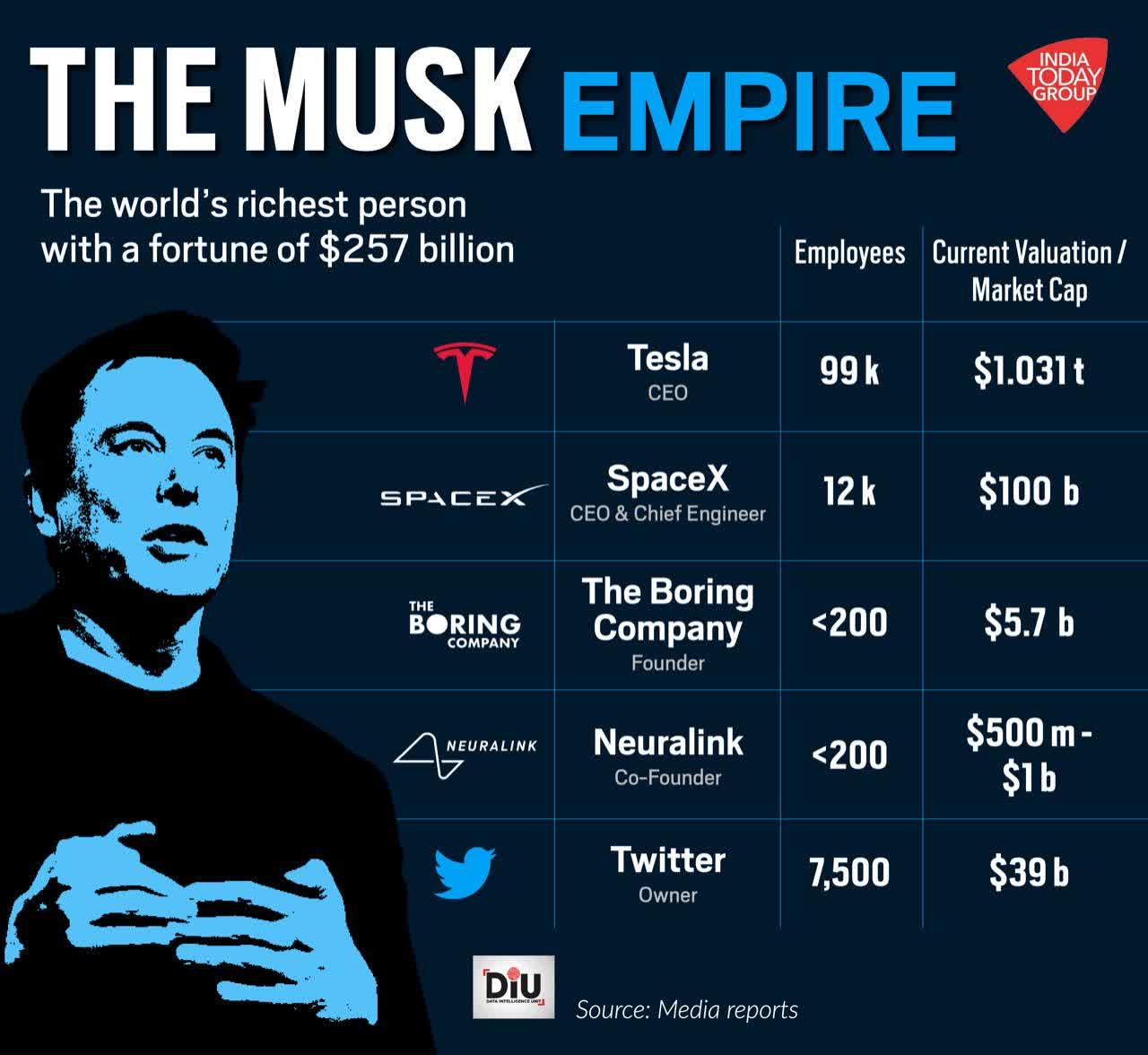 Without getting (or guessing) into the exact price tag that the Twitter takeover is going to get, we believe that eventually the parties will seal a deal. And if that's the case, it's safe to assume that Musk will get more involved with Twitter and less involved with Tesla. As a result, we expect TWTR to rise (to the agreed buyout price) and TSLA to lose more steam.
But there's more to it than "just" Musk.
On one hand, we have a company (Tesla) that's facing serious operating challenges that are taking a toll on the growth trajectory and upcoming financial results.
On the other hand, we have a company (Twitter) that is getting more and more attention, and is heading into what is likely to become a very important battleground (Midterms) ahead of the US 2024 Presidential Elections.
We choose Twitter.
We stay away from Tesla.
Pair Trade
For the sake of this article, we suggest a pair trade: Long TWTR + Short TSLA.
We suggest starting this trade at a TSLA/TWTR ratio of 18x or better.
Note that the $$$ amounts on both sides of the trade should be equal, no matter what is the exact ratio at the time of trading.
Here's an example (using a ratio of exactly 18x):
For the sake of simplicity, let's assume that Tesla (TSLA) trades at $720 and Twitter (TWTR) trades at $40.
The TSLA/TWTR ratio is exactly 18x (=720/40)
For every 1 share of TSLA that we sell short (for $720) we buy 18 shares of TWTR (for $40 each).
Note that basically, this is a zero-sum trade because the amount we pay (for buying TWTR) is fully covered by the amount we get (for selling TSLA).
Under perfect conditions, we believe that the ratio has a potential to move from 18x to as low as 10x, or even 9x.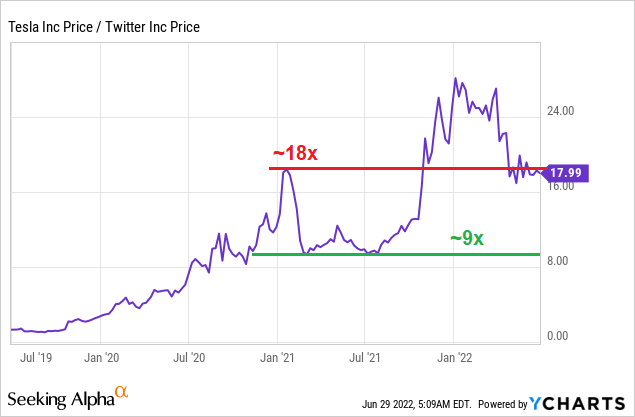 What are "perfect conditions"?
Musk buys Twitter for $54.20/share, per the signed agreement.
TSLA retests its 2021 low at $539.49
In such case, TSLA/TWTR ratio would be 539.49/54.20 = 9.95
And if we get another 10% bonus (by TSLA moving down further), the 9.95x ratio could turn into 9x, a ratio that was met twice during 2021.