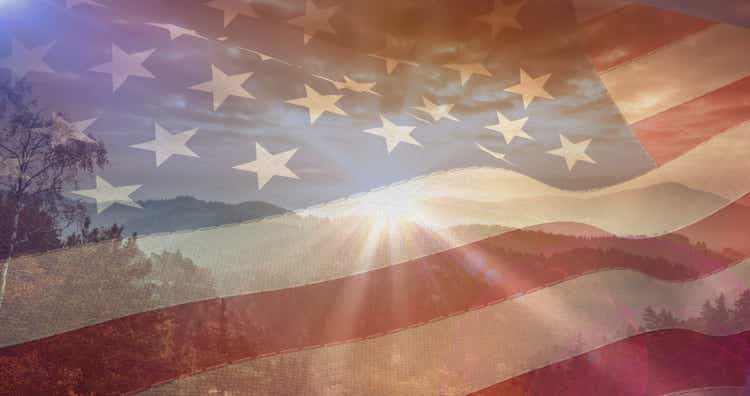 Through Thick and Thin
There are many ways to quantify successful companies. To find them, look no further than areas of the market that stand the test of time. Often, these companies are ingrained in our common history or culture and can be found transcribed in our memory through song. One example of this is the song American Remains from the second Highwayman album. As a supergroup containing country legends – Johnny Cash, Waylon Jennings, Willie Nelson, and Kris Kristofferson – this song, and others, tell the tale of 19th and 20th century American culture, good and bad. The song's message, and importance for investing, can be understood through the chorus.
We are heroes of the homeland, American remains.

We live in many faces and answer many names.

We will not be forgotten, we won't be left behind.

Our memories live on in mortal minds.
The key to longevity is through our collective memories. As a huge, diverse country, investors are able to take advantage of both the newest innovations and the everlasting legacy holders. For those looking for companies that will stand the test of time and remain successful in the future, look no further than the areas covered by this song. First, one of the most important areas of our modern society, the railroads, or backbone of the nation.
I am a shotgun rider for the San Jacinto line,

The desert is my brother, my skin is cracked and dry.

I was riding on a folk coach and everything was fine,

'Til we took a shorter road to save some time.

The bandits only fired once, they shot me in the chest.

They may have wounded me but they'll never get the best,

Of better men:

'Cos I'll ride again.
Railroads are often at the heart of American history, especially in regards to the Wild West and the development of our modern society. Because of this, the railroads we see today are the same as back in the 19th century. For investors, this means nothing else than an investment in Union Pacific (UNP). Originally founded in 1862, Union Pacific has now earned a spot as half of the US railroad duopoly with BNSF (BRK.A) (BRK.B). This has been thanks to strong financial performance, infrastructure spanning 23 states, and various acquisitions and mergers. Apart from a few volatile market phases in the early era of the railroads, Union Pacific provided at least 100 years of exponential share price growth. You know the company is old when financial data is not represented on investment websites.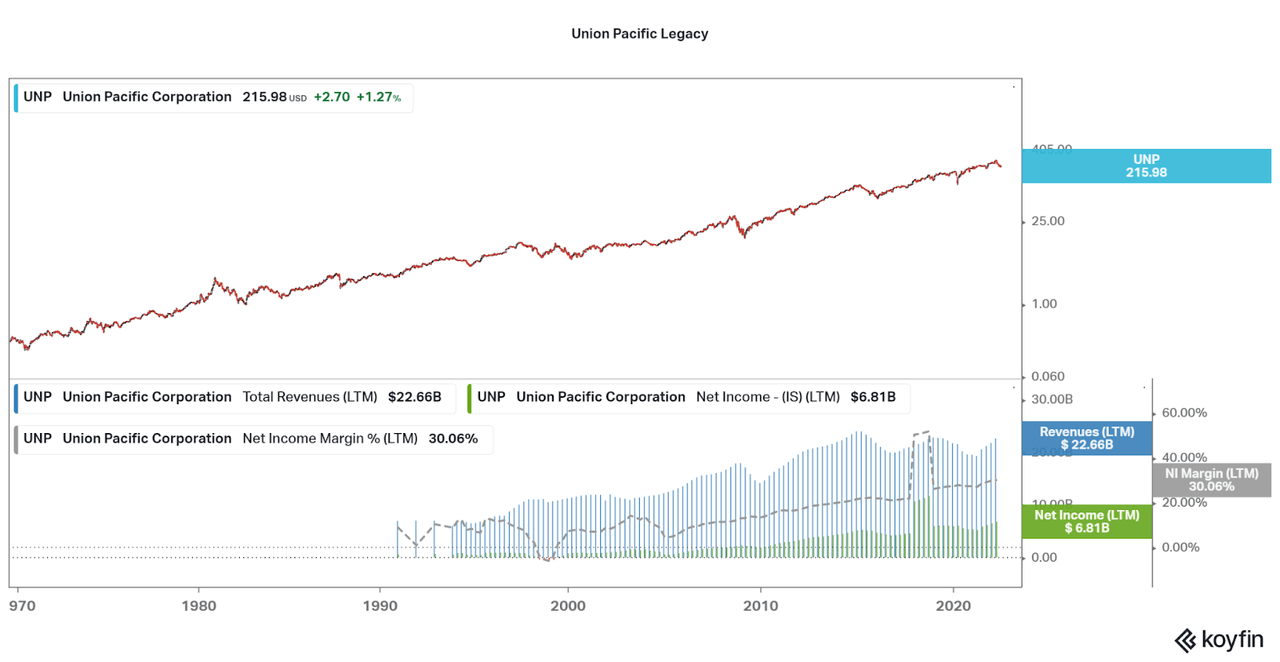 After the first verse that focuses on the legacy and longevity of railroads, comes a second paragraph on gambling. While certainly not an American phenomenon, iconic regions of our country – Las Vegas, Jersey Shore, etc. – all owe a significant amount of thanks to the love for gambling. Unfortunately, this is a weaker area of a market, one that seems to fall and rise again like a phoenix:
I am a river gambler, I make a livin' dealin' cards.

My clothes are smooth and honest, my heart is cold and hard.

I was shufflin' for some delta boys on a boat for New Orleans,

I was the greatest shark they'd ever seen.

But the Captain bumped a sandbar, and an ace fell from my sleeve.

They threw me overboard as I swore I didn't cheat,

But I could swim:

And I'll ride again.
While gambling will always remain, the investments take on more risk. I am sure many investors may like to take a little gamble on their investment as well. Industry stalwart Las Vegas Sands (LVS) took a beating through the Great Financial Crisis, but now owns over $27 billion in property around the world. However, the company is now focused on Macao and Singapore, not very American.
For those looking to take advantage of an American love of gambling, perhaps the new REIT-focus provided by VICI (VICI) who owns real estate in Vegas, California, and the Eastern Seaboard thanks to purchases from Caesars (CZR) and MGM (MGM). The company offers a more growth oriented REIT investment but certainly faces risk due to consumer spending and the overall health of resort operators. Also, Penn National Gaming (PENN) is a diversified operator with casinos, resorts, and racetracks around the US. While the share price has been volatile the last year, growth has been relatively stable for the at least 10 years.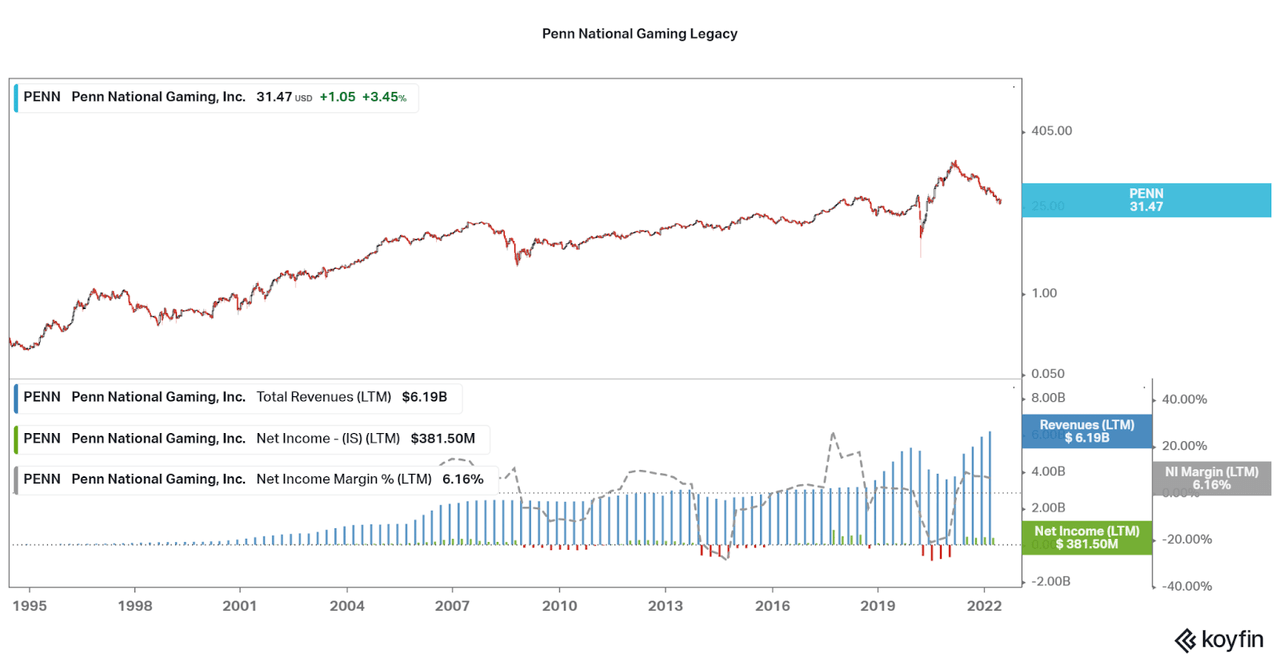 While gambling certainly is a lasting, but volatile part of history, the third verse is one of the most important: agriculture. Ever since the first use of agricultural equipment over four thousand years ago along the Nile river, agriculture has been a defining part of modern global culture. The US has also had a tremendous role in regards to agriculture over the past two and a half centuries, and will remain an important part of our society. Perhaps buy some lemons from US-based lemon grower, Limoneira (LMNR), for that iconic July 4th lemonade.
I am a mid-west farmer, I make a livin' off the land,

I ride a John Deere tractor, I'm a liberated man.

But the rain it hasn't fallen, since the middle of July,

And if it don't come soon my crops will die.

The bank man says he likes me, but there's nothin' he can do.

He tells me that he's comin' but the clouds are comin' too.

He ain't my friend:

And I'll ride again.
For the first time, we see a company directly mentioned in the song: John Deere (DE). Like Union Pacific, Deere is one of the most famous and influential companies in the country. This inherently leads to stable and everlasting financial performance. However, the verse also discusses one area of the market to avoid as they "ain't [our] friend": the banks. While important, banks have often been at the forefront of the negative phases of our history as economic weakness and depressions lead to families losing their hard-earned savings. In fact, I found an article here on SA from 2008, with a damning return history being reflected on the right side of the page.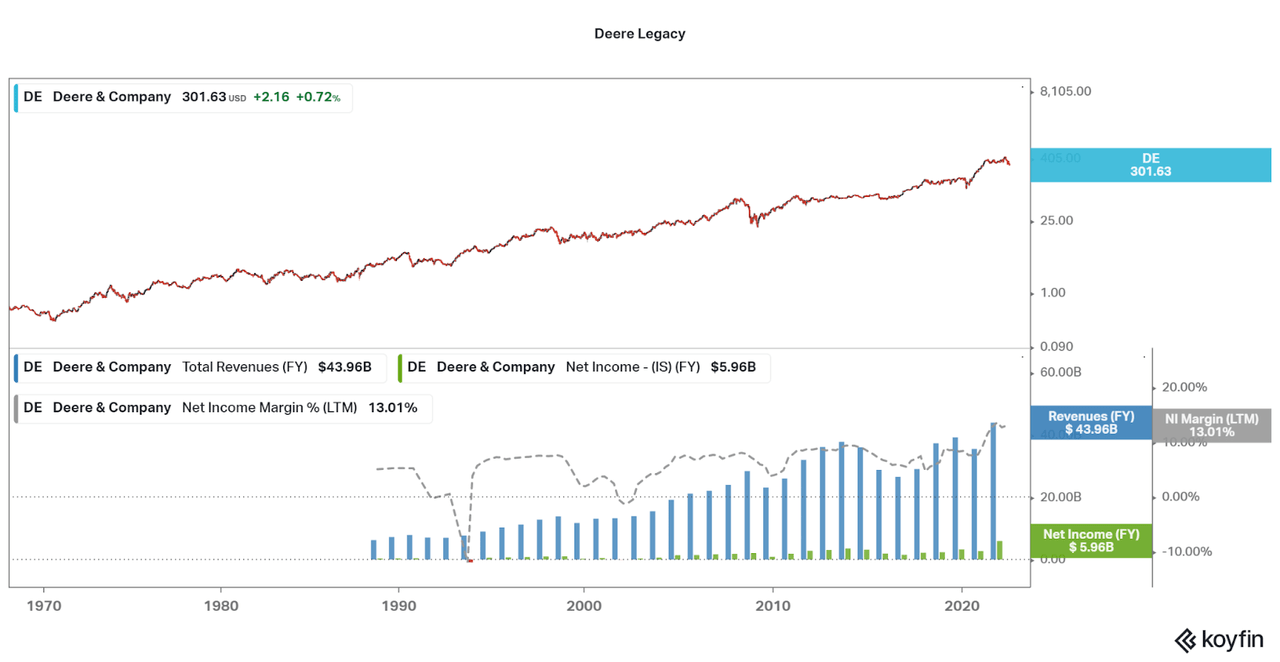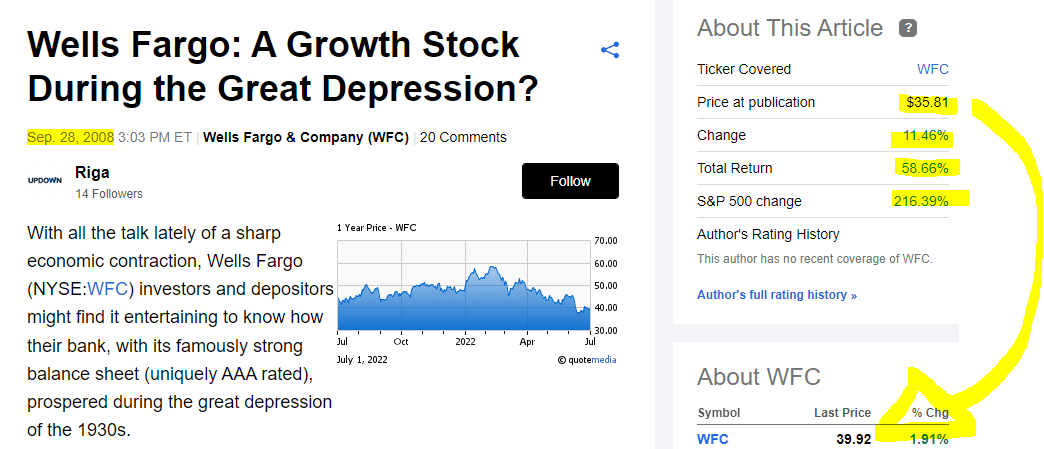 I believe the last verse can be combined with the verse on agriculture. Discussing the importance of maintaining a healthy landscape, the verse discusses how colonization and industrialization hurt the North American land. We as a population rely on favorable climate and environmental health to drive healthy population growth through agriculture and water. However, those groups that try to take advantage of nature fail to survive and nature will always win.
I am an American Indian, my tribe is Cherokee.

My forefathers loved this land they left it here for me.

But the white man came with boats and trains and dirty factories,

An' poisoned my existence with his deeds.

Nature is our mother, we are sucklings at her breast.

And he who tries to beat her down will lose her to the rest.

They'll never win;

I'll ride again.
There are multiple investments we can consider in this regard. What first came to my mind are agriculture operators and landowners such as Archer-Daniels-Midland (ADM), Gladstone Land (LAND), and Farmland Partners (FPI). These companies rely on good (or predictable) weather, rather than the current phase of volatile weather patterns. It can also be assumed to avoid industries that do not offer sustainable operations or harm the environment. Thankfully, over the past 50 years, the US has done well to improve the quality of our businesses and impacts, especially over the past decade. I write about a range of companies doing their part to reduce their own, or other company's environmental impacts, so be sure to read them if this interests you. It is not all ESG nonsense!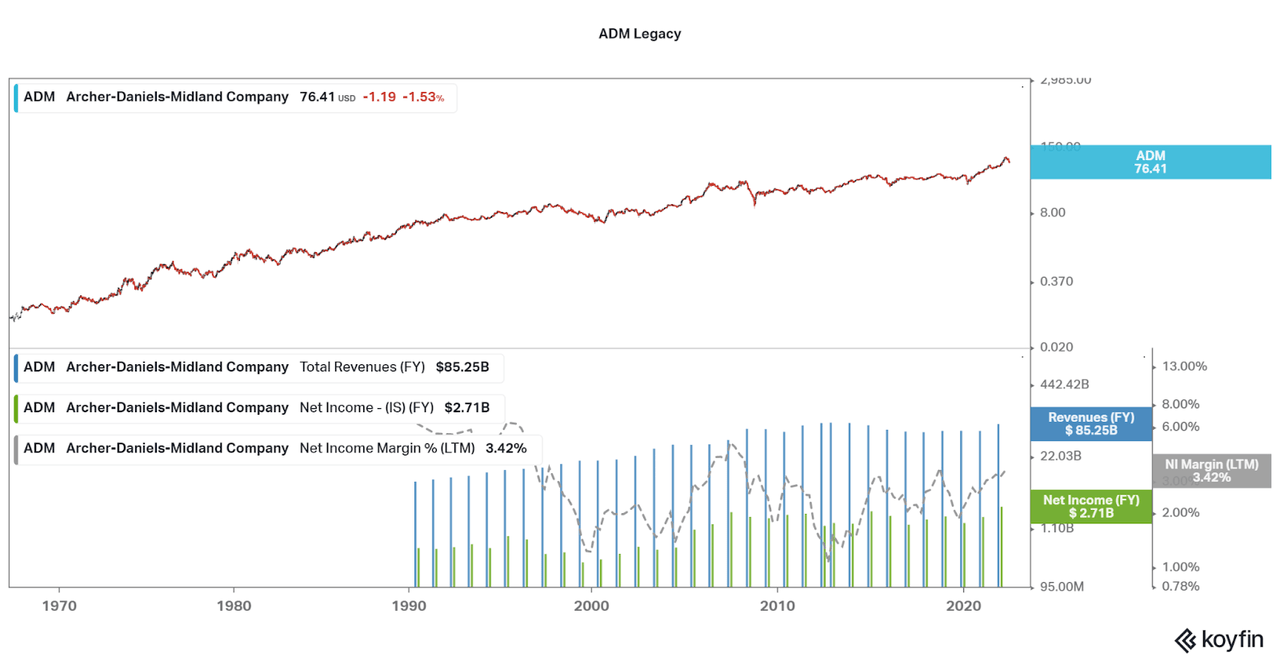 As shown in the combined total return chart below, significant long-term returns can be seen when investing in iconic, prominent companies. For investors, it will also be important to assess who will fall out of contention or join the collective legacy companies for now and in the future. This may mean looking for a moat, such as how Union Pacific is part of a railroad duopoly, or how Deere is the leader in farming equipment. Outside of the topics discussed in this song, there are other companies to be considered as part of the American Spirit in a similar manner. It is up to the country to determine whether that title lasts.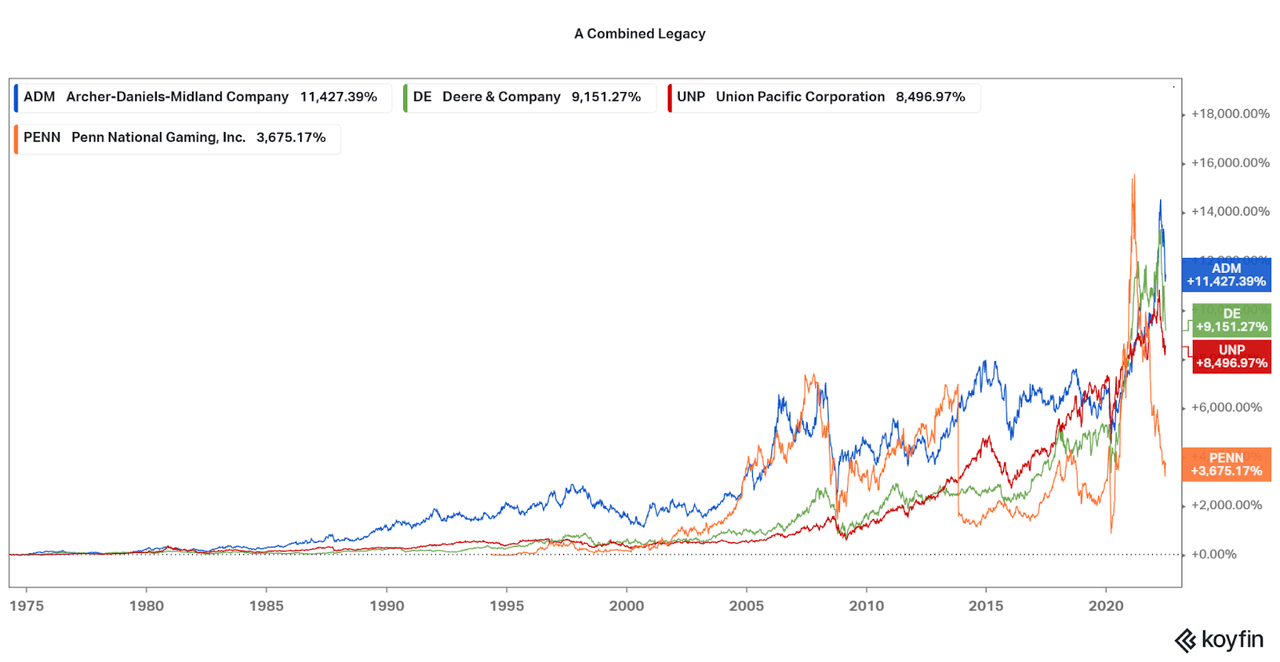 I think I will stick with ADM, Deere, and Union Pacific. Enjoy your 4th of July holiday.