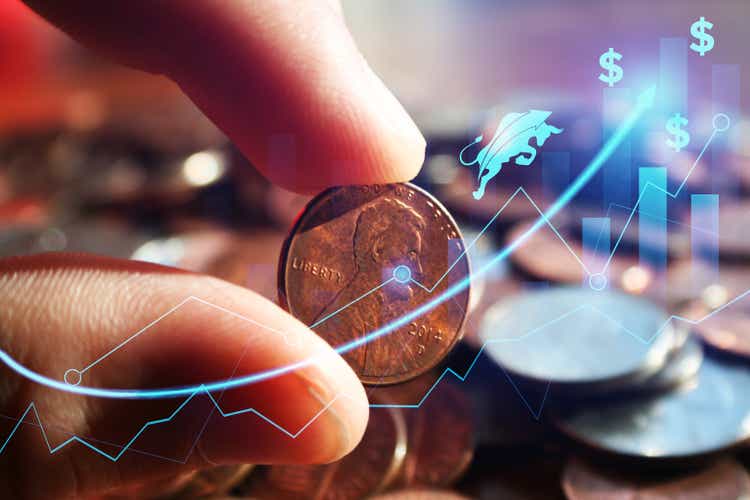 A Look Ahead at Small-Cap Stocks in 2022
Fear of what's in store for the future has created a pullback in the markets, creating potential buying opportunities for investors. For more than a decade, small-cap stocks have outperformed large-cap stocks, and according to Goldman Sachs analysts, "We believe small-cap stocks can continue to outperform in 2022. The expectation for earnings growth of Russell 2000 companies in 2022 is 30%, well above the 9% forecast for the S&P 500." Our favorite picks throughout this article are all Strong Buys, selected from the Seeking Alpha screen called Top Stocks Under $10. While I generally do not recommend stocks under $10, the key to smart investing is identifying stocks that possess strong fundamentals and, in this case, are coupled with low prices. Although this screen is currently heavily weighted with energy stocks, our intent of the recommendations is to offer a diversified base of stocks under $10.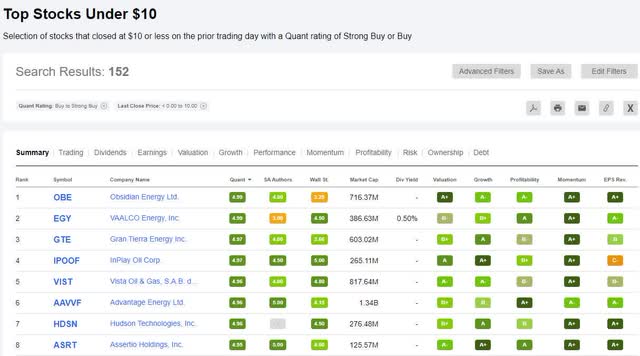 5 Cheap Stocks Under $10 To Invest In
Small-Cap stocks are smaller-sized companies with a market capitalization between $300 million and $2 billion, offering excellent opportunities for long-term growth. Because they are smaller in size and come with increased volatility and responsibility, they are among the riskiest of U.S. equity asset classes.
Small-caps tend to go through high growth periods and typically have higher leverage. Small-cap stocks with a lot of leverage tend to sell off sharply when threatened by rising interest rates. Additionally, small-caps typically sell off more from a day-to-day trading perspective than large-cap stocks when the market begins to enter a slowdown, recession, or contraction. As a result, stocks under $10 are not an investment for everyone, particularly the risk-averse, given their volatility. However, small-caps have outperformed large-cap stocks over long periods, which is why I wrote a Forbes article on the subject a few years ago. Although past performance is not a guarantee of future results, some of my small-cap picks have paid out handsomely over the last year based on our Quant System. The key is finding companies with the attractive collective financial traits we seek; solid valuation, strong growth, EPS revisions, profitability, and momentum. These essential qualities are currently found in my top 5 stocks under $10 to buy now.
1. Assertio Holdings, Inc. (NASDAQ:ASRT)
Specialty pharmaceutical company Assertio Holdings, Inc. (ASRT) is crushing the healthcare industry and, according to our Quant Rankings, ranks #1 in the industry out of 202 and #2 in its sector. After years of declining revenues, this company is on the upward trend, following three guidance raises and strong growth and profitability. "We expect to generate net product sales of $126 million to $136 million and adjusted EBITDA of $64 million to $72 million in 2022. This represents growth of 15% to 24% on the top line and 31% to 47% in EBITDA," said Daniel Peisert, ASRT President and CEO, during the Q4 Earnings Call.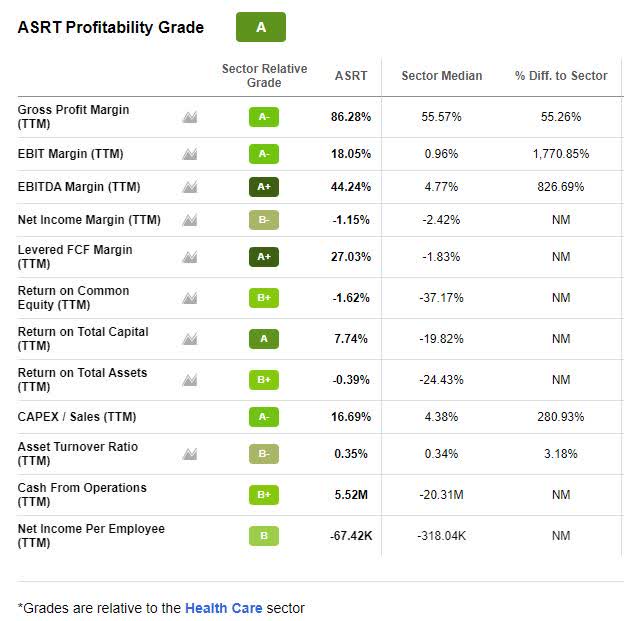 After implementing a digital strategy whereby ASRT restructured, got rid of its salesforce, and focused only on a digital sales model, it successfully sold its financially draining opioid business Nucynta, ASRT is cashing in. After nine months, drugs sales increased from $62M to $77.2M without its former salesforce.
ASRT possesses an A+ growth grade, and Q4 2021 delivered top-line growth of 7% despite its discontinuation of a product line, and adjusted EBITDA reflects an increase of 118% compared to the previous year. Given the strong profitability and growth figures, ASRT has an A+ revisions grade, and momentum is bullish as investors continue to drive the price higher. As shown in the below momentum grades, this stock has excellent price-performance and is handily outperforming its sector peers.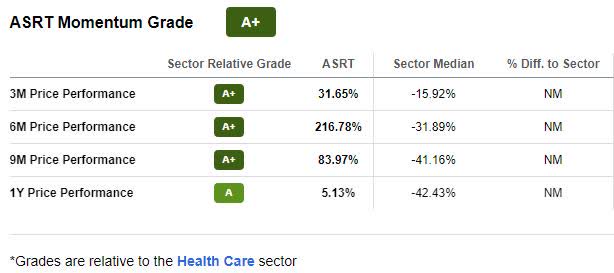 The stock's price is very appealing, trading at less than $3/share, so we'll dive into its valuation.
ASRT Valuation
ASRT's valuation grade is an A- and YTD, we've seen an increase of 6% in its share price. In addition, ASRT is trading more than 70% below its sector peers with an 8.20x forward P/E ratio, and its overall underlying valuation metrics are also outperforming its peers, as evidenced by the below figures.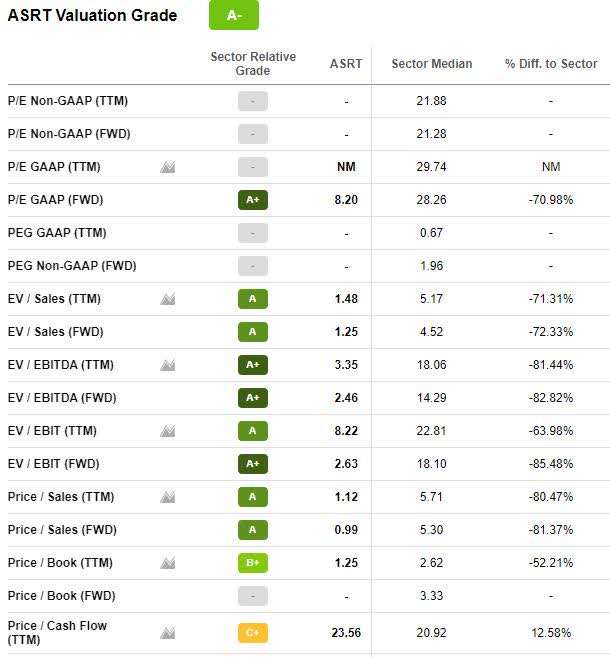 If you haven't gotten in on the action with this stock, especially if you're looking for a reasonably priced company in the healthcare sector, ASRT is a strong buy to consider.
I wrote about InPlay Oil Corp. (OTCQX:IPOOF) earlier this year in a piece titled Top 5 Energy Stocks To Buy, and since its February publication and price of $2.58/share, the stock has increased more than 15%.
A micro-cap energy, oil, and gas exploration company, IPOOF is a unique stock given its size and overall metrics, great potential, and strong factor grades. Looking at its one-year price performance, the company appears to be in a bullish trend, with no signs of slowing.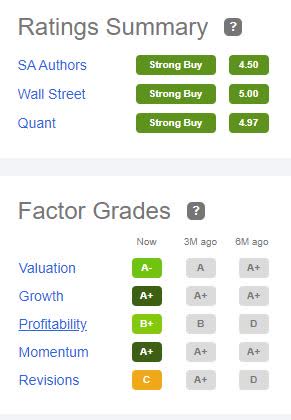 With an A- overall valuation, IPOOF's YTD price increase of +64%, and a one-year increase of +604%, this stock has exciting potential. According to SM Investor, using the Discounted Free Cash Flow (DCF) model to evaluate its price, he believes InPlay has an estimated fair value of $5.29. The current P/E ratio of 2.41x indicates that the stock is trading 84% below the sector. In addition, IPOOF has a strong EV/EBITDA ratio at -57.65% below the sector. If IPOOF's value is not enough to convince you, let's look at its incredible growth and profitability.
IPOOF Growth and Profitability

IPOOF has an A+ overall growth grade for the underlying metrics. Its YoY EBITDA Growth of 520.55% is beyond impressive, with record Q3 production averaging 6,011 boe/d, 61% higher than its 2020 Q3 results. The latest earnings announcement was in line with projections. The annual output of 5,768 boe/d increased by 45% from 2020, with an average yearly production per weighted average basic share increase of 31%.

IPOOF's gross profit margins are up 71.29%, indicating that the company is producing more profit over costs. The current EBITDA Margin is up 51.65%, and the company has reduced operating expenses from $14.43/boe in 2020 to a record $12.83/boe for 2021. Given its stellar performance over the last year, here's an excerpt from the company's outlook and message to its shareholders:
The Company exited 2021 in its best operational and financial position to date. The disciplined and measured steps taken during 2020 and 2021 allowed us to implement a strategy focused on measured growth combined with generating strong free adjusted funds flow once oil prices began to recover in mid-2021. InPlay initially directed its free adjusted funds flow to debt reduction, ensuring a strong and sustainable balance sheet from which to grow the Company… InPlay is forecasting 2022 to be another record year for the Company, and reiterates its previously announced January 12, 2022, average production guidance of 8,900 to 9,400 boe/d.
IPOOF Momentum
The overall fundamentals and momentum are tremendous, and trading volume is positive, indicating that momentum should continue.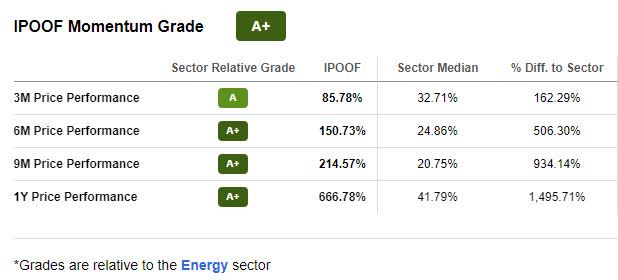 In a press release to start the new year, Doug Bartole, President and CEO of InPlay, commented:
InPlay was the third-best performer on the OTCQX Best Market based on 2021 total return and average daily dollar volume growth… Looking forward, we are more excited than ever as InPlay has positioned itself in its strongest financial and operational position to date. We remain committed to delivering disciplined growth and strong returns to our shareholders.
Another small-cap energy stock with excellent fundamentals is VAALCO Energy, our next stock pick.
3. VAALCO Energy, Inc. (NYSE:EGY)
Houston, Texas based VAALCO Energy (EGY) is in the business of hydrocarbon, crude oil, and natural gas exploration and production. An independent micro-cap oil producer in the current economic environment, we've selected this energy company not only for the value of this sector and the stellar performance for the last few years but especially amid rising energy prices. We believe this stock is longer-term bullish and will continue to outperform the peers in its sector and the S&P 500.

As you can see in the chart above, EGY is performing well relative to its peers and the S&P 500, with IPOOF, my #2 previous pick, leading the way. These stocks come at a significant discount, and EGY's underlying valuation metrics are solid.
EGY Valuation
VAALCO Energy is currently trading at a B- valuation; forward P/E ratios are an A+ at 3.89x, 61.59% below its sector average. EV/Sales are strong, as are EV/EBITDA figures.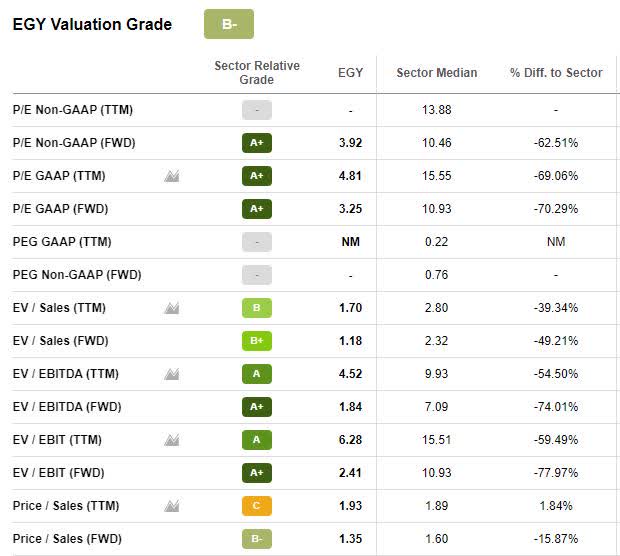 According to SA News, VAALCO Energy began a drilling campaign in an offshore Gabon well that has successfully produced 7,550 bbl/day during Q4, allowing the company to produce 62% more than Q4 of 2020. As a result of the drilling campaign, "I would expect a gradual de-risking to occur throughout 2022, and the valuation to converge to the historical multiple but applied on the higher post-campaign cash flow. My target for the company at the end of 2022 is about 2x upside from here if all goes well operationally," wrote Seeking Alpha author The Energy Realist in December 2021. Given that oil prices have exceeded expectations and soared to new highs, the upside potential is even greater, and YTD, EGY has soared +93%, with it being one of the best-performing stocks in the first week of February, having a 24% gain. VAALCO Energy is a strong buy with continued growth and profitability prospects.
EGY Growth and Profitability
VAALCO Energy crushed its 2021 financial performance to end the year, with production up nearly 50% over 2020. "This past year was one of the best in VAALCO's history, and 2022 could be an even better one," said George Maxwell, VAALCO Energy CEO, during the Q4 earnings call. By reducing overall costs by 17% to 20%, the launch of a drilling campaign, and the acquisition of Sasol's 27.8% working interest in the Etame Marin offshore block, the company's growth and profitability prospects look promising.
Rising oil prices have driven revenue growth significantly higher, with a YoY grade of A+ at nearly 200%. YoY EBITDA Growth is 318.24% and given Q4's top-and bottom-line earnings beat, the stock has seen one upward revision in the last 90 days.
To end 2021, VAALCO had an unrestricted cash balance of $48.7M, and its Working Capital on December 31, 2021, was $4M versus $0.8M the previous quarter. The company's success will be showcased in its first cash dividend policy of $0.0325/common share per quarter; full-year 2022 annualized at $0.13/share, payable March 18, 2022.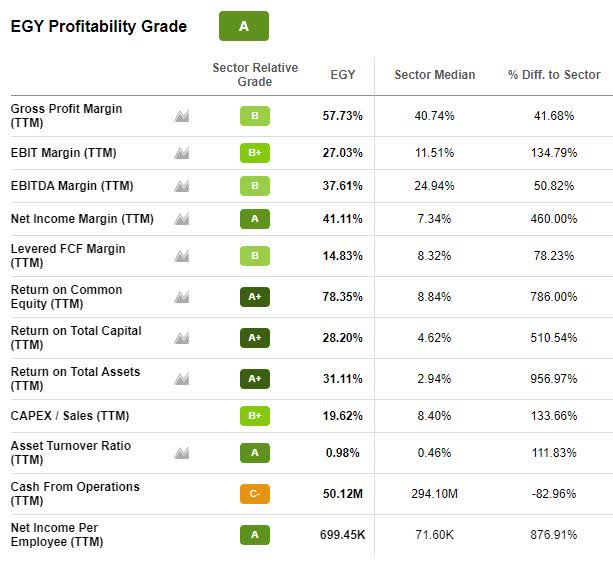 Looking at the excellent profitability figures above, the company plans to expand its margins through accretive acquisitions through organic drilling opportunities. In addition to production increases, as EGY increases its margin production per barrel, it will also reduce its cost per barrel, given that 90% of its production costs are fixed.
Oil and gas continue to rebound from pandemic lows but are capitalizing on the war in Ukraine and geopolitical issues around the globe. We are focusing on energy stocks that come at a value and still offer growth and profitability opportunities. With the expansion of facilities and acquisitions taking place, EGY is a great stock pick to consider for under $10. In diversifying your portfolio, we also like the industrial sector and ask you to consider our next stock pick.
4. Hudson Technologies (NASDAQ:HDSN)
Hudson Technologies (HDSN) is a U.S.-based refrigerant services company that primarily provides refrigerant and industrial gas sales in the United States. The stock is trading under $7/share and has been on an upward trend, with valuation multiples at relatively low levels and indicating room for future growth.
The Forward P/E ratio is 7.96x, trading more than 55% below the sector median; the Forward PEG ratio is strong at 8.06x, a near -60% difference to the sector, and YTD, the stock is up nearly 40% with no signs of slowing and a one-year price increase +285%.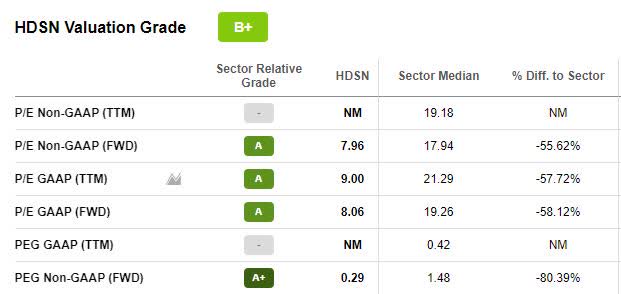 As we look to the future of this stock, we see continued growth prospects and will dive into HDSN's growth and profitability figures.
HDSN Growth & Profitability
HDSN closed out Q4 2021 with record quarter and full-year results, reflecting significant revenue growth and increases in margins and profitability. "Hudson recorded revenues of $37.8 million, an increase of 71% compared to $22.1 million in the comparable 2020 period. The growth is related to selling prices for certain refrigerants during the quarter," said Nat Krishnamurti, Hudson Tech CFO. These stellar figures resulted in an A+ Revisions grade, with two FY1 Up revisions in the last 90 days.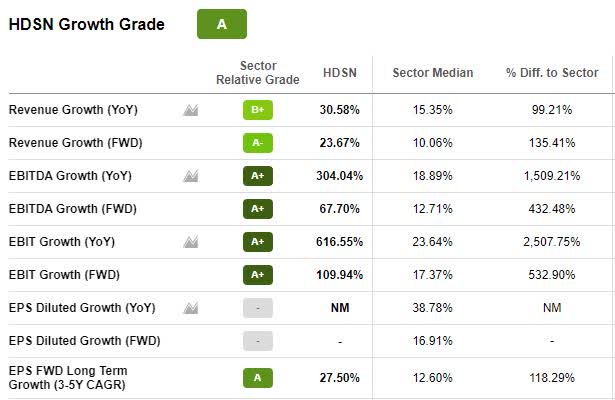 In addition to excellent growth figures, profitability is also doing well. Q4 gross margins of 45% to end out 2021 were 20% higher than Q4 of 2020, attributed primarily to higher selling prices. Q4 operating income of $9.3M was paramount relative to the operating loss of $1.7M in Q4 of 2020, and HDSN recorded a net income of $6.2M versus the $4.7M loss in 2020.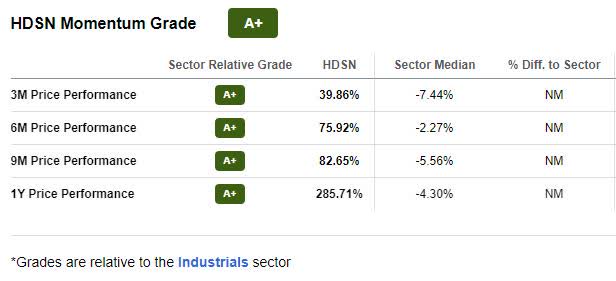 As Hudson looks to the future following revenues of $192.7M, an increase of 31% over the prior year, we expect they will continue this A+ momentum. Outperforming the sector as reflected in the last several quarters' price performance, we anticipate that HDSN will meet its objectives through 2022 and accelerate its healthy position. As the company's profitability is rapidly growing, shareholders should be optimistic about the outlook of this company. Let's dive into our final stock pick, ARCO.
5. Arcos Dorados Holdings, Inc. (NYSE:ARCO)
The largest independent McDonald's (MCD) franchisee, Arco Dorados Holdings Inc. (ARCO) is a 'restaurant standout,' according to Bank of America, which recently lifted its price objective from $7.80 to $10, 23x the 2023 EPS estimate and prompting a stock jump of 2.05% premarket on March 24th. Although the company's valuation is not ideal, with an overall D+ Quant Grade, the all-important forward PEG ratio (blending both value and growth) is showcasing an A grade as it stands at a 72% discount to the sector. Additionally, the recent recommendation boost from Bank of America is an indication that this company is set to grow. Now is the time to take advantage of its trading under $10/per share.
Year-to-date, the stock is up 35%, and over the last year, +61%, thus, its A+ Momentum Grade is fitting.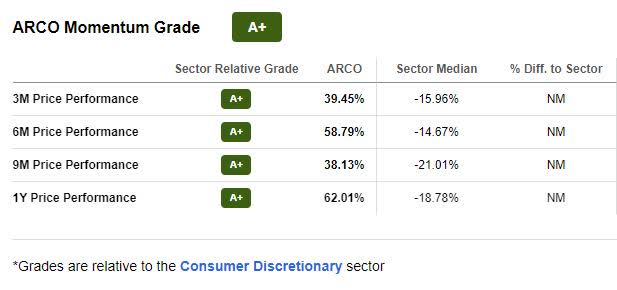 As we continue to look at ARCO's fundamentals, earnings and growth are highlighted, and profitability remains solid. Arcos continues to trend higher, and as we look at the quarterly price performance over the last year, ARCO is doing a great job outperforming the sector. The trading volume over the course of the previous few weeks is a positive indicator, suggesting that more buyers are purchasing than actively selling.
ARCO Growth and Profitability
McDonald's is a restaurant chain we can never soon forget, and Arcos Dorados Holdings operates more than 2,200 of its restaurants across Latin America. The company continues to expand, despite pandemic-related disruptions. As companies continue to recover post-pandemic, we see this stock's benefits and growth prospects, which we believe make it a strong buy.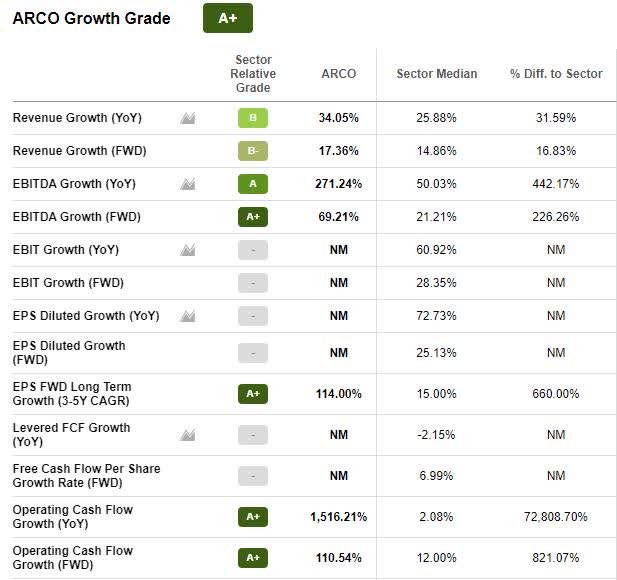 Q4 2021 results were excellent, with an EPS of $0.22 beating by $0.06 and revenue +28.47% to end the year. As you can see looking at the growth grades above, YoY revenue growth has remained strong at 34.05%; EBITDA Growth an A+ at 69.21%; EPS Forward Long-Term Growth at 114%, and operating cash flow is flush.
Our goal is to capture the full profitable potential of the McDonald's brand in our region. We plan to open at least 200 new restaurants… our highest ever three-year total. We are on track to meet this year's operating guidance of 55 new restaurants. Through the first two months of the year, we have already opened 13 new restaurants, including 11 freestanding units, notably, about 75% of the three-year $650 million CapEx plan will go to development projects," – Mariano Tannenbaum, ARCO CFO.
In addition to solid growth and continued profitability, Arcos declared a $0.15/share annual dividend for 2022, demonstrating its success and commitment to its shareholders. The company had not paid a dividend since pre-pandemic, and given this latest development and positive sales, we believe the overall company outlook is strong. We believe that the successful execution of ARCO's strategies will prove fruitful for investors, and shareholders will continue to be rewarded in the years ahead. This stock and the others listed in this article are top buys under $10 to consider adding to your portfolio.
Conclusion: Cheap Stocks Under $10 Can Be an Opportunity if You're Willing to Take a Risk
From a discount perspective, stocks under $10 come at a great price point and over the last few years, have done relatively well. Although small-caps can be volatile, experiencing both deep troughs and high growth periods, our top picks were selected by identifying low-cost stocks with strong fundamentals using our Quant System.
The stocks featured here, Assertio Holdings, Inc. (ASRT), VAALCO Energy, Inc. (EGY), InPlay Oil Corp. (OTCQX:IPOOF), Hudson Technologies, Inc. (HDSN), and Arcos Dorados Holdings, Inc. (ARCO), may help to diversify your portfolio. We've got dozens of Top Stocks Under $10 for you to choose from as well Top Value Stocks and many more. Our investment research tools help ensure you're furnished with the best resources to make informed investment decisions. Check them out today.