Investment Thesis
Despite the recent share decline, Zimmer Biomet (ZBH) valuation remains inline with peers and above sector average. The medical device manufacturer remains an unattractive investment due to a colossal of challenges hitting profitability. Since my November report that carried a hold rating, ZBH declined 20%, underperforming the market index as shown below.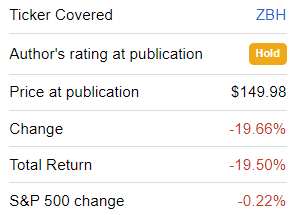 The company's troubles extend beyond the numerous short-term issues it faces today, such as COVID, inflation, supply chain disruptions, faulty product recalls, and litigation.
As a contrarian, long-term investor, I would have called a buy given the temporary nature of these challenges. However, it seems that the company faces more profound long-term perils. Declining profit margins, loss of market share, and lagging product innovation are signs ZBH is losing its market position, which once justified its above-average valuation.
COVID Challenges or Competitive Pressure?
We can spend days digging into the technical details of different synthetic joint brands without coming to a definitive conclusion regarding ZBH's current position on the market. Its products are similar to peers in many ways. From my understanding, physicians' preference, which factors-in product familiarity, ease-of-use during a procedure, reputation, and customer feedback, are the most critical elements at the end. Thus, the most effective comparison method is comparing the financial results of ZBH and its peers. However, COVID has been disrupting revenue trends for the past two years. Orthopedic surgeries are often elective, meaning that they are not life-threatening, allowing for scheduling flexibility. In 2020, government regulations shifted hospital capacity to COVID patients, negatively affecting revenue. In the first quarter of 2021, the rollout of vaccines took place, encouraging officials to lift these mandates. However, the emergence of COVID variants and subsequent increase in cases lead to higher rescheduling either because the patient or a staff member contacted COVID. These significantly impacted earnings during Q4, which contributed to the 8% market dip last week. Again, these challenges are not limited to ZBH.
However, it seems that the company's competitors are navigating the pandemic better than ZBH. For example, Stryker's (SYK) artificial knee sales increased by 1.8% in 2021 compared to 2019 levels, a soft performance but still better than ZBH, which saw sales decline 5.8% in the same period. ZBH's artificial hip sales saw a more profound decline compared to SYK. Now, whether these differences mirror a fundamental shift in competitive dynamics is up for debate, but it is far from reassuring.
| | | | | |
| --- | --- | --- | --- | --- |
| Artificial Knee Sales | 2021 | 2020 | 2019 | Change % |
| ZBH | 2,647.9 | 2,389.8 | 2,810.1 | -5.8% |
| Stryker | $ 1,848 | 1,567 | 1,815 | 1.8% |
| | | | | |
| --- | --- | --- | --- | --- |
| Artificial Hips Sales | 2021 | 2020 | 2019 | Change % |
| ZBH | 1,856.1 | 1,750.5 | 1,931.5 | -3.9% |
| Stryker | 1,342 | 1,206 | 1,383 | -2.9% |
Source: Author's estimates, ZBH & SYK Financial Statements
Other product lines mirror a deeper discrepancy, such as the Extremities and Trauma business, which grew 19.6% compared to 63% for SYK. However, both these figures reflect M&A enhanced growth. SYK purchased Wright Medical in November 2020, while ZBH purchased A&E Medical and Relign Corp in Q4 2020.
| | | | | |
| --- | --- | --- | --- | --- |
| Extremities and Trauma | 2021 | 2020 | 2019 | Change % |
| ZBH | 1,727.8 | 1,322.0 | 1,444.1 | 19.6 |
| Stryker | 2,664 | 1,722 | 1,639 | 62.5 |
Author's estimates, ZBH & SYK Financial Statements
ZimVie Spinoff
ZBH is spinning off its Dental and Spine segment, which, combined, accounted for 13% of total sales ($1 billion) in 2021. Each ZBH holder will have one share in the new company, ZimVie, for every ten shares held in ZBH. Theoretically, ZBH's value will decline the day of the spinoff by an amount equal to the market cap of ZimVie.
The segment hasn't been performing strongly since 2020, outperformed by SYK. If the segment has been performing well, or if management thought that the business line would be accretive in the future, they would have kept the business line. Thus, I believe that selling ZimVie at the beginning of its trading days is recommended.
| | | | | |
| --- | --- | --- | --- | --- |
| Spine & Other | 2021 | 2020 | 2019 | Change % |
| ZBH | 1,604.4 | 1,561.5 | 1,796.5 | -11% |
| Stryker | 1716 | 1,511 | 1,572 | 9% |
Long Term Challenges – Regenerative Therapies
Many don't know that most biotech breakthrough innovations come from academic institutions or smaller speculative biotechs. Larger pharmaceutical and biotech companies scoop the patents once a program is more substantiated. For example, Harvard, MIT, and UCLA developed CRISPR gene editing. Kymriah, one of the first gene therapies globally, was created at the University of Pennsylvania before Novartis (NVS) bought the program when its chances became clearer.
Today, the University of Stanford is developing a therapy for the treatment of osteoarthritis without the need for surgery or joint implant. The treatment consists of a single injection to the joint (knee or hip) relying on engineered stem cells to reform the damaged cartilage causing the disease.
This concept was also one of the reasons why SYK bought Wright Medical, which bought Cartiva, the latter having developed non-invasive synthetic cartilage, which can be inserted between joints instead of replacing the joint.
These developments create an existential threat that could make ZBH's products obsolete. Although the drug development cycle can extend to 10 or 15 years, this development counters ZBH's long-term thesis relying on demographic trends and the aging population.
Financial Position
ZBH ended 2021 with $479 million in cash, a multi-year low in line with a historical downward trend in its cash balance. The company has made excellent progress in the repayment of debt related to the 2015 Biomet acquisition. Current debt stands at $5.5 billion compared to $11.5 billion at the time of the merger. The company generates lucrative cash flows from operations, allowing it to continue debt repayment and dividend distribution, the latter summing to a mere $200 million, compared to $1.2 billion in Free Cash Flow. Thus, from a dividend safety perspective, ZBH distributions are pretty safe, albeit low. The dividend yield stands at 0.8% annually, not precisely a competitive yield. The average dividend in the Healthcare sector is 1.5%.
Temporary Profitability Disruptions?
ZBH's net income has been volatile due to extraordinary expenses related to restructuring, litigation expenses, and increasing competitive pressure.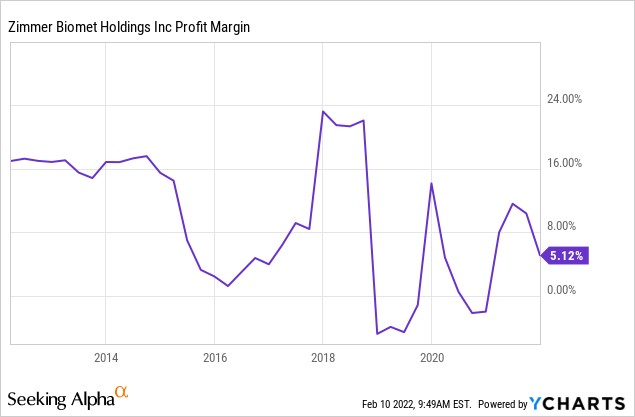 One might argue that most profitability disruptions are related to temporary, extraordinary factors artificially depressing profitability, and I don't believe this is true. ZBH margins have been declining for years, mirroring rising competitive pressure and regulatory environment to reduce healthcare costs. Most of the company's products are designed to treat osteoarthritis, a joint disease most prevalent in adults 65 years or older, mostly covered by Medicare, the national program covering the elderly. The Affordable Care Act has put significant mandates to lower the Center of Medicare and Medicaid "CMS" expenses, including enhancing competitive bidding processes in the States. China has also implemented similar restrictions in the Asian nation, called volume-based procurement "VBP."
Even if we exclude extraordinary items, such as litigation, restructuring, and impairment charges, earnings margin still show a steady decline since 2012.

Summary
Despite the recent decline in ZBH's share price, valuation remains rich compared to the broader sector and in line with peers (except SYK, which is trading at a higher valuation). Although we expect revenue and earnings to increase as COVID disruptions ease, its competitive market position has eroded. The company lagged behind SYK in introducing a robotic arm by multiple years, which will impact subsequent product rollouts given the time needed to collect, analyze, and engineer new products that incorporate customers' feedback. Moreover, Robotic Arms require significant training, enhancing customer loyalty. For years, SYK's robotic Arm was the only one on the market, attracting an army of physicians who are now only trained on its device and unlikely to switch to another.
The demographic trends hypothesis is counterbalanced by new stem cell invocations that threaten to make the entire orthopedic medical device industry obsolete. There are now more than ten gene therapies on the market, and the number is increasing. At some point, these biotechs will start enhancing arthritis stem cell therapies, many of which are already used in Europe.