It's been a challenging start to the year for the restaurant industry, but Chipotle (CMG) and Wingstop (WING) have managed to trounce their competition, benefiting from their significant digital presence. Wingstop reported its Q2 results in late July and reported an acceleration in both sales growth and same-store-sales, and remains well on track to hit its 2015 goal of 2,500 domestic stores. While the company's valuation remains frothy among its peers, its high margins and industry-leading comp sales growth can justify some of this premium. I continue to remain neutral on the stock at $135.00 due to valuation, but I believe the stock is worth keeping on one's shopping list if the market weakness continues.
Wingstop released its Q2 results on July 29th and reported an incredible quarter across the board with quarterly revenue of $66.4 million, up 36% year-over-year. Even more impressive, we saw a 2000 basis point acceleration sequentially in same-store sales growth to 31.9%, a figure that dwarfs comp sales growth rates in Wingstop's peer group. Finally, the company added 23 net new stores in the quarter despite the global pandemic, which has pushed total domestic restaurants to 1,244, and total system-wide restaurants internationally to 1,436. This represents 9% and 10% growth, respectively, year-over-year. These metrics have earned the company a leading Quant Rating on Seeking Alpha in the Restaurant industry, and the rating would be much higher if not for the weak value score.

(Source: Seeking Alpha Premium)
While many companies in the Restaurant industry are buckling down and reducing capex to make it out on the other side of the global pandemic, Wingstop continues to push full speed ahead, with plans for net system-wide openings of 120 – 130 stores in FY2020. As of the end of Q2, Wingstop had opened 51 new stores, which is well below this estimate. However, new openings ramped up considerably in the final quarter of Q2 (June 29th quarter-end), with 17 stores opened in June alone. Wingstop also opened its first 'Ghost Kitchen' in the US, in its hometown of Dallas. These Ghost Kitchens have the potential for incredible margins if the concept is successful with less than one-fourth the square footage of a regular restaurant (400 square-feet vs. 1,750 square feet), but a full menu like traditional Wingstop locations. Ghost Kitchens focus solely on delivery and are in line with the company's plan to digitize every transaction long-term.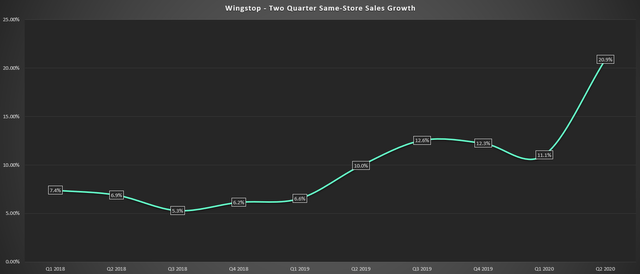 (Source: Author's Chart)
Some skeptics, myself included, thought that we might see order momentum wane for Wingstop with the end of its free delivery promotion in April (initially announced at the onset of COVID-19 in late Q1). However, we didn't see any hint of a slowdown in sales whatsoever. In fact, the two-quarter average same-store sales growth rate spiked to 20.9%, up from 11.1% in the prior quarter. The two-quarter average is designed to smooth out any lumpy quarters, and as the chart above shows, it continues to trend higher at a rapid pace. It's also worth noting that same-store sales were not up against easy comps by any means, as they were lapping a quarter of 12.8% same-store sales growth in Q2 2019. Therefore, we saw the two-year stacked comp-store sales growth surge to an unheard of 44.7% (31.9% + 12.8%). The incredible results can be attributed to Wingstop's impressive digital presence, with the percentage of sales being digital jumping from 47% in Q1 to 63.7% in Q2. Let's take a look at the company's growth metrics below:

(Source: YCharts.com, Author's Chart)
As we can see from the above earnings trend, Wingstop's earnings per share [EPS] growth has been nothing short of outstanding, with a compound annual EPS growth rate of 25%~ since FY2013 based on FY2020 annual EPS estimates ($1.29 vs. $0.26). While most restaurants, including QSRs, are expected to see a hit to annual EPS growth in FY2020 due to the global pandemic and massive decreases in dine-in sales, FY2020 annual EPS estimates of $1.29 are projecting 76% growth year-over-year. This is a solid rebound from the pause in earnings growth last year and would translate to a new all-time high.

(Source: YCharts.com, Author's Chart)
Looking at future estimates, analysts remain quite bullish on Wingstop's earnings as the company continues to grow its brand and add system-wide stores. Current estimates for FY2021 and FY2022 are sitting at $1.50 and $1.86, translating to double-digit earnings growth over the next two years as well. Therefore, while Wingstop looks extremely expensive relative to its FY2019 annual EPS with an earnings multiple above 180 ($135.00 / $0.73), the valuation is more reasonable if we factor in the potential to more than double annual EPS by FY2022 ($1.86 vs. $0.73). The best performing growth stocks over the past 70 years have consistently grown annual EPS at a compound annual growth rate of 20% year-over-year, and Wingstop will meet these criteria if it hits FY2022 estimates. This suggests that while sharp pullbacks are possible given the turbulent market environment we're in, they're likely to be buying opportunities.
So, what's driving this growth?
The main driver of this growth is strong sales growth, which is the lifeblood of sustainable earnings growth. As the chart below shows, revenue growth hit a new record in Q2 of $66.1 million, translating to 36% growth year-over-year. While quarterly revenue is expected to remain at similar levels over the next few quarters based on estimates, forecasts are still pointing to strong double-digit revenue growth in Q3 ($66.4 million vs. $49.9 million). It's worth noting that 26 stores remain closed in casinos, malls, and college campuses, so this near-record sales growth of 36% year-over-year occurred despite a minor headwind in stores opened.
(Source: YCharts.com, Author's Chart)
The other driver behind this strong earnings growth is deflation in bone-in wing prices due to excess supply as retail demand for chicken breast meat has been much higher. This benefit saw Wingstop's cost of sales drop in the quarter as a percentage of company-owned restaurants. During Q2, we saw this figure come in at 73.1%, down 300 basis points year-over-year, and this is despite the increase in labor costs with incentive pay being paid due to COVID-19. This is quite impressive and has widened the gap further for the company's industry-leading gross margins. As the chart below shows, as of Q3 2019, Wingstop's premium valuation is tied to its high double-digit margins, with these metrics towering over its peers.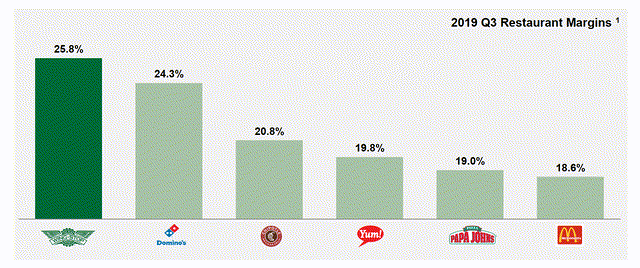 (Source: Company Presentation)
So, what's the next lever for growth?
Wingstop has ambitious plans to continue opening restaurants with a goal of 6,000 restaurants globally long-term. While I typically take these long-term goals with a grain of salt, Wingstop has executed on its 2015 plan flawlessly thus far. As noted in the company's Q3 2015 call shortly after going public, the goal was for 2,500 domestic restaurants. Currently, Wingstop is sitting at nearly 1,300 domestic restaurants, translating to roughly 100 stores added per year from the 800 when the comment was made. Meanwhile, the company's presence continues to grow rapidly in Mexico and Indonesia, with Mexico adding 15 stores per year as of the end of 2019, and Indonesia adding roughly five stores per year. I would argue that the 3,000 store total might be ambitious domestically but given the company's focus on "B" locations for real estate and move towards low square footage Ghost Kitchens, achieving 2,500 restaurants long-term is certainly achievable long-term.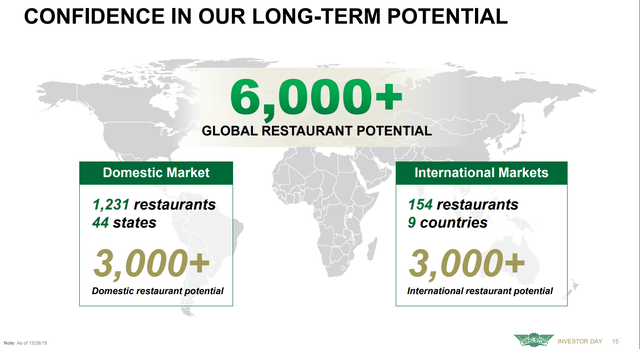 (Source: Company Presentation)
So, why not buy the stock here?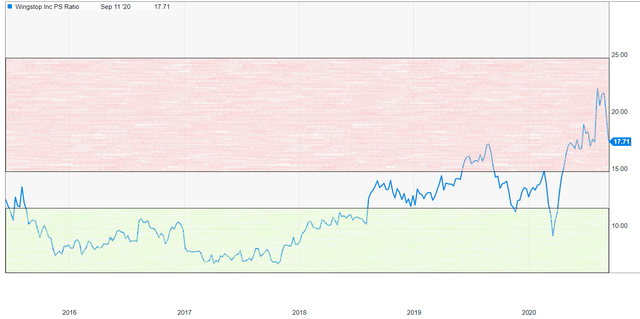 (Source: YCharts.com, Author's Drawing)
As we can see from the chart above, paying over 15x sales for Wingstop has been a riskier proposition, as the stock has typically topped out after hitting this level. Instead, it's been much better to pay under 12x sales for the stock, an area where we've seen strong buying support for the stock. Given that Wingstop is currently trading at 17.7x sales, I would argue that either the stock needs to head lower for the valuation to improve. It's also possible the stock could grow into its valuation, which should only take two quarters with the pace at which revenue is growing. Based on valuation alone, another 12% correction from here would be required to see the stock drop out of the 'danger zone' from a revenue multiple standpoint.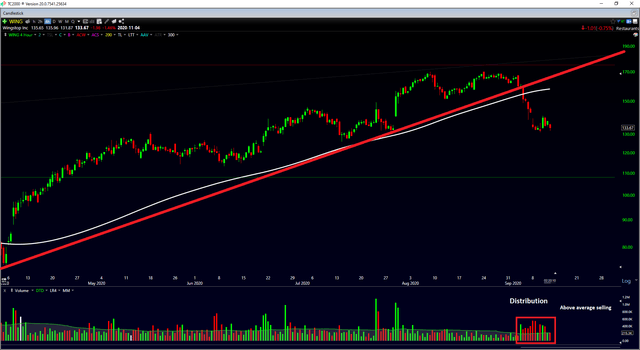 (Source: TC2000.com)
We also have a minor issue from a technical standpoint, with Wingstop having broken its accelerated uptrend line off of the Q1 lows and seeing some distribution recently. Distribution is characterized as above average-volume selling pressure, and its the first distribution we've seen since the uptrend began. While this does not mean the stock has to go lower, the bears are in control of the short-term picture here, and valuation is not low enough yet that I would expect buyers to step in with both hands to defend the stock.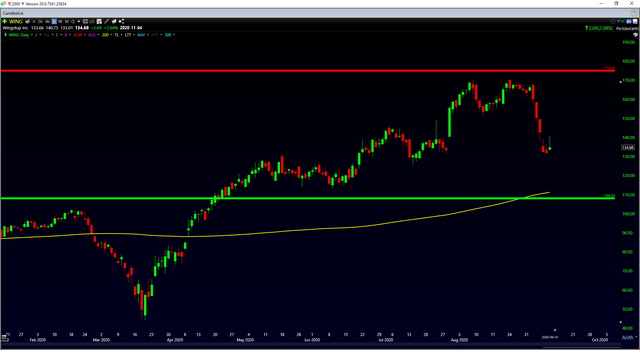 (Source: TC2000.com)
The good news is that the bigger picture remains bullish, with strong support coming in near $108.00, where the 200-day moving average lies (yellow line). As long as the bulls can continue to defend this level, I don't see any reason to get overly bearish on the stock. For now, Wingstop is sandwiched between strong resistance at $175.00 and support about 17% lower at $108.00. If we were to see Wingstop get dragged down with the overall market weakness near the $108.00 level, I would view this as a low-risk buying opportunity. However, this is contingent on the bulls defending the $108.00 area on a monthly close.
Just over two months ago, I noted that it would be wise to book some profits at $145.00, and so far, this looks like the right call. However, given the blow-out quarter we just saw with industry-leading growth metrics, I would be quite surprised if the stock broke below the $100.00 level on a correction. In contrast, I thought this was entirely possible ahead of the Q2 results. Therefore, while I don't see any margin of safety in buying Wingstop at current levels, I would view any corrections below $108.00 as a low-risk buying opportunity. For now, I have no position in the stock, but I would watch closely for a bottoming pattern if Wingstop does come down closer to its 200-day moving average.
Disclosure: I/we have no positions in any stocks mentioned, and no plans to initiate any positions within the next 72 hours. I wrote this article myself, and it expresses my own opinions. I am not receiving compensation for it (other than from Seeking Alpha). I have no business relationship with any company whose stock is mentioned in this article.
Additional disclosure: Disclaimer: Taylor Dart is not a Registered Investment Advisor or Financial Planner. This writing is for informational purposes only. It does not constitute an offer to sell, a solicitation to buy, or a recommendation regarding any securities transaction. The information contained in this writing should not be construed as financial or investment advice on any subject matter. Taylor Dart expressly disclaims all liability in respect to actions taken based on any or all of the information on this writing.