Introduction
The March 2020 market crash provided some amazing opportunities to pick up solid equities at fire-sale prices. I wish it would have lasted a little longer. It was over and done faster than I was willing to put cash to work. While I did initiate what turned out to be very profitable positions, I could have done a lot more. So, I'm still searching for financially solid, recession-resistant, high-yielding investment opportunities. I think I've found one in Williams Companies (NYSE:WMB) that I already have in my portfolio. I had a small position in WMB for some time and have recently begun to add to that existing position. I'm still adding to my WMB position. The balance of this article explains why I'm bullish on WMB.
What Is Williams Companies?
WMB is a natural gas midstream corporation. Readers should make note that I did not say MLP. WMB is a C-corp that pays dividends (not distributions) and issues a 1099-DIV (not a K-1) at tax time. Formerly, WMB was the parent of Williams Partners, an MLP, that was bought up by WMB in 2018. More important than that little bit of history, WMB handles more than 30% of all natural gas used in the US and owns the Transco Pipeline that connects gas producers in Texas, Ohio, Pennsylvania, and Virginia to more than 600 commercial customers from Texas through the southeastern states and up the east coast to New York. WMB also owns and operates natural gas gathering pipelines and processing facilities to get gas production to interstate distribution pipelines. The map below shows WMB's major pipelines in the US.
Williams Companies Investor Presentation
Possibly not obvious from the above figure, WMB's Transco Pipeline is critical infrastructure for getting gas to customers in the heavily populated and industrialized northeastern states as well as supplying natural gas to liquefaction facilities and export terminals. Without the Transco Pipeline, the northeastern states go cold and dark. To a lesser extent, the pipeline serving the northwest coast is also critical infrastructure.
Natural Gas Demand
Some readers will get to this point in the article and ask, "But what about demand destruction from renewable energy". In the US, the growth of renewable energy has been and is currently slower than the demand growth in natural gas. Not only does natural gas heat our homes, cook our food, and generate electricity, it provides the basic building blocks for all kinds of products from fertilizer to chemicals to plastics. The growth in wind and solar energy has barely kept up with the retirement of coal-fired electrical generation in the US. In addition, we have failed to build replacement nuclear generation capability, and as existing nuclear generation ages out, that generating capacity will have to be replaced. Renewable electricity generation won't replace natural gas electricity generation anytime soon. The figure below shows the growth history and projection for natural gas demand.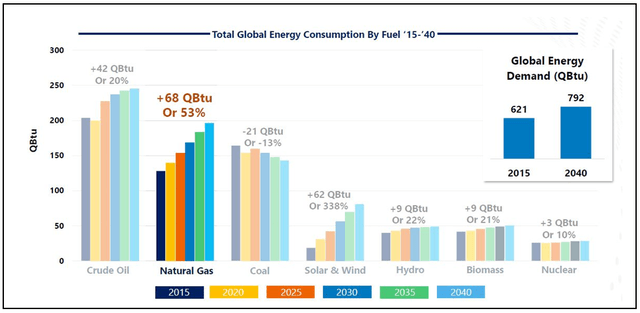 Williams Companies Investor Presentation
From the figure, the expected growth in solar and wind energy is impressive on a percentage basis, but the absolute growth in BTUs is lower than that for natural gas. It should also be noted that the figure above only includes natural gas usage for energy production and does not include other usage of natural gas (e.g. chemicals and plastics). The takeaway here is that natural gas demand growth will be with us for the foreseeable future.
WMB Financials
WMB has been quietly improving its EBITDA, EPS, ROC, and debt/EBITDA over the last few years. The figure below shows the improvement between 2016 and 2019. While not screaming hot growth, the metrics show solid sustained growth with additional emphasis on debt/EBITDA reduction. A compound annual growth rate of 18% in EPS is pretty darn good.

Williams Companies Investor Presentation
For 2020, WMB looks to be on the path for another solid year despite the COVID-19-induced flash crash in March and subsequent recession. The figure below shows the most recent financial metrics for the latest quarter and first half of 2020.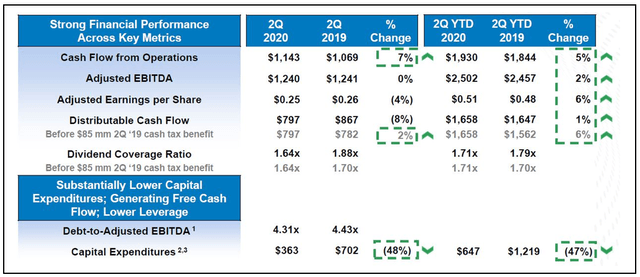 Williams Companies Investor Presentation
The only metric in the above table of that is not showing an improvement from 2019 is the dividend coverage ratio going from 1.79 to 1.71 and it should be noted there was a special tax benefit in 2019 of $85 million that provided a one-time boost for 2Q2019. Without that special provision in 2Q2019, the dividend coverage ratio actually shows a small improvement in 1H20 from 1.70 to 1.71.
WMB holds investment-grade credit ratings from all three of the major credit rating agencies. Moody's current credit rating on WMB is Baa3, Fitch is BBB- (stable), and S&P rates WMB BBB. The investment-grade credit rating not only implies that WMB has a strong financial foundation, it also allows WMB to borrow at more favorable rates than companies with less-than-investment-grade ratings.
For the year 2020, WMB has provided the following financial guidance.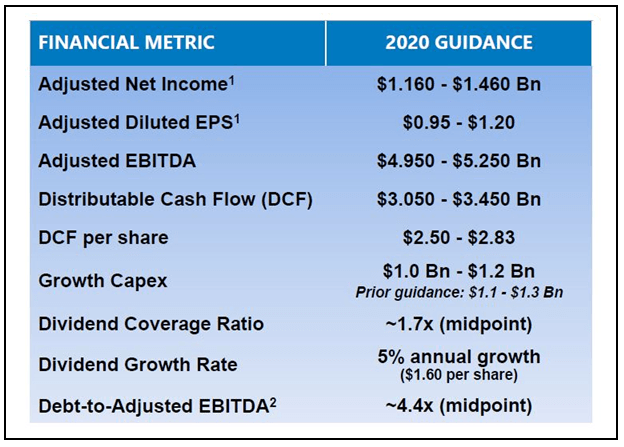 Williams Companies Investor Presentation
Compared to 2019, WMB is guiding for an 8% increase in EPS, a 2% increase in EBITDA, and a 3% increase in DCF. All percentages are based on the guidance midpoint versus 2019 full-year metrics. While a bit off the performance of the last four years, I consider this good performance given we are currently in a recession. The 5% dividend increase has already been recognized for 2020 with the current annual dividend at $1.60 per share. At today's price of $20.19, the yield comes to 7.92%.
In our current environment of dropping revenues and dividend cuts, we should take a look at the safety of WMB's dividend. One measure of dividend safety is to ascertain whether there are competing needs for the cash that WMB currently returns to its stockholders. The figure below provides us some valuable insight.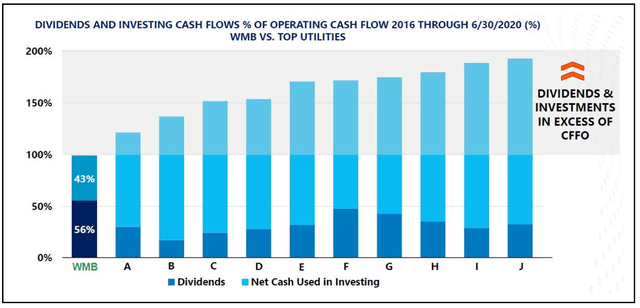 Williams Companies Investor Presentation
The figure above shows us that WMB currently funds the dividend and capital investments from continuing funds from operations (CFFO) compared to a number of major utilities including American Electric Power (NYSE:AEP), Dominion (NYSE:D), Duke Power (NYSE:DUK), and Southern Company (NYSE:SO). The 43% of CFFO paid out in dividends includes common share dividends, preferred dividends, and dividends paid to non-controlling interests. The takeaway is that WMB is not borrowing to fund its dividend payment or growth investments.
Sources of WMB's Earnings
A company's earnings are only as stable as the financials of the clients they serve. Let's take a look at WMB's clients and what type of contracts govern WMB's business with those clients. Ninety eight percent (98%) of WMB's gross margin originates with fee-based contracts with only 2% dependent on commodity prices. I'm continually amazed that WMB's stock price is positively correlated with crude pricing with only 2% of its gross margin dependent on commodity prices and the commodity is not even crude. A more detailed breakdown of WMB's fee-based contracts is provided in the figure below.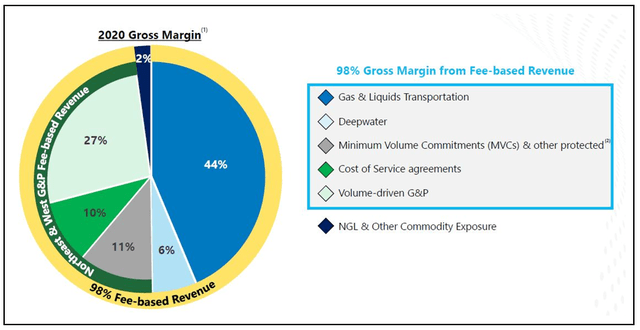 Williams Companies Investor Presentation
As we have already seen in the recent past, fee-based pipeline contracts do not equate to zero risk of falling revenue and gross margin. There is counter-party risk to consider even with 98% fee-based contracts. The figure below provides a summary of the financial health of WMB's clients.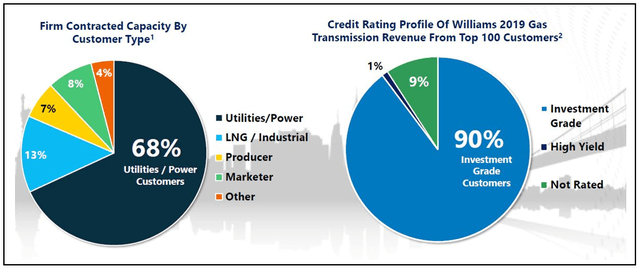 Williams Companies Investor Presentation
Utility and industrial customers make up 81% (based on capacity) of WMB's client base. These types of entities are typically very stable and rely on long term contracts. Maybe more importantly, fully 90% of WMB's top 100 clients carry an investment-grade credit rating, with 9% unrated, and 1% "High Yield" which I interpret to mean one client carries a non-investment grade credit rating.
WMB's Current Valuation
While we can't time the market, we can strive to not pay too much for our investments. There are a number of analytical methods for determining whether an investment is over, fairly, or undervalued. I don't prefer those methods because, in the end, you are always left with a number or numbers on which you have to make a subjective decision to determine a valuation. I prefer a more comparative approach. We can compare to historical norms or how WMB was valued in prior years and we can compare WMB to other current valuations for similar types of companies. The figure below does both.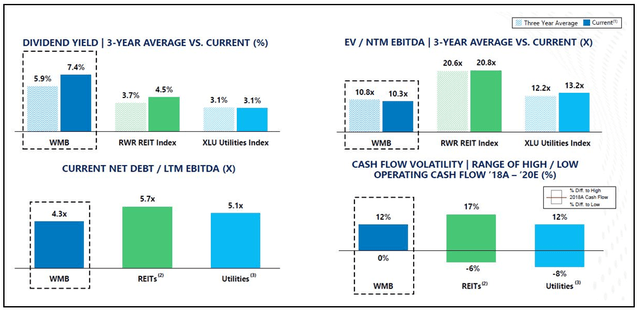 Williams Companies Investor Presentation
As noted earlier, WMB's current yield is 7.92% versus the 7.4% value in the figure. What we can take away from studying this figure is that WMB currently yields well more than it has in the recent past as well as compared to REITs and utilities. WMB's current EV/EBITDA is lower than in the past and more favorable than REITs and utilities. We can also see that WMB's current debt/EBITDA and cash flow volatility are more favorable than REITs and utilities. Wouldn't you prefer to get a higher yield with better debt metrics and more stable cash flows than you can get (on average) from REITs and utilities.
Potential Future Growth
Finally, while I compared key WMB financial metrics to those of utilities, WMB has higher potential for growth than do most utility companies. WMB's near-term projects are highlighted in the figure below.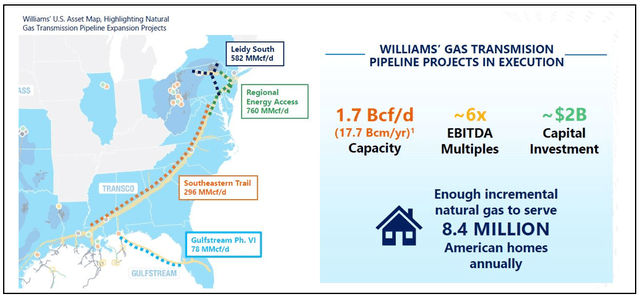 Williams Companies Investor Presentation
The Leidy South project and the Regional Energy Access project are designed to expand the capacity of existing WMB infrastructure including the Transco Pipeline and to relieve currently constrained gas supplies to the upper northeast region. Altogether, WMB's current expansion projects will provide enough additional natural gas to serve 8.4 million homes as well as provide additional earnings to WMB's bottom line.
Conclusion
WMB owns and operates critical natural gas infrastructure that processes and transports more than 30% of all the gas used within the US. Many portions of that infrastructure (e.g. Transco Pipeline) are irreplaceable and have no practical competition. WMB currently offers a nearly 8% dividend yield with excellent coverage (1.7x or 59% dividend payout ratio), an investment-grade credit rating, and near-term growth projects in the works. Fully 98% of WMB's revenue originates from fee-based contracts with the remaining 2% from commodity priced contracts. There isn't much not to like.
I've accumulated about 3/4 of what I consider a full position in WMB to date and I plan on filling the remaining 1/4 position as long as the current pricing holds below $21.
Disclosure: I am/we are long WMB. I wrote this article myself, and it expresses my own opinions. I am not receiving compensation for it (other than from Seeking Alpha). I have no business relationship with any company whose stock is mentioned in this article.
Additional disclosure: Disclaimer: This article is intended to provide my opinion to interested readers and to serve as a vehicle to generate informed discussion in the comment posting. I have no knowledge of individual investor circumstances, goals, portfolio concentration or diversification. Readers are strongly encouraged to complete their own due diligence on any stock, bond, fund or other investment mentioned in this article before investing.