Warren Buffett has pulled the trigger on $6 billion of investments into Japan's five biggest trading houses. The FT described them as "century-old commodity specialists that are increasingly transforming into global venture capital and private equity businesses".
Berkshire Hathaway (BRK.A) (BRK.B) holds the investments through subsidiary National Indemnity. Berkshire holds 5% stakes in each of the houses: Mitsubishi Corp. (OTCPK:MSBHF), Mitsui & Co. (OTCPK:MITSY), Itochu Corp. (OTCPK:ITOCF), Sumitomo Corp. (OTCPK:SSUMF) and Marubeni Corp. (OTCPK:MARUF).
This is article is one of a series of five where I go over the Sogo Shosha. In this article, I'm going to look at Sumitomo Corp. to ascertain what attracts Buffett to these names. It is the fourth installment in a series on the Japanese trading houses. You can read the first installment on Mitsui & Co. here, the second installment on Itoshu Corp. here, and the third on Mitsubishi Corp. here.
First, let's look at what Sumitomo Corp. is actually engaged in. All the trading houses are basically conglomerates that were historically more geared towards commodity-related activities. But all the houses have been diversifying beyond those industries. Often, they have hundreds or even in excess of a thousand stakes in businesses. Some are considered subsidiaries and are consolidated if the company holds a 50% or larger stake. Stakes between 20% and 50% are accounted for using the equity method.
In Sumitomo's case, it derives 21.4% of its profits from mineral resources, energy, chemical & electronics. Which it considers one of its six major segments. Infrastructure is a close second with 20.1% of profits derived there. The graphic below from the company's website shows a more complete picture:
The company views energy, retail in Asia, and food & agriculture as its future drivers of growth. The company wants to focus on Brazil, India, Myanmar, Turkey, and Sub-Saharan Africa as areas of specific interest.
It aims for 10% return on equity and wants to grow profits to 300 billion Yen. That's about $2.83 billion in USD on a current market cap of $16 billion.
Overall, it didn't appear as shareholder-friendly as some of the other trading houses. The company wants to increase its dividend but is currently not touting any buyback policies. That kind of disappointed me, as I figured, after reviewing three trading houses, buybacks were part of the puzzle of what attracted Buffett here. When I checked the data, I was pleasantly surprised, however. It appears as if the company takes out chunks of data when its share price makes it a more favorable proposition. That's actually the best way to do it, and I hope it's not an accident.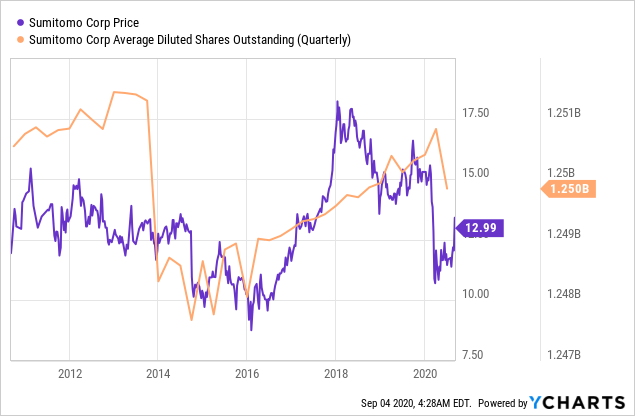 I haven't been able to find a full overview of the company's investments in its materials like the annual report, website, and other financial information booklets, but it does provide an overview of the most important investments through its website.
Tesla is one of the world's most valuable companies. I personally don't agree with that premise, but many do. Its boss Elon Musk recently cried out in despair for environmentally conscious nickel project development. His words on the Q2 2020 earnings call:
Well, I'd just like to reemphasize, any mining companies out there, please mine more nickel. Okay. Wherever you are in the world, please mine more nickel and don't wait for nickel to go back to some long — some high point that you experienced some five years ago or whatever, go for efficiency. As environmentally friendly, nickel mining at high volume.

Tesla will give you a giant contract for a long period of time if you mine nickel efficiently and in an environmentally-sensitive way. So, hopefully, this message goes out to all mining companies. Please get nickel.
Well, it just so happens that Sumitomo has a ~46% stake in one of the largest nickel mines in the world. This should be accounted for by the equity method, and because the mine isn't yet at full production, its value is potentially understated.
From Wikipedia on the Ambatovy mine:
Ambatovy is becoming known for its efforts in corporate sustainability and environmental preservation and conservation. It is a pilot project for the Business and Biodiversity Offsets Project and routinely wins awards, such as the Green Star Award, in the Prevention and Preparedness category, and the Nedbank Capital Sustainability Award, both in 2015, for its activities and interventions in its communities. It also fosters local procurement and business creation, as well as supporting local hiring and community returns
It should be able to get up to a production capacity of about 60,000 tonnes of nickel and 5,600 tonnes of cobalt per year. Nickel currently goes for 15k per ton.
The operator Sherritt International (OTCPK:SHERF) puts all-in costs at current (limited production) at around $8,816 to $9,918 per ton.
If they can get up to 60,000 tonnes of nickel and 5,600 tonnes of cobalt per year, that should be $484 million in pre-tax pre-royalty profits. A nice chunk of over $200 million going towards Sumitomo at that point.
Not bad on one project among hundreds of a $16 billion market cap company.
Admittedly, there are some royalties I didn't account for and the threat of these getting raised, but this gives a sense of what gems Sumitomo has in its portfolio.
Like with the other trading houses, all the corporate communications talk a lot about the company's roots and values but also about change. They all want to change. I'll quote its medium-term management policy with a paragraph Buffett probably liked (emphasis by me):
We are focusing on "Enhancement of Financial Soundness" as part of our steps towards reinforcing our management foundation in Medium-Term Management Plan 2020. While continuing our cash flow management policy of investing and carrying out dividend within the limits of cash generated, we are also working on guaranteeing stability by limiting our Risk-weighted Assets (total amount of risk) to within our Core Risk Buffer (shareholders' equity).

We have also set goals for our efficiency indicators: 10% or more for ROE, higher than our shareholders' equity costs, and 4% or more for ROA. At the same time, we also plan to establish a financial structure that does not over-rely on interest-bearing liabilities. Looking ahead, the current financial environment in Japan with its negative interest rates may not necessarily continue forever.
Sumitomo Corp. has been struggling with its returns on equity. It's been a rollercoaster ride. I think that's fairly typical if you have quite a bit of resource exposure.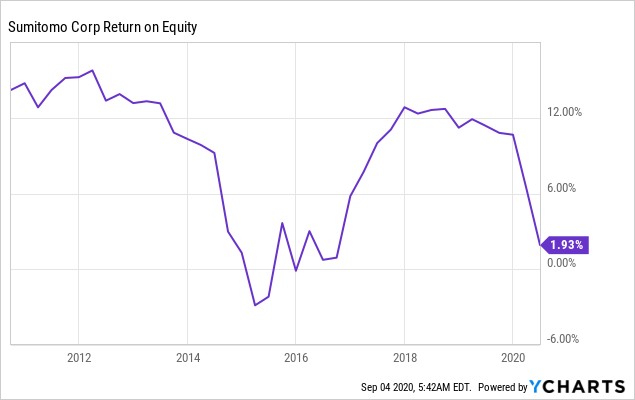 Its total long-term debt is at $29 billion. That's almost 2x its equity value and (gulp) 10x EBITDA. That's not as bad as it is with most companies because a lot of underlying EBITDA is likely not fully reflected because of the many investments that aren't consolidated.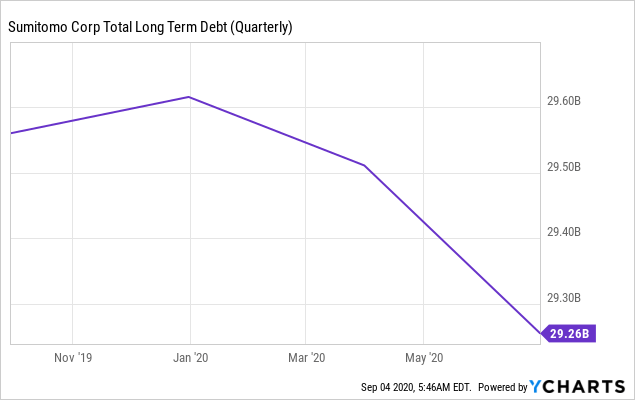 There is also a clear push underway to bring the debt down between 2011 and 2018. That plan seems to have stalled, but given management's medium-term plan, I'd expect it to resume. EBITDA has also taken a big hit from the COVID-19 crisis. That's not necessarily a great thing, but temporary alarming ratios are to be expected.
The company issued $500 million worth of international bonds with a 2.6% coupon maturing in 2024 as recently as July of this year. The bond market doesn't seem too worried about default risk. If you ask me, the market seems to underprice risk recently, but that's a highly subjective view.
Overall, the valuation looks quite attractive. On a price to earnings level, it trades at 21x earnings, but a company like this at 0.4x book value is quite amazing. If the company can sustainably get to 10% return on equity, it is very cheap at 0.4x book value. I'm not sure it's achievable, but there's definitely room for improvement of financial performance.
I'd expect improvement to be achieved if management and employees are truly willing to execute. I personally liked this trading house the best among those I've reviewed because there's a lot of room for improvement. I really liked some of the assets, like the mine I've highlighted here. It is trading at the deepest discount to book among the houses. Management seems to engage in buybacks opportunistically even though there's not as much talk about shareholder friendliness. The willingness to improve the financials seems to be genuine, and if that's the case, the multiples are very low.
Check out the Special Situation Investing report if you are interested in special situation investing and M&A. At the Special Situations Report, we are trying to generate returns in a way that doesn't rely as heavily on a great economy or forever bull market. 
Disclosure: I am/we are long SSUMF. I wrote this article myself, and it expresses my own opinions. I am not receiving compensation for it (other than from Seeking Alpha). I have no business relationship with any company whose stock is mentioned in this article.