By Valuentum Analysts
Various Federal Reserve officials have communicated that the monetary body will likely raise the targeted federal funds interest rate in the US rather soon, which is currently near zero. Should this occur, heavily indebted companies will face headwinds from having to refinance maturing debt at higher rates while income generating investment vehicles will have to contend with headwinds brought on by higher US Treasury yields. In our view, Verizon Communications Inc. (VZ) is up to the task. The telecommunications giant is a stellar cash flow generator with a promising outlook.
Under our discounted free cash flow analysis process (which we cover in this article), our fair value estimate stands at $64 per share of Verizon, well above where shares of VZ are trading at as of this writing. Shares of VZ yield ~4.8% as of this writing and we see room for Verizon to steadily grow its per share dividend alongside its free cash flows (defined as net operating cash flows less capital expenditures) going forward. That said, investors should always be careful with debt-heavy, capital-intensive companies, no matter how attractive the dividend may seem, as we recently learned with AT&T (T).
Investment Highlights
Verizon offers broadband, video, and other wireless and wireline services to consumers, businesses, governments, and wholesale customers. The firm operates both 4G and 5G wireless networks in the US and runs one of country's most advanced fiber-optic networks under its Fios brand. Verizon was founded in 1983 and is based in New York.
Telecommunications companies are cash flow cows and the recurring nature of their revenue streams provides great visibility as it concerns their future financial performance. However, these are asset-heavy business models that require sizable capital expenditures to maintain and upgrade infrastructure. Every new wireless technology cycle requires telecommunications companies embark on an expensive overhaul of their networks. Verizon started launching 5G services in select US cities in 2019 and was offering such services nationwide a year later.
Verizon continues to invest heavily in its 5G network, and more recently has been working on expanding its 5G Ultra-Wideband services. Currently, parts of Verizon's nationwide wireless network rely on dynamic spectrum sharing between 4G and 5G networks. It is not clear how fast US consumers and businesses will adopt 5G wireless services, though Verizon is betting its future that the technological improvements will steadily encourage households and enterprises to make the switch.
Verizon sold its Verizon Media unit (includes Yahoo internet properties) to funds affiliated with Apollo Global Management Inc. (APO) for roughly $5 billion in a deal that closed in September 2021. In return, Verizon received $4.25 billion in cash along with equity in the Apollo affiliate taking over Verizon Media. The equity portion included $0.75 billion in preferred interests and a 10% stake in the Apollo affiliate, though Verizon is clearly moving on.
Additionally, Verizon acquired prepaid wireless service provider Tracfone from America Movil (AMX) through a cash-and-stock deal worth $6.25 billion along with potential contingent payments worth up to $0.65 billion in cash, and the acquisition closed in November 2021. Verizon added approximately 20 million customers to its asset base by buying Tracfone. There is ample room for Verizon to take advantage of its increasing economies of scale to improve its cost structure around the margins over the coming years, though it will take time for the firm to realize meaningful operational synergies.
Earnings Update
On January 25, Verizon published fourth quarter 2021 earnings that beat both consensus top- and bottom-line expectations. Verizon posted a 2% year-over-year decline in its GAAP revenues last quarter, though after adjusting for the divestment of Verizon Media, its non-GAAP operating revenues were up about 5% year-over-year. Strength at its wireless service and equipment operations offset weakness at its legacy wireline operations. A meaningful reduction in its operating expenses (down 4% year-over-year), particularly due to a large drop in its G&A expenses, enabled Verizon to grow its GAAP operating income by 6% year-over-year during the final quarter of 2021.
Verizon's 'Business' and 'Consumer' units added 391,000 and 667,000 net wireless retail postpaid plans (includes smartphones and other connected devices), respectively, to their operations last quarter. The company's Consumer unit posted a churn rate of 0.94% as it concerns wireless postpaid retail plans (that churn rate drops down to 0.77% when just looking at smartphones). Verizon shed 85,000 net wireless prepaid plans last quarter. Postpaid plans are the most important metric to watch given the "stickiness" of those recurring revenue streams, aided by contracts that encourage customers to sign up for multi-year periods to receive discounted smartphones and discounts on monthly services.
At the end of 2021, more than one-third of the customers at Verizon's Consumer unit had 5G-capable smartphones. The firm noted that premium wireless packages supported its financial performance last quarter, particularly as it concerns its revenues. Wireless providers in the US have been aggressively subsiding 5G-capable smartphones to encourage adoption of the new wireless technology, and those efforts are apparently having a great effect on households according to Verizon.
Its broadband service provider business Fios continued to grow like a weed last year as its internet customer base is expanding robustly (up 51,000 net in the final quarter of 2021 and up 339,000 net for all of 2021). However, Fios Video shed subscribers on a net basis in the final quarter of 2021 as the "cord cutting" trend continues. Going forward, we expect most of the growth at Fios over the long haul will come from Verizon expanding the reach of its fiber optic broadband service.
The company spent just under $20.3 billion on its capital expenditures in 2021 as it focused on building out its 5G and fiber optic networks, which both represent key strategic priorities yet are expensive tasks. Verizon's strong cash flow generating abilities fully covered those outlays and then some, as it posted just over $39.5 billion in net operating cash flow in 2021. Last year, Verizon generated $19.3 billion in free cash flow which fully covered $10.4 billion in total dividend obligations. Verizon did not spend a significant amount (or any) of its capital buying back its common stock in 2021.
Verizon has a massive net debt load, which likely represents the company's biggest weakness. At the end of December 2021, Verizon had $7.4 billion in short-term debt and $143.4 billion in long-term debt that was marginally offset by $2.9 billion in cash and cash equivalents on hand at the end of this period. While Verizon generates ample "excess" free cash flows (defined as free cash flows after covering its total dividend obligations), its massive $147.9 billion net debt position (inclusive of short-term debt) can't be ignored.
On the plus side, Verizon has a rock-solid investment grade credit rating (Baa1/BBB+/A-) from the 'Big Three' rating agencies with stable or positive outlooks. We expect that Verizon will be able to continue tapping capital markets for funds at attractive rates going forward (particularly debt markets), aided by its top-notch free cash flow generating abilities.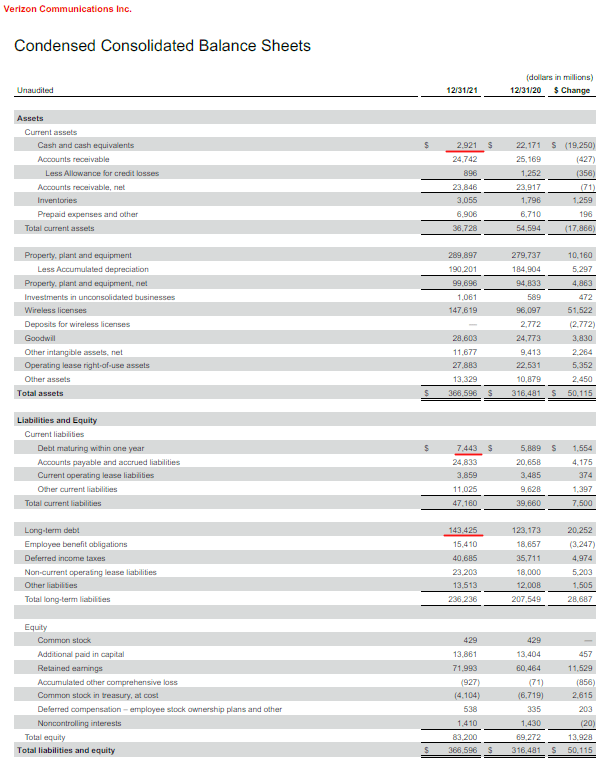 Outlook
When Verizon posted its latest earnings update in late-January 2022, the company noted that its capital expenditures would remain sizable in 2022 when including spending on its C-Band 5G network. Here is what Verizon had to say in the earnings press release:
Capital spending, excluding C-Band, in the range of $16.5 billion to $17.5 billion, a decrease from $18.2 billion in 2021, as the company has started its progress towards lower capital intensity. Additional expenditures related to the deployment of the company's C-Band 5G network are expected to be in the range of $5 billion to $6 billion as the company continues to build out the initial markets and begins preparations for deploying Phase 2 spectrum.
As it concerns Verizon's free cash flow potential, its outlook is decent. Hefty capital expenditure expectations are expected to be offset, at least to a degree, by forecasted growth at its core businesses in 2022. Growing its free cash flows over time supports Verizon's ability to sustainably boost its per share dividend. Management is guiding for Verizon to grow its revenues organically by roughly 3% this year. When including the impact of its divestment of Verizon Media and Tracfone acquisition, Verizon expects its reported revenues will grow by 1.0%-1.5% in 2022. Verizon aims to grow its non-GAAP adjusted EBITDA by 2%-3% this year.
At the midpoint of its guidance and removing 'amortization of acquisition-related intangible assets' expenses from this picture, Verizon expects its non-GAAP adjusted EPS will move marginally lower year-over-year in 2022. The company expects strong organic growth at its wireless service businesses will continue into 2022, which we appreciate. Here we will caution that the cost of encouraging households to shift to 5G-capable devices (and the related wireless plans) is material and will take time to be positively reflected in Verizon's financial performance (as the revenue uplift from more expensive plans kicks in and the headwind from the initial smartphone subsidies fades).
Economic Profit Generator
The best measure of a firm's ability to create value for shareholders is expressed by comparing its return on invested capital ['ROIC'] with its weighted average cost of capital ['WACC']. The gap or difference between ROIC and WACC is called the firm's economic profit spread. Verizon's historical return on invested capital (without goodwill) stood at 12.1% from 2018-2020, which is above the estimate of its cost of capital of 8.7%. Put another way, Verizon has historically been a solid generator of shareholder value (Verizon's ROIC ex-goodwill > estimated WACC).
In the upcoming graphic down below, we show the probable path of Verizon's ROIC in the years ahead based on the estimated volatility of key drivers behind the measure. The solid grey line reflects the most likely outcome, in our opinion, and represents the scenario that results in our fair value estimate. We forecast that Verizon will remain a solid generator of shareholder value going forward (future forecasted ROIC ex-goodwill > estimated WACC).
The upcoming graphic down below highlights how we calculated Verizon's estimated WACC.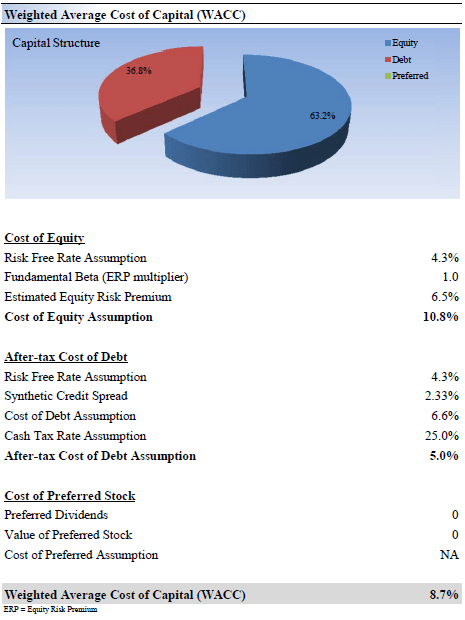 Valuation
Our discounted cash flow process values each firm on the basis of the present value of all future free cash flows, keeping their balance sheet considerations in mind. We think Verizon is worth $64 per share under our "base" case scenario with a fair value range of $51-$77 (the upper rung represents our "bull" case scenario and the lower rung represents our "bear" case scenario). The key valuation assumptions we used in our enterprise cash flow models covering Verizon can be viewed in the upcoming graphic down below.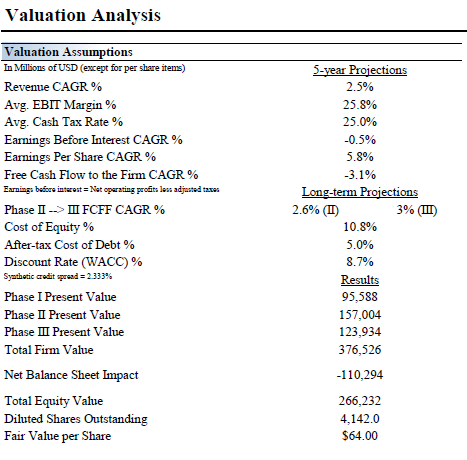 Although we estimate Verizon's fair value at about $64 per share, every company has a range of probable fair values that's created by the uncertainty of key valuation drivers (like future revenue or earnings, for example). After all, if the future were known with certainty, we wouldn't see much volatility in the markets as stocks would trade precisely at their known fair values. In upcoming graphic down below, we show this probable range of fair values for Verizon. We think the firm is attractive below $51 per share (the green line), but quite expensive above $77 per share (the red line). The prices that fall along the yellow line, which includes our fair value estimate, represent a reasonable valuation for the firm, in our opinion.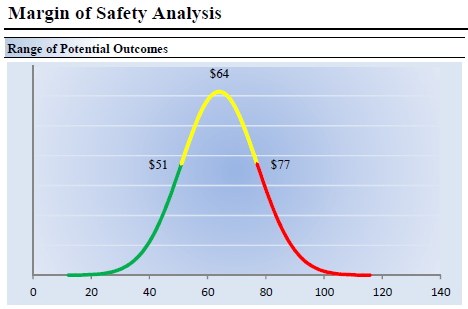 Concluding Thoughts
Verizon is a tremendous free cash flow generator and its underlying businesses are growing at a decent clip. Divesting its Verizon Media unit and acquiring Tracfone should lead to material operational synergies over time. The company's sizable capital expenditure obligations and its large net debt load represent two major concerns, though we still forecast that Verizon will continue to steadily grow its dividend going forward. Shares of VZ have trended moderately lower over the past year, before taking dividend considerations into account, though there is ample room for upside here depending on the pace of 5G technology adoption in the US. Shares yield ~4.8% at the time of this writing.