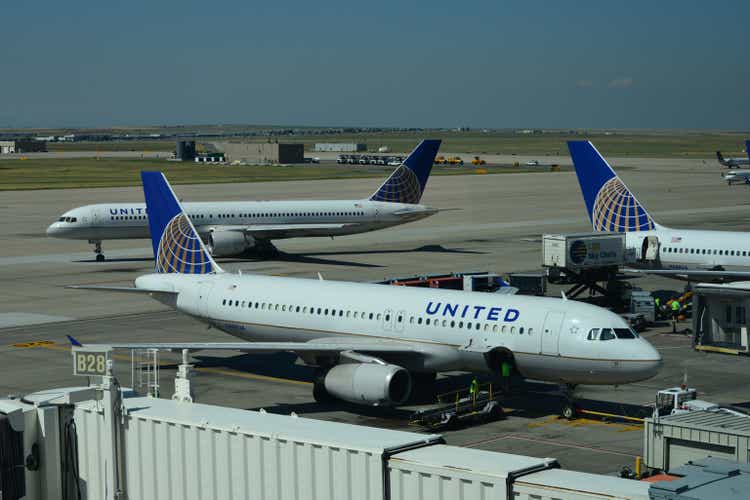 Introduction
I have looked at multiple airlines over since the pandemic started to see if there have been any good bargains. United Airlines (NASDAQ:UAL) is easily in the worst situation of the companies I have looked into. The airline has seen a rebound in traffic and revenue but still lags behind 2019 levels by 50%. While traffic has bounced back some, the load factor has been subpar, and energy costs have increased drastically. The results are an operating and net loss for the airlines. With the economy and energy markets looking to be in worse shape in the future, it is hard to say United is a good investment as profitability looms further away.
The Past Three Years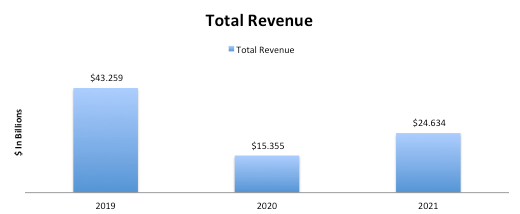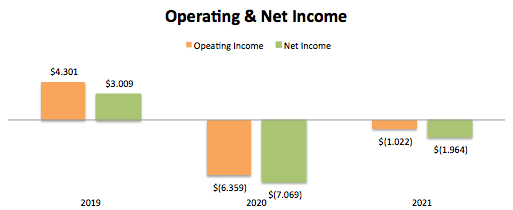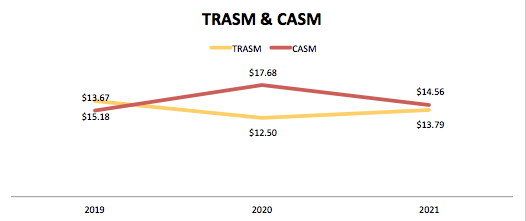 I have looked at various other airlines over the past three years, and it seems United Airlines has had the worst rebound from the pandemic. During the midst of the pandemic, United saw revenue decline 65%, net income fall 46%, and traffic tumble 69%. But there has been a decent rebound, just not enough to post profits. In this past year, United has seen revenue grow by 60%, but this is only 57% of 2019 levels. Operating income and net income have remained negative and are up by $5 billion each from 2020. The reason for this is just poor operations as can be seen by the TRASM and CASM. As can be seen, the company is simply not meeting the exorbitant costs of running an airline. United needs to figure out how to drive demand as costs are only going to increase with the state of oil markets.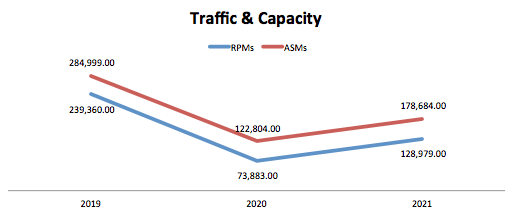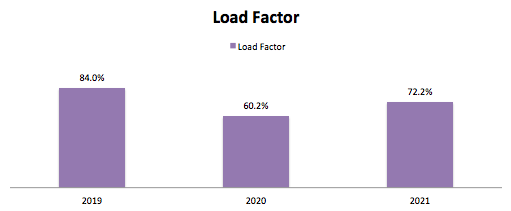 And the business has a long way to go to get back to normal demand levels. RPMs are still just 45% of 2019 levels. This is on a subpar load factor of 72%. United is not going to fly profitable flights until the load factor is at least 80%, and even then, with costs increasing, it may be breakeven. United's results have been very lackluster.
Q1 2022
This year shows no profits in sight. While revenue for the quarter is up 135%, the airline still has an operating and net loss of $1.376 & $1.377 billion. RPMs and ASMs increased by 124% and 75.4%, but the load factor is still at just 72.6%. The TRASM to CASM margin was at -3.59 cents, this is way more than the total of 2021 at -0.77 cents. The reason this quarter was so poor was due to rising costs in energy. While the traffic growth remained consistent, the 70% load factor paired with a 163% increase in aircraft fuel cost resulted in large losses. I'm not sure United will see a profitable year in 2022 as energy costs continue to climb. The key for the airline will be in the load factor and packing more people in more seats.
Balance Sheet
United Airlines has a solid balance sheet to hold over another year. The business has the liquidity to pay current debts, with a current ratio of 1.04x. United also doesn't have terrible leverage with a debt-to-equity of 2.38x. With this balance sheet, the airline should have no issue taking another year of losses.
Valuation
As of writing, United trades around the $37 level. At this level, the airline would be trading at a P/E of 3.2x using the 2019 EPS of $11.58. Now, this is assuming the company rebounds fully to these levels, which is currently not in sight as of now. The company also trades at a P/BV of 3.32x. The belief that this would be a cheap valuation is based on the assumption that 2019 air travel operations come back. I don't see this happening for a while, and with energy costs high, airlines' bottom lines will suffer for who knows how long. Overall, I think United Airlines is probably fairly valued right now.
Conclusion
Looking at everything altogether, I don't believe United Airlines is a good investment right now. The company will continue to struggle with profits as energy costs rise and load factors stay low. I wouldn't expect the airline to see profits until at least 2023 if air travel stays on the rebound. With this many positive assumptions, it is hard to say the stock is undervalued and is a good buy with the economy and energy markets in their current states.