I've been looking at Under Armour (UAA) for a while. The company used to be a high-growth stock and was second only to Nike (NKE). With its rival sports-apparel companies stock prices rallying in recent weeks, I wanted to do due diligence on the company. Under Armour's stock hasn't moved much from all-time lows and unfortunately, at these prices I think the stock is still overvalued.
In terms of short-term results, revenue was down 41% year over year to $708 million. Wholesale revenue decreased 58% to $299 million while direct-to-consumer revenue was down 13% to $368 million. Revenue declined across the board in apparel, footwear, and accessories (down 42%, 35%, and 47%).
The company blamed the ongoing coronavirus pandemic for the massive decline in sales. The main industry giant Nike also suffered a 38% decrease in revenue within the same period. Putting that into perspective, the company's revenue decline wasn't too bad. However, moving forward, the company has warned of excessive inventory levels from all retails and the potential for necessary discounting to hurt results in the short term.
We believe a lot of the companies out there have a lot of excess inventory they're going to be trying to unload in Q3 and Q4, and it's going to make it a very price-pressured environment. And we are planning and expecting for that, and that has a dramatic impact on gross margin year-over-year in Q3 and Q4 as well.
Q2 Under Armour earnings transcripts
What is worrisome for me about this press release and the 10-Q is the lack of disclosures regarding the company's e-commerce sales and future strategy regarding that. In the last few quarters during the period of the lockdown, retailers have been touting the year-over-year growth in their own online direct-to-consumer channels. For example, based on the latest disclosures Nike has had a 75% growth in its online channel, Adidas (OTCQX:ADDYY) had a 37% increase (up triple digits in the month of April) and Lululemon (LULU) had a 41% growth. Under Armour does not disclose its e-commerce sales figures or the growth rate only noting that it had "grown significantly" and "represents less than half of the total direct to consumer business."
Under Armour® Official Store | FREE Shipping available
Some analysts, including myself, believe that sometime in 2016-2017, Under Armour has somehow weakened its image as a premium brand. In order to once again improve sales moving forward, the company must focus on being a "premium brand." In this note from Susquehanna, in their opinion, Under Armour must
pull back on its presence in the moderate channel at retailers such as Kohl's (KSS) etc.in order to become the premium brand it once was and to which it aspires to be. We have said for some time that the Under Armour brand belongs in the moderate channel (not the off-price channel).
While I agree with this assessment, in reality, such a shift may be difficult to pull off. In 2019, revenues from the wholesale segment of the business were roughly 63% of total revenue at $3.2 billion. In fact, from 2018 to 2019, direct to consumer sales actually declined while wholesale revenue increased slightly. Shifting to a direct-to-consumer approach requires having an omnichannel presence i.e. the first step of which is to have a robust e-commerce platform, engaging with customers and brand endorsers, and ultimately an increase of/better use of marketing spend.

It's not as if the company isn't spending marketing dollars in order to build itself up as a premium brand but rather it somehow is not reaping the necessary benefits from its marketing spend. The company recently terminated its $280 million partnership deal with UCLA and is getting sued for its troubles. The company has said that it has "been paying for marketing benefits it has not received." The deal has had issues in the past even before the termination when certain UCLA athletes refused to wear Under Armour's shoes due to the poor quality.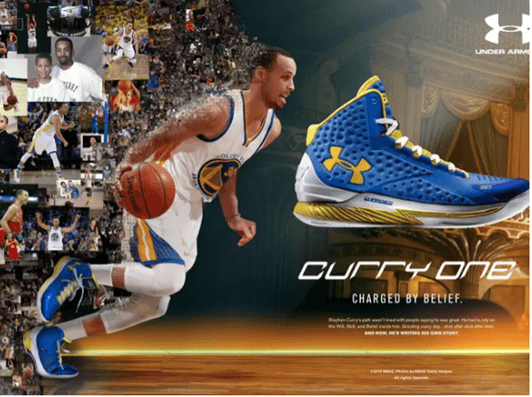 Here's how Under Armour went from a new hotshot sportswear brand taking on Nike to having a wholly uncertain future
The company has also had a rocky relationship with top endorser Stephen Curry. In particular, the company was unhappy that Curry would rarely wear Under Armour clothing in games as well as the fact that sales of the Curry 3 shoe had been weaker than expected. This shows that what Nike did with the Air Jordan and continues to do with its other athletes is not so easily replicated. Apparently Curry himself did not have much input in the development of the shoes and there was a disconnect in the marketing and brand message. This type of engagement was not part of the company's culture and explains many strategic blunders such as tech acquisitions that went nowhere, the lack of a robust e-commerce strategy and completely missing out on the "athleisure" and fashion trends.
Financial Analysis and Valuation
Looking at the financial statements, we can see while the company's gross margins are similar to its peers at a 5-year average of 46.4%, its net income margins are trailing way behind. Under Armour had an average 5-year net income margin of 5.8% compared to Nike's 12%, Adidas's 9.6%, and Lululemon's 20.1%. This aligns with my qualitative analysis of the company not getting "enough bang" for its marketing dollars as the company has decent margins on the gross profit level.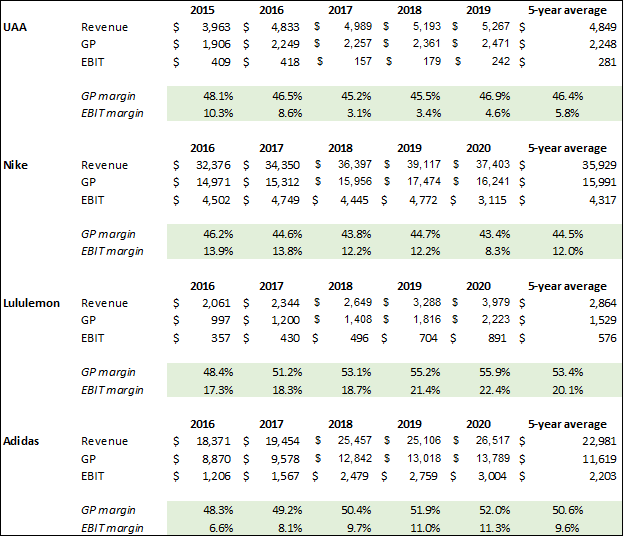 Author calculations using data from Seeking Alpha
A deficiency in marketing skills and strategy at the company is a serious handicap for a company in the apparel industry and does not bode well for the company's long-term prospects. The company can attempt to execute a second turnaround and to be honest companies in this space have been successful in turning around their brand image. However, such a task requires additional capital spending. The company's balance sheet isn't too over-levered as the company's cash of $1.07 billion exceeds its long-term debt of $988 million.
At a 2019 EPS of $0.20, the company is trading at 52x earnings which implies a "growth stock" valuation. Given the situation of the company, I don't think this valuation multiple is deserved at all. I need to see a clearer sign that management is committed to a turnaround and is willing to shake-up how the business is run. This often means new blood in charge and while Mr. Plank has stepped down as CEO he was replaced by another insider. This signals to me that not much will change with the company moving forward. Under Armour is a sell on valuation.
Disclosure: I am/we are long LULU. I wrote this article myself, and it expresses my own opinions. I am not receiving compensation for it (other than from Seeking Alpha). I have no business relationship with any company whose stock is mentioned in this article.
Additional disclosure: Caveat emptor! (Buyer beware.) Please do your own proper due diligence on any stock directly or indirectly mentioned in this article. You probably should seek advice from a broker or financial adviser before making any investment decisions. I don't know you or your specific circumstances, therefore, your tolerance and suitability to take risk may differ. This article should be considered general information, and not relied on as a formal investment recommendation.