Since the pandemic, we've covered the following multifamily REITs so far:
That's because, here at iREIT on Alpha, we see multifamily REITs as a "mission critical" subsector with long-term favorable demographics.
You see, since 2010, 21% fewer total housing units have been produced than total household formations over the same period. And affordability remains a significant barrier to single-family ownership across many U.S. markets.
As such, third-party forecasts indicate that 4.6 million additional apartments will be needed by 2030.
(Source: UDR Presentation)
Right now, the primary renter cohort – aged 20-34 – is sizable, providing a solid current client base for multifamily REITs. Better yet, the younger age cohorts are even larger in size. So there's strong support for long-term growth.
As you can see, this is increasingly dependent on foreign-born influences. But as for right now, I speak as a father of five, three of whom are 18 or older. By the time my nest is empty, I'll have contributed a large part to rental demand all on my own.
As Hoya Capital Real Estate explains:
"… rent growth has been relentless over the last decade amid the lingering housing shortage. And historical evidence suggests that, at the national level, rents should remain firm during the pandemic as rental household formations tend to accelerate in the early stages of recessions.

"Following a decade of historically low levels of new home construction, housing markets remain historically tight as the vacancy rate for both rental and owner-occupied units remains at or near 40-year lows, according to recent Q2 data by the U.S. Census Bureau."
That's why we're taking a closer look at UDR Inc. (UDR).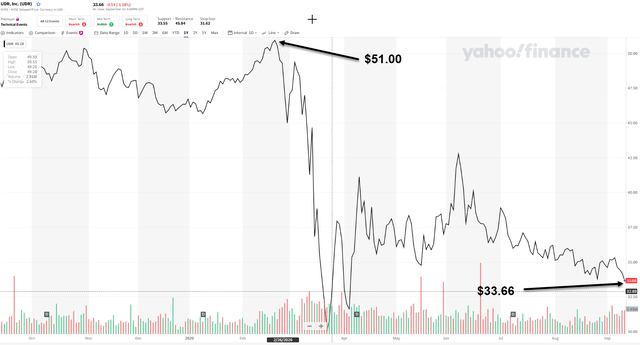 (Source: Yahoo Finance)
The Business Model
If you haven't heard of UDR, that's understandable. It doesn't get much coverage here on Seeking Alpha.
We certainly haven't covered it until now.
Founded in 1972, UDR owns, operates, develops, and redevelops apartment homes across top-tier U.S. markets. This S&P 500 company owns 51,320 apartment homes across 21 coastal and Sun Belt markets that are well diversified by price point and location.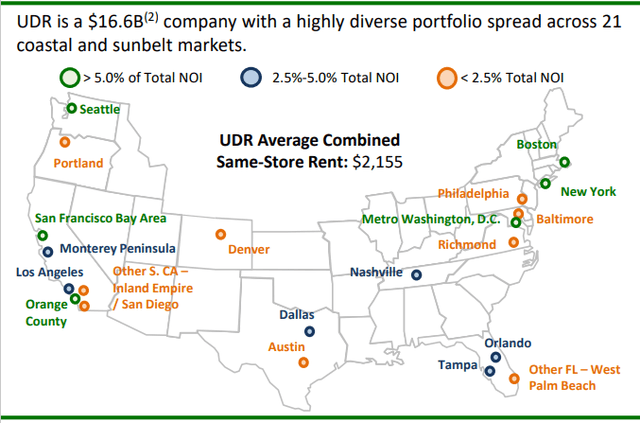 (Source: UDR Presentation)
As viewed below, UDR has the following quality and market diversification:

(Source: UDR Presentation)
In terms of peer analysis, UDR is something of a hybrid. It has approximate 60% exposure to West Coast properties, similar to Essex Properties (ESS). Yet the remainder is allocated to garden-style Southeastern assets, similar to MidAmerica (MAA).
Meanwhile, its urban/suburban mix is 40% vs. 60%. In short, it's operating with a fairly wide, fairly affluent yet still diverse renter base.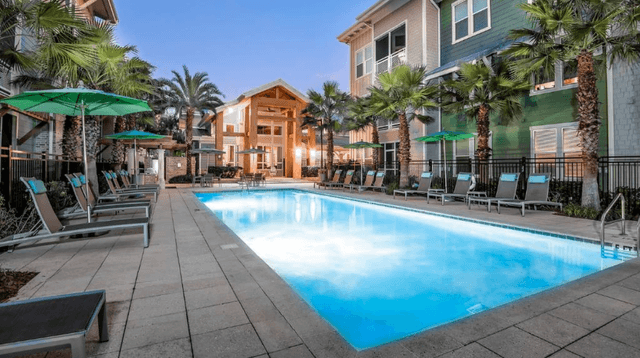 (Source: UDR Presentation)
That creates a value-accretive operating platform with:
Differentiating factors versus its peers
A wider renter and investor appeal
More markets to invest in and overlay its operating platform onto
Less volatility in long-term same-store growth.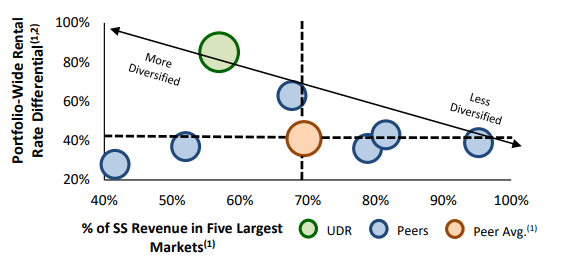 (Source: UDR Presentation)
It's also well diversified by quality and location within markets.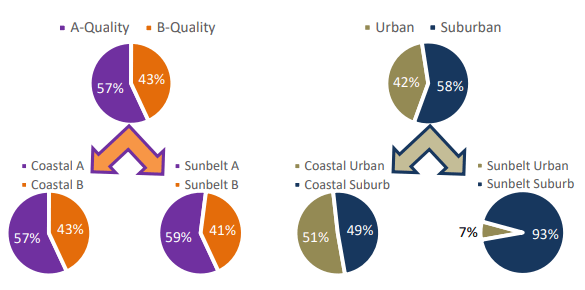 (Source: UDR Presentation)
That's good considering how both coastal and Sun Belt rent growth are cyclical. When combined with an operating platform that outperforms its peers over the long term, shareholders realize a better relative return – with less relative risk.

(Source: UDR Presentation)
Plus, its resident base may be more diverse than many of its peers, but it still focuses on high-quality earners. The household income it targets is, on average, 135% above the median across the metropolitan statistical areas (MSAs) it operates in.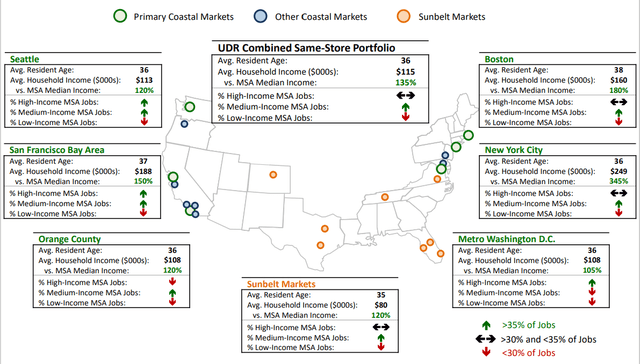 (Source: UDR Presentation)
The Balance Sheet
UDR has a strong balance sheet that's rated BBB+ by S&P. And since the start of the pandemic, it's made stronger efforts to:
Reduce debt costs
Improve liquidity
Extend duration
Enhance cash flow.
As such, it now has $974 million in liquidity, or $1.1 billion including forward equity. Plus, none of its consolidated debt is scheduled to mature through 2022.

(Source: UDR Presentation)
And its dividend remain secure since it's well covered by cash flow from operations. Based on Q2 adjusted funds from operations (AFFO) per share, which was $0.47, UDR works with a 77% payout ratio.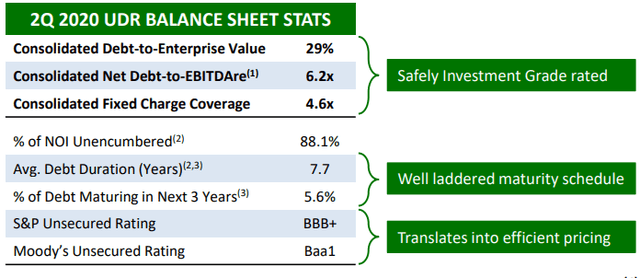 (Source: UDR Presentation)
This company's balance sheet is safe, liquid, flexible, and fully capable of supporting a wide variety of growth opportunities. It's also improved its credit metrics, maturity profile, three-year liquidity outlook, and available line of credit capacity.
As of quarter end, UDR's consolidated financial leverage was 34.2% on undepreciated book value. And it was 30.6% on enterprise value inclusive of joint ventures.
Consolidated net debt to earnings before interest, taxes, depreciation, and amortization for real estate (EBITDAre) was 6.2x. And, inclusive of JVs, it was 6.3x – which was slightly elevated due to the still outstanding settlements of its forward at-the-market proceeds.
Furthermore, UDR has a history of adhering to cost of capital signals with a variety of investment options. We're a fan of its history of pivoting to best risk-adjusted returns – its predictive analytics that enhances market selection – as well.

(Source: UDR Presentation)
The Latest Quarter
UDR's Q2-20 funds from operations (FFO), as adjusted per share, was $0.51. So it declined by $0.01, or less than 2% year-over-year.
This $0.03 sequential decrease was primarily driven by $9 million in total company bad debt reserves. That and lower property revenue due to occupancy, concessions, and fees, partially offset by lower general and administrative expenses.

(iREIT on Alpha)
UDR has not re-instituted its full-year 2020 guidance. However, the chart above provides analyst consensus data. And, as you can see, the forecast for 2020 is one of the best in the sector, at -1%.
In Q2-20, the company collected 96.1% of revenue, with $12.5 million uncollected. It established a bad debt reserve against that uncollected revenue and $5.5 million, or 1.7% of billed revenue.
Since then, collections have increased to 97.5%.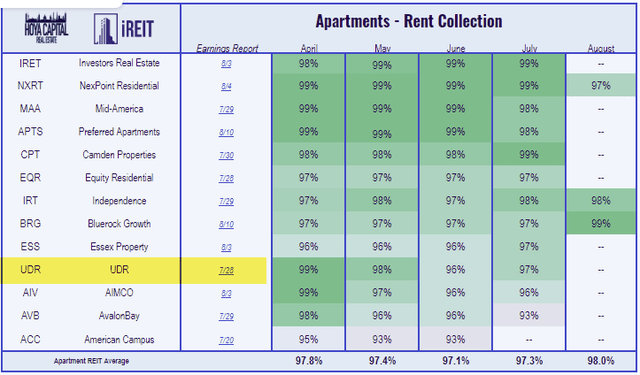 (iREIT on Alpha)
Combine that high rent collection with a strong balance sheet and modest AFFO payout ratios of about 75%, we're probably looking at very low dividend risk.
After quarter end, UDR issued 12-year, $400 million in unsecured debt at 2.11%. That was to repay higher-rate debt, which, incidentally, spotlights its favorable access to capital.
As viewed below, UDR has outsized historical same-store net operating income (NOI) growth: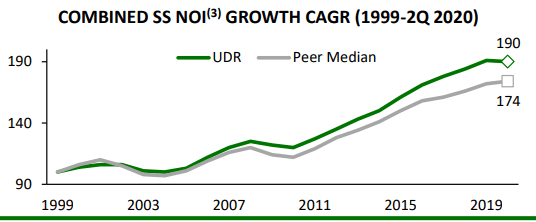 (Source: UDR Presentation)
An Easy Upgrade for iREIT
UDR's strong value proposition has driven total returns and consistent return of capital over time.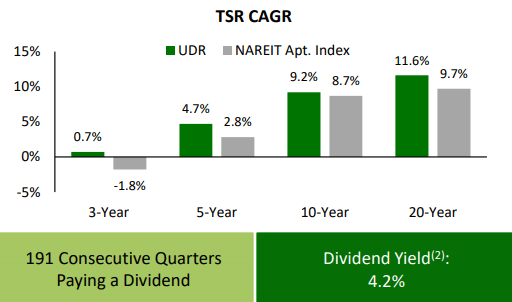 (Source: UDR Presentation)
Meanwhile, its operating results through August have proved resilient. COVID-19 accelerated resident acceptance of new and previously implemented technologies that enhance its self-service model and client interactions.
At the same time, Amazon (AMZN), Facebook (FB), Alphabet (GOOG) (NASDAQ:GOOGL), Intel (INTC), Salesforce.com (CRM), Uber (UBER) – just to name a few major employers – announced that they'll be returning to their respective offices in 2021. And it's possible that more big tech firms will follow suit.
These commitments may disrupt market dynamics, especially in urban cores. But they don't fundamentally change long-term value propositions assuming flexible (and not fully remote) work schedules.
Regulatory restrictions, widespread work-from-home mandates, and varying state and city re-openings have caused their fair share of operational challenges during the pandemic. These have added to the 2Q effects of elevated concession levels and differing strategic/accounting decisions to reduce same-store growth rate comparability among public apartment REITs.
That's why we believe changes in occupancy and blended lease rates are better indicators of recent and future relative performance. In which case, UDR compares well vs. its peers.

(Source: UDR Presentation)
August trends indicate that occupancy and lease rate growth and billed revenue are stabilizing across about 80% of portfolio NOI. But concessions do remain elevated in certain urban areas.
Stated bluntly, collecting fees and growing income remains challenging due to regulatory restrictions.

(Source: UDR Presentation)
However, that's only part of the story with UDR.
A Lot of Positive Things to Say About UDR
As an indicator of overall demand, visits remain positive year-over-year at over 5%. They're significantly improved vs. the recent lows we witnessed in late March/early April.

(Source: UDR Presentation)
The primary components of its value proposition compliment one another, making the whole greater than the sum of its parts. Over time, its strong track record across a variety of areas – such as operations and capital allocation – have bolstered same-store earnings, and dividend and net asset value (NAV)/share growth…
All of which have driven outsized total shareholder returns.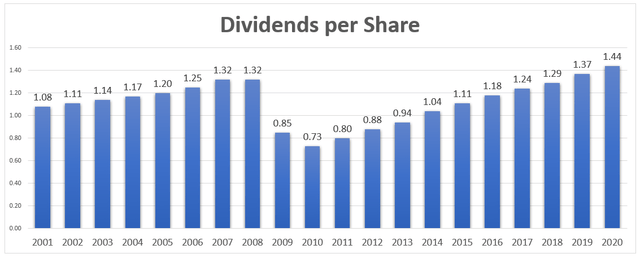 (Source: iREIT)
As viewed both above and below, UDR did cut its dividend during the Great Recession. Even so, we view it as safe during the pandemic.

(Source: iREIT)
Next, we see its peer analysis for dividend growth: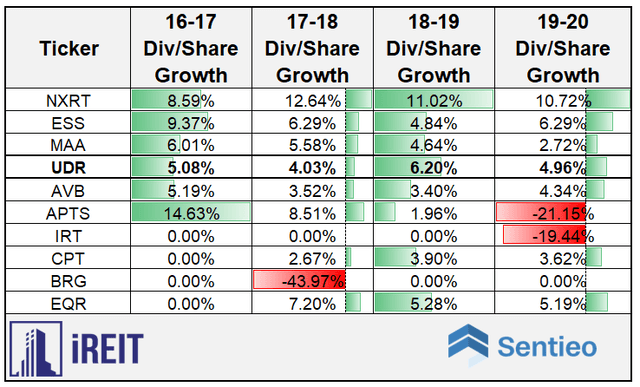 (Source: iREIT)
And shares now yield 4.3%, which isn't bad comparatively speaking: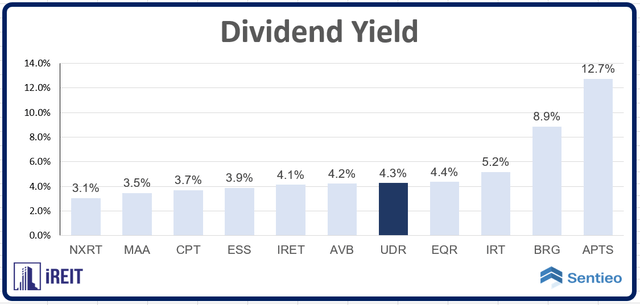 (Source: iREIT)
UDR's P/FFO is 16.3x, which is -19.8% below its five-year average of 20.4x: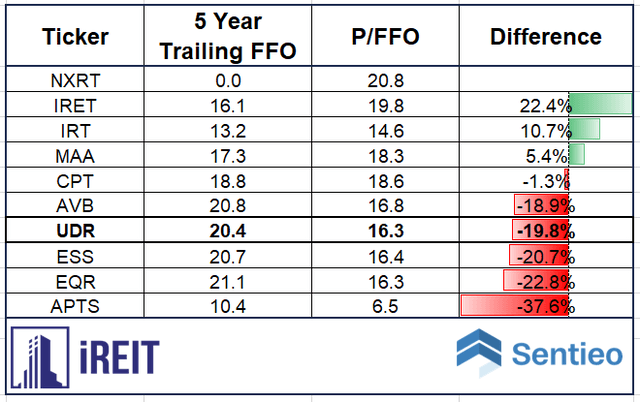 (Source: iREIT)
But you have to accept that sort of thing during nationwide shutdowns.
Besides, consensus growth estimates are as follows:
2020: -1%
2021: -0.4%
2022: +6.6%
2023: +11%.

(Source: iREIT)
In closing, we're recommending UDR as a Strong Buy based on the sizable sum of all its parts. We're adding shares to the Cash Is King and Durable Income portfolios.
We see attractive opportunity for this company to outperform over the next 12 months.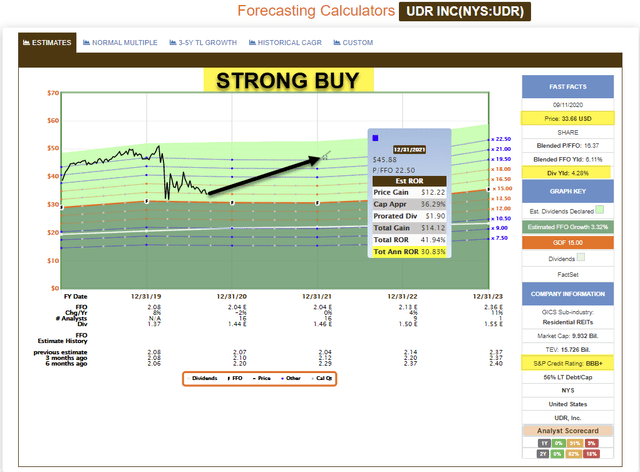 (Source: FAST Graphs)
Author's note: Brad Thomas is a Wall Street writer, which means he's not always right with his predictions or recommendations. Since that also applies to his grammar, please excuse any typos you may find. Also, this article is free: Written and distributed only to assist in research while providing a forum for second-level thinking.
Join the iREIT Revolution!
At iREIT, we're committed to assisting investors navigate the REIT sector. As part of this commitment, we are launching our newest quality scoring tool called iREIT IQ. This automated model can be used for comparing the "moats" for over 150 equity REITs and screening based upon all traditional valuation metrics.
Join iREIT NOW and get 10% off and get Brad's book for FREE!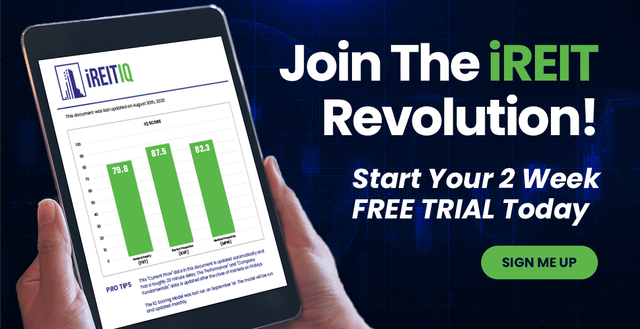 * Limited to first 10 new members * 2-week free trial * free REIT book *
Disclosure: I am/we are long ESS, AVB, EQR, CLPR, UDR. I wrote this article myself, and it expresses my own opinions. I am not receiving compensation for it (other than from Seeking Alpha). I have no business relationship with any company whose stock is mentioned in this article.